How does one plan an unforgettably cute proposal? Choosing a gorgeous destination is an almost certain step towards success.
Québec City truly is one of the most romantic cities in the world. And that famous château in the city? Well, she's a stunner. This cute proposal has it all: a gorgeous destination (did we mention there's a very famous, very fabulous château?), a super-in-love couple, and a secret photographer. Read on for Justin and John's proposal story.
HOW THEY MET
John and I met online. Yes — we are an online dating success story. On our first date, we went bowling and played three games (we each won one, but John edged me out on the third game), then a game of air hockey followed by Mexican food. I didn't want the night to end. As we got serious, I was ready for him to be my boyfriend, but he needed a bit more time. We have a joke that he needed two more weeks because exactly two weeks after that conversation, he introduced me as his boyfriend at a party. John is my person, my best friend, my partner in crime, and there's no one else I want to share this adventure with.
PROPOSAL LOCATION/DATE
Québec City is one of the most romantic cities in the world! We had been talking about going to Canada during our annual summer vacation to visit John's family in Maine. This year, it worked out! I knew this was the perfect opportunity to propose as it coincided with our fifth anniversary.
THE BIG DAY
I told John that we had a dinner reservation for our fifth anniversary at Il Matto in Quebec City. Before we went to dinner, I told him I had read about an amazing view of the Chateau Frontenac and that we should head up there to snap a potential Christmas card photo. It was a hot day and the walk ended up being much longer than we thought. By the time we got to the spot, he was hot, ready to snap a selfie, and call an Uber…but then my tone changed and he suddenly realized what was happening. What I said is a bit of a blur — hopefully, I got out all of the romantic things I wanted to say! I got down on one knee and he enthusiastically said yes.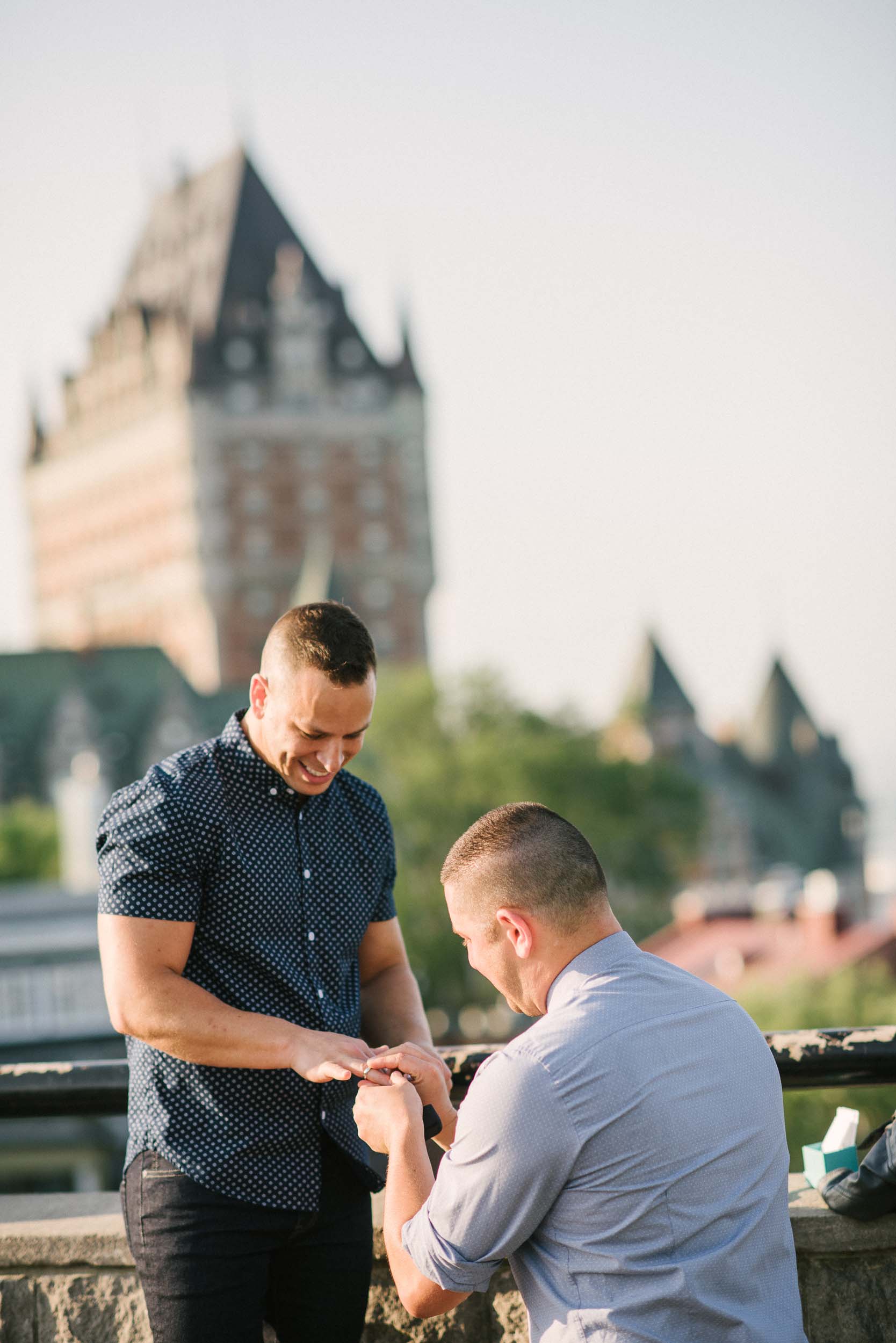 We spent the next hour taking photos around Old Quebec and talking about how the proposal came together. We went to dinner — our actual reservation was later than I had initially told him — and then we topped off the evening with champagne and dessert at the Chateau while FaceTiming with family and friends. It was a magical night that we will cherish forever. — Justin