This Cinque Terre proposal was inspired by a dreamy painting picked up years earlier in the magical town of Vernazza.
Have you ever travelled somewhere that made such an impact on you that you just couldn't stop thinking about it long after you had returned home? Lauren's trip to Cinque Terre (along with a pretty little painting of Vernazza she had picked up as a souvenir) made such an impact on her that she decided to return years later with her boyfriend Adam. Adam, of course, had a plan in the works — to propose to Lauren in the exact spot depicted in her beloved painting and have it all captured by one of our talented vacation photographers so they could remember it forever. Read on for how he pulled it off.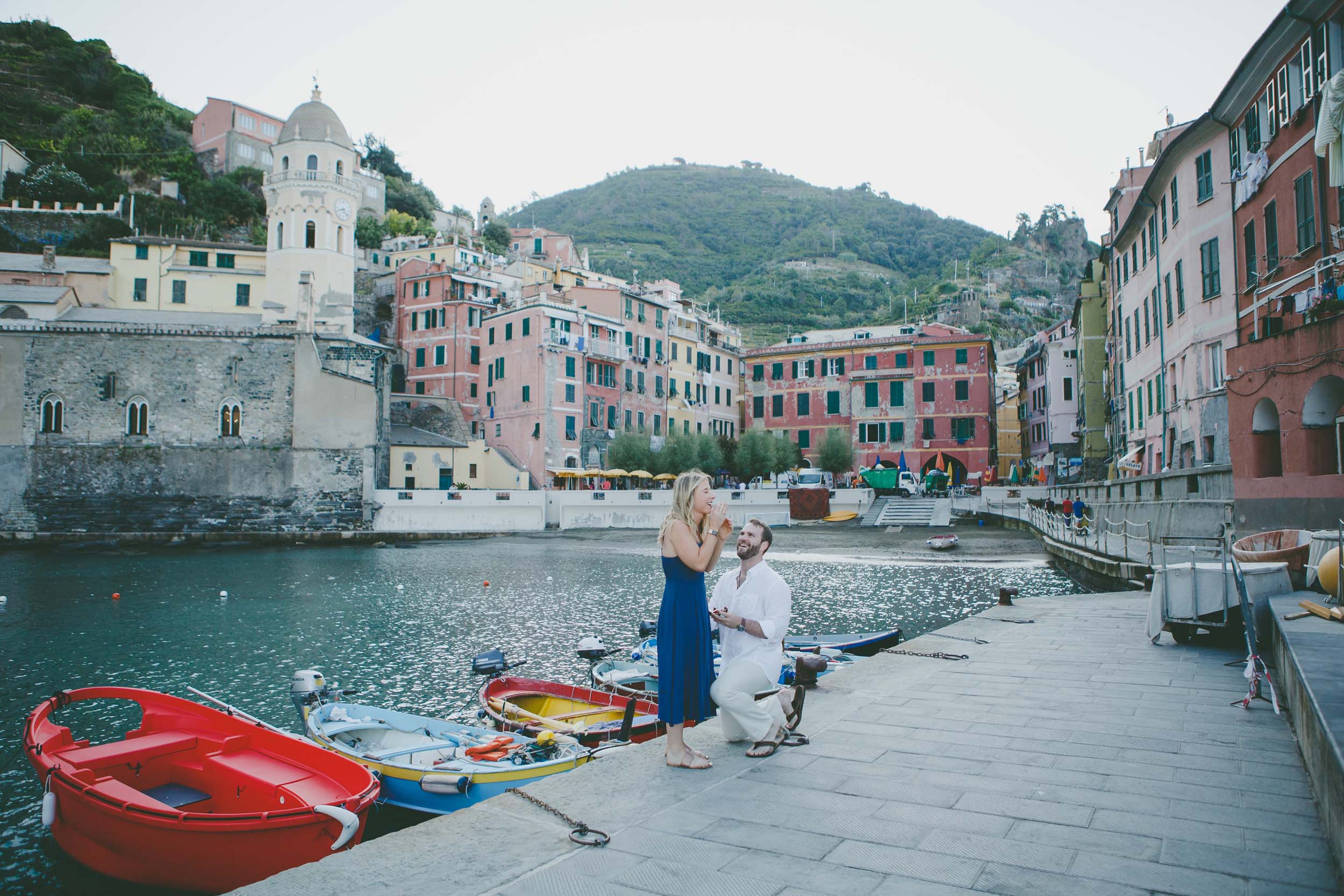 SPECIAL LOCATION
"Before I met Lauren, she had visited Cinque Terre and bought a painting from a street vendor in Vernazza. This painting captured Vernazza's harbour so beautifully that she's been obsessed with the city ever since. Two years ago, I had the painting framed for her as a Christmas gift just around the time we began discussing the possibility of a return trip to Europe. I decided I would simultaneously plan our proposal, so we could get engaged at the spot in the painting."
THE BIG DAY
"I told Lauren that I had scheduled a surprise trip to a local vineyard in Vernazza. This is something we might do anywhere and served as a good excuse to have her hair, nails, and makeup ready early in the morning. Immediately, she peppered me with questions about whether to pack a bag, what walking would be like, and what the vineyard would look like. Luckily, I had researched an actual vineyard in Monterosso to facilitate the lie.  

"The next morning, we woke up early 'to meet our vineyard tour guides at the pick-up point in Vernazza harbour.' The only initial snag was placing the ring and box in my back pocket before brushing my teeth that morning. Lauren kindly reminded me to brush my teeth and I had to scramble up a plan to get across the studio apartment without her seeing the massive ring box sticking out of my pocket. I motioned across the room for her to grab her hat and simultaneously rotated clockwise, so I could back into the bathroom without her noticing the ring box!

"We walked to the harbour, which was slowly coming to life for the day, but I didn't immediately see Ramon and Sonia. As soon as I began to panic, I heard a whistle from the main street of Vernazza. Ramon and Sonia were moving towards us while rotating around taking pictures of the buildings and each other. When Ramon got close, I asked him to take a picture of us with my phone and then he offered to use his camera. After the first photo, we were directed into position and I dropped to one knee. The rest is a storm of tears, giggles, a yes, and a premature snatching of the ring, only for me to reclaim it and place it on Lauren's finger in the traditional fashion.
"We came home with the story of a lifetime and an image of nearly every moment. Ramon and Sonia felt like family by the time we were done!" – Adam