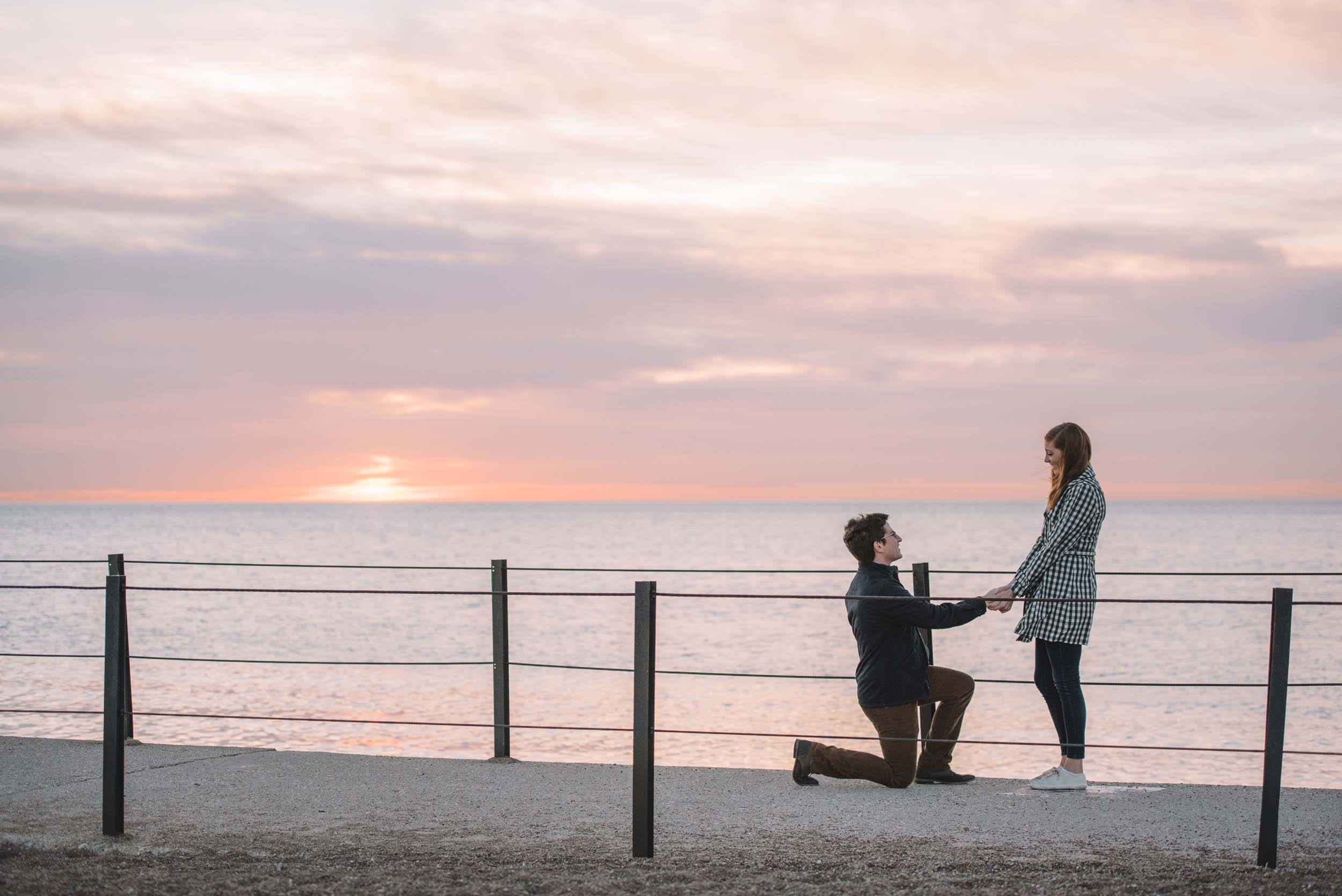 A beautiful proposal doesn't always have to take place in an exotic, far-off destination. Charlie planned a gorgeous sunrise proposal taking inspiration from he and his (now) fiancée's frequent walks along the beach. Read on for all the details.
THEIR LOVE STORY
"Caroline and I have a long and winding love story. We met in high school where we had a couple classes together. We both remember the relationship being friendly but the chemistry ended there. I was a year older, and she was actually better friends with my younger brother who was in her graduating class. Fast forward about seven or eight years. After college – during which I'm not sure we spoke once – Caroline is living and working in Indianapolis and I am doing the same in Los Angeles. In the years since high school, my aforementioned younger brother, Peter, has met, fallen in love with and gotten engaged to Caroline's long time best friend, Sarah. They set a date for their wedding and Caroline is asked to be a bridesmaid. My brother asks me to be his best man. Over the wedding weekend, we reconnect over fond memories from high school and some light hearted dancing and celebrating. Several people would later comment that there was an obvious connection there but neither of us gave it much thought at the time.
"About six months after the wedding, I decided to move back to the Midwest to be closer to my family. I took a job in Chicago but on the way there, I stayed in Indy for about a month to relax and enjoy some quality time at home. However, as a 28-year-old eager to avoid totally living with his parents, I spent most of my time at my younger brother and sister-in-law's house. Sarah was pregnant with their first child at the time and Caroline was spending a lot of time over there, too. We re-reconnected over lots of late night patio conversations concerning music, movies and life. Looking back, these were formative days in our relationship, but when I said goodbye and moved to Chicago, the two of us likely thought it was nothing more than an enjoyable chapter in an otherwise busy summer.
"Fast forward again maybe four or five months to the birth of my brother's daughter, Caroline, named after her godmother. I travel down from Chicago to see her and when I go to the hospital, I am surprised to learn that the godmother is also on her way over. This time, there was no mistaking the chemistry we felt. The re-re-reunion was brief, but I think we both knew there was something between us that we needed to explore. A few weeks later, I called her on a whim and we ended up talking for over an hour. Same as it had been before, discussing nothing and everything all at once. A few weeks after that, she decided to visit some other friends (and me) in Chicago and the relationship truly began.
"After six months of weekend trips and hours upon hours of late night phone calls, I convinced her to move in with me in Chicago. She found a (great) job, packed up her life and took one more trip up I-65. It was the best chance we ever took."
HOW DID YOU KNOW SHE WAS 'THE ONE'?
"Caroline and I told each other 'I love you' at basically the same moment – in our apartment, dancing to some music, fairly early on in our relationship. It didn't take long after that for discussions about our 'future' to become commonplace. We both love our families as well as each others' and knew that we were going to spend the rest of our lives creating another beautiful family together.
"The moment I decided it was time for the big question was, not surprisingly, after we went and saw a movie. We go to the theater at least a couple times a month but I remember walking out of 'Loving' and thinking I've never felt more ready and sure. There's a great scene in the film where the husband tells the wife, 'I can take care of you,' and I knew that's exactly how our love felt. Completely supporting each other, no matter what life brings our way. I went ring shopping the next day."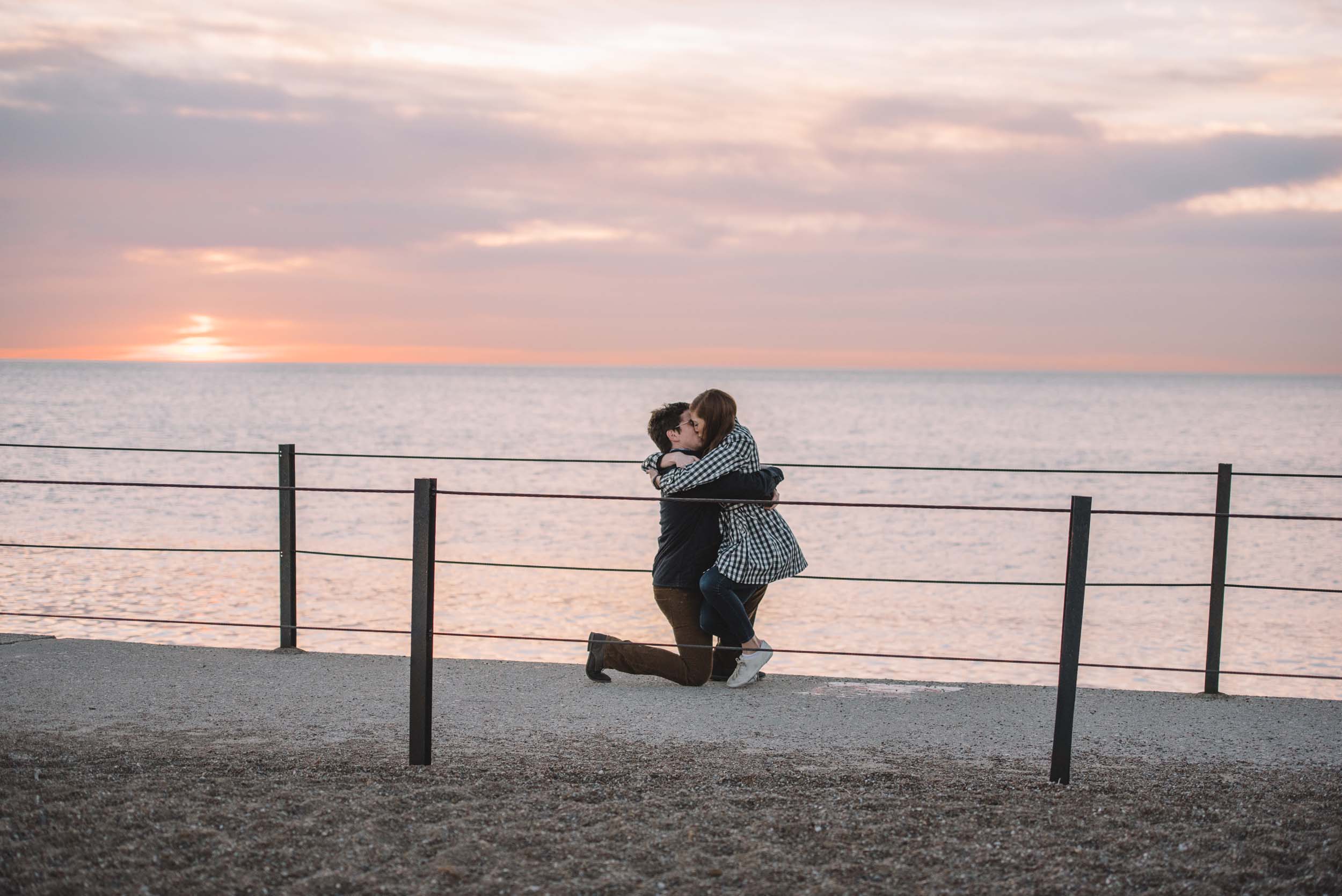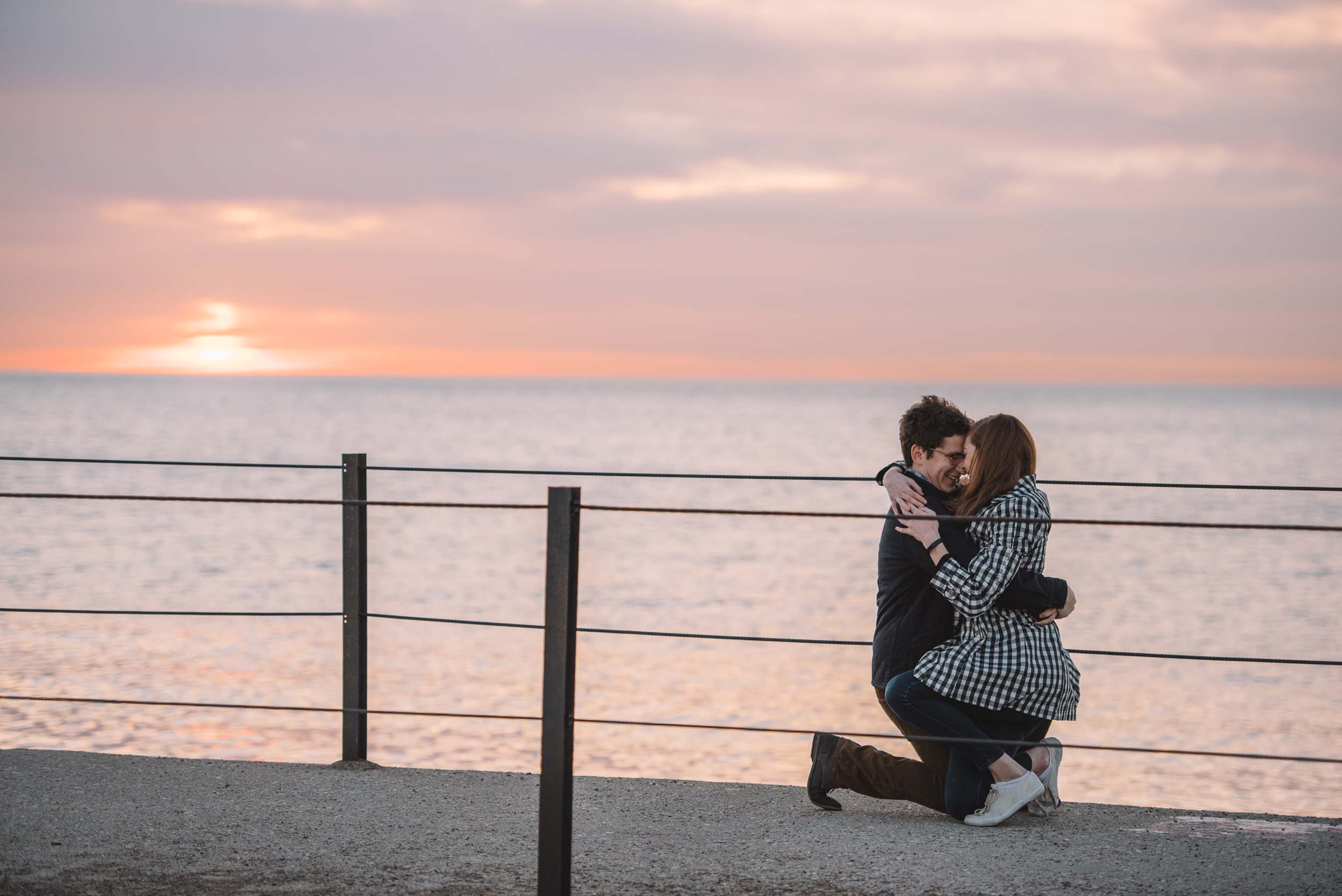 HOW DID YOU SELECT YOUR PROPOSAL LOCATION?
"We love the beach by our apartment and often walk to it during all times of day. I remember on one such ordinary walk, we decided to sit out on the edge of the pier for a minute. Engagement discussions somehow came up and Caroline asked me where I would want to propose. I said, 'I don't know' but sitting there I always thought there would be no better place than this."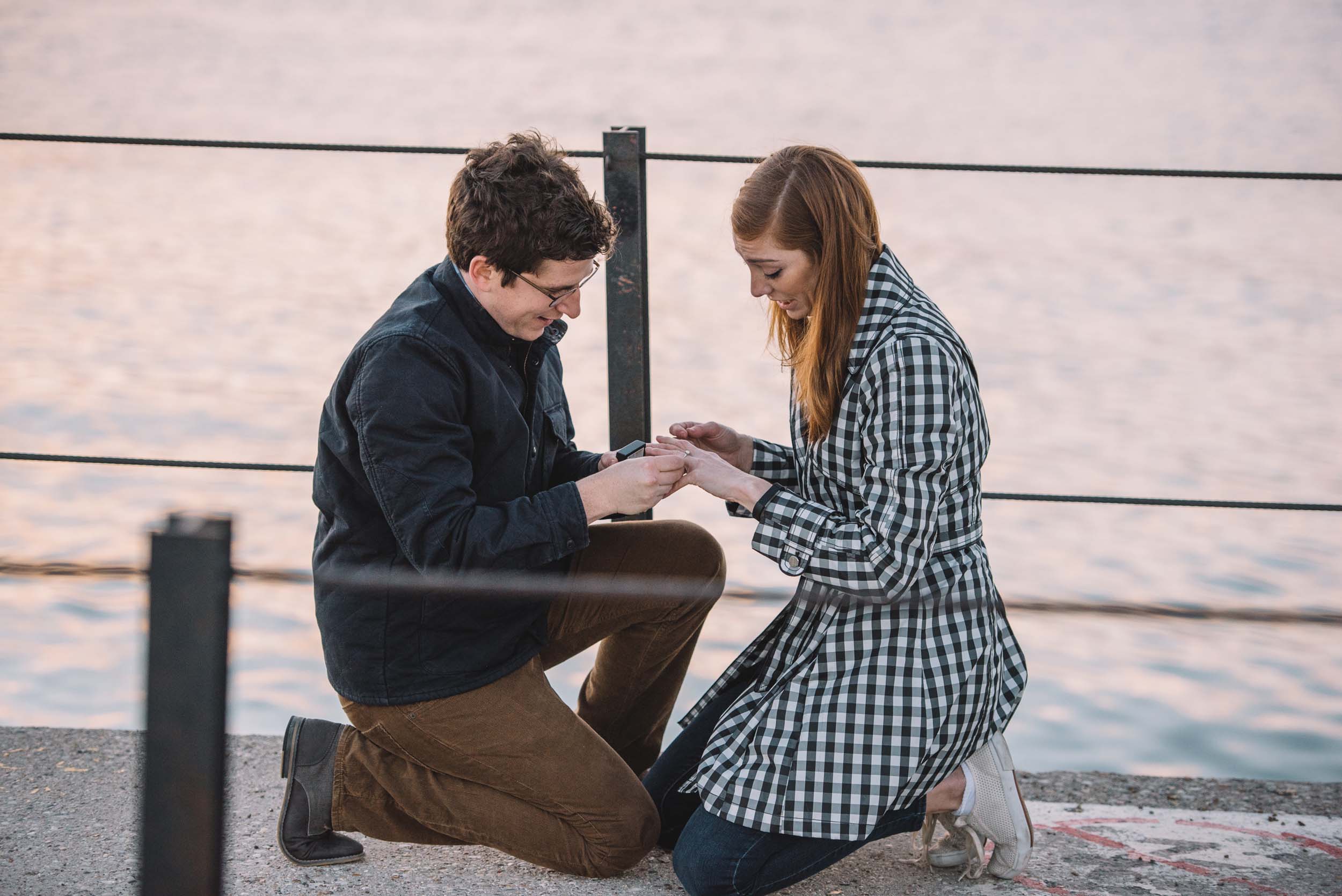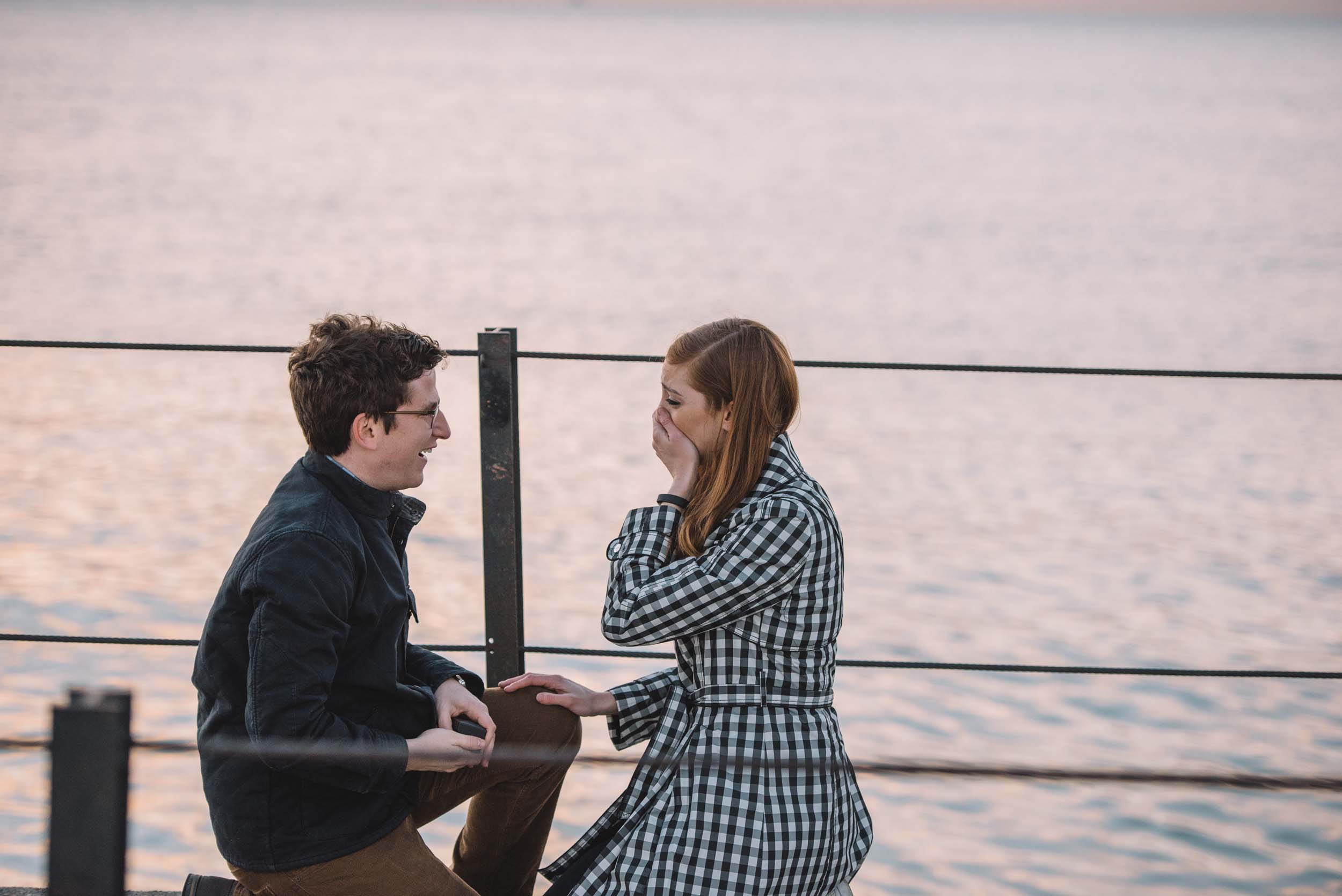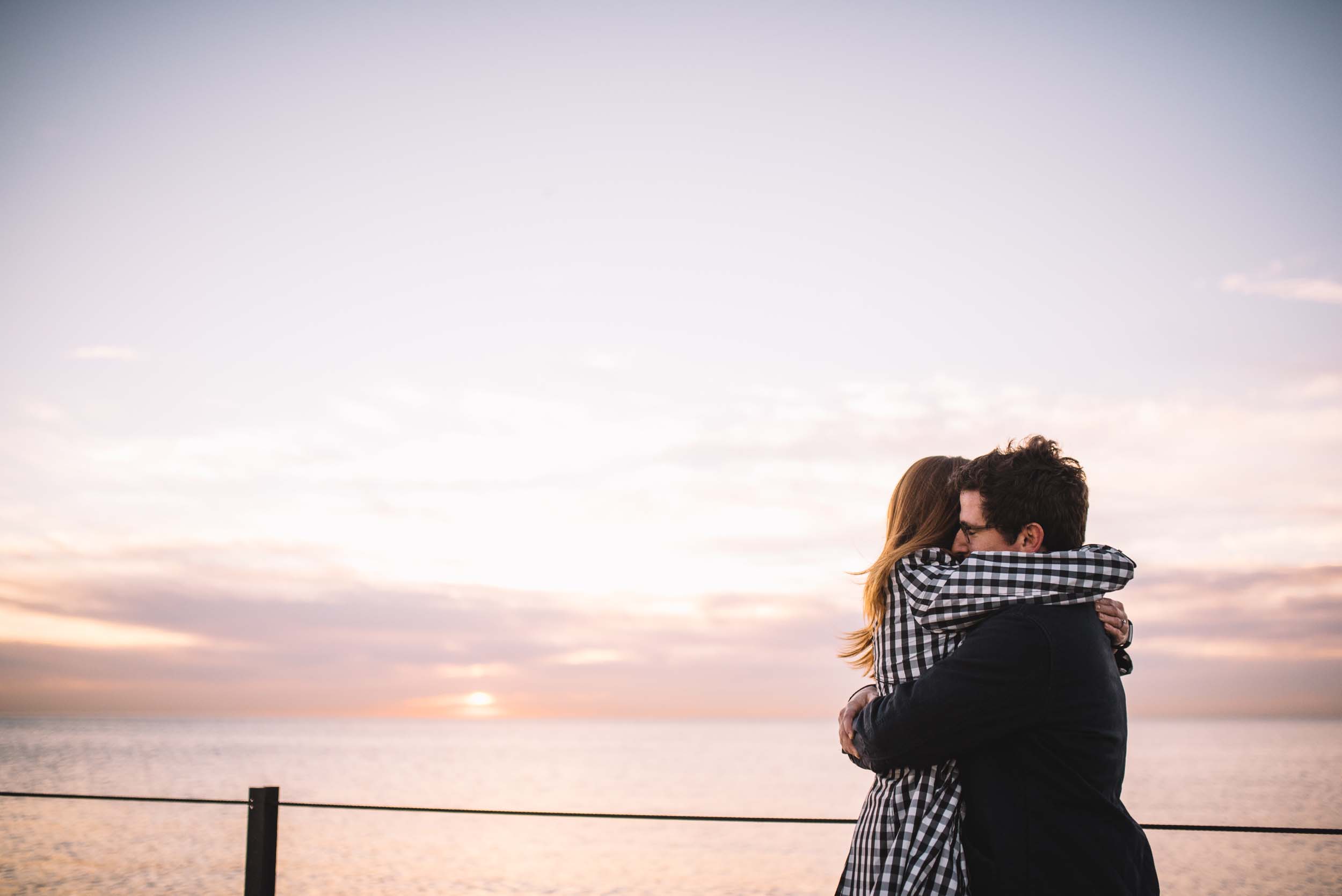 THE BIG DAY!
"I scheduled the photographer for a sunrise photo shoot because I knew it would be beautiful, but now the trouble was convincing her to wake up at 6am on a Saturday so that we would be out there at just the right moment.
"All week, I had suggested that we have a low-key late Valentine's Day celebration on Friday night so that we can be sure we wake up in time to begin our big day. A couple days before, Caroline informed me that some friends of ours were going to a local jazz club, The Green Mill, on Friday and she thought we should join. Truth is, I knew they were going and they knew I was proposing Saturday at the crack of dawn, so there was some kind of miscommunication on Caroline's invitation. The real truth, however, is that it couldn't have been more perfect. The Green Mill is not only a legendary Chicago spot, but it's also where we had our first official date. Going there to dance and reminisce was the perfect (unplanned) lead-in to the weekend.
"The next morning, my alarm goes off at 5:55am and I spring out of bed. I had given Caroline vague directions the night before that even though this was just a 'normal' walk to the beach, she needed to slightly dress up because we had 'surprise belated Valentine's breakfast plans' afterwards. At this point, I think she was starting to get an idea of what was happening, but I was too nervous to care.
"We get out the door right on time and I text our photographer letting him know we're on our way. We could not have gotten luckier with a more beautiful morning. It was 60 degrees and there was hardly a cloud in the sky, not exactly typical for mid-February in Chicago. Our walk was casual, as I did my best to keep conversation going at a normal pace despite paying constant attention to the life-changing box in my pocket. I'm pretty sure I agreed that we should go to the laundromat later and maybe even do a Sam's Club run, fully knowing we would do neither of those.
"When we turned the corner and saw the beach, I couldn't contain my smile. The sky was a truly awesome blend of purple and orange and blue and the morning light off the lake brilliantly sparkled as the water gently lapped against the shore. I saw our hidden photographer, Joe, positioned perfectly toward the end of the pier and I grabbed her hand and tried to soak in every second of that short walk.
"We stopped toward the end and looked out at the scene, which felt like a dream. I said a few words that I can barely remember and took a knee to look up at her watering eyes and contagious smile. The question was followed by an emphatic 'Yes!' and Caroline also dropping to her knees. Friends who later saw the photos would joke it was unclear who proposed to who. I pointed out our hidden cameraman and lots of laughing, crying, hugging and kissing followed. I think it was as happy as we've ever been and we're so thankful we have the pictures to relive it."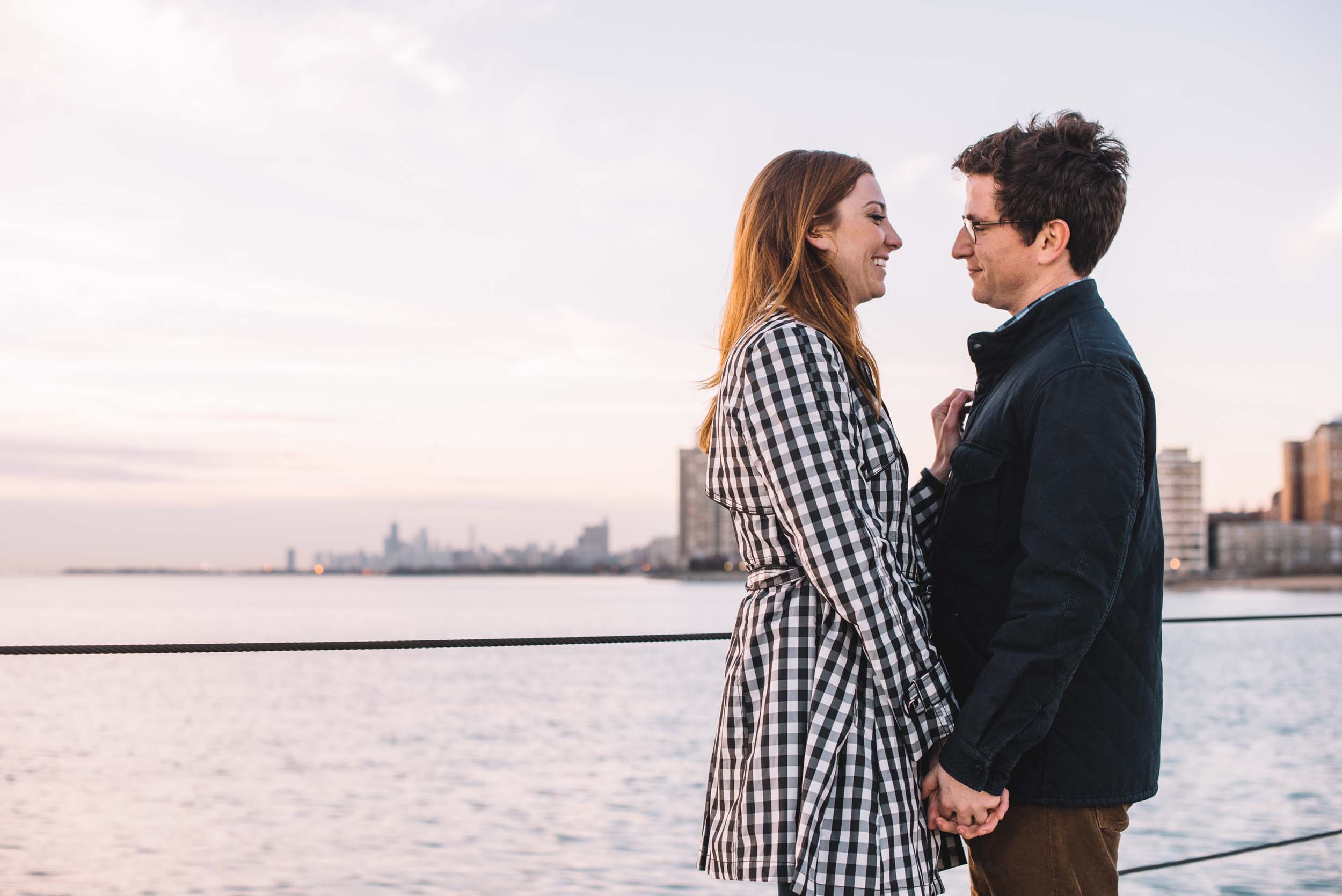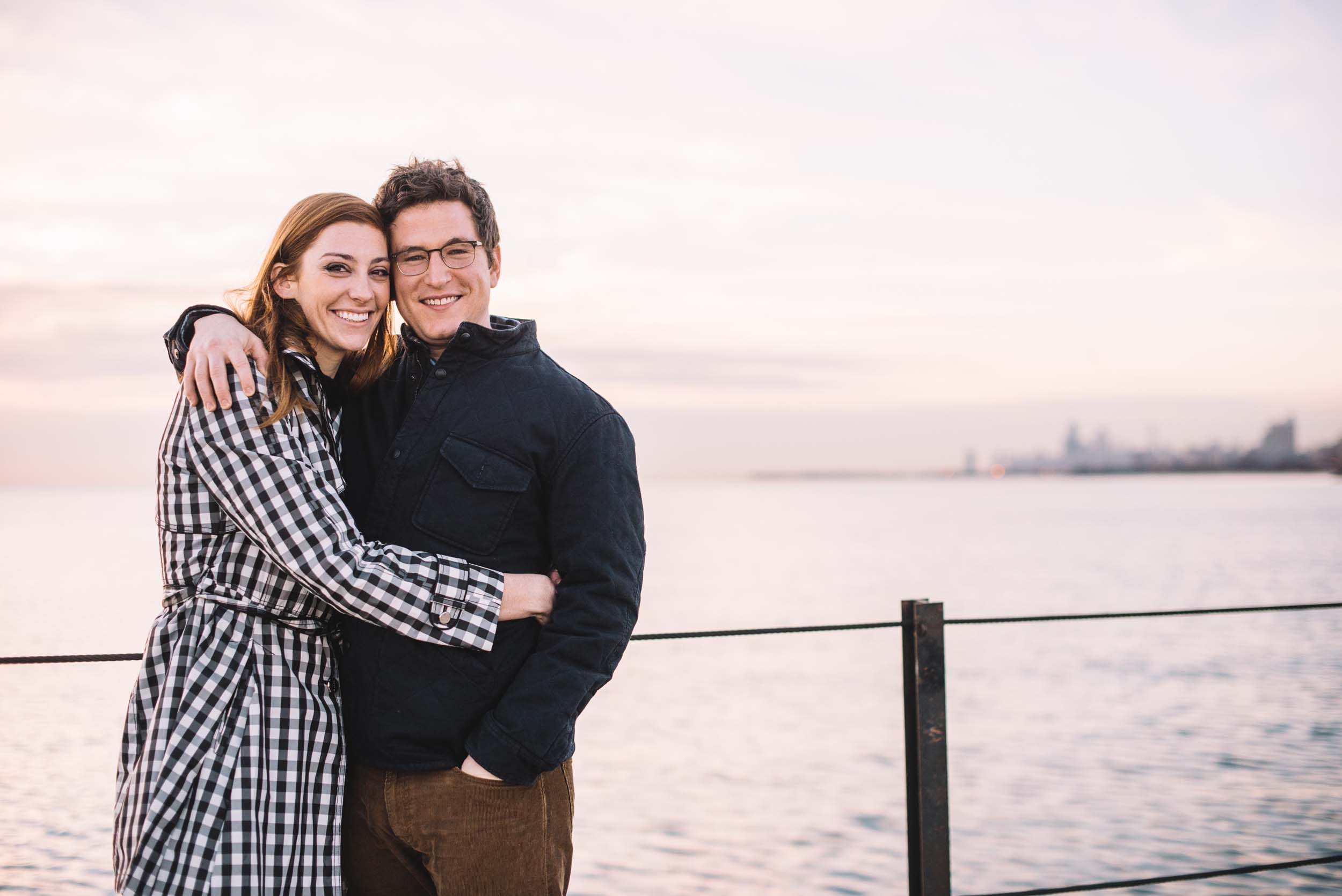 AFTER THE YES!
"Once the ring was on her finger, I admitted that I couldn't keep any more secrets. I told her that Peter and Sarah were already in town and would be joining us for breakfast. This was especially surprising because Sarah is a nurse who has worked primarily weekend shifts since becoming a mother. I also told her that her little sister and future maid of honor, Olivia, would be joining us later in the day along with her mom and several of our other friends.
"We went out to breakfast with my brother and OUR sister-in-law and were joined by two of our best friends, Joe and Clare. I had made reservations at a nearby restaurant she always suggested trying and it lived up to every expectation.
"The rest of the day was full of lots of food, celebratory toasts and laughs. We ended the night playing party dice games at an impromptu engagement party hosted by Joe and Clare."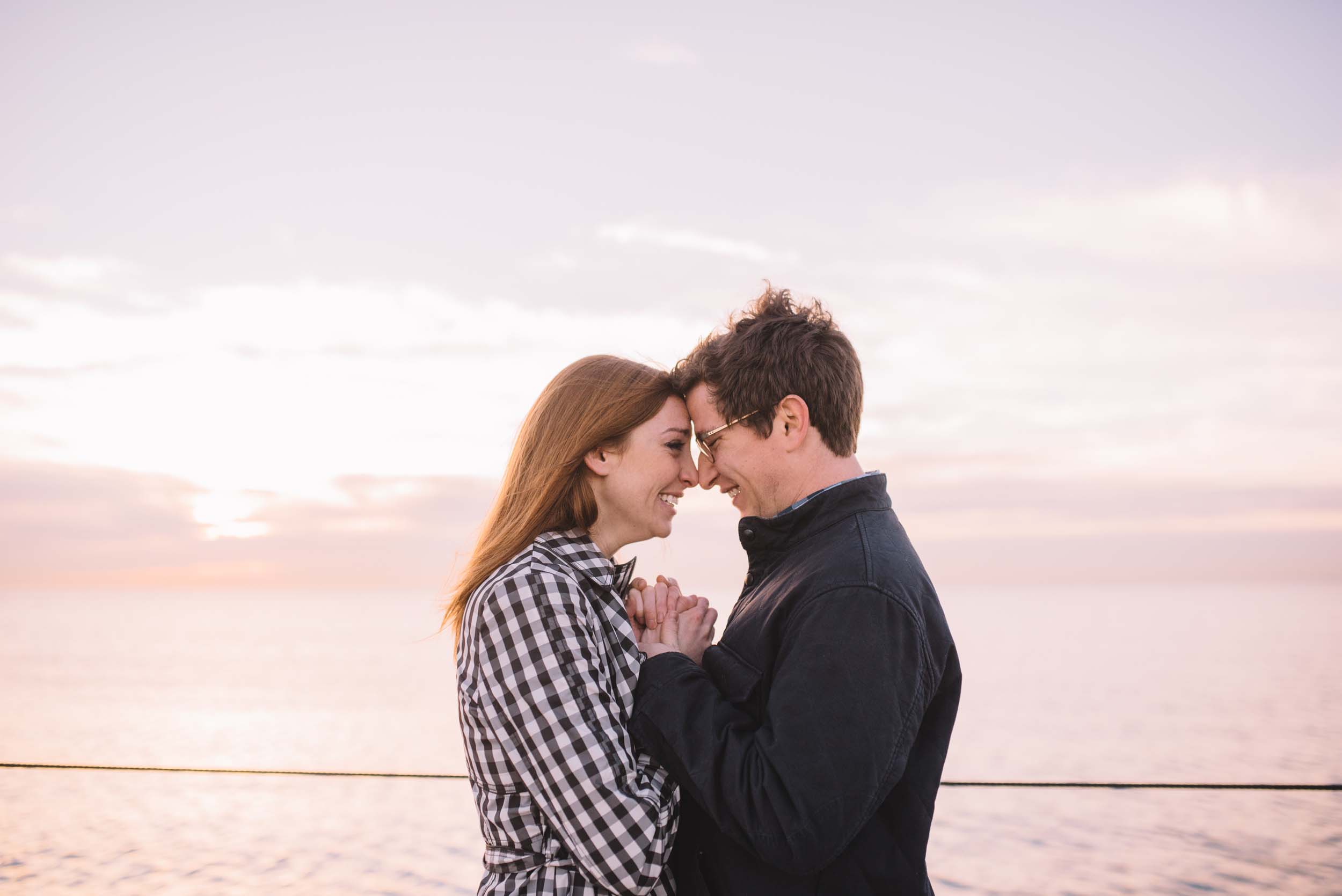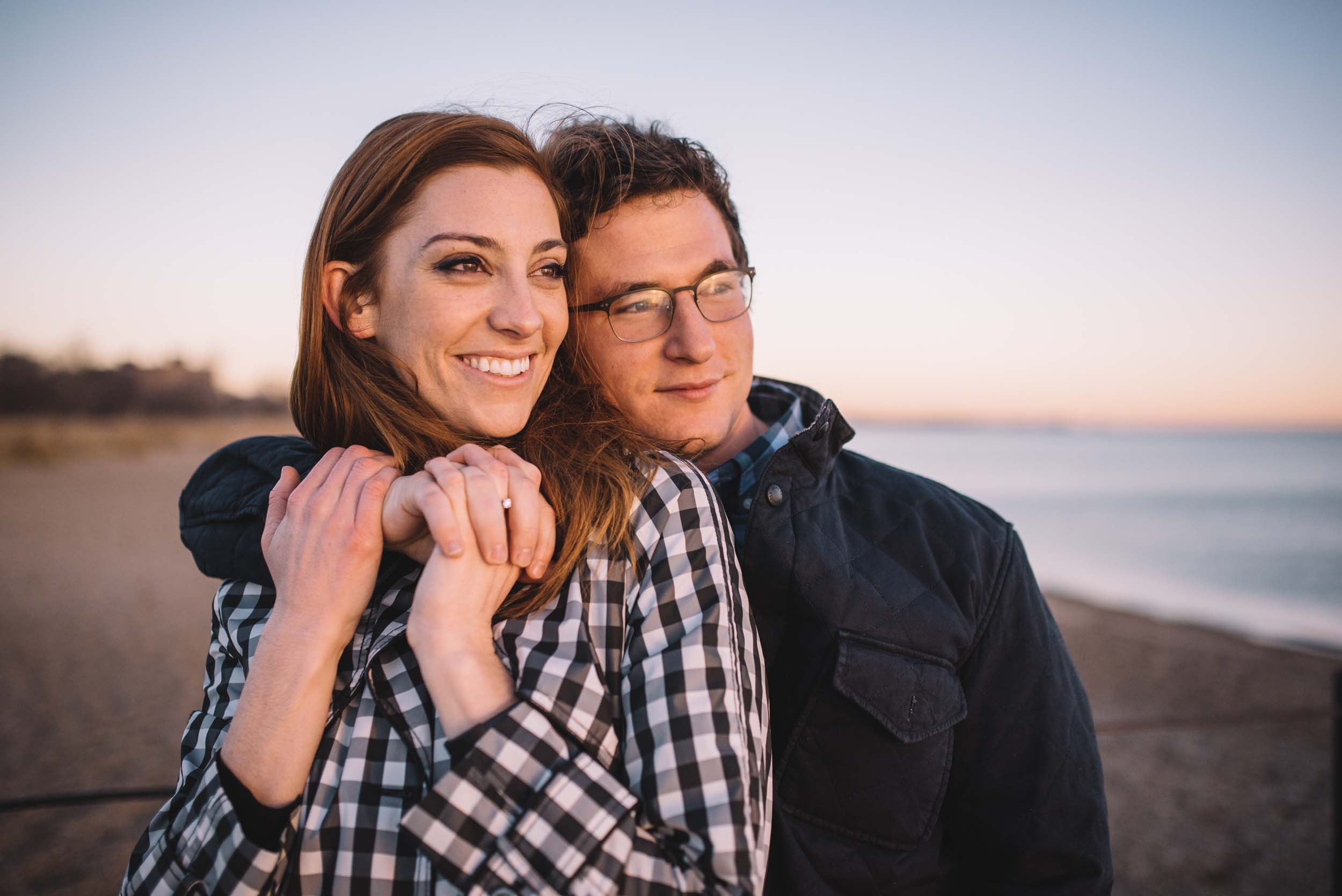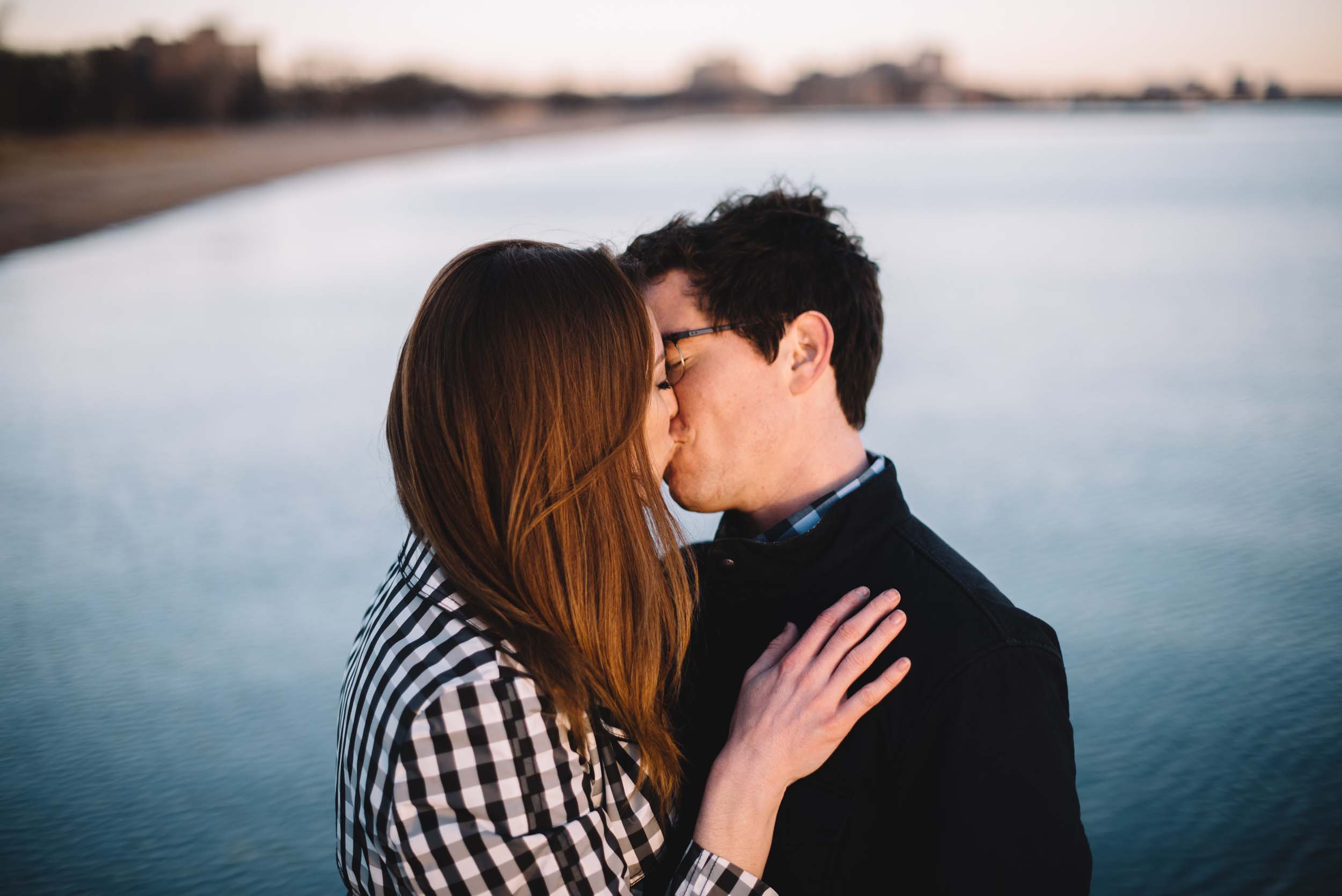 ANY MORE STORIES?
"Valentine's Day was a few days before I proposed and Caroline admitted at the end of the day that she was sad she couldn't find a photo of the two of us she liked enough to post on Instagram. I smiled and said, 'You're right. We should take more photos this year,' fully knowing we'd have a life-changing set taken in just a few days." – Charlie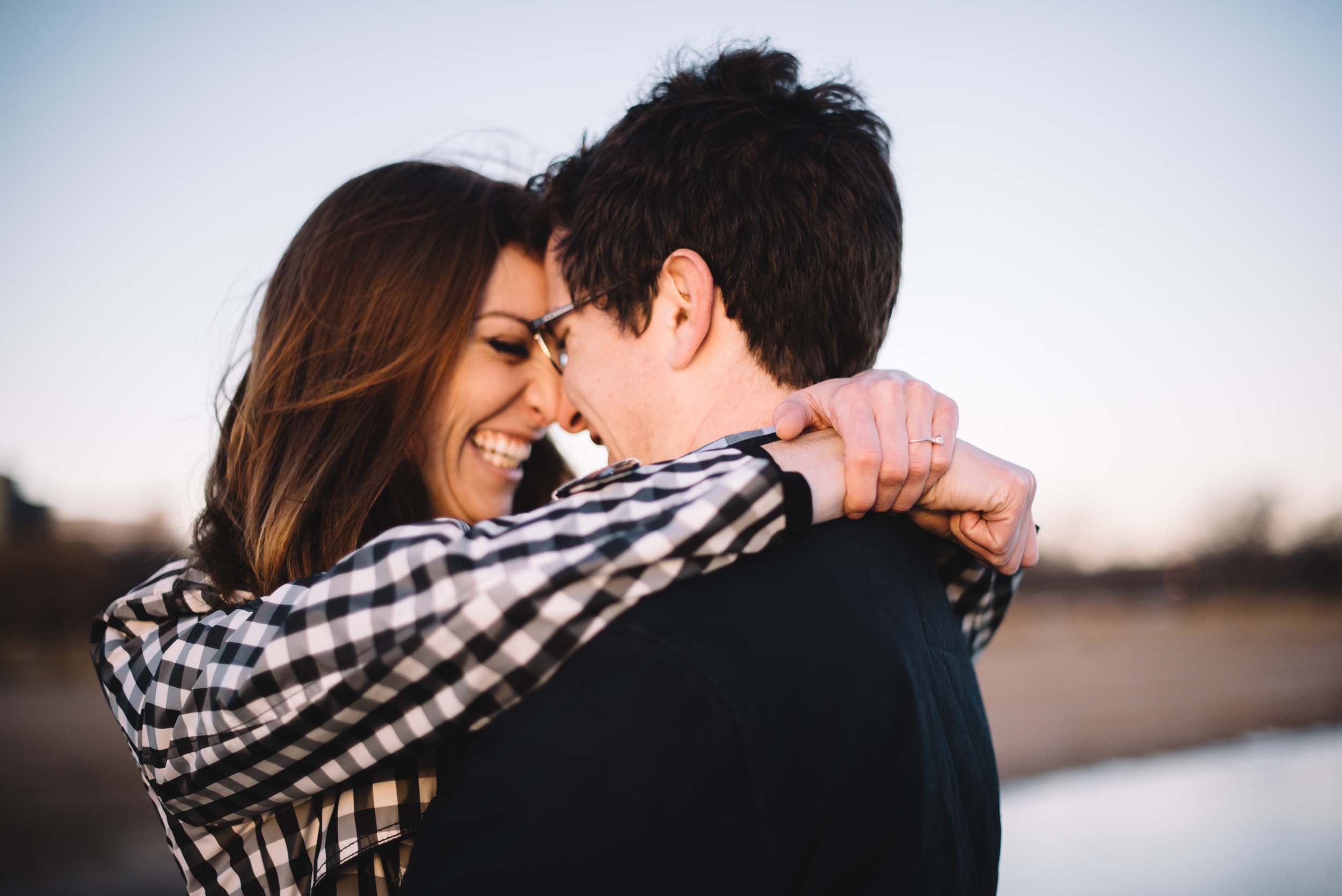 See more: beach – Chicago – couples – engagement – love – proposal