Level up your Instagram game! 
Looking to take better photos for your small business? Aly, one of our very own in-house pro photographers and Flytographer's recruiter, has created a mini-course for just for you! Learn valuable iPhone photography skills that you can use to easily create content for your business or brand, social media, newsletters, website and more.  
Click on the video below for Aly's top 6 tips on lighting, composition, editing, portraiture, and marketing using your iPhone. Get up your Notes app ready — you don't want to miss a thing! 
Tip 1: Don't neglect your light source
[03:07]
Light is the most important part of photography and the one thing you cannot ignore. (Fun fact: photography actually means "to write with light.") Keep in mind the different types of directional lighting when setting up your shot: front lighting, side lighting and backlighting, and adjust your subject accordingly. It's also important to be aware of shadows and the time of day — "Golden Hour" is always a safe bet when shooting outdoors. When you have a subject indoors, Aly shares a fun hack for using tissue paper to create cool coloured light effects!
Photo: Mónica in Cancun for Flytographer
Tip 2: Be mindful of your composition
[05:22]
Understanding the "rule of thirds," leading lines, and depth of field can really help elevate your photo, taking it from "ok" to "wow!" Creative framing is something you always want to keep in mind when setting up your shot, and Aly gives you ideas on ways you can help realize your artistic vision.
Photo: Flytographer in Marrakesh
Tip 3: Edit your photos
[07:30]
Most of the time, a quick edit on your photos will turn them from blah to beautiful. There are many apps available to help edit, but we recommend Lightroom (coupled with Flytographer presets, of course!). Aly shares some helpful editing examples in this lesson, which include using Curve to get that trendy film look.
Photo: Fernanda in Cabo San Lucas for Flytographer
Tip 4: How to take the perfect self-portrait
[11:22]
It can take a while to master your best face, but knowing some quick tips really helps speed it up! Use your self-timer (the back lens instead of the front "selfie" lens for better quality), find some good light, and set the mood. Are you going for happy? Catch the tail end of your laugh. More serious? Work on your breathing technique to be calm and centred. Aly includes more editing tips for rendering the correct skin tone and colour.
Photo: Liz in Salt Lake City for Flytographer
Tip 5: Take the perfect product shot
[13:43]
These tips are not just for products! Use them for everyday objects you'd like to photograph, like your coffee in the morning or a new plant. Aly shows you how even the most simple and basic of set-ups can yield high-impact results that you will be proud to feature on your social media or website.
Photo: Aly in Victoria for Flytographer
Tip 6: Create a GIF for your brand
[15:28]
The most fun tip of all! Aly shows you how to easily create your very own GIF using your photos and Canva. Your customers and friends will be so impressed with your new GIF-making skills, we're betting that you'll be making a few extra by request! 
Want more great iPhone photography tips?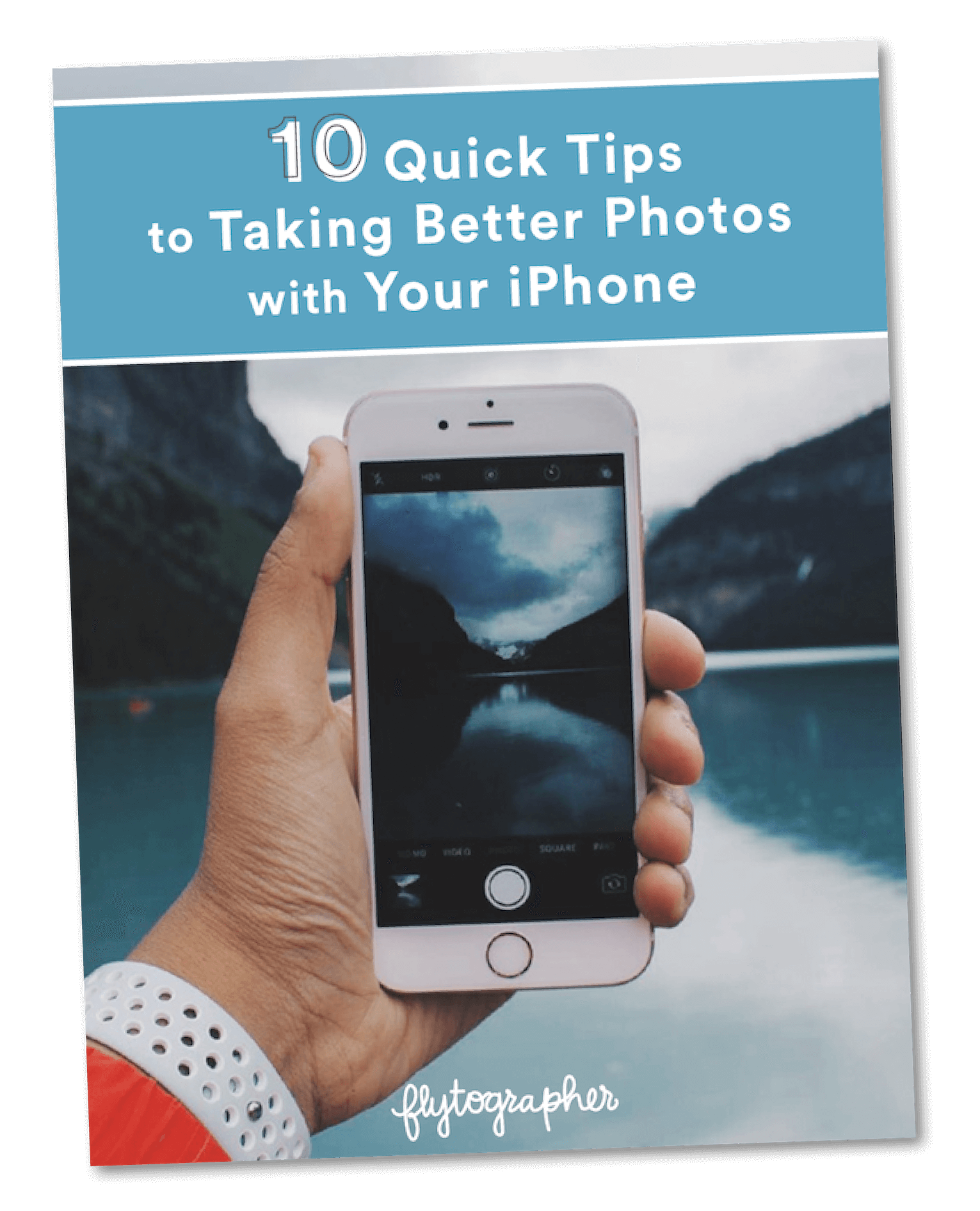 Get 10 Free iPhone Photo Tips!
We made a downloadable cheat sheet just for you with our favourite iPhone photo tips! Sign up for our mailing list and get your download instantly.