Grab the Baby Bjorn, we're taking this family to go.
Who needs a vacation more than a new mom? From sunup to sundown moms are performing the most magical of miracles: feeding, changing, entertaining, teaching, loving and supporting tiny humans, all the while having to feed and clothe themselves running on only a few consistent hours of sleep. And while the stress of planning a vacation on top of all this might seem like too much, just think about how wonderful it would be to outsource a bit of the day to day? Things like housekeeping, laundry, daily meals, entertainment and more could just be whisked off your plate by a team of professionals expertly trained to cater to you and baby's needs. Not too shabby for mom, not too shabby at all.
(Photo: Flytographer Claudia in Tulum)
The Sunscreen, Dreamy Beaches and Chill Trip


Tulum, Mexico
Hard-working, sleep-deprived moms, the turquoise waters and white sand beaches of Tulum are calling you! This East-Coast Mexican Caribbean gem is also a popular romantic destination, for much of the same reasons that it's perfect for unwinding with a newborn: it's safe, laid-back and low-key (even if it is only two hours south of Spring Break-famous Cancun).
In place of massive mega-resorts are more intimate and boutique accommodations, where you can book private family cabanas or tuck yourself in at a chic eco-resort. The beaches (many dotted with Mayan ruins) are second to none in the Americas and Tulum is also home to hollowed-out cave pools known as cenotes (great for your kindergarten-and-up kids). From Tulum your family can make day trips to little beach towns like Akumal, or check out ruins at Chichén Itzá, Cobá (only a 45-minute drive from Tulum) or, at only a 20-minutes' drive out, Xel–Há (you'll appreciate the shaded jungle trails)—just don't forget to pack bug spray. June is Tulum's rainiest month, but July and August are low tourist season in Tulum—with an average high of 28 C / 82 F—so families can luxuriate on the beaches under the sun AND find great savings on accommodation. (Which means more money for hour-long massages on the beach.)  
(Photo: Flytographer Maria in Florence)
The Gilato, Pasta, Dolce-Vita-Under-the-Tuscan-Sun Trip


Florence, Italy
Italy is easily one of Europe's most family-oriented countries. This place is chock-a-block full of cheek-pinching nonnas and treats for little bambinos. Narrowing down which Italian city might be difficult for your trip, but walkable, boutique-y Florence is one of our favourites. The locus of the city is centred around the Arno River and you can easily walk north and south to take in the boutiques, museums, ancient cathedrals, cafés and the Ponte Vecchio view. Behind the Pitti Palace you'll find the 15th-century Boboli Gardens, which span an incredible 111 acres of centuries-old oak trees, tennis-court-sized fountain features, sculptural plant designs and rose gardens. Tiny tot tip: long stretches of the garden feature stone steps and gravel, so be prepared to park the strollers at the entrance and walk inside.
Street markets are another area that small-town Florence excels and different types pop-up all over the city. Some markets happen on certain days during the month, like the Santo Spirito market (oodles of mid-century modern furniture for mom, fist-sized candies for kids), but the big market, Mercato Centrale, is where you're going to find delectable, hand-made $5 pasta, leather goods, and fresh Tuscan ingredients for trying your hand at a home-cooked family meal. And in Florence, the evening entertainment is as simple as ordering a gelato and walking to the bridge (any bridge) to watch the fiery Tuscan sunset.  
(Photo: Flytographer Martina in San Diego)
The Sunshine, Parks and Cute Zoo Animals Trip


San Diego, California
Sweet Coastal San Diego is a favourite American destination among families because it's delivering on all the necessities for family trips: consistent sunshine and not-too-stuffy T-shirt weather (22 C to 24 C / 72 F to 77 F), natural beauty (Balboa Park, La Jolla Cove, Torrey Pines State Reserve, the beach) and family activities, including an entire museum dedicated to children's dreams and creative play (where they have some bouncy woven children's net called a "Whammock"). This city is also where you'll find America's nationally renowned family favourite, the San Diego Zoo. Not only does the 98-acre zoo have six new African habitats (from the Ethiopian highlands to the Madagascar forests), but the San Diego Zoo runs a Giant Panda Sleepover, which is all a child's favourite things, combined. Strolling around downtown San Deigo's Seaport Village is a nice treat, especially after dining at one of the area's restaurants on the bay. There are constant festivals running throughout the summer here, too. It's an easy city to get around and you're never going to run out of things to do. A few more family-friendly activities to add to your list: the San Diego Model Railroad Museum (American's largest at 27,000 square feet), the Botanic Garden, or the Birch Aquarium.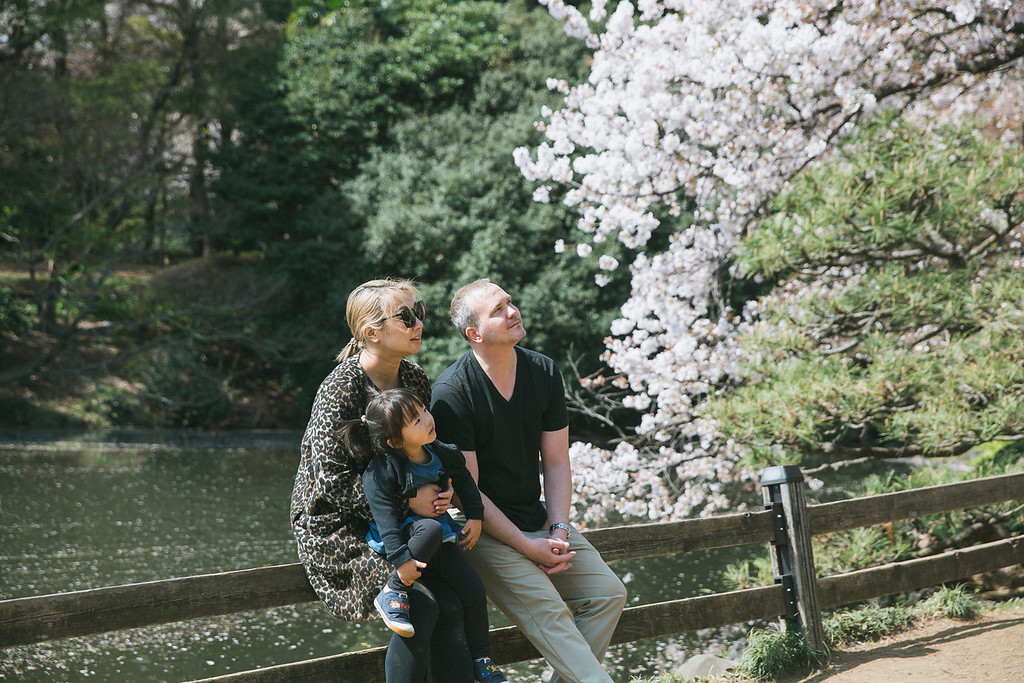 (Photo: Flytographer Waki in Tokyo)
The Buzzing, Futuristic (Yet Uber-Baby-Friendly) Culture Trip


Tokyo, Japan
For North Americans and Europeans, a trip to Asia is truly like visiting another world, but it shouldn't be the least bit intimidating, even with a young baby. In fact, Tokyo is repeatedly named one of the best cities to visit with young kids and families because of its cleanliness, accessibility and modern amenities. A trip to Japan's capital city is an active adventure, for the mom who's into sightseeing, packing the baby up and hitting the streets! From checking out Tokyo's neighbourhoods to visiting its outdoor parks (Yoyogi Park, Shinjuku Gyoen National Garden and Ueno Park are a few of our top picks!), there is so much for you and baby to see and do (and taste) in this city. Some baby musts: stop at one of the Purikura photo booths (it's like Snapchat but with printable photos) to capture adorably cartoony photos of your family; visit any of Tokyo's elaborately themed restaurants (it's like Disneyland meets dinner), like Alice's Fantasy Dining or Kawaii Monster Cafe; or check out the Tokyo Baby Cafe. This Alice-in-Wonderland-esque haven is dedicated to baby, with an elevator to take up strollers, elegant purple sofa-like changing tables, baby-sized washroom facilities, toys galore and great cuisine designed for the whole family. Dining out is half the fun in Tokyo, or maybe all of the fun, so make sure you travel with a stroller that's easy to collapse and store out of the way in busy restaurants.
(Photo: Flytographer Rojeena in Maui)
The Relaxing Beach Resort and Pampering Trip


Maui, Hawaii
Even though you're on one of the Hawaiian islands, Maui's summer temperatures rarely deviate from a perfectly comfortable 26 C/ 79 F. Some of the world's best oceanfront resorts are in Maui, from the Grand Wailea to the Hyatt Regency, so this is the type of vacation where every need is going to be catered to, from baby cribs to highchairs and extras like bottle warmers and sound machines. A lot of hotels offer babysitting services and can easily make accommodations for babies and toddlers. You can alternate the parental child minding to get in a massage or hydrotherapy treatment at the spa (or hire a babysitter and go as a couple), or hit the pools and not-too-crowded beaches—it's all win, win, win. If you're travelling with your toddler, look for a resort that offers kid-friendly entertainment so you don't need to leave: activities like penguin feedings, traditional luaus, lei making, ukulele and more. It's also easy to rent a car on Maui and take baby on a road trip (another great reason to pack your car seat) to see Maui's stunning national parks and historical towns (we highly recommend the Road to Hana, or hiking and walking around the Ioa Valley State Park).
For more sit and sightsee options, the Maui Tropical Express Tour is genius because it's an open-air bus that takes you on an easy ride around a jungle farm and its lagoons (no huffing along with a stroller necessary). Maui's Atlantis Submarine is like the marine version, taking groups underwater to look at the island's coral reefs and wildlife.