See more: Travel Guide – Top 5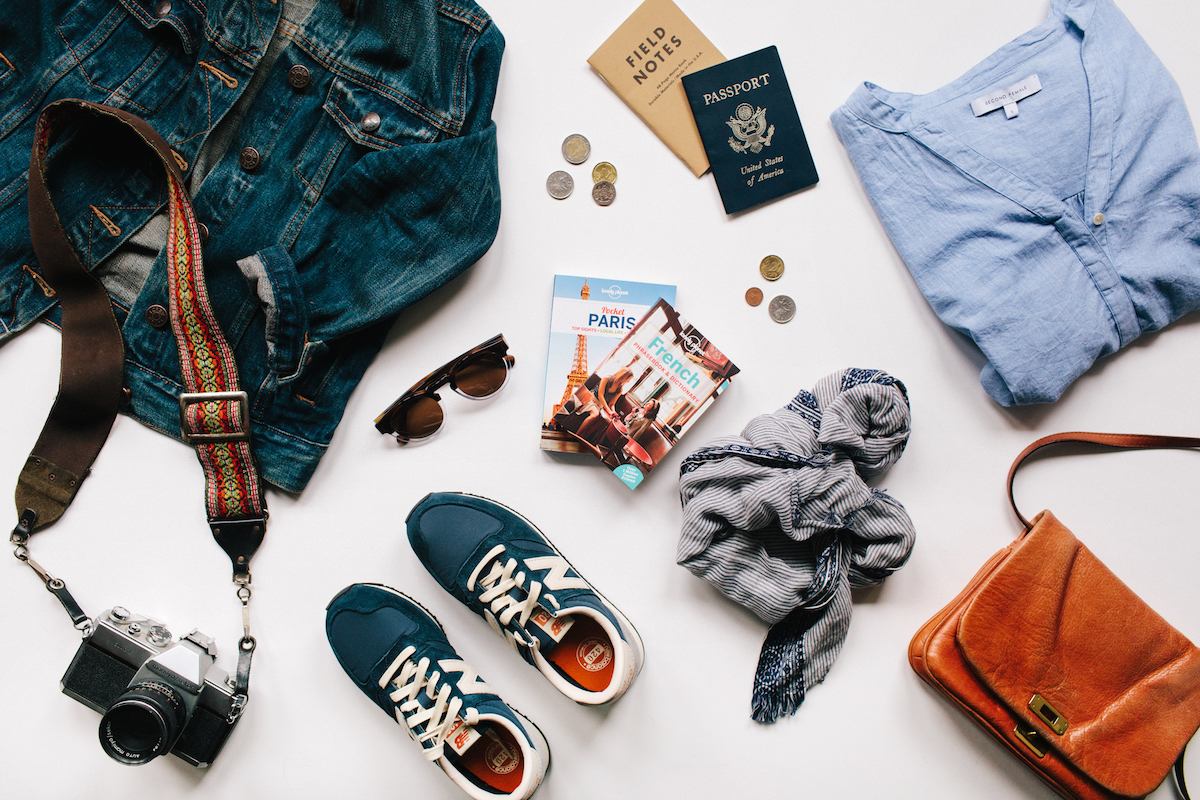 Spring is the perfect time to visit Europe. The flowers are in bloom, there are street markets to explore, outdoor cafés and endless cobblestone pathways to wander. When traveling through multiple cities in Europe, it is easiest to travel light, with one travel bag and a smaller backpack or tote bag to use on daily adventures.
What are the top 5 things to pack? Here is our short list of the travel essentials for Europe:
1. A comfortable (yet stylish) pair of sneakers. That's right! Running shoes are awesome (not nerdy anymore) and, believe it or not, right on trend! Find yourself a cute pair of New Balances or Nikes to clock countless kilometres across the continent. Trust me, your feet will thank you. And you can wear them with just about anything – from a flowing knee length skirt to skinny jeans.
2. A scarf. Spring weather can be unpredictable and packing for a time of year when it can be cool in the morning and then warm up throughout the day poses the problem of carrying a big sweater or jacket around with you. A great scarf is the perfect solution! They store easily in your bag, keep you warm when you're sitting outside at a café (while looking Paris chic) and won't be too hot when you find yourself lost wandering through alleyways that all seem to lead to the same museum. (Tie on a carré from Hermès for the ultimate luxe accessory.)
3. A good book. Travelling through Europe means downtime on trains, subways and waits for short flights. The perfect book, especially one set in the next city you're visiting, is a great way to pass time while you wait to arrive at your next destination. (We love Lonely Planet guidebooks and online tips to get our bearings.) You'll also fit right in with the locals if you're lucky enough to have the time to sip a cappuccino and read at a picturesque café. See some of our favourite reads here.
4. Your two (or three) favourite outfits. That's right, do your best to pack the clothes that you love to wear most. This could include a favourite blouse, denim jacket or striped skirt. You're about to embark on a once in a lifetime adventure so pack the things that make you feel good and can be worn all day & carry you into the night. The best choices are light, can become wrinkled and still look good (like linen) and can be worn all together. Keep it simple! (Booked a shoot? Check out our Style Guide!)
5. The beauty products you can't live without. In France most women don't believe in blow dryers, and few wear more than mascara day to day! This might be a giant step backward from your morning routine, but who really wants to travel through Europe with a hair straightener in her carry on? Pack the essential beauty products that you actually can't live without in a small makeup bag. European women pride themselves in a more natural look, so what better place to free yourself?
Most importantly, have fun, capture your memories and if it feels right to you, keep a travel journal so that you can look back on your amazing time in Europe. Safe travels!
---