Spoiler alert, the #1 most searched honeymoon destination might surprise you.
Ooooh we love a good data deep-dive. And Pinterest, those keepers of our favourite recipes, fashion outfit ideas and bucket-list travel spots have released one of our favourite reports—Pinterest's year-end trends Wedding Report. In it, they detail consumer research on everything from dress style to decor, beauty to bouquets, as well as hot honeymoon destinations. Read on for their list of the three most-searched honeymoon destinations, you might be surprised to see the results!
Ever since Elizabeth Gilbert took us to Bali in Eat, Pray, Love, travellers worldwide have lusted after this idyllic Indonesian island's terraced rice paddy fields and golden beaches. The Balinese town of Ubud, in the rainforest uplands, is perfect for dreamy honeymoons thanks to its mix of things to see and do—from Hindu temples, shrines and the Ubud Monkey Forest nature reserve to yoga retreats and high-end resorts (where the only thing on the itinerary is maxing and relaxing). If sunbathing and people-watching are more your style, head to Kuta Beach on the island's south end. This resort area sees a bit more action on the nightlife front and it's a great spot for surfing, snorkelling or taking a low-key seat at your new favourite swim-up bar.
#2 An African Safari (Searches +219%)
Getting up close and personal with the great desert cats, zebras and rhinoceroses we know solely via David Attenborough is a once-in-a-lifetime opportunity. Safari tours and day trips are available at wildlife reserves throughout Africa, but if you pick Cape Town, South Africa as your home base you get the best of both worlds: access to big-game adventures and a bustling city with a stunning waterfront, sweeping vineyards (hello, wine tour!), farm-to-table restaurants—all flanked by the stately Table Mountain. For safari options offering tours out of or near Cape Town, there's the 10,000-hectare Aquila Private Game Reserve around a two-hour drive north (where you can see the Big 5, lion, leopard, rhinoceros, elephant and Cape buffalo), the luxe Indervoorn Game Reserve (it has a local cheetah release program on-site so you can see the cheetahs running!), and the 58,000-hectare Sanbona Wildlife Reserve (all of the above, plus white lions and some rare rabbits, about three hours from Cape Town).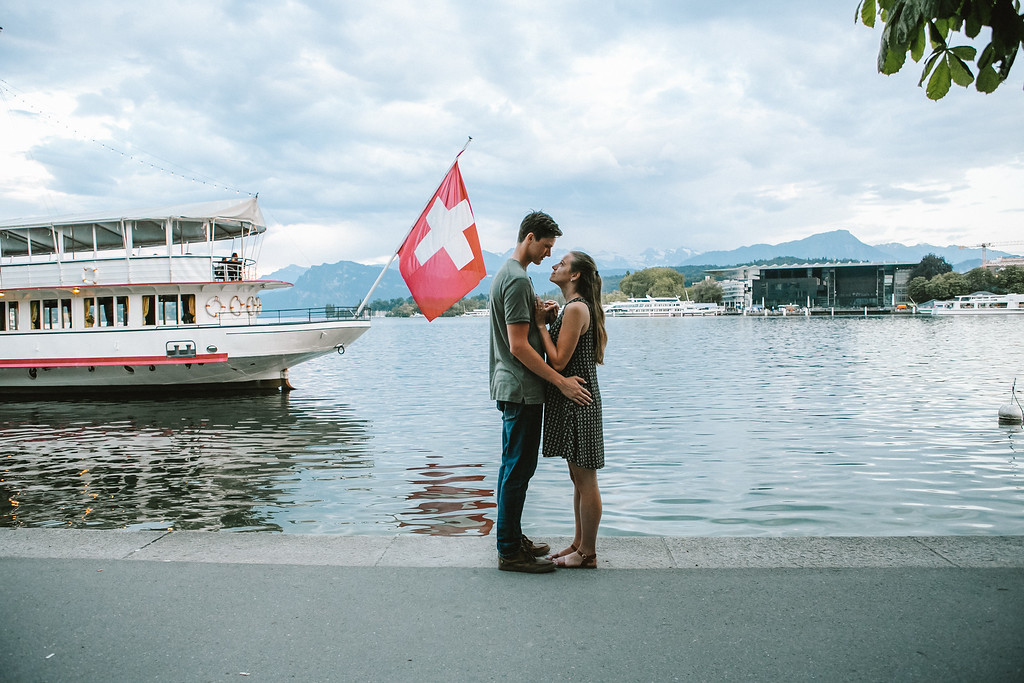 (Photo: Flytographer Veronika in Zurich)
What is it about this central European country that's set Pinterest ablaze as of late? Everyone already knows about the iconic chocolate and legendary timepieces (is January too early to ask Santa for a Patek Philippe?), but that's not even half of the story. Once you've seen photos of Zurich, a.k.a. the "water city" with its Limmat River bridges, 1,200 fountains (which flow with perfectly safe drinking water), 3,500-year-old Old Town district, world-class restaurants and spa culture (from thermal baths to hydrotherapy to lakeside saunas), you'd want to book your honeymoon here, too. Geneva is another popular Swiss gem, also on a lake and bisected by a river, so it's full of scenic bridges and Romanesque architecture, all with a bit of French flair; Geneva sits right on Switzerland's most Western edge where it shares a border with France. The serene, panoramic view of Lake Geneva might be the city's most stunning draw, thanks to a backdrop of snow-capped mountains (a.k.a., the Alps)—how's that for romance?