No matter what you dream up, we love helping you bring your unique proposal ideas to life.
We totally understand that planning a proposal can seem daunting, especially when you're planning it in a faraway destination. But no matter what unique proposal ideas you dream up, we're here to help. Thomas knew that his dream proposal would take place on a beautiful beach and involve an adorable, cuddly dog. Read on for how we made it happen.
HOW THEY MET
Three years ago, we locked eyes at an outdoor art show in Winnipeg, Canada. Conversation ensued and our love for travel and adventure sparked a desire to get to know each other better. The meeting was serendipitous as we are from different parts of Canada. Shannon had just moved to Winnipeg, where I grew up, to work as a journalist. It was clear early on that we shared many of the same values and our connection grew quickly.
HOW DID YOU KNOW HE/SHE WAS "THE ONE"?
I knew Shannon was "the one" after hearing about her goals, dreams, and adventurous life living in different parts of the world. Shannon knew I was "the one" because even though she never had the desire to cook before, she found herself inspired to spend hours making us healthy, delicious meals for our weekend dates. After incredible trips to Greece, Spain, and living together for over a year, our bond was stronger than ever approaching our third anniversary.
PROPOSAL LOCATION/DATE
My fiancée Shannon had dreamed of travelling to Australia since she was young and it worked out that our three year anniversary would be during our vacation to Sydney, Australia. I wanted to propose to Shannon on our three year anniversary and knew that if I did it in Sydney, I would be able to incorporate Shannon's favourite things — a beautiful beach and the ocean — into my proposal ideas.
PLANNING THE PROPOSAL
Our proposal photographers Sarah and Stephen were absolutely incredible to work with. They are professional, creative, and very experienced. I really wanted to have my proposal shoot on a beach and with their local knowledge, they suggested a beautiful, secluded beach that I would have never found on my own. My dream proposal ideas have always included having a dog involved in some way and they went to great lengths to make that happen. I really appreciated this and could not have pulled it off without their effort and local expertise.
THE BIG DAY
I told Shannon I had planned a date for us to go to the beach and have dinner at an elegant harbourfront restaurant in Sydney. We arrived at Congwong Beach in the late afternoon to find it perfectly secluded. We walked along the beach and after stopping to take a selfie, a cute little dog with a peculiar collar ran up to us. Shannon adores dogs, so she was quite interested in petting the dog and reading his collar. It read, "Hi Shannon, Tom has a really big question for you."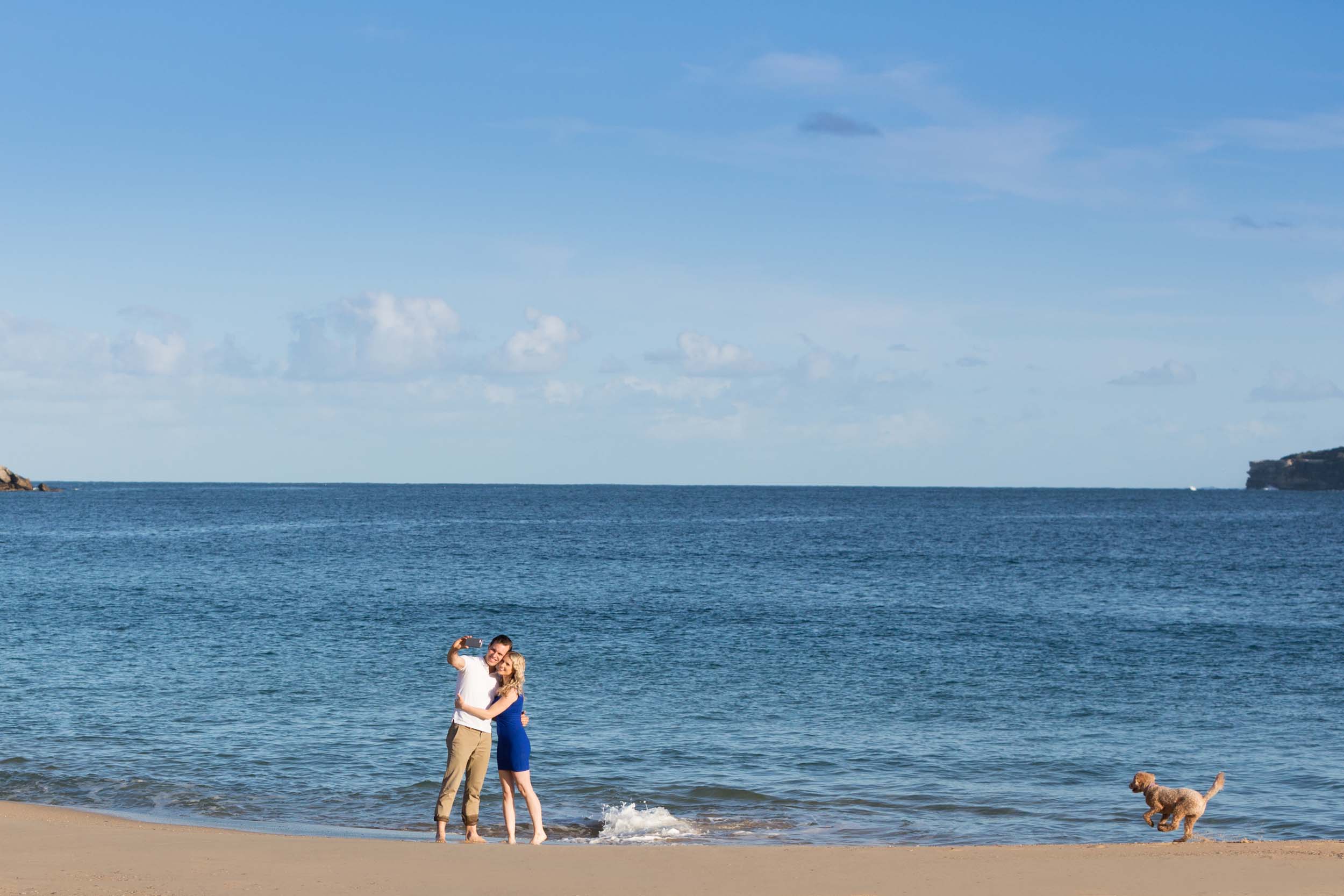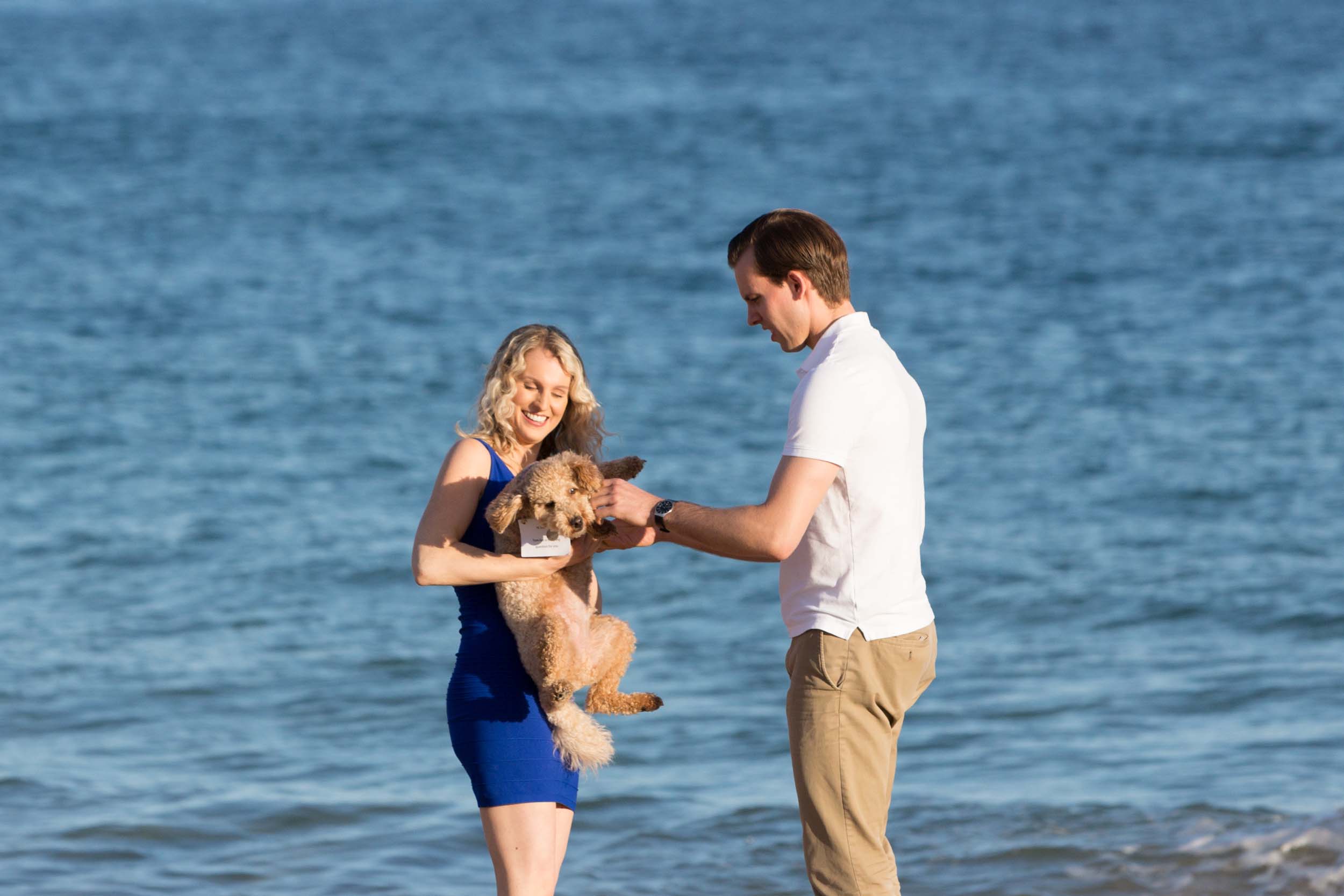 She was completely surprised when I then got down on one knee to express my love, present her engagement ring, and ask for her hand in marriage. After many tears of joy, hugs, and kisses, she said yes! She later told me the proposal was her dream come true, as we had incorporated everything she loves into our proposal ideas: a dog, a beautiful beach, and the ocean. I was so grateful for our Flytographers Sarah and Stephen who helped me plan, execute, and capture this dream proposal. We will cherish these photos for the rest of our lives.
Flytographers Sarah and Stephen in Sydney
Good boy Jasper! He was compensated for his time in treats.