See more: Top 5 – Travel Guide – Paris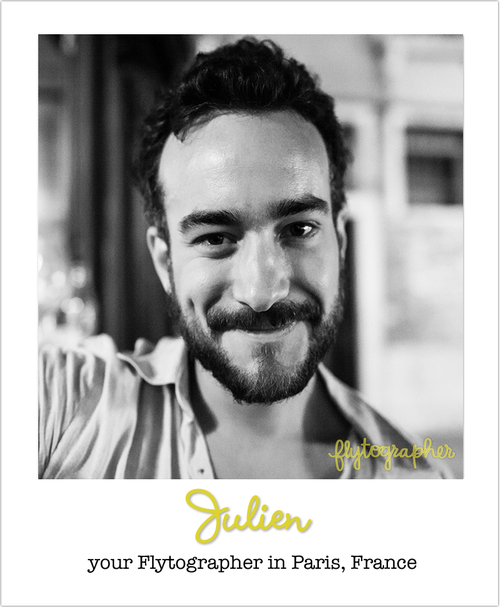 Considered the world's most romantic city, Paris is the perfect place to get away with your partner for an amorous retreat. Where else but the City of Light can you steal a kiss atop the Eiffel Tower, take a night cruise down the Seine, and add your own love lock to the Pont des Arts?
With this week's post, Flytographer Julien offers us his Top 5 list of places for a romantic walk in Paris. As the lovely Audrey Hepburn said, "Paris is always a good idea."
---
1) La Coulée Verte – Also poetically named "Viaduc des Arts" or Viaduct of the Arts, this old railway track takes you above the street level where you'll find yourself on a beautiful green avenue. The route connects a series of parks and greenways to create an uninterrupted 5 km path that is perfect for a long stroll. Further on, the walk will have you discovering alleys, small wooded paths, and even tunnels that reveal a rather enchanting charm.
2) Montmartre – Located in the 18th arrondissement, Montmartre has a history steeped in the arts. It has been home to Picasso, van Gogh, Monet, Dali, and many other famous artists, and the famed Moulin Rouge still stands at the foot of the Montmartre hill. Local tip: for breathtaking views (and no tourist crowds), plan to start your stroll at sunrise atop the hill!
3) Parc des Buttes-Chaumont – This 19th arrondissement park hides small flowered paths and better views of Paris than you can imagine!
4) Le Marais – The great attraction of this area comes from its remarkable preservation. Largely unaffected by the Haussmannization of Paris, Le Marais remains a true relic of medieval Paris. Breathe in the history as you meander through the maze of narrow, winding streets lined spotted with mansions dating back to the 17th century.
5) The Latin Quarter – Spanning the 5th and 6th arrondissements, this popular section of Paris calls back to the city's bohemian roots. Take a stroll down the narrow sidestreets of the Latin Quarter, passing attractions such as The Pantheon and Île Saint-Louis, one of just two natural islands in the Seine river.
---
Feeling the need to see Paris in the Springtime?