Sustainable travel tips
So, you want to start travelling with a little more mindfulness, but don't know where to start? Responsible travel is on the rise…and for good reason! Practicing sustainable tourism doesn't mean ditching your fancy hotel digs and living with no running water in a yurt in the desert for a week. In fact, small, actionable steps add up. Here's what you can do while planning your next trip to start having a positive impact on the ecosystem, local communities, and the environment as a whole. As a nod to Earth Day, we're taking a look at the 6 things to consider when booking sustainable travel.
Photo: Alicia in Cape Town for Flytographer
1. Green travel destinations
You could choose your destination based simply on where you'd like to go and then plan the rest of your trip details to be as sustainable as possible, but where you go does matter. First, choose a destination with a proven track record of responsible tourism, including human rights and environmental protection. Check out Ethical Traveller for more detailed info on destinations, and check out their Covid-19 edition of the 10 best ethical destinations of 2021, including Belize and Costa Rica. The biggest question to ask when booking sustainable travel is, "Where does the money go?" Try to keep your money as local as possible in all aspects of your travel and you'll be well on your way to a greener vacation!
Photo: Raquel in San José for Flytographer
2. Friendly travel accommodations
Whether your accommodation of choice is a guest house or a fancy hotel, ask questions before you book. Is the accommodation LEED certified? Even if your destination of choice isn't so eco-friendly — think the Las Vegas strip — you can still reduce your impact by choosing a hotel committed to reducing its impact on the environment. The Palazzo in Las Vegas has been LEED certified since 2008, which means it meets global criteria to be considered a green building. Sustainable accommodations are far more varied than luxury hotels. If you're more of an Airbnb traveller, be sure to stay at locally-owned accommodations because keeping your money local is key to travelling sustainably.
Photo: Belinda and Tony in Las Vegas for Flytographer
3. Packing tips for responsible travel
Packing light is always the best option. Plastic waste disposal systems in developing countries where tourism is on the rise are often not up to the task of dealing with increased waste from travellers. Reduce the waste you produce by bringing a reusable water bottle and either filling up at your hotel or boiling the water before drinking it. Think about all the plastic bottles you aren't using — hoorah! The same goes for plastic drinking straws. Kick all single-use plastic to the curb. If you just can't kick that straw habit, pick up a reusable straw to take with you wherever you go. We're partial to the bamboo straws from Bambaw or the stainless steel straws from Senhai (both come with their own cleaning brushes). As always, recycle your waste at restaurants and your accommodation rather than opting for the trash bin.
Photo: Flytographer in Tulum
Photo: Flytographer in Tulum
4. Transportation sustainability
How you get to your destination is important, but often there's little wiggle room — you can't exactly cycle to Bali. If you can't avoid air travel in your destination of choice, you can make choices that reduce your carbon footprint once you have arrived. Choosing to cycle or walk instead of hiring a driver or hailing a cab is a great way to reduce CO2 emissions, experience the local culture, and get some exercise while you're at it. Even better, rent bicycles from locals and their businesses, rather than from large, non-local rental companies or tour groups. When you can't walk or cycle, take public transportation! It's a great way to get to know a city from a local perspective and you'll likely discover some hidden gems along the way that you wouldn't find inside a guidebook when you use public transport.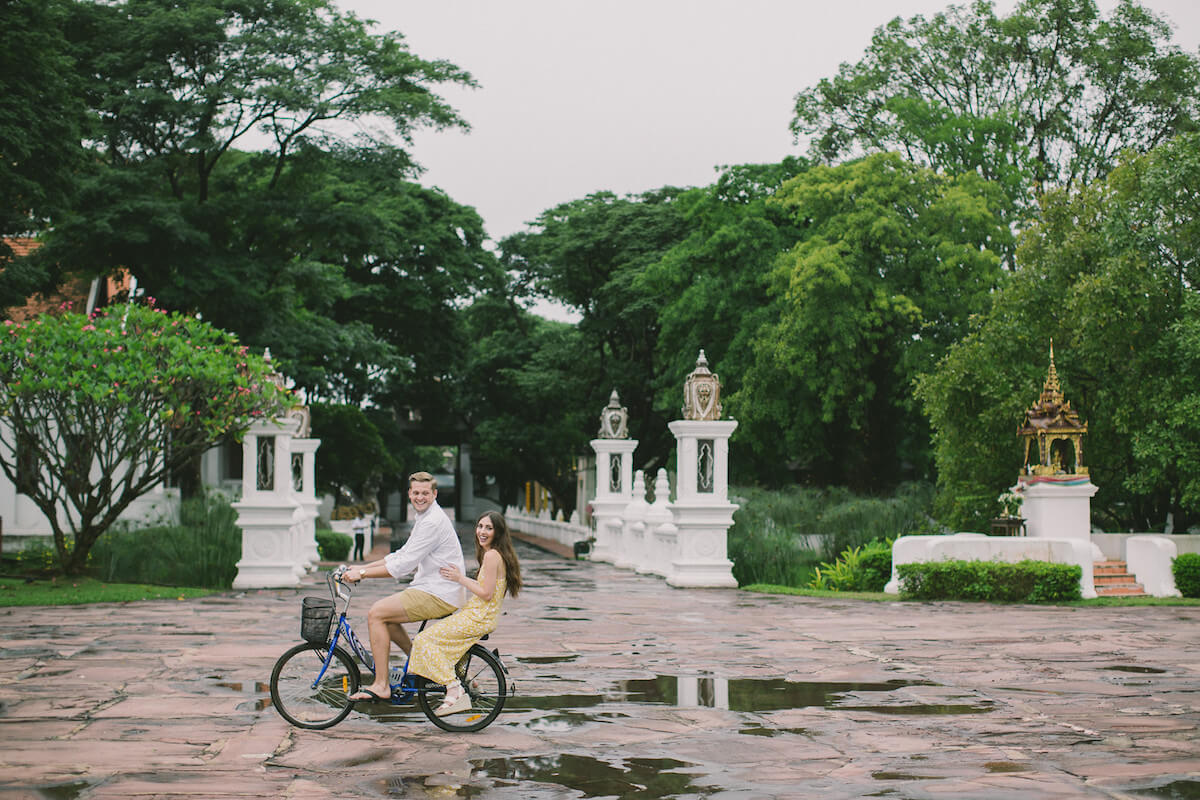 Photo: Mint in Chiang Mai for Flytographer
5. Shop for food locally
Travelling is all about new experiences and what you eat should be no exception. Sticking to your usual culinary routine isn't good for your vacation memories or for your environmental impact. Plain and simple, eat locally and you will reduce carbon emissions from transported goods, plus you'll support local farmers and producers. Shop at local markets, purchase from street vendors, and most importantly, chat with the local people to ask for their recommendations for the best farmers' markets and local businesses in the area.
Photo: Juan Felipe in Cartagena for Flytographer
6. Eco-friendly travel experiences
How you spend your time during your vacation is important. Book tours led by locals, rather than by global tour companies. Besides supporting the local economy and tourism industry, you'll have a richer experience thanks to the unique perspective only a local will have. If you want to experience any animal-related excursions, say swimming with dolphins or riding elephants, be very careful about where you spend your money and who you support. National parks are a great way to see the local lands in a sustainable way. Asking questions is the first step to making informed decisions, but online reviews can be a good resource, too. Do some pre-trip research and support only those businesses who really are providing sanctuaries for rescued animals and you'll go home with a guilt-free conscience and amazing vacation memories.
Photo: Bayu in Bali for Flytographer
The road to ecotourism
We are all on this journey together as we educate each other and fight climate change. The travel industry has a long way to go, but we believe that little steps in the right direction by everyone will go a long way. When you start booking your trips again, consider these 6 things while planning so we can all do our part. Don't buy into overtourism, cheap souvenirs, or large tour operators. Opt for local experiences and take your time with slow travel. Our local photographers cannot wait to capture your memories on your next big trip (plus you get a carbon-neutral, memorable souvenir while you are at it!).
"Tourism is a genuine driver of solidarity and development. Let us all fully harness its power to bring people and communities together… delivering better opportunities and sustainable development for millions across the globe." – Zurab Pololikashvili, World Tourism Organization