By Alison McGill
Looking to splash out on your honeymoon? Give yourself the royal treatment with a post-"I do" itinerary that includes one of these three other-worldly spots in the UK and Ireland.
Cliveden House, England

You'll find England's most exclusive and tony country retreat just a stone's throw away from St. George's Chapel at Windsor Castle, where Prince Harry and Meghan Markle will tie the knot. Cliveden House has a rich 350-year history, with a country estate that was established in 1605 and a fixture of royal happenings for centuries. Its storied past as a private home includes visits from Winston Churchill to The Beatles (where scenes from "Help" were filmed), and in 1961 it was the spot where model Christine Keeler met then-Secretary of State for War John Profumo which lead to the Profumo affair, the biggest political scandal in British history.
Cliveden House
The magnificent mansion and estate property is set on 376 acres of National Trust grounds and was converted to a hotel in 1985. The opulent Edwardian style features decadent pieces from this era throughout the rooms. With just 37 guest rooms, the experience at Cliveden is exclusive and intimate. For the ultimate stay, book one of Cliveden's three suites which are as luxe as it gets, with loads of living space and sweeping views of the grounds.
Cliveden House Spa Grounds
Wandering
Cliveden's
acres is an experience in itself—it may well be one of the most romantic gardens and properties in all of England. It is one of the most popular tourist attractions in Britain, with over 460,000 visitors a year who come to marvel at the formal parterre, themed gardens and renowned Cliveden maze. The maze was first created back in 1894, but has since been replanted and redesigned—it now consists of 1,100 yew trees which cover a third of an acre. If you are looking to enjoy amazing food (the Cliveden afternoon tea is famous), incredible service, and some serious privacy in surroundings that are fit for a prince and princess, Cliveden is the spot.
Borthwick Castle, Scotland
There's something ultra-romantic about a centuries-old, historic castle property, and
Borthwick Castle
, an exclusive luxury property in the bucolic Scottish midlands, serves it up by the plateful.
Borthwick Castle
Just a 30-minute drive from
Edinburgh
, Borthwick Castle dates back to the 15th century. One of the finest surviving examples of medieval architecture, the castle was built by Sir William de Borthwick and has an interesting history, including playing host to Mary Queen of Scots and her husband the Earl of Bothwell during her reign in the 16th century. In 2013 the castle underwent extensive, multi-million dollar renovations, which transformed the property into a sumptuous retreat.
Jilli in Edinburgh for Flytographer
What's most magical about Borthwick Castle is how the authenticity of the 600-year old space has been preserved through very thoughtful design and décor—the vibe is pure luxury with rich fabrics, colours, textures and incredible bespoke furnishings featured throughout.
If you want to know what it's like to sleep like a king and queen, Borthwick will do the trick—a stay in one of the castle's plush bedchambers will be a memory of a lifetime. All 10 bespoke rooms are designed to showcase the historic details of the castle. Favourite rooms include Mary Queen of Scots, which is the room Mary is rumoured to have stayed in while in residence, and Earl of Bothwell, a space made extra-special by the soaker tub that features window views of the rural Scottish countryside and a hand-carved canopy bed.
Borthwick Castle
is the perfect spot to plan a regal destination wedding, too. When you book the venue, it's exclusively yours and can accommodate up to 80 guests for a reception in the majestic great hall. It's truly the dream wedding and honeymoon destination rolled into one.
Ballyfin Demesne, Ireland
In 2016, Condé Nast crowned Ballyfin Demesne king of its "Best Hotels of the World" awards. If you have visited as I have (twice), you'll discover why within minutes of arriving. From the moment you pull up to the estate's grand gates and winding drive, you're swept from the bustle of modern life and ensconced in a bygone era of tradition, romance and luxury. Ballyfin was the secret spot Kim and Kayne retreated to after their 2014 wedding.
Ballyfin
Located in
County Laois
, 90-minutes from Dublin, Ballyfin is a grand Irish Regency mansion built as a residence in 1820 by the Coote family. The house was sold in 1928 to the Patrician Brothers, a Catholic teaching order that operated a school there for more than 70 years. In 2002, Chicago couple Fred and Kay Krehbiel bought the property and spent the better part of a decade restoring it with the help of over 100 craftspeople.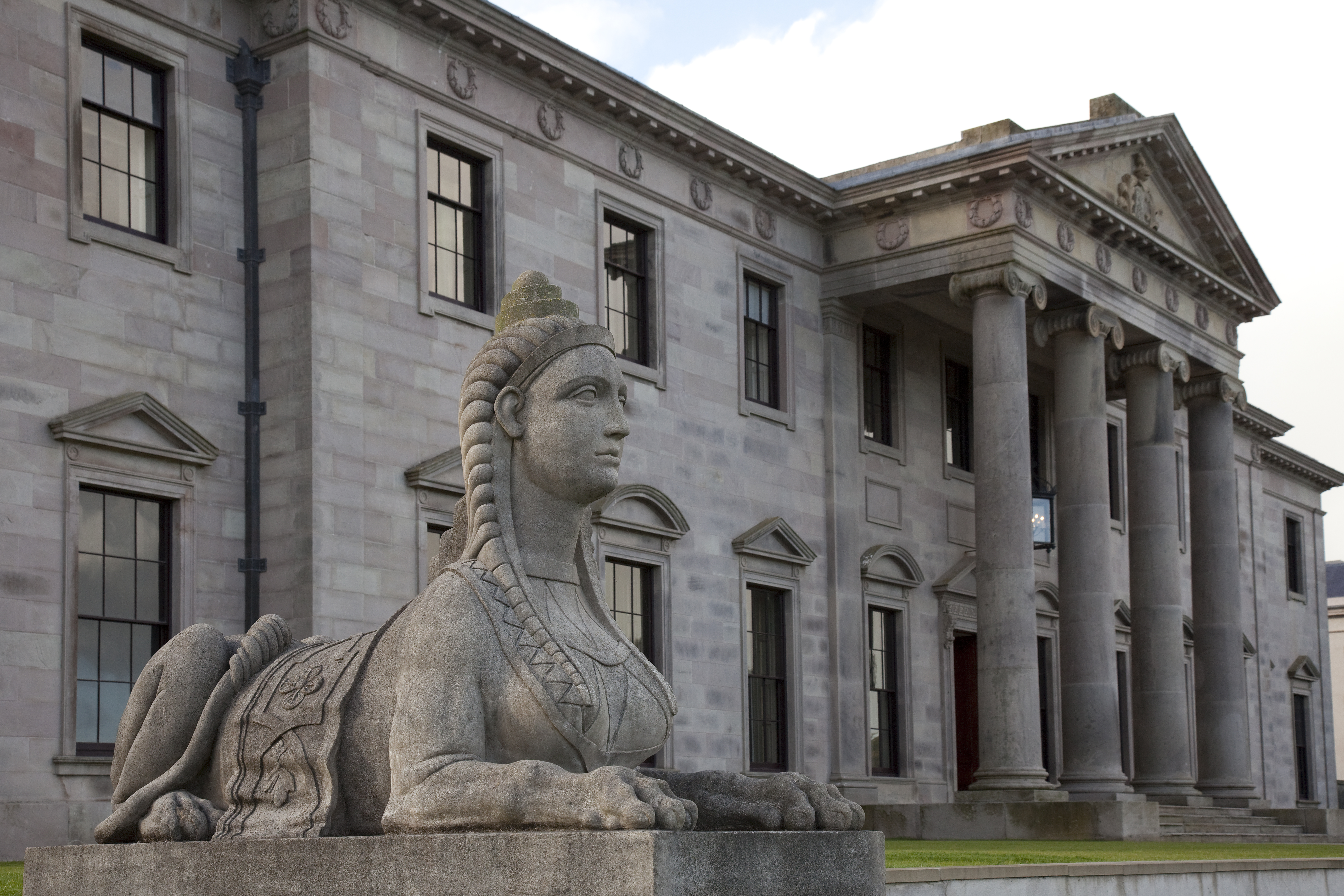 Ballyfin
Every lookout from the house is cinematic. There's a dramatic cantilevered staircase overlooking a reception area lined with ancestral portraits of the Cootes. It leads to the staterooms, all incredibly grand, yet wonderfully intimate. The Gold Drawing Room is the perfect place to take afternoon tea while marveling at the intricate gilded plasterwork and the lavish chandelier that once hung in the Paris mansion of the Queen of Naples, sister to Napoleon I. All 20 guest rooms and suites are designed to reflect the spirit of the original house, and many of the rooms feature ornate furnishings and fixtures from the Coote era. The grounds of
Ballyfin
cover 600 acres, which you can explore by foot, golf cart, bicycle, or horse and carriage. The estate begs to be discovered—it's home to hidden waterfalls, a grotto, a medieval-style tower, and walled gardens. Ballyfin impresses not only with its majesty and grandeur, but also its incredible heart. It's an experience you won't soon forget.
Ballyfin
Alison McGill is the editor-in-chief of
Weddingbells
, a royal fangirl and watcher who will be in London for Prince Harry & Meghan Markle's wedding day.