From Founder & CEO, Nicole Smith
It's hard to believe a new year is upon us again. Looking back at 2015, I can't help but smile at all the exciting moments we had as a scrappy, young startup. Sometimes it feels like yesterday that I was in Paris with my best friend, on the trip where the idea for Flytographer was conceived.
So, what did we get up to in 2015? Well, here is a quick summary…
The year began with just me and one full time employee. In January, we closed our first round of seed investment, and started hiring more team members. We leased our first office space in February and slowly, over the course of the year, grew the team to seven full-time employees. We created company values, re-launched our website, and started the tradition of "Prosecco Fridays" to celebrate things big and small every week.
As we grew, we started to get some awesome press buzz. It started with our New York Times feature in March, and continued all year long. We screamed with delight when Conde Nast Traveler called us "The Future of Travel Photography", jumped when Forbes called us the "#1 Gift for Travelers," and almost died when Martha Stewart Weddings said, "Forget your selfie stick and book Flytographer on your honeymoon." We are so grateful to have had coverage by top media such as Buzzfeed, Yahoo, TripAdvisor, The Guardian, PureWow, CBS, The National Post, and our first live TV appearance on Canada AM.
In the spring, we hosted our first "Global Flytographer Meetup" in Paris. Photographers from around the globe flew in for three days of fun workshops and social activities. We did the "Baguette to Bistro Tour" with our partner Context Travel, and held outdoor workshops on the grass at Luxembourg Gardens and under the Eiffel Tower. This was not your typical "sit in a windowless room all day" type of conference, and it was awesome. We enjoyed a photo walk along the Seine, and, of course, drank a lot of wine while we all compared stories, learned from each other, made new friends, and felt inspired by the City of Light. We can't wait for our second meetup, which will be this spring in Barcelona! It truly is a special group, our global Flytographer family.
In May, we were surprised with an unexpected invitation to pitch on Canada's Dragons' Den (American friends: it's like Shark Tank, and in fact, was the inspiration for it). With less than a week to prepare, my team flew across the country to Toronto. I brought my 10-year-old son along so he could experience this unique opportunity. As a mom and entrepreneur who works long hours, it's so nice to be able to involve your kids in the business whenever possible. Read more here on our experience, both before and after the show.
In September, we announced our global partnership with Fairmont Hotels. We are really excited to be working with such an iconic and like-minded global brand. They generously threw us a Dragons' Den viewing party in October at the gorgeous Fairmont Empress in Victoria where 100 of our closest friends, family, and customers joined us to watch the episode. Prosecco and popcorn were consumed by all, and we even had a "Candy Bar" run by professional "Candy Bar Managers," aka the Flytographer team's kids.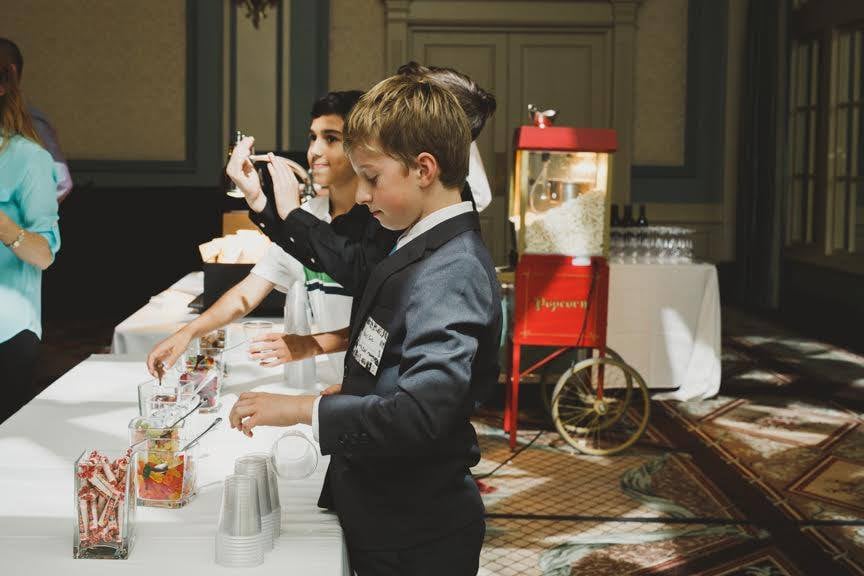 In November, we exhibited at our first global trade show, the International Luxury Travel Market (ILTM) held in Cannes, France. We built our first trade show display (which we nicknamed "François"), and although it wasn't so fun dragging him across continents, he sure did make our booth look pretty.
It was fantastic to meet thousands of luxury travel buyers and suppliers from across the globe and introduce them to Flytographer. We popped Fisherman's Friends like candy after 60 back-to-back meetings over three days, but the champagne at the evening events soothed our throats nicely. Could there be a prettier location for a trade show? We can't imagine.
We saw a lot of industry validation of our concept at this trade show, and that felt really good. As the pioneers of an entirely new marketplace, it has been challenging these past 4 years to create awareness and build trust. The passionate feedback from our customers every single day, however, tells us we are on the right path. This matters more to us than anything else.
Quick 2015 stats
Added 46 cities + 147 new photographers. Today's total: 171 cities, 335 photographers
Grew from 2 to 7 full-time employees
Captured 100,000+ photos for thousands of customers across six continents
Tripled our bookings from 2014
30% of our bookings from repeat customers or word-of-mouth referrals (this stat really delights us!)
Flytographer was initially built on the concept that "memories are the best souvenir." We also found that our customers truly love the experience of connecting with an interesting local who is passionate about their city. People connecting with people. Given all the challenges in the world today, having authentic connections with people from different cultures all around the globe is more rewarding and important than ever.
Thank you for all your support last year, and trusting us with your memories. We hope to capture many memories and create many more connections in 2016 … and hope you join us.
With gratitude,
Nicole
p.s. – Don't forget to view our "Best Love Stories of 2015." Love really does make the world go round.