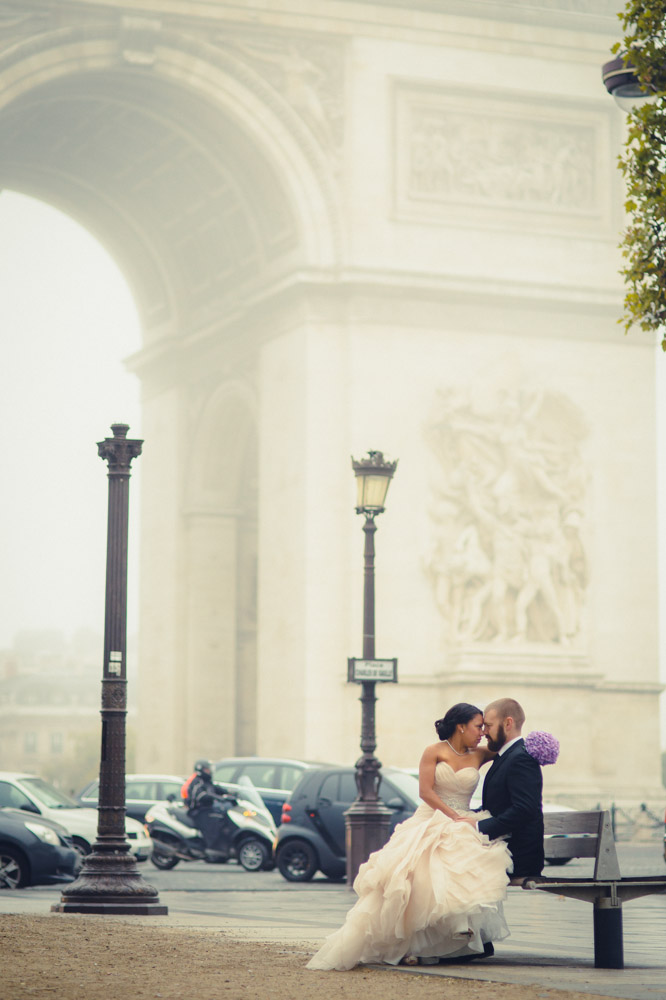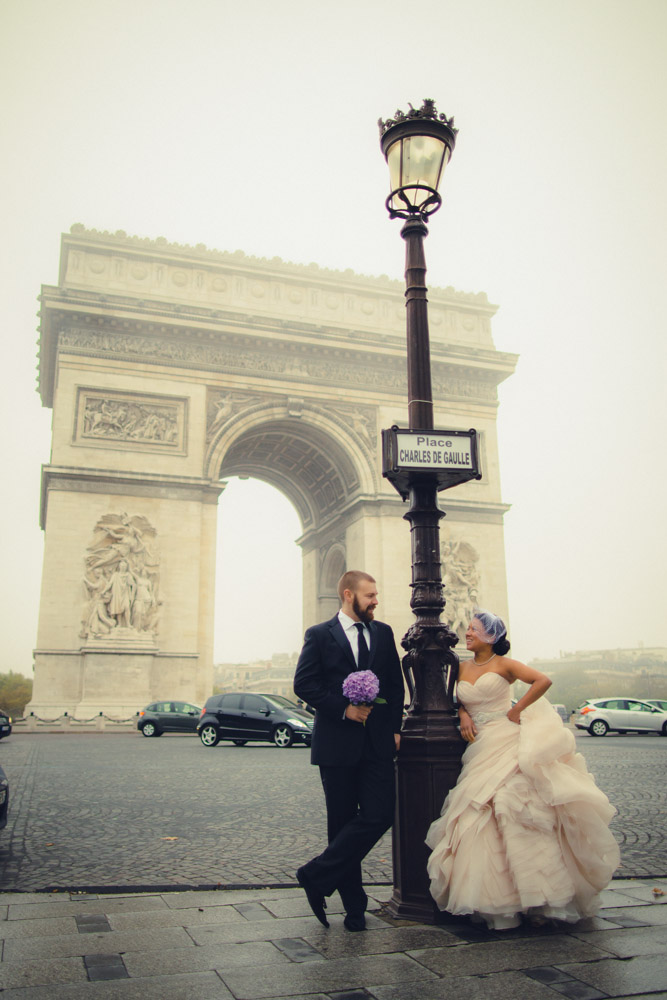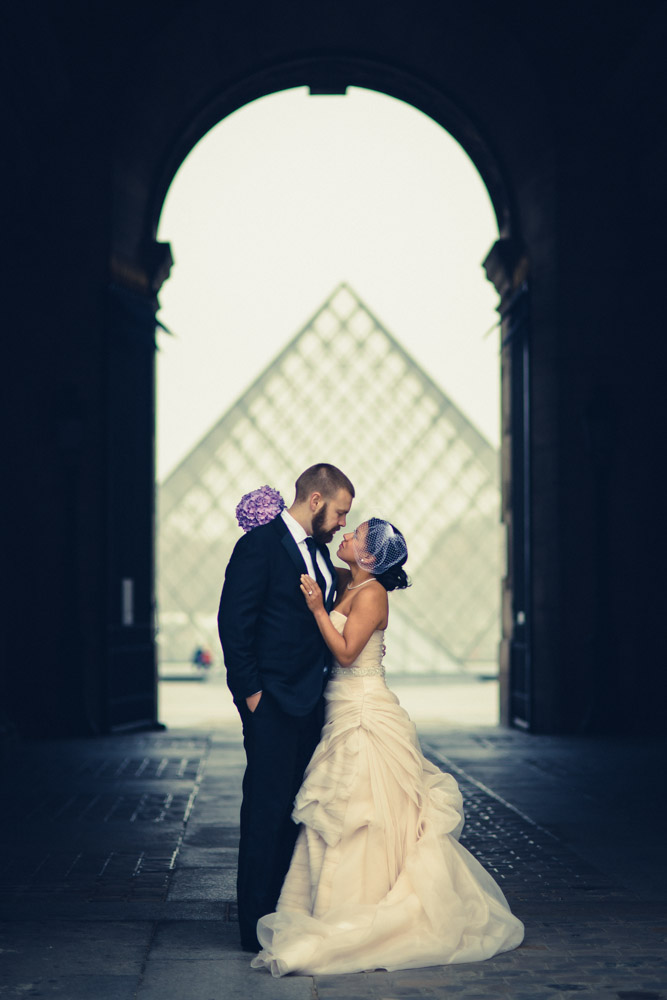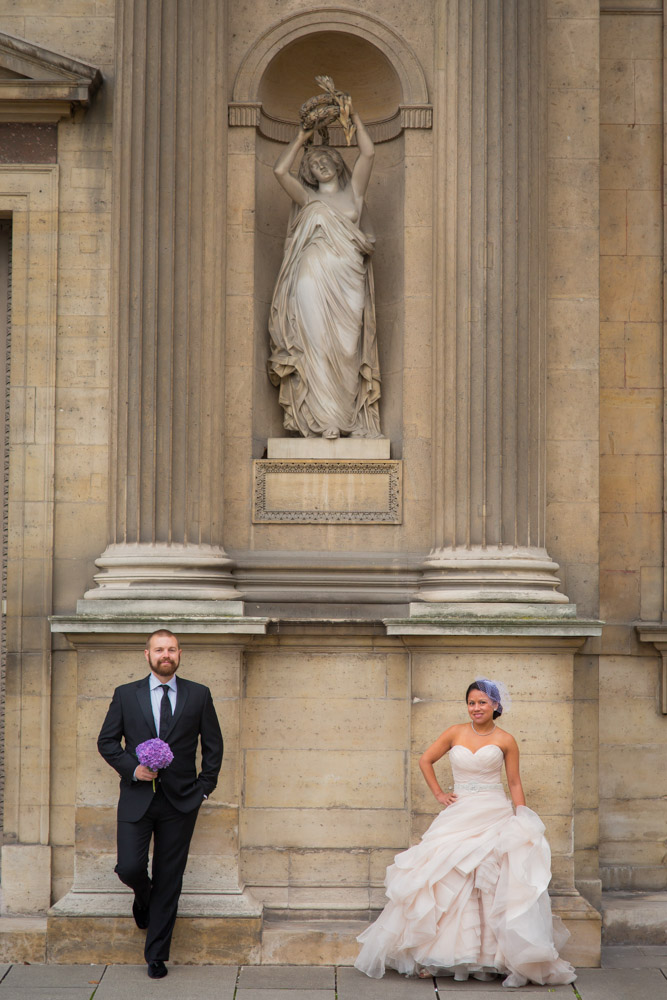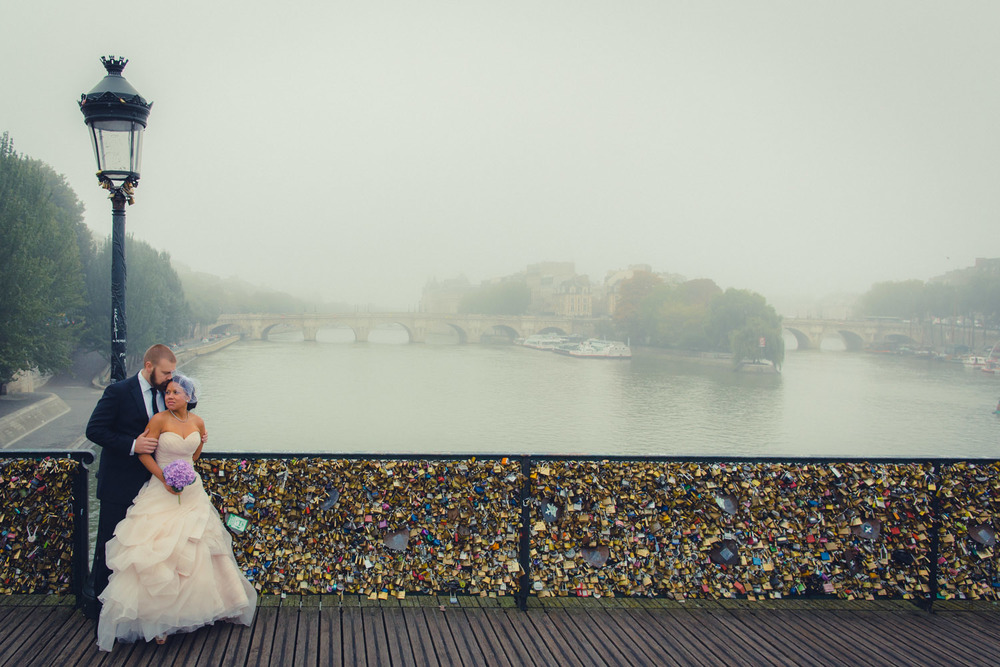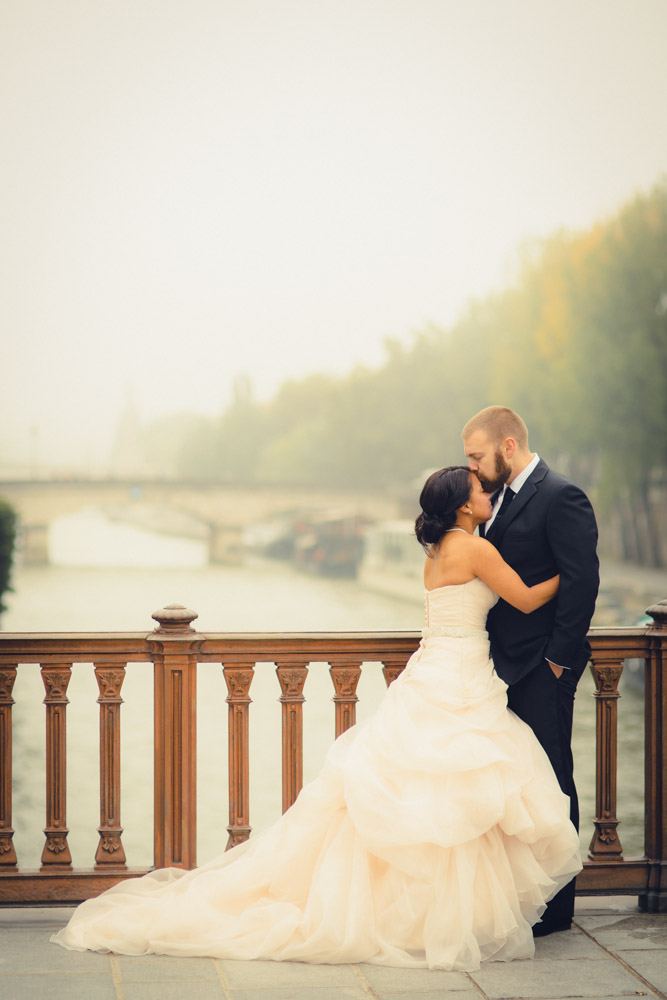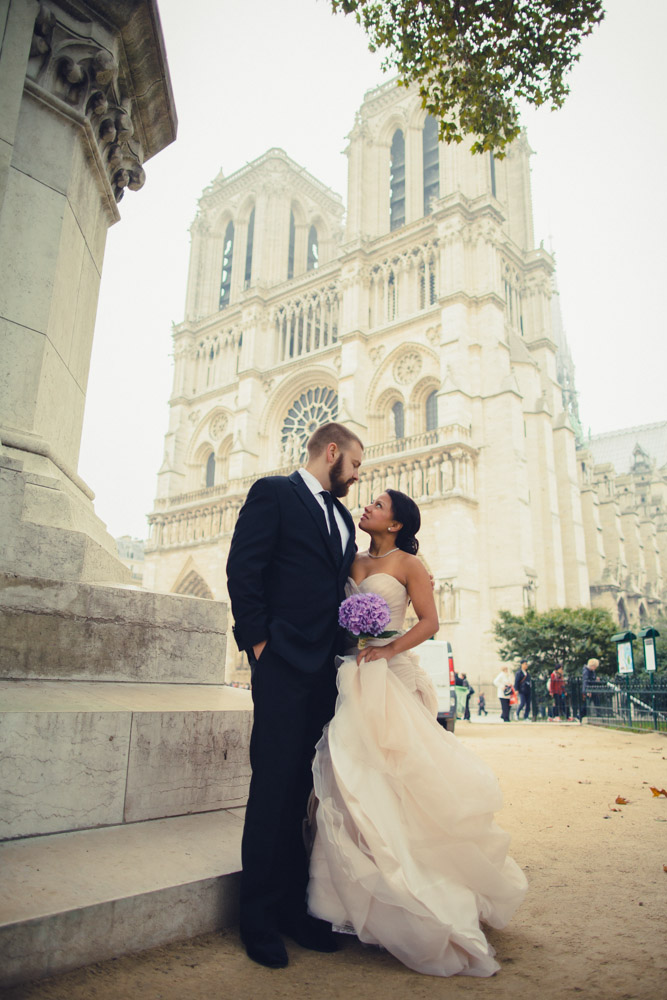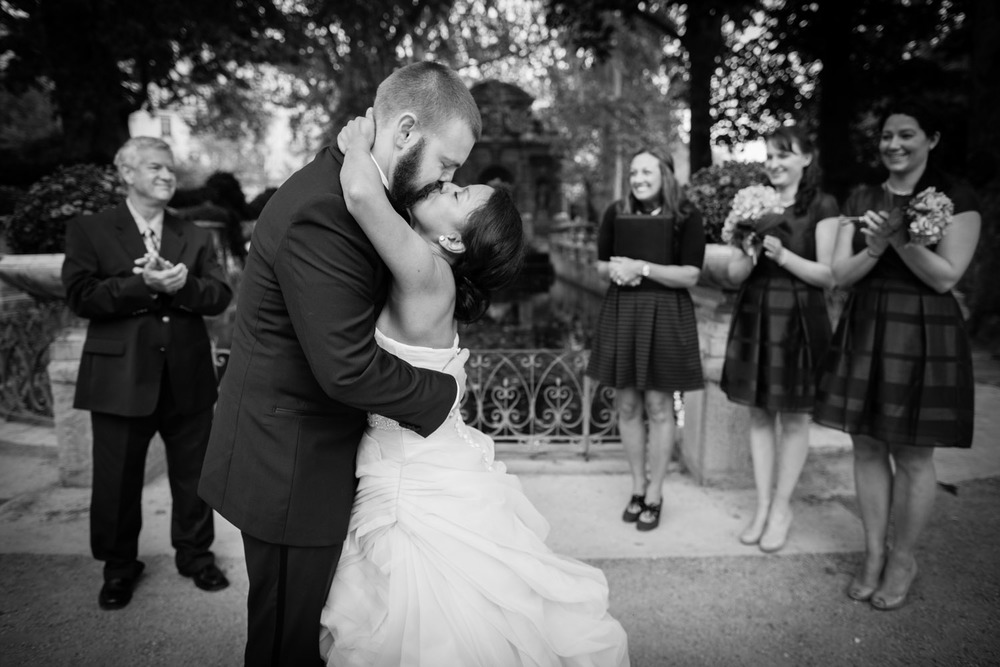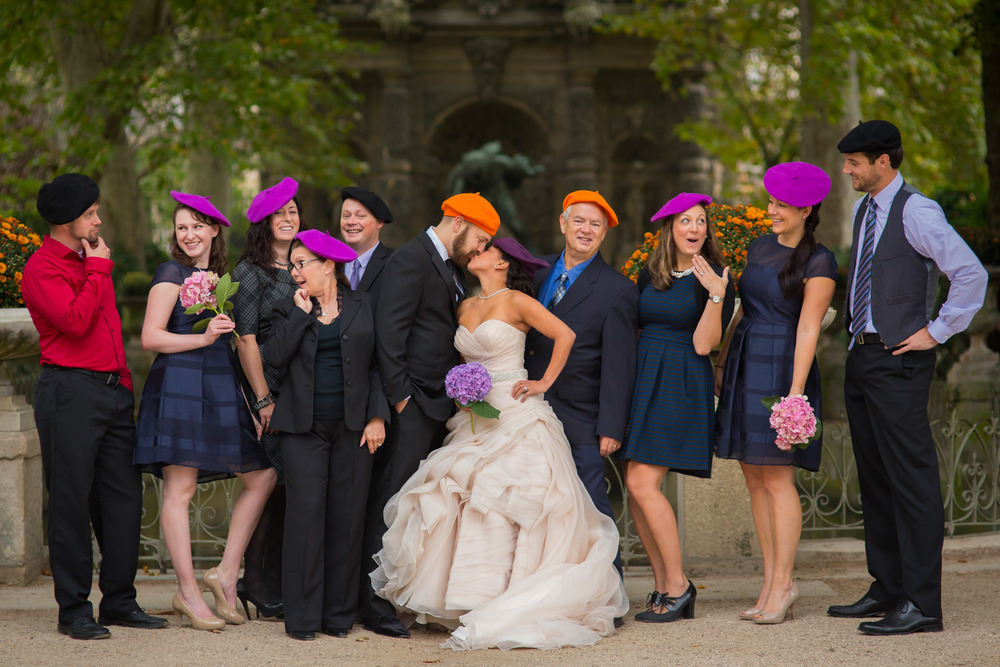 We started talking with Nick a few months ago about a special shoot all over Paris. We sensed it was an important day, but didn't realize HOW important. Nick, all casual, told us 'Nicole would be in a white dress, and he would be in a dark suit'. Imagine photographer Pierre Torset's surprise when THAT GLORIOUS DRESS arrived! Not only did we now have the makings for EPIC photos all over Paris, but nature participated by giving us this incredible ETHEREAL FOG that only deepened the romance on this fine fall morning in Paris. Grab a glass of wine and join us on their journey…We started off at the Arc de Triomphe.Next up, the Louvre.Of course, Pont des Arts is a MUST STOP. The Love Locks bridge is bursting with romance. N'est pas?Notre Dame. A fairytale backdrop.Finally, last stop, an intimate wedding ceremony in the Luxembourg Gardens. And, of course, BERETS FOR ALL! 
"We had a great experience with Nicole in prep and with Pierre in Paris on the day of our wedding. Mother Nature didn't fully cooperate, but Pierre immediately had an alternate plan for our sites and everything turned out superb!!! A must use company for any type of photo shoot – I'm sure we'll use them again when our anniversary trip takes us back to the scene in Paris."  — Nick
"Nicole and Pierre made our experience the most easy, most fun and most loving one that we could have ever imagined. We didn't do engagement photo's because we thought they would be cheesy, if we would have known that they could have been this amazing we certainly would have done those too." — Nicole
Nicole and Nick, we wish you both a lifetime of happiness. It was truly an honour to play a small role in your special day. In the meantime, we hope you are having a wonderful honeymoon!
xo Flytographer
PS – You can share this story below on FB, and spread the romantic vibe of this shoot! The world needs more of this!