Gathering your closest girlfriends for your bachelorette party in a new or favourite destination can be the perfect antidote to pre-wedding jitters (not to mention a much overdue chance to catch up with the leading ladies in your life). 
But to celebrate your next chapter the right way, with the fewest amount of kinks as possible, you'll need to do a little bit of planning. Consider this your guide to rounding up your best friends in an out-of-town spot before you say I do.
Flytographer Chris in Nashville
Be a little selfish.
So your friends aren't exactly country music fans, but you've been itching to go to Nashville for years. Ultimately, your bachelorette is a moment to celebrate you. So if you love lounging on the beach and feel like heading south, splurge on a trip to Tulum. If you're a black diamond skier and want to spend a few days cozying up in the mountains? Make the trek to Whistler.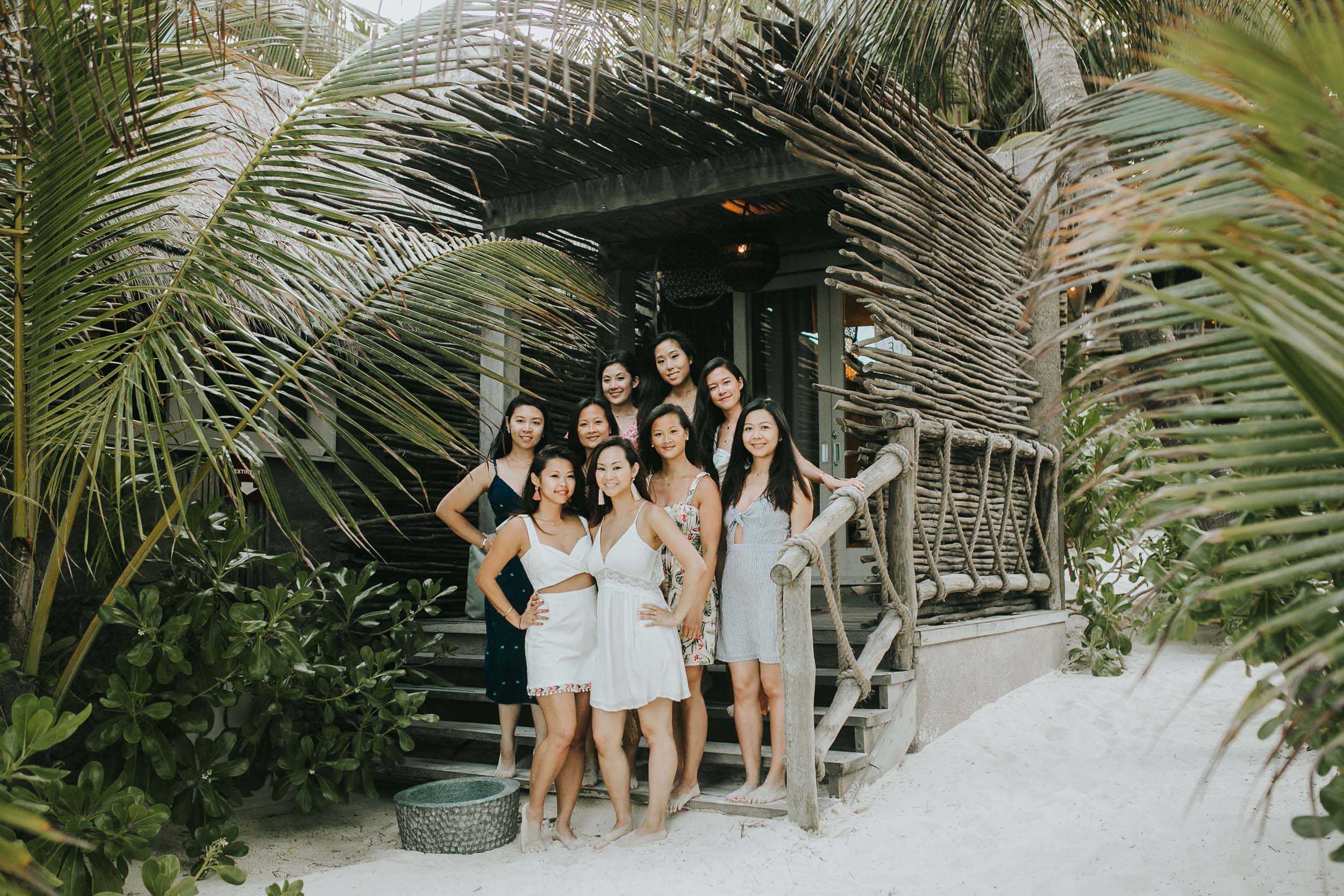 Flytographer Conie in Tulum
But consider the kind of trip you want, too.
Before you settle on the trip of your dreams, be realistic about who would be able to attend. If you don't mind a lower attendance rate (cross-country flights can cost a lot, after all), plan away. But if it's important to you to get a good-sized group together, have a conversation beforehand to find out what everyone feels comfortable with. You might be able to hone in on a city that's within reach for everyone or — if you have friends all over the country — a more central city such as Denver could fit the bill. Don't worry if your dream destination has to wait. You'll be able to find a little bit of what you love anywhere.
Give the girls options.
As much as you might get along with every person in your group, no matter what people say, being told to do something isn't as fun as choosing to do it on your own. Arranging a few group events (a dinner, a bike tour in a new city, an evening out at local bars), but being flexible with others — set up an activity you want to do (say, a yoga class) and let everyone know it's optional — is one way to keep the vibe fun, but low-key. (You'll be surprised by how many people opt in when given the choice.)
Flytographer Lyndsay in Banff
Do more than party.
Cocktail lounges, clubs, or beach bars have their place in any bachelorette, but look up opportunities to experience the local culture — museums, restaurants, or outdoor adventures. You want to truly explore a new destination beyond its nightlife, too. After all, you're far more likely to remember that long, beautiful hike through Banff National Park with your best friends than a bar you spent a few hours at (plus, these types of outings offer photo ops galore!). Even Las Vegas is close to amazing hiking and biking trails, offers helicopter tours of the Grand Canyon, and has a great food scene.
Flytographer Talia in Las Vegas
Be generous.
There's no way around it — weddings are expensive. And while your girls are with you on your trip because they want to be, tossing together thoughtful goody bags (postcards, mini wine bottles, lip gloss, or personalized mugs) or even picking up the cost of a round of drinks yourself can go a long way toward showing your best friends that you appreciate them being there. It's your trip, but who says the bride can't show a little love, too?
PS. Don't forget to book a Flytographer vacation photographer to capture it all!