Did you know that the Cinque Terre region of Italy is made up of five distinct towns? Our local Flytographer Gaia gives us a rundown of each of the gorgeous towns that make up the Cinque Terre region and her top picks for visitors to the area. Read on for where to find the best wine, aperitivo, sunset views, and more.
Cinque Terre consists of the towns of Monterosso al Mare, Vernazza, Corniglia, Manarola, and Riomaggiore. It is possible to visit all of Cinque Terre on foot along the "Via dell'Amore," or the Way of Love, a pedestrian street overlooking the sea. If you'd prefer to travel by train, purchase the Cinque Terre Card, which will allow you to travel along the entire route of the Cinque Terre towns. You can even get around Cinque Terre by boat!
RIOMAGGIORE
In Riomaggiore, book a table for dinner at Dau Cila, a romantic little spot near the marina. If a glass of wine at sunset is more your style, I suggest booking a table at A Piè de Mà.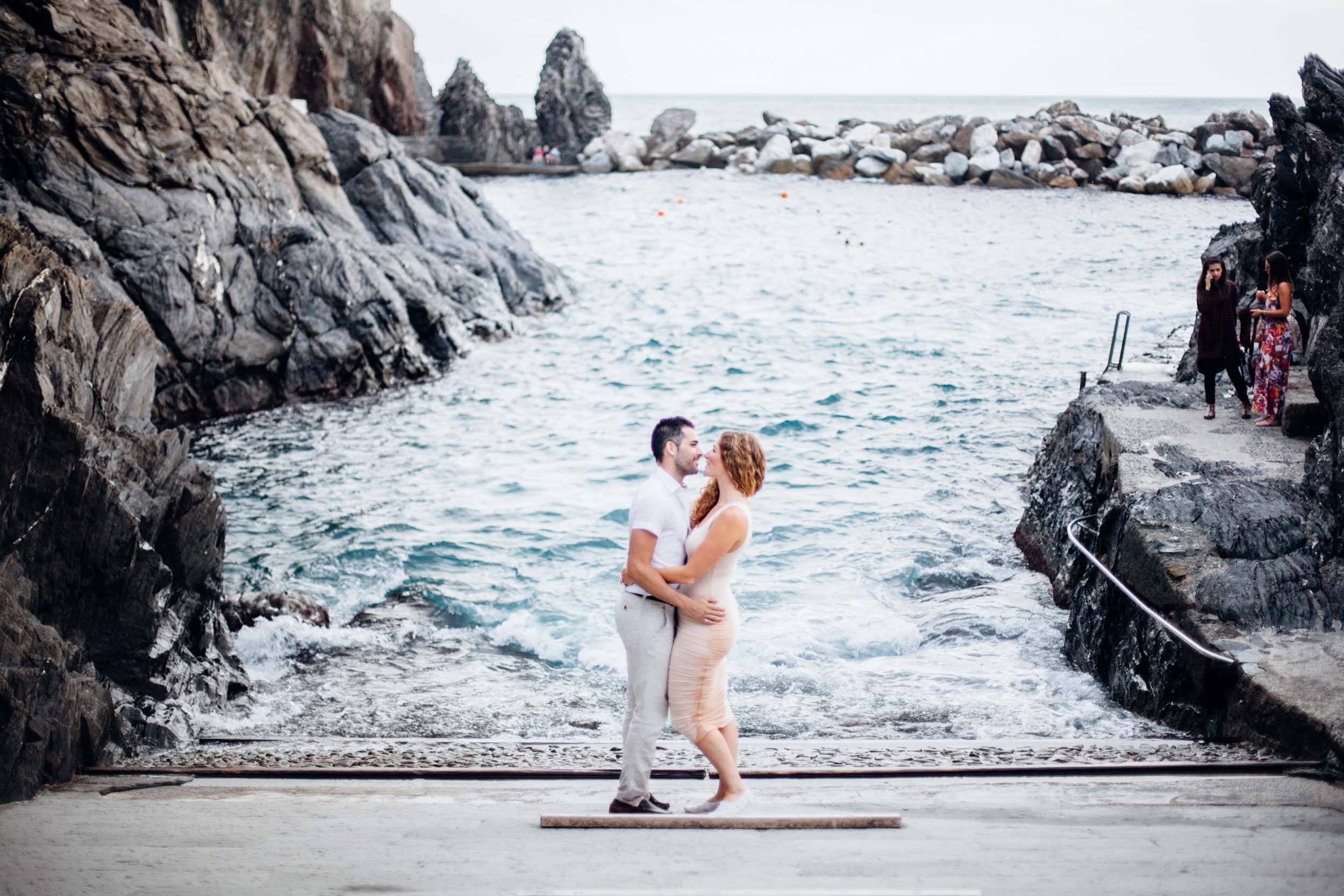 MANAROLA
For most tourists, Manarola is the most beautiful village of the Cinque Terre. You can enjoy a scenic walk along the seaside cliffs. I suggest having a glass of wine with Cinque Terre Walk and Drink and booking a guided boat trip with Enjoy Cinqueterre Boat Tours. Choose from a morning snorkelling tour or an afternoon sunset tour.
CORNIGLIA
Corniglia is the only village of the Cinque Terre which doesn't border the sea. To get to the village of Corniglia from the train station, you can take the bus or walk the Lardarina, a brick staircase with more than 400 steps. Stop to enjoy the view along the way and don't forget to bring a bottle of water!
VERNAZZA
In Vernazza, a visit to the castle is a must. The village is dominated by the remains of the "castrum," a series of Medieval forts dating back to the XI century with a cylindrical castle and tower. Have an aperitivo at Ristorante La Torre for the best view of the village and the sea.
MONTEROSSO AL MARE
Monterosso al Mare is the largest village of Cinque Terre. The town is made up of an old town, as well as a newer area, and is the only Cinque Terre town that has a beach. The old town, separated from the more modern resort area by the Aurora Tower, houses the ruins of a medieval castle and the church of San Francesco. While there, you must have a piece of focaccia at Wonderland Bakery.