A list of all the best things to see and do this winter that Canadians have SO FAR been keeping to themselves.
Ice skate on a lake, make your own maple snow candy, see the inside of a mountain, take a selfie in front of a frozen waterfall, walk on a glacier—in short, when in Canada, we are doing as the Canadians do. And despite what you've heard about the sub-zero temps (it's all true ) winter is still a fantastic time, perhaps THE BEST TIME, to travel here and experience peak Canadaness. Better flight prices, cheaper hotels, oodles of winter things to do AND you get to wear toques with every outfit? What is not to love, people!?
Come here for: 
that charming mountain-town experience where you can hit every snow-tivity on your list.
Sweet, small-town Banff sits on the Alberta side of the Canadian Rockies in Banff National Park. The busy main strip (which is chock-a-block boutiques, farm-to-table restaurants, apres-ski joints and pubs) opens up to this towering mountain backdrop above—there's nothing quite like it. While you're here, check out skiing the "Big 3" on one lift ticket (resorts Banff Sunshine, Lake Louise and Mt. Norquay), the natural Upper Hot Springs (hot tubbing with a killer view), the Banff Gondola (viewing decks and hiking trails at the summit of Sulphur Mountain), and the Johnston Canyon Icewalk, which is this snowy walk adventure that takes groups inside mountain tunnels and up-close-and-personal with stunning frozen waterfalls. Upcoming Events: ice-sculpture extravaganza SnowDays (Jan. 16-27) and boozy Tribute to Craft Spirits Festival (Jan. 16-27).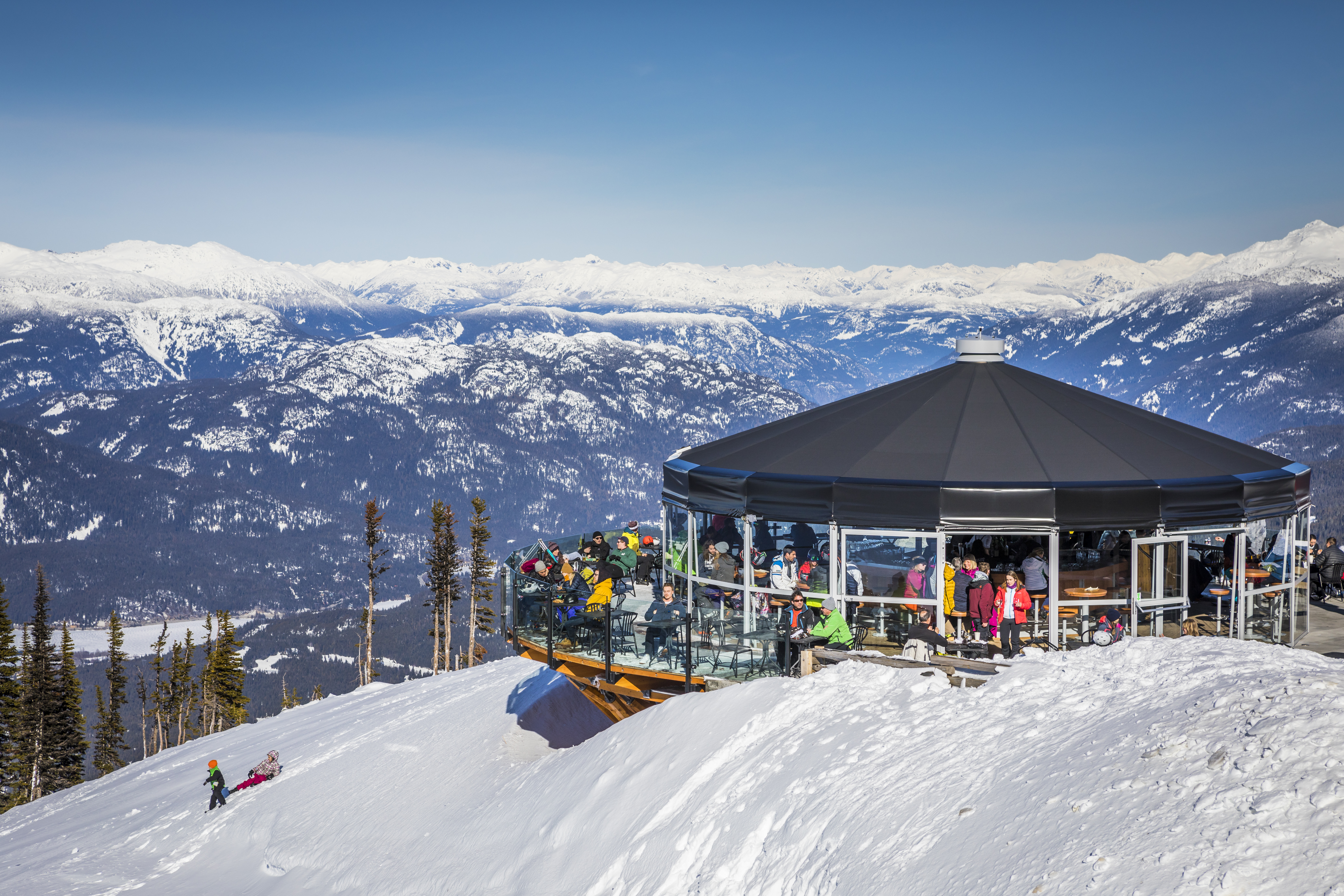 The Umbrella Bar at the Whistler ski resort in B.C., Canada. (Photo: Tourism Whistler / Justa Jeskova)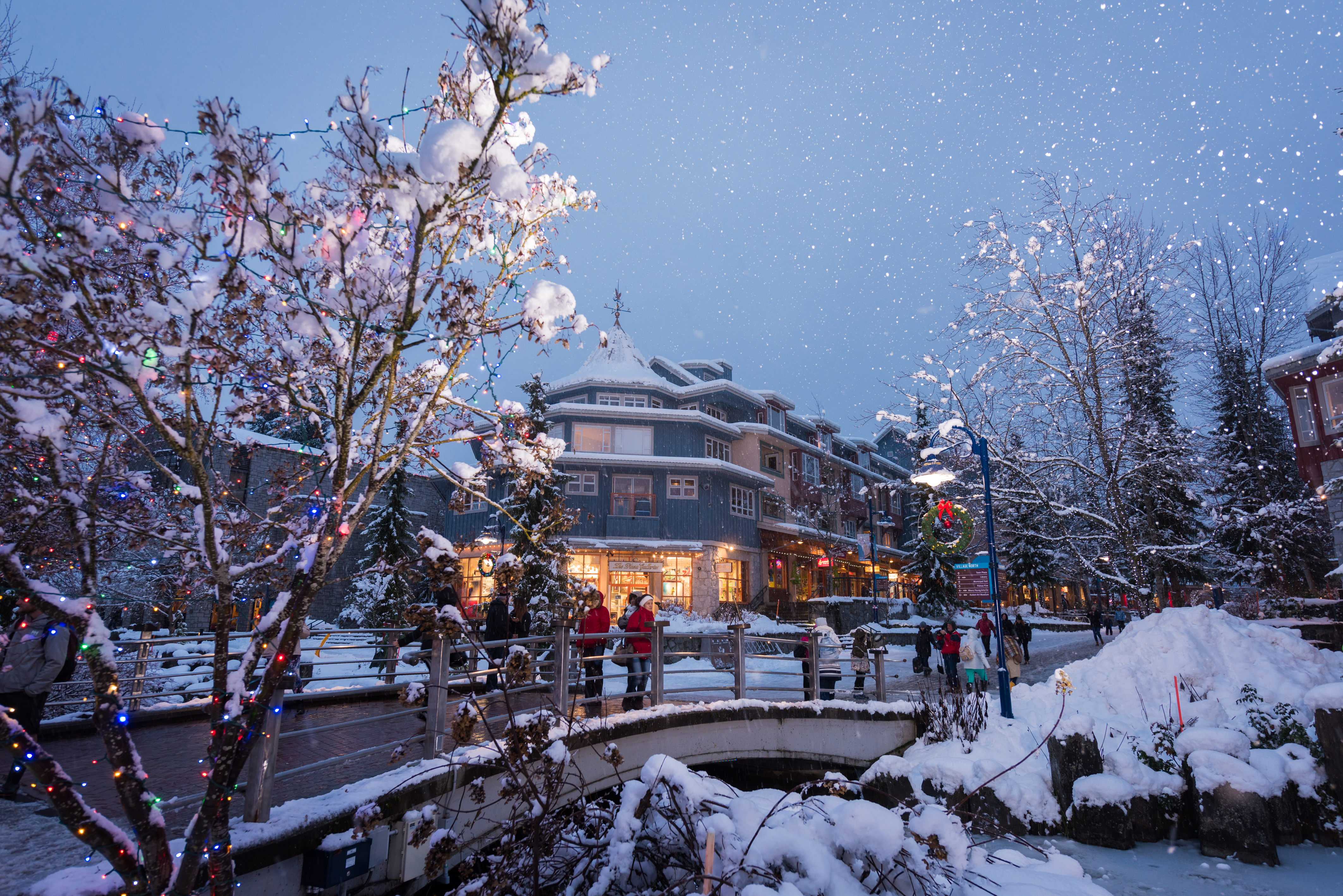 The snowy Whistler Village. (Photo: Tourism Whistler / Mike Crane)
Come here for:
the Vancouver-calibre cuisine and access to the best of winter sports at a world-class ski resort town (which hosted the Olympics in 2010, don't cha know).
Everything centres around the town's Whistler Village where a pretzel-like network of paths take you from premium dining (Araxi) to two mountains (Whistler and Blackcomb) to hundreds of shops (Billabong to Arc'teryx). Some people just drive up for the day to hang out without even touching a ski pole, but if it's activities you're after, you should check out the skiing and snowboarding (obviously) as this is one of the largest ski resorts in North America with 200-plus trails and 37 lifts. Plus there's a totally "Cowabunga!"-worthy tubing park, winter zip-lining, snowshoeing, ski jumping, ice cave tours, snowmobiling, bungee jumping and try-it-for-yourself bobsleigh. Upcoming Events: Whistler Pride and Ski Festival (Jan. 20-27), Rogers Hometown Hockey (Feb. 9, 10) and Whistler's ongoing Sunday-night Fire and Ice show.
Come here for:
the 17th-Century charm, buckets of snow and tasty French Canadian traditions.
Stone buildings with spires and cobblestone streets, are we in Europe? You'll get a kick out walking through the portside village district Place Royale and Petit Champlain. This neighbourhood is lined with bistros and boutiques, and is home to the Notre-Dame-Des-Victoires, which is the oldest stone church in North America (built 1688). Also on the heritage itinerary, check out Old Port, Rue Saint-Jean and Chateau Frontenac. For activities, favourite pastimes include the Ice Hotel / Hotel de Glace (made entirely out of snow and ice), dog-sledding, fat-biking on the snow, skating, ice fishing and eating (musts: Sugar Shack maple popsicle treats and the heavenly cheese-curds-gravy-fries dish, POUTINE). Upcoming Events: two words: WINTER CARNIVAL (Feb. 8-17). The scary snowman mascot will lead you to pure winter fun and joy.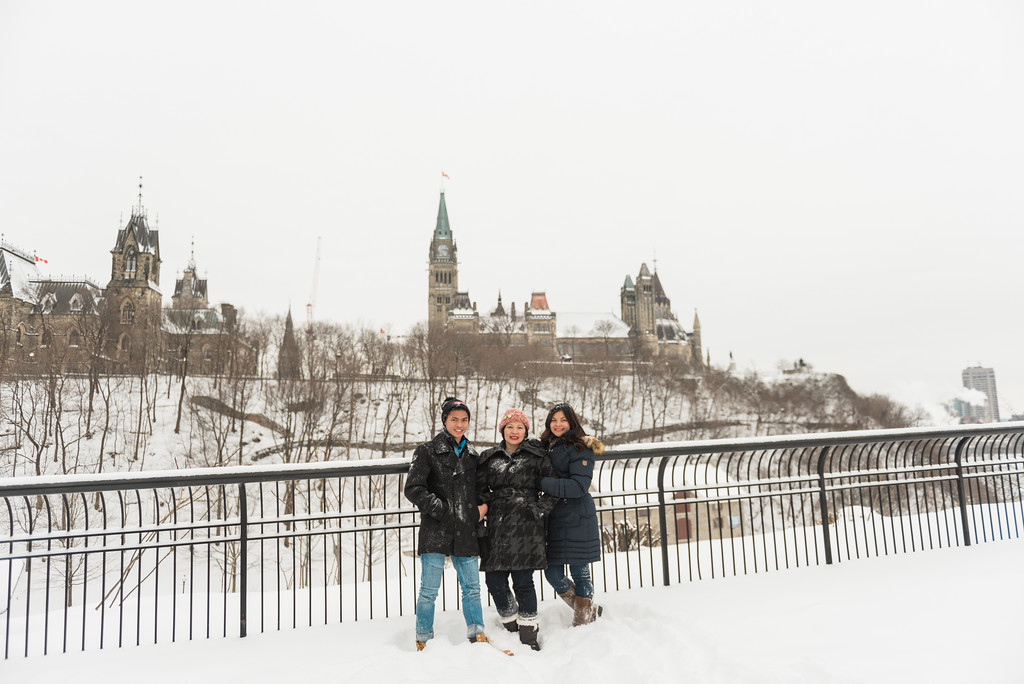 (Photo: Flytographer Jennifer in Ottawa)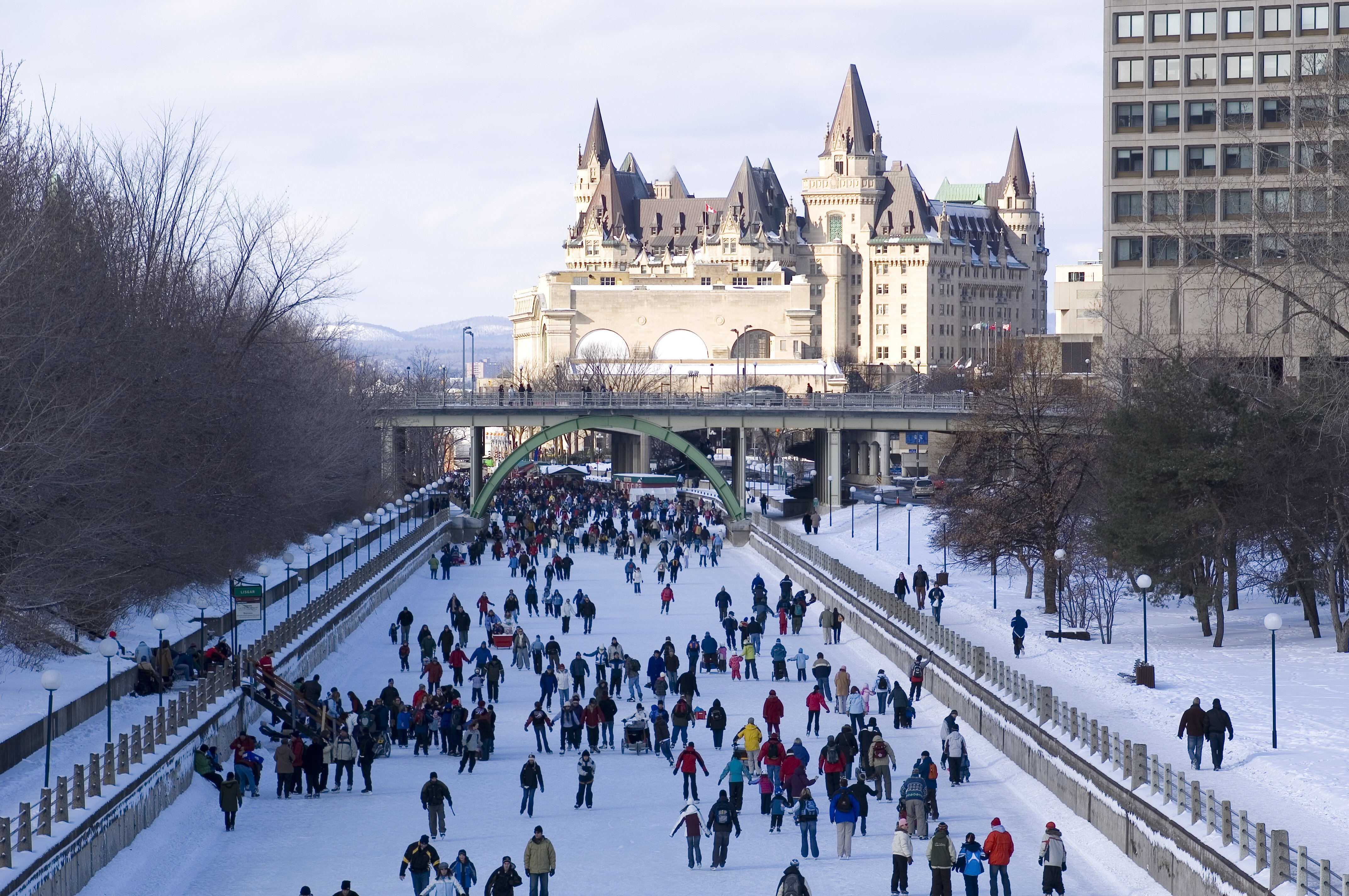 The Rideau Canal Skateway in Ottawa, Ontario, Canada. (Photo: © Ottawa Tourism)
Come here for:
buildings older than Western Canada, Justin Trudeau sightings and the biggest freaking outdoor ice rink you've ever seen.
Yes, the Prime Minister loves a good photobomb, so pack your toque-and-mitten set and get out here! Canada's capital is known for being a touch nippy during the winter (-14 C give or take), but that means the city pulls out all the stops to keep locals happy and entertained. Starting with the Rideau Canal that freezes over to create the world's largest skating rink. Looking to warm up? Ottawans love a good hydrotherapy session (the Nordik Spa-Nature is the largest outdoor spa in North America) or try a hot-from-the-deep-frier Beavertail (a local treat slathered in butter, sugar and cinnamon). And parks are nearby for all your powder hankerings (snowshoeing, dog sledding, tobogganing, etc.). Upcoming Events: It's all about Winterlude (Feb. 2-19) with its International Ice Carving Competition, Snowflake Kingdom, events at the Rideau Canal Skateway and the Ice Dragon Boat Festival.
Come here for: epic turquoise glacial lakes and snow-capped mountain ranges that make you want to quit your job and build a lakeside cabin.
Lake Louise is nestled in Banff National Park, about a 40-minute drive from Banff town centre. It has its own historical Fairmont Chateau Lake Louise, a dream stay in these parts that's even been visited by a past ABC TV Bachelor. In the winter this lake gem freezes over, and there's nothing more Canadian than ice skating on a frozen lake entirely framed by 360-degrees of Rocky Mountains and glaciers. Also on the itinerary: skiing or boarding at the Lake Louise Ski Resort, winter hiking, cross-country skiing, outdoor campfires under the stars, heli-skiing (because everything is more fun with a helicopter) and more. Upcoming Events: Ice Magic Festival (snow sculptures galore, Jan. 16-27) and the Tribute to Craft Spirits Festival (Jan. 16-27).