Here's to women supporting women.
I passionately believe we need to encourage women of all ages to dream big. As a woman, mother, CEO and founder, it's exciting to see more and more women chasing big dreams and building the next generation of billion-dollar brands. I'm so inspired by the growing powerhouse of female entrepreneurs around the globe. For this International Women's Day, not only did I want to share a few of my favourite female founders to follow (see my list below!), but I wanted to give a little something back.
Today, we'll be donating $25 for every Flytographer gift card purchased on International Women's Day to the global not-for-profit organization, Dress for Success. Dress for Success not only supports women with the professional clothing they need to help be successful in the workplace, but it also works to empower women with the network of support and developmental tools they need to achieve economic independence and thrive in work and in life.
So… if you are looking to follow some inspiring, fearless, trailblazing female founders who are CRUSHING it while empowering all women in the process, read on…
— Nicole Smith
Founder, Flytographer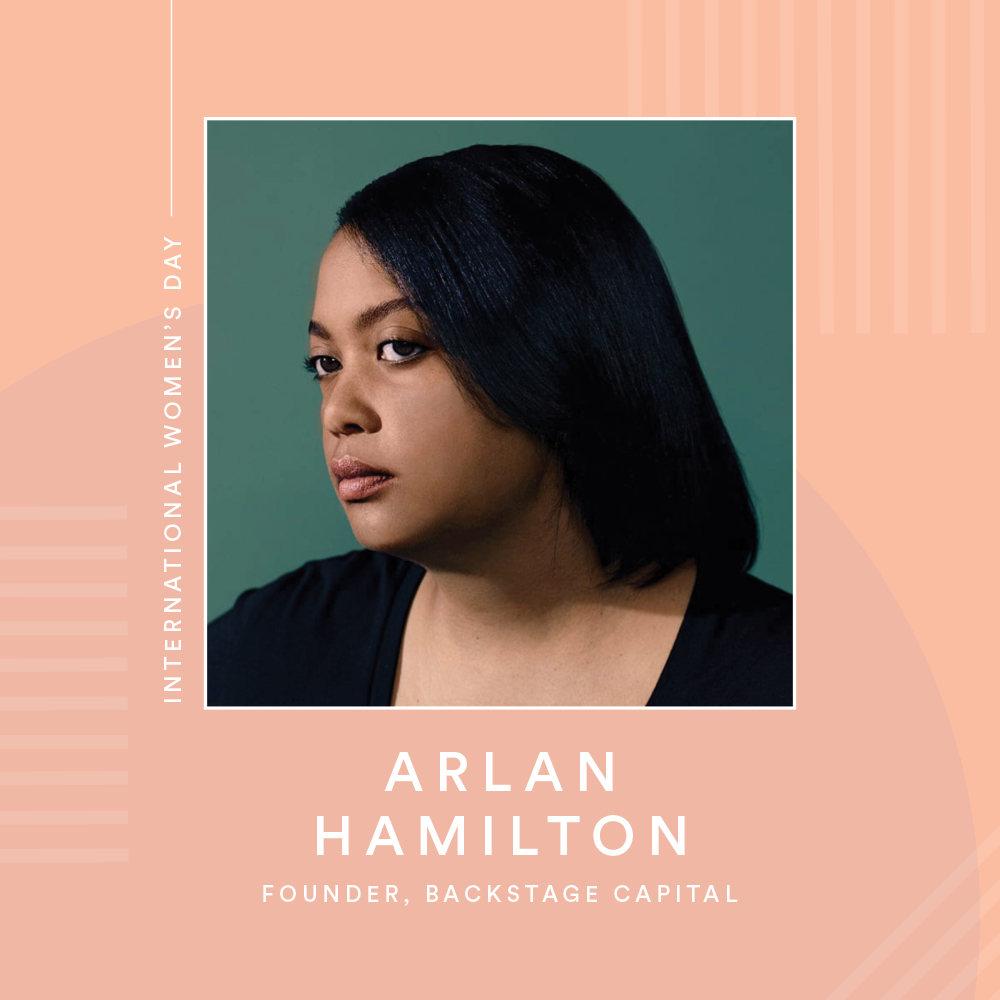 In 2015, Hamilton was broke, homeless, and sleeping on the floor of the San Francisco International Airport. Today, she's a venture capitalist who has deployed some $4 million across 100 companies led by underrepresented founders. She's also raising an added $36 million to invest exclusively in startups founded by black female entrepreneurs. (She's calling it the "It's about damn time" fund.) Hamilton aims to close the funding gap for women of colour, who receive only 0.2% of total VC dollars—and others are taking note. I love Arlan's story, not only for how she is empowering women, but because it reminds us it's never too late to change the direction of your life and go after big dreams. IG: @arlanwashere
2. Sara Blakely
Founder, Spanx
I've been obsessed with Sara's journey since she appeared on Oprah many years ago! Sara became the youngest self-made female billionaire at age 41 in 2012 and she still owns 100% of her company. She is also a repeat guest shark on Shark Tank. When she joined Instagram a year ago, I was so pumped! I love tuning in to see everything from her Monday Motivation mugs to her creative Sunday pancakes with her kids, complete with all the humour and joy she emanates while juggling family life (four kids under age 8!) and running a billion-dollar brand. IG: @sarablakely
3. Katrina Lake
Founder, Stitch Fix
When launching her business, she ignored the naysayers and all the VCs who dismissed her business (Stitch Fix sends custom, personally-styled outfits straight to your door) and persevered. Katrina built a $3-billion business and was the youngest female founder (age 34) to take her company public back in 2017. She rang the bell at the New York Stock Exchange with her baby in her arms. Pretty damn awesome. IG: @klaker
Katie Sturino is a size 12(ish) New Yorker who believes great style can look chic at any size. She started the12ishstyle.com to introduce women who, like her, wear sizes from 12 to 18, to fashion-forward brands across extended and plus sizes. She also encourages brands to be more inclusive of body sizes and expand past size 12 with her #MakeMySize movement. Her Instagram feed and stories are inspiring and hilarious. Plus, her amazing product MegaBabe is the ultimate solution for the common and irritating problem of "thigh chafe!" IG: @KatieSturino
5. Whitney Lundeen
Founder, Sonnet James
A single mom of two young boys, Whitney taught herself to sew at night while her kids slept. She created a line of "play dresses" that feel like pajamas and stretch like yoga pants so moms could get down and play with their kids while still looking stylish. Last month, I first learned of her story as she closed a deal on Shark Tank with Sara Blakely, founder of Spanx. I can't wait to watch Whitney's next chapter of growth. IG: @whitnelundeen
6. Shan-Lyn Ma
Founder, Zola
She's not only grown her startup to more than $100 million in sales in six short years, but she's looking to help other female founders get access to funding after experiencing her own challenges raising money in a male-dominated venture capitalist world. Shan-Lyn has joined together with other high-profile female founders and started the venture firm, Female Founders Fund (F3). IG: @shanlynm
7. Katya Libin
Founder, HEYMAMA
Women are incredible leaders, but nearly half say they don't have the mentorship or capital needed to grow their business. HEYMAMA aims to fix this problem. Katya, along with her co-founder Amri Kibbler, have created an amazing platform and community of moms who are founders/entrepreneurs and are providing connections, education, advice and access to capital so they can go further faster. Personally, I'm so grateful l am a member of HEYMAMA. Every day, a flurry of HEYMAMA emails fly through my inbox of women seeking advice and/or connections with other women eagerly jumping in to respond and help out. You get the feels just witnessing all this collaboration and sisterly love. It takes a village … and this is one I recommend joining! IG: @katyaslife
8. Alli Webb
Founder, Drybar
This longtime professional hairstylist saw a gap in the market and built a $100-million business while raising two boys. She's one of my favourite female founders to follow on Instagram as she shares fun sneak peeks into her busy life in LA as founder, mom, friend and investor. I like to think I'm Drybar's No. 1 Canadian customer; whenever I travel for business, I book my flight, hotel and Drybar appointment in that order. But she's not resting on her laurels … next month she's launching her second startup, Squeeze, aiming to be a better massage experience. IG: @alliwebb
Women make 80% of the purchase decisions in a household. Rebecca (the founder of her eponymous global fashion brand) wants to make it easier for women to support women with their consumer dollars by having a mark that easily identifies when a business is female-founded. She recently created the Female Founder Collective (see the FFC logo in the footer of our website!), a supportive network of women-founded businesses. The collective even partnered with Yelp to make it easy to search for businesses run by women. IG: @rebeccaminkoff
10. Whitney Wolfe Herd
Founder, Bumble
Whitney is a total champion for women in so many ways. She reinvented the dating space so that it empowers women, runs a mostly female executive team and recently introduced legislation in Texas making it illegal to send dick pics. Hurrah! My favourite ad campaign from Bumble last year was: "Be the CEO your parents wanted you to marry." BOOM. Now that's a message I can get behind. IG: @whitney