Flytographer Shoot Guidelines & Best Practices
If this is your first time here, welcome! We are so excited to have you join the team. If you have been here before, welcome back!
We love that you keep yourself informed of Flytographer processes and policies to make every shoot the best customer experience possible.
A Few Gentle Reminders
We invited you to be a part of this team because you are AWESOME. Keep in mind that on a Flytographer shoot, you are a representative of the Flytographer brand, and we count on your awesomeness shining through on each and every booking.
Flytographer is building our brand on amazing customer service (see our company values here). If you have gone above and beyond for a customer, please know that we appreciate it with our whole hearts and haven given you many toasts and cheers in the office. We love it when you WOW our customers!
It is worth noting that the majority of our business comes from North America, so most of our customers will be expecting an experience that North Americans value: being on time, efficient communication, friendly, and professional.
Please have no one else on the shoot with you who is not connected to Flytographer. The customer expects you and only you, and we don't want to throw off the vibe or create awkwardness by having unknown people there. (This creates an especially weird dynamic for solo travellers.)
Please avoid flash photography or fill lighting of any kind. Our lighting style is very natural, and our customers love the beautiful photos created by natural light. (See our Photo Style Guide here.) If you think your booking time is going to run into darkness where you will be forced to use flash, please notify your Shoot Concierge and try to get the start time moved up.
Note that photographers cannot directly accept money for extra photos or extending shoot time outside of Flytographer. Any and all monetary transactions related to your Flytographer shoot and its customers must be directed back to your Shoot Concierge and we will handle the request. (If customers want to give you a tip afterwards, that is your choice to accept or not!)
When should I charge a travel fee?
Photographers generally only charge a travel fee for any location outside of the city centre they are listed as available for, or a location that requires special travel arrangements or an entrance fee/toll. Please note that for locations outside of your home base but where you wish to provide service because there is strong customer demand, Flytographer prefers a shoot-length minimum rather than a travel fee to avoid hidden costs for customers.
Travel fees are intended to compensate you for:
Your entrance fee to private parks or property.
Your mileage or tolls to drive to a specially requested area outside of a city centre.
Please note that parking costs are not something that can be included in a travel fee at this time.
How much should I charge?
We usually recommend calculating your actual transportation cost, and then rounding up to the next $10 amount, depending on the time involved for travel. Travel fees are a combination of any transportation costs (train or bus ticket, car mileage, etc.) as well as the time spent travelling.
Many of our photographers adjust their travel fee based on how long the shoot is, such as charging less for longer shoots. (e.g. charging a $60 travel fee for a 30 minute shoot, but only a $30 travel fee for a 60 minute shoot.)
We require that these fees must be discussed and agreed upon before the shoot so that the customer is aware of how much cash to bring with them on the day.
How do I collect my travel fee?
We do try to mention the travel fee again in the Shoot Scoop, but it is your responsibility to collect the travel fee from the customer on the day, unless it has been otherwise decided ahead of time. Don't be afraid to mention or ask about the travel fee, as customers may be excited about the shoot and forget!
Unfortunately, we are not able to provide travel fees if you forget to collect from the customer at the shoot.
What if the customer cancels but I've already purchased a travel ticket to the shoot?
If you choose to accept a shoot outside your city of residence and require a travel ticket (plane, train, boat) to get there, we advise waiting to purchase the travel ticket until the shoot date is within 5 days. If a customer cancels within 5 days, you are paid the 50% no-show fee per our cancellation policy (see below under Payment Structure), so you will receive some money to help offset the cost.
Flytographer is not responsible for travel fees nor for customer cancellations, and we therefore cannot reimburse you for travel tickets.
Before the Shoot
When you have confirmed you are available for an inquiry, please mark that date in your calendar and hold it there for up to 3 days while we go back to the customer and get them to book and pay for their shoot with you.
After the booking is confirmed, we send you the details in a Shoot Scoop which you can also find in your dashboard. Read the Shoot Scoop carefully so you know what your customer has requested for style, vision, mood, inspiration, must-have shots and level of direction. (Always reconfirm and discuss these notes at the start of the shoot so they know you understand their requests.)
Visit our Dashboard Account Guide to get set up and learn helpful tips on answering inquiries and managing bookings.
Sample connector email
We will send you an email to connect you with the customer a few days before the shoot so you can get in touch with them.
Text the customer at least 2 days before the shoot to make sure you have the ability to connect. This is very important – if the customer can't find you, they will have a stressful start to their shoot, and may not be able to reach Flytographer HQ to help get connected. This is why we expect you to reach out to the customer first, so that this part of the process is as smooth as possible. This is also a great time to start getting them excited for their shoot and comfortable with you – let them know you're excited to meet them and how much fun it's going to be!
When you meet the customer (be sure to show up 10-15 minutes early), walk through the game plan and confirm that they approve. If not, then discuss other options. Ask them if they have any preferences or 'must-have' shots, and please discuss their direction requests indicated on the Shoot Scoop.
If heavy rain/wind is forecasted and you are nervous about shooting, try to reschedule a game plan. If the date changes or the shoot is delayed, you can let us know with the Shoot Check-in form (emailed to you the day of the shoot and also on your dashboard). Please see our cancellation policies, including for bad weather, in payment structure section below.
Walk around the location beforehand and determine your "game plan" (if possible). Where are three areas the customer might want to shoot at?
Identify some good shots in advance where you will ask them to pose. Have fun "activities" for first 10 minutes to warm them up.
During the Shoot
See our tips for having a great vacation shoot and follow our 3 best practices here.
Ask customers to remove sunglasses for at least a few (if not all!) of the shots. If couples are really kissy, be sure to remind them to wipe off any transferred lipstick (or have a tissue on hand to help out!). Keep an eye out for things like peeping bra straps, unzipped zippers, lipstick on teeth, etc. Customers appreciate it and trust you when they know you have their back.
Take a couple of shots of each person alone, so they have a nice Facebook/LinkedIn profile photo.
Avoid the "P" word. Be sure you are not referring to yourself or the shoot as "paparazzi." This term is very off-brand for us and not at all what a Flytographer shoot is supposed to resemble!
Special tips for large groups: Reconfirm at the start of the shoot which posed shots they want, and let them know that you'll do more 'candid' style shots at the end once those are completed. You may want to ask them via email (after we connect you) to send you ideas and bring them to the shoot for their 'must have' and 'candid' shots with some examples for your reference.
Let them know when you have only 5 minutes remaining, and ask if there are any specific shots they want before you wrap up.
If the customer wishes to extend the shoot, they can add 30-minute blocks of time (if you are free, obviously!). The customer price is $150USD for each 30-minute block (of which you receive an additional $100USD). Be clear to the customer about their add-on fee and time, and be sure they agree to that. We never want the customer to be surprised with an add-on fee without their consent. Let us know about the formal extension afterward and the Shoot Concierge will send the customer a link to pay online for the additional shoot time. This add-on is done after the shoot is over. We have made a video to help you with this script – click here to watch! (Video password: extra)
After the Shoot
Use your post-shoot check-in form (emailed to you the day of the shoot) to let us know how it went. (If you can't find the email, look in the "Action Needed" section on your dashboard.) If we don't hear from you after a shoot, we get worried! Please let us know by the end of the day, if not sooner.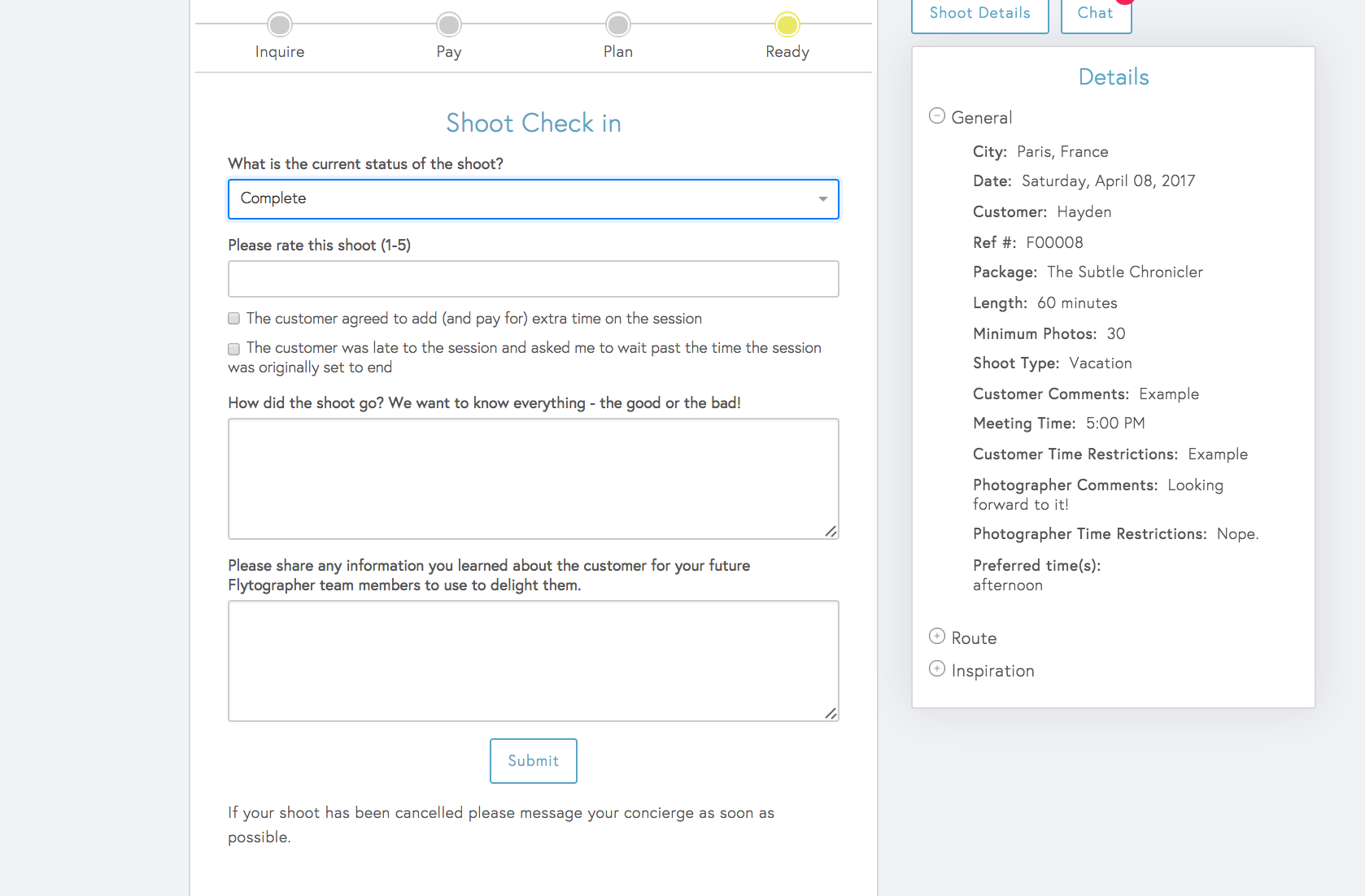 Shoot Check-in screen
Uploading Photos
Upload the high-resolution edited photos within 48 hours. Contact your Shoot Concierge as soon as possible if photos may be late. Questions or issues uploading? Contact tech support here.
Please upload photos within this quantity range. If you have extras that you would like to include, please do – we always tell the customer it is a little bonus gift from you! (That said, please limit your bonus photos to no more than twice the top end of the range.)
30 minute shoot: 15 – 25 photos
60 minute shoot: 30 – 40 photos
90 minute shoot: 45 – 60 photos
2 hour shoot: 60 – 80 photos
3 hour shoot: 90 – 120 photos
Please note that we have a small handful of shoots that are booked through a travel agent (sometimes referred to as "Coordinated Shoots"). As incentives for agents to book with us, we give their clients a little extra bonus, which still falls within the photo range, but slightly increases the minimums. Please add 20% to the minimum number if you have a coordinated shoot. (For example, the bare minimum for a 30-minute shoot is 18 photos, and for a 60-minute shoot it is 36.)
Click button below for visual instructions on uploading photos in our custom uploader.
Photo Specifications [unless otherwise requested by the customer]:
RGB
3300 by 2200px / 2200 by 3300px
300 PPI
No larger than 10 MB per file
Please triple check that you have removed ALL of your personal metadata (e.g. tags, copyright or watermarks)
Use the file naming convention y/m/d_clientfirstname_4 digit-image number
e.g. 130519_sarah_0001.jpg
Download the exporting preset for all the Flytographer settings in Lightroom! Click button below.
(Please note this preset is for EXPORTING, not EDITING).
NEW! We have Lightroom presets for editing! Please go to Shoot Resources to access files.
Payment Structure
We pay via Tipalti and you have the option to choose bank transfer, PayPal or wire. Flytographer pays you within 7 business days of uploading the photos with bank transfer or PayPal, or every 3 months or at $1000 if you require wire transfer. We currently pay out on Tuesdays. Please visit this page for set up instructions and more details, including FAQs. Any questions about payments? Email: payments@flytographer.com

You will receive 100% of the shoot fee when:
The shoot is complete and we have received the requisite number of photos.

30 minute shoot: $130USD (15 – 25 photos)
60 minute shoot: $210USD (30 – 40 photos)
90 minute shoot: $300USD (45 – 60 photos)
2 hour shoot: $400USD (60 – 80 photos)
3 hour shoot: $575USD (90 – 120 photos)
Proposal video call add-on: $50USD

The customer has cancelled the shoot within 24 hours of the scheduled time.
You will receive 50% of the shoot fee when:
The Shoot Scoops were sent AND the shoot was cancelled up between 5 days and 24 hours before the shoot date.
(Please note that we refund the customer's money if they cancel up to 48 hours ahead, but we pay you out of pocket as act of good faith for holding date.)
No shoot fee will be paid when:
The shoot is cancelled prior to the Shoot Scoops being sent.
The shoot was cancelled more than 5 days before the Shoot Date.
The shoot is cancelled due to horrific weather and cannot be rescheduled.
The shoot is cancelled due to a medical emergency and cannot be rescheduled.
Testimonials
Profile pages will contain a selection of highly-curated, shareable images in your portfolio and any positive testimonials below.
New photographers will submit a portfolio of diverse vacation-style photos, of which Flytographer chooses the top images to display based on our criteria (view here).
Portfolios will be updated as new shareable content comes in. Original portfolio photos will be replaced with Flytographer photos until we've reached a desirable diversity.
Testimonials will continue to be added as they come in.
Please note that although we are working on the tech to make it possible for you to update your own photos, in the meantime, this is still a manual process on our end and therefore it does take some time to work through all 400 photographers' profiles. We appreciate your patience and understanding.
Resource Page
Head on over to our Photographer Resource page, where you'll find all kinds of goodies, including:
Vacation vs Portrait Photography
Recap our three best practices with gallery examples
Photo Style Guide
Lightroom editing presets
Flytographer Photo Shoot Guidelines pdfs that were created for and during our Global Meetup in Paris
Natural Light video with Samantha in NYC
Logos for your own website
Team Flytographer discount codes for own shoots
Team perks and discounts with other brands
Link to our new magazine, Passport