Passport Account Guide
We are so excited to launch our very own booking dashboard (or, as we call it, "Passport"). Here you will be able to see all your inquiries, bookings, and payments; chat directly with your concierge; view shareable photos; and access photographer resources. Please be sure to read through the full guide, including FAQs below.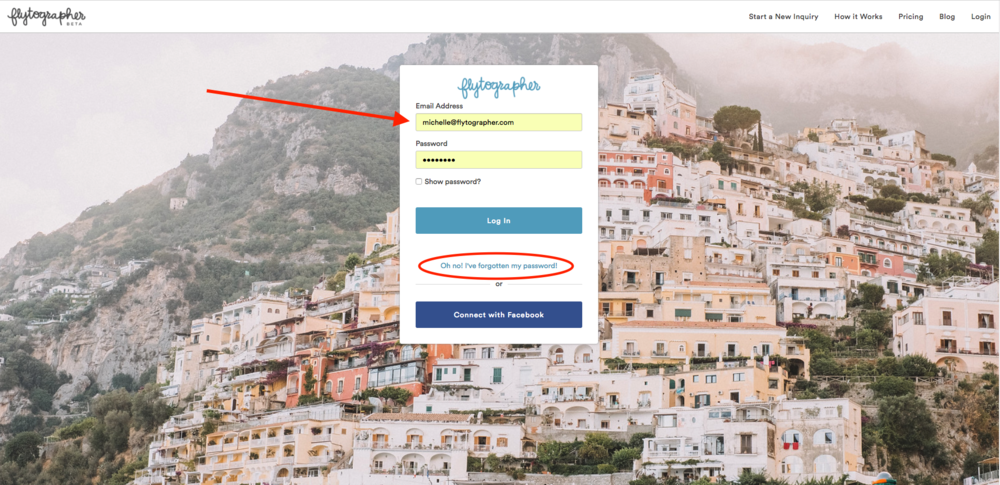 Get Started
Log in to your Flytographer dashboard and enter your associated email address and password.
(If you cannot remember your password, click on "I've forgotten my password" to reset it. Note that the new link will go to the email address associated with your account.)
Fun fact! The image for the login page is by Mary & Maurizio in Positano, taken on a Flytographer shoot.
Dashboard Tab
Here you will find an overview of all your shoots. All shoots that show up in your Shoots at a Glance should be held in your calendar. (Inquiries have a 3-day time limit and will disappear after that time if they are not paid for, after which you can remove from your calendar.)

Notifications: View current tasks for all of your current inquiries (availability requests) and paid bookings. Each notification will link you to the corresponding shoot when clicked, and disappear once completed.
Shoots at a Glance: Displays all of your current inquiries and paid bookings for which you have indicated you are available.

Note that bookings and inquiries are marked in this section between "Paid" and "Inquiry." Paid indicates that the customer has confirmed and booked, and this shoot is happening unless the customer cancels for whatever reason. Inquiries can potentially disappear out of your dashboard if either the customer doesn't confirm and pay or they choose another photographer.
Inquiries Tab
View and respond to customers requesting your availability, and check on requests you have previously responded to and are waiting for the customer to accept.

New Task Indicator – a red dot on the toolbar lets you know there is a new task waiting on this tab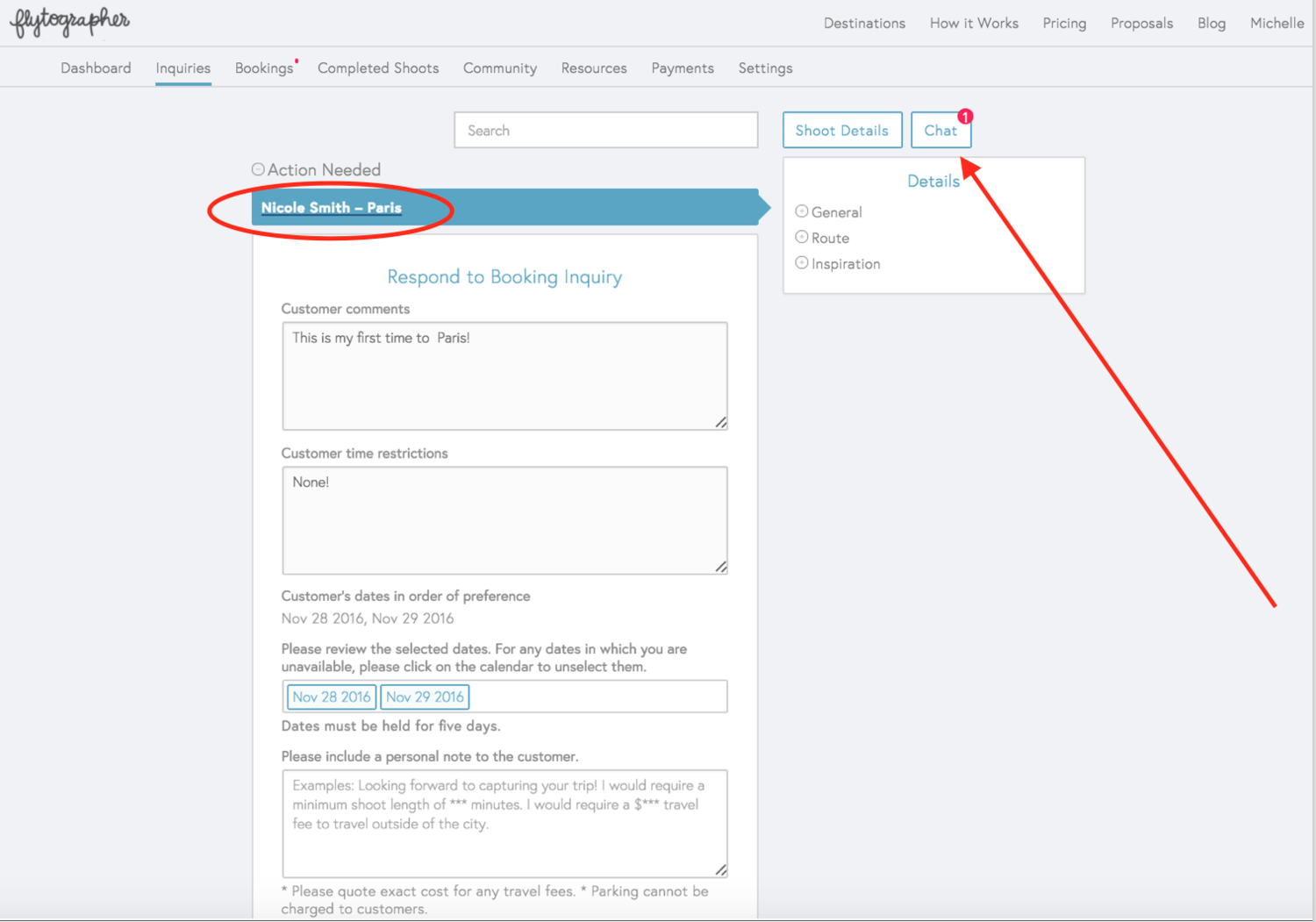 Click on a shoot to access and complete the required form/task. You can also view details about the shoot we have so far in the panel on the right.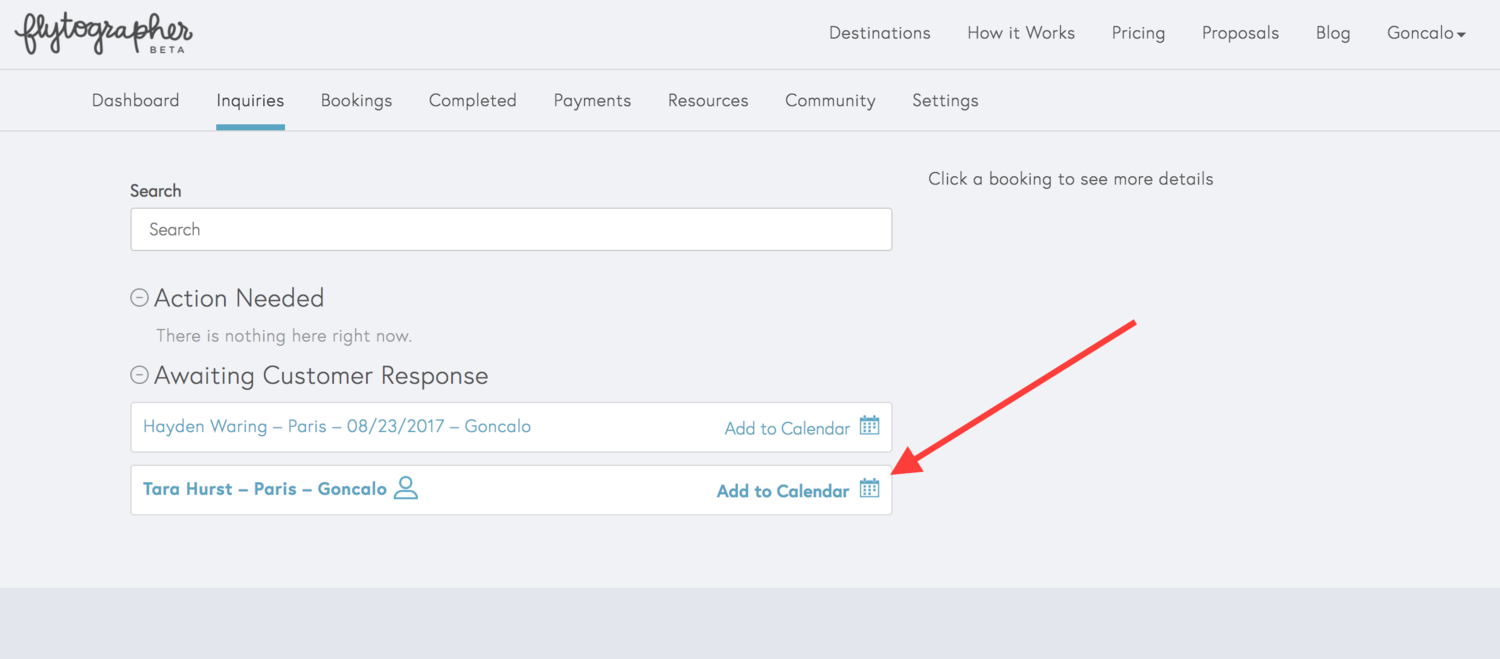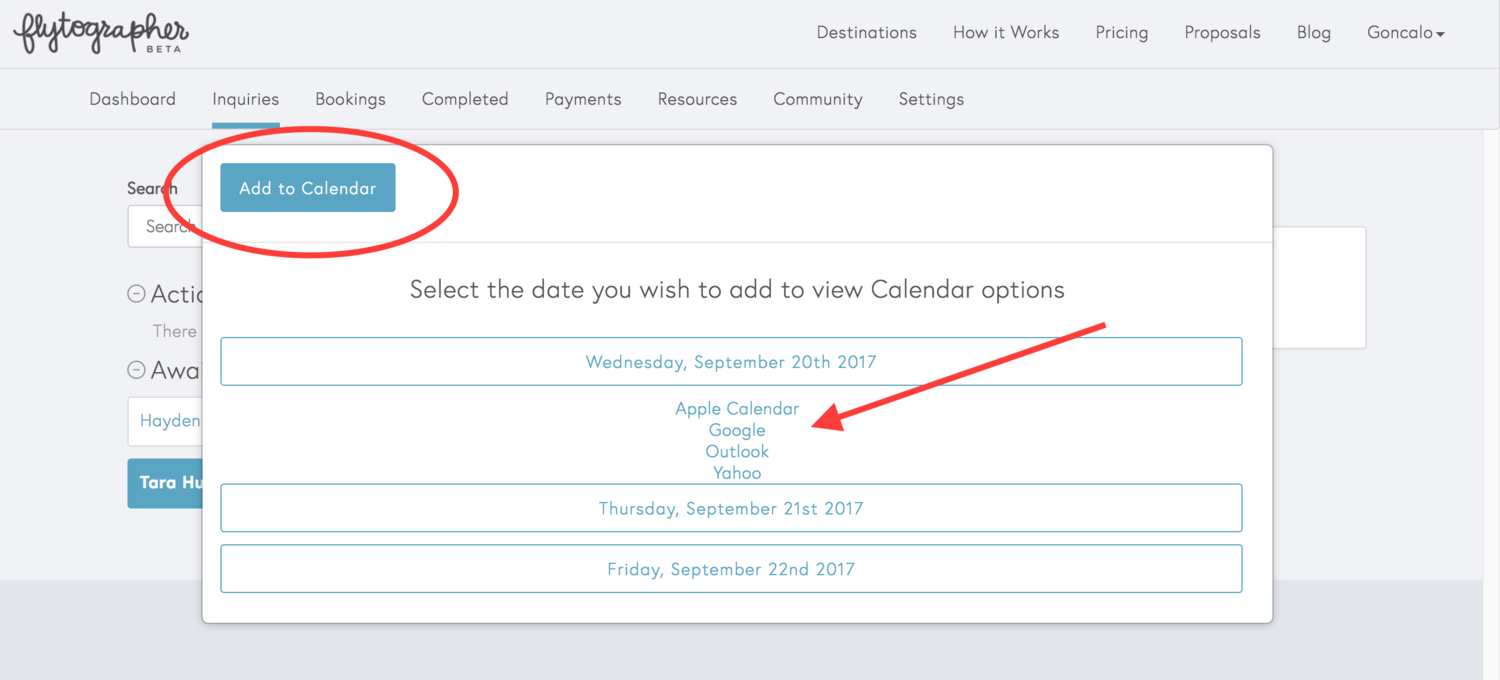 Feature: Add your inquiry dates right to your calendar! Simply click on "Add to Calendar" in the inquiry panel, and then:
choose the date you want to add
choose your calendar (Apple, Google, Outlook or Yahoo)
You are required to hold inquiry dates for up to 3 days while we get the customer to book and pay. Once paid, it will move to your Bookings tab. (If the inquiry disappears and has NOT moved to Bookings, then you can assume the inquiry did not convert and you can remove it from your calendar.)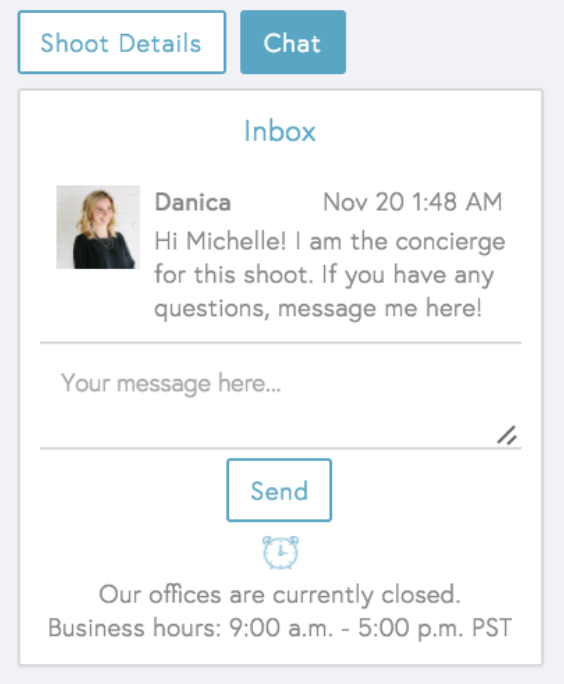 Ask your concierge any questions about that specific shoot through the chat feature. Each shoot has its own chat box beside the shoot details box. (Although messages are received in real time, it may take your concierge 24 – 48 hours to respond with time zone differences.)
Bookings Tab
View the status of your current bookings that are officially reserved and paid for, and confirm customer route and shoot time information.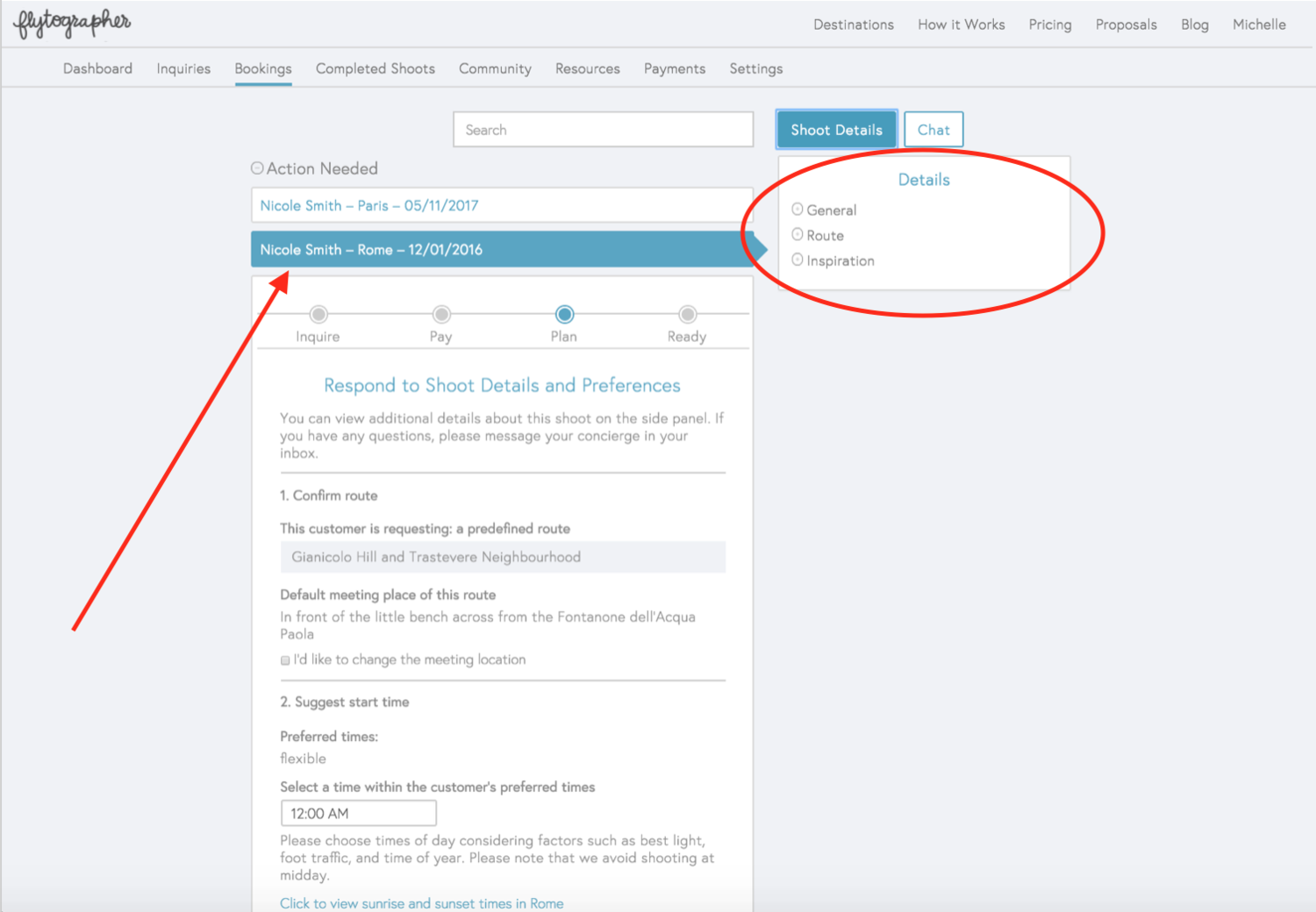 1. Once a customer pays, the shoot will move from the Inquiries tab to the Bookings tab. It will first appear in the Awaiting Customer Response section while we collect a few additional details about their route.
2. After we get customer details, the booking will then appear in Action Needed, where you will be asked to confirm their route and suggest a meeting time.
Click on a shoot to access and complete the required form/task. You will also see new details about the shoot added on the side panel as they become available.
Mobile View
The mobile view is slightly different as we needed to squeeze in everything on a narrower screen. Unlike on desktop, you have a "main" page on mobile, with buttons to switch over to shoot details and chat box.
Open up the menu icon at the top right to access all bookings, payments, resources etc.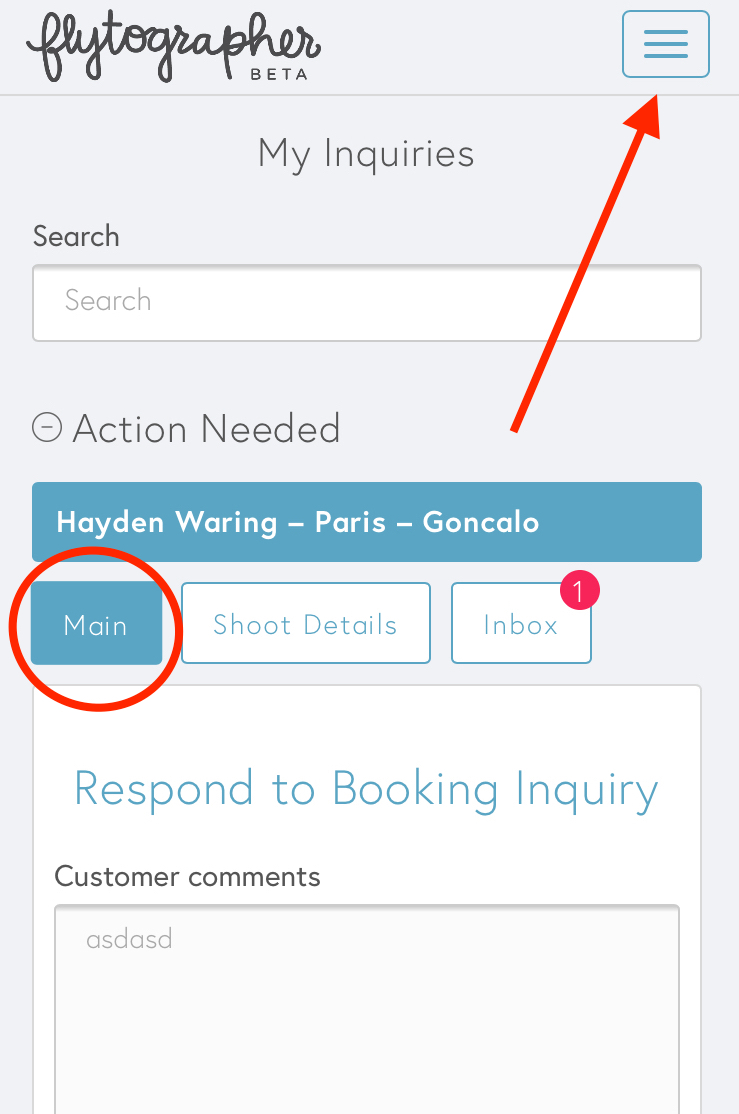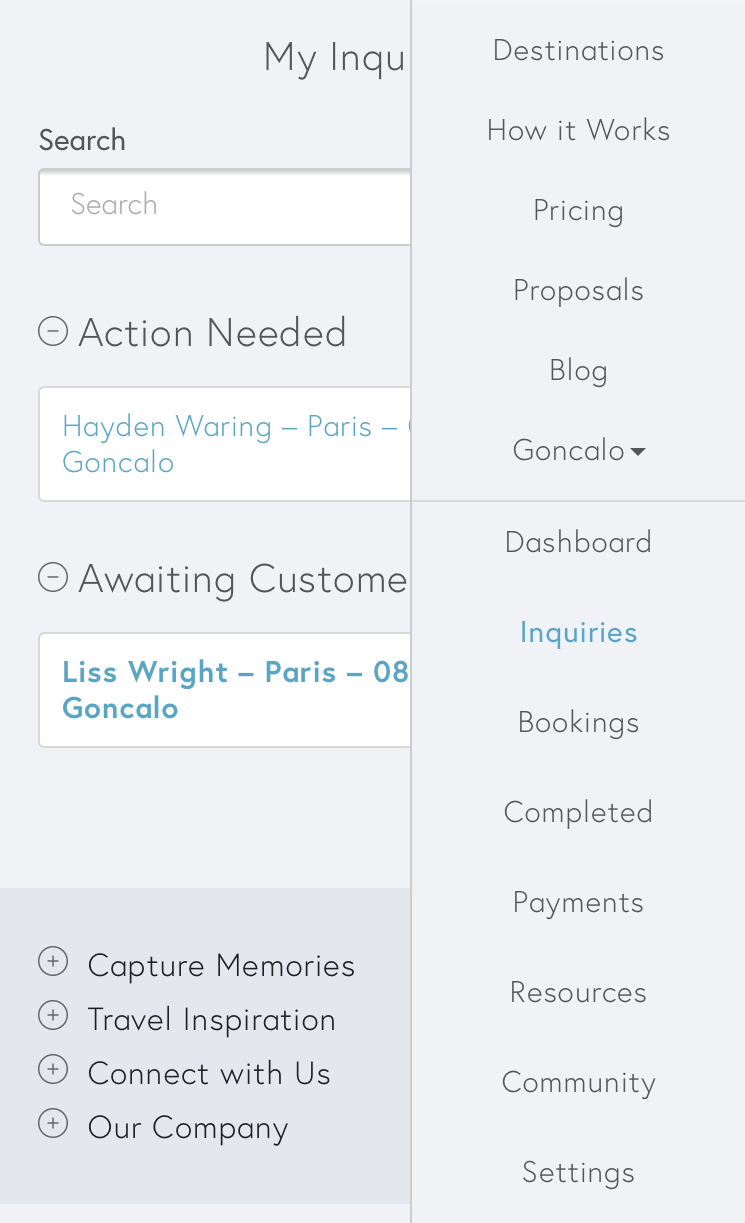 Payments Tab
View all of your past and pending payments by booking name. Payments will show up here once you have delivered the photos.

Tip: To search for a payment by different criteria (like booking name or payment status), click on the column you want to search in.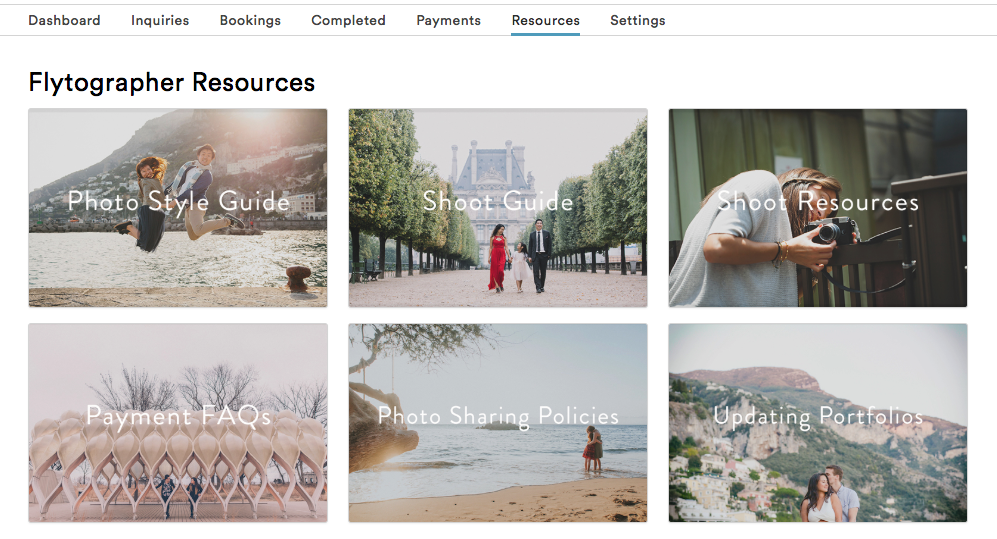 Photo Style Guide: Tips and guidelines for producing Flytographer brand-style photos.
Shoot Guide: Information about what to do before, during and after a shoot. Also includes information about travel fees, payment structure and photo specs.
Shoot Resources: A collection of best practices for different types of shoots; Flytographer Lightroom editing presets; gallery examples; team discounts; logos.
Payment FAQS: Find out all the answers for setting up your payment account and managing your payments.
Photo Sharing Policies: Very important information on photo sharing and customer privacy.
Updating Portfolios: Our current portfolio updating practice (spoiler: it's still manual on our end, soon to be managed by photographers once tech is in place!).
Settings Tab
All your personal details.

Account Details: address, mobile number, etc)
Social: Instagram and Twitter handles
Payments: update payment information (how-to here)
Security: change your password
Note: You will NOT be able to change your profile photo from your account. If you would like a profile photo update, please email a new photo (in colour, cropped square, approx 800px) to michelle@flytographer.com and we will make the change for you.
Shoot Inquiry & Booking FAQs
Q: I received a notification that I had an inquiry, but when I went to my dashboard, it had disappeared. What happened?
One of three things:
you didn't respond within 48 hours (or 24 hours if shoot inquiry is for a date less than 5 days away)
the customer decided to cancel
the customer selected a different photographer
Q: I see a ring on some inquiries and not on others. What's this?
A ring icon indicates this is a proposal inquiry. You will also receive a request to set up a proposal call with the customer and concierge.

Q: The customer requested me for days in which I am unavailable. What do I do?
Click on the dates field and a pop-up calendar will appear. On the calendar, select the dates for which you ARE available and be sure to unselect the dates for which you are NOT available. You can add new dates around their preferred date as well to let the customer know when you are also free. For example, they send you only one date, but you can also shoot the day before it and two days after it. Please select all those dates when returning the inquiry.

Click in dates field to bring up calendar.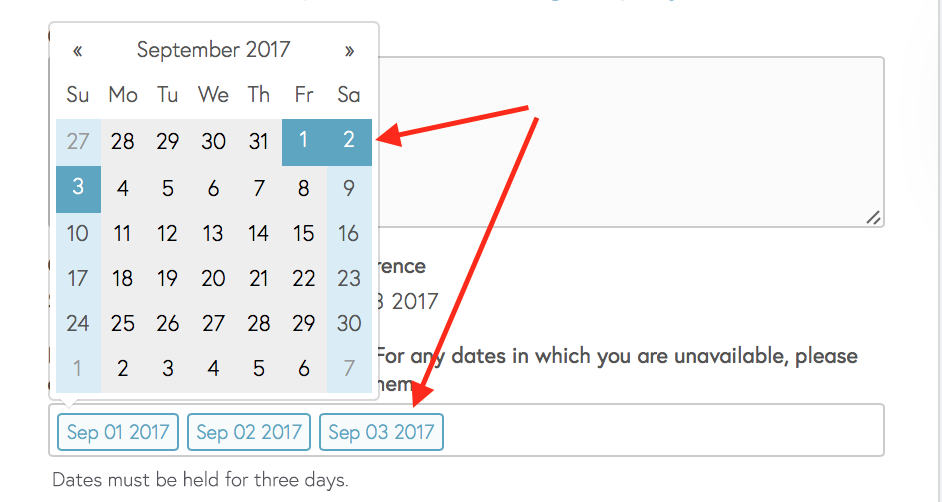 Select and unselect dates here.
Q: I am away on holiday and/or busy at this time and cannot take this shoot.
Please be sure all dates are unselected in the calendar before returning the inquiry. It's also nice to leave a note to the customer along the lines of: "Sorry, I am not available for your dates at this time."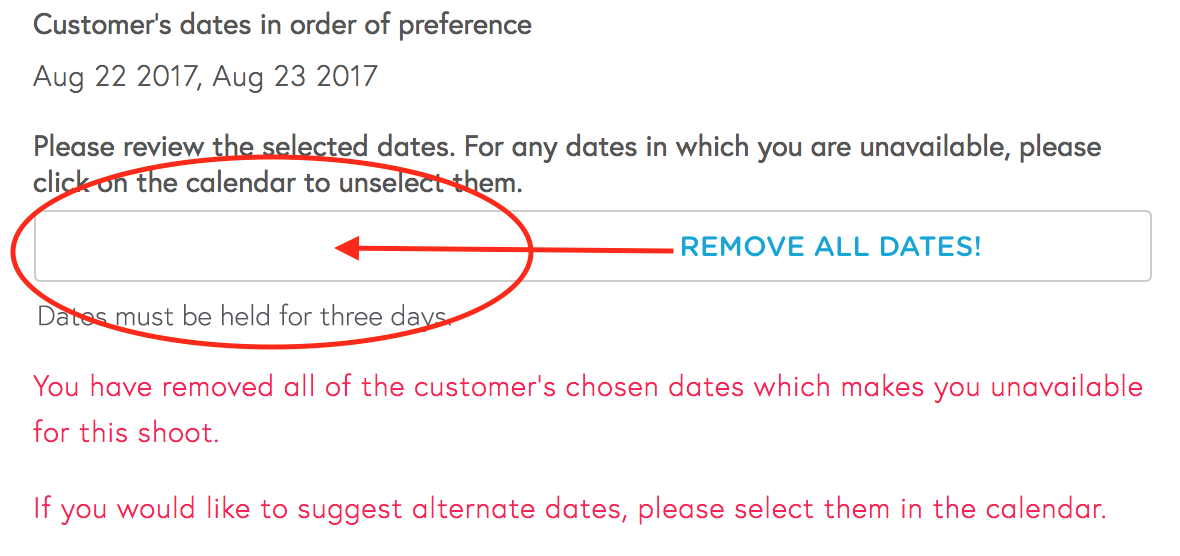 Q: I received an inquiry, but I'm already booked at certain times of the day. How do I let you know?
In the inquiry form, there is a field box at the bottom you can fill out. Please be clear about whether you ARE available or NOT available for the times you indicate, and try to be as specific as possible. For example, instead of simply writing "Morning" in the box, please write "I am only available in the morning between 6am – 11am." (If you are free all day, you can leave it blank or write "None.")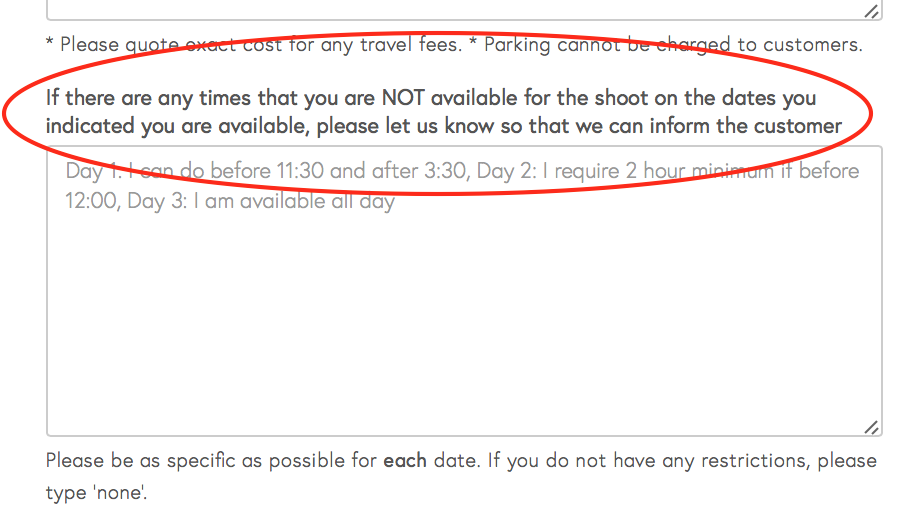 Q: What does the expiry date on the inquiry form mean?
After you have agreed to dates at the inquiry stage, we ask you to hold them in your calendar for up to 3 days while we go back to the customer and have them pay for and confirm the shoot. The expiry date indicates when you can release those dates from your calendar if the inquiry did not turn into a booking.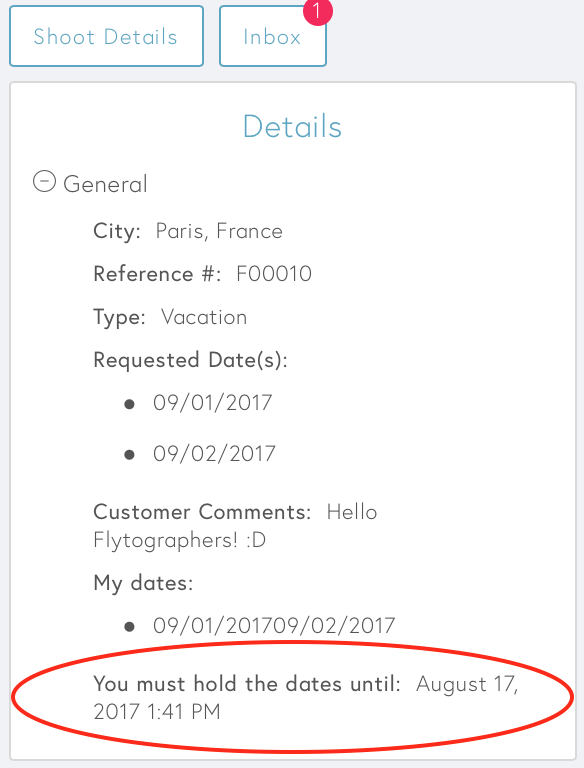 Q: I want to change the meeting time and/or location for this booking.
When you respond to the booking details, you can change the meeting times and location if you need to. Use the drop-down in the time slot to choose a preferred time, and offer alternate times if possible. For meeting locations, please check off the little box and then add a new meeting spot, map link, and visual link from Google maps.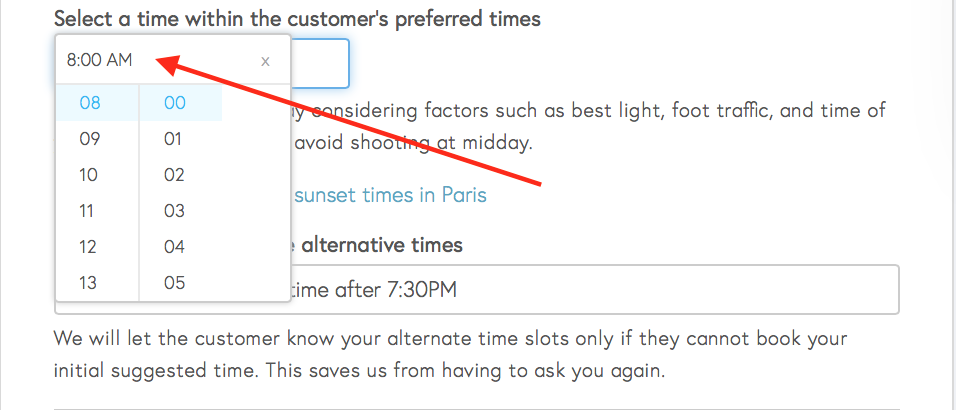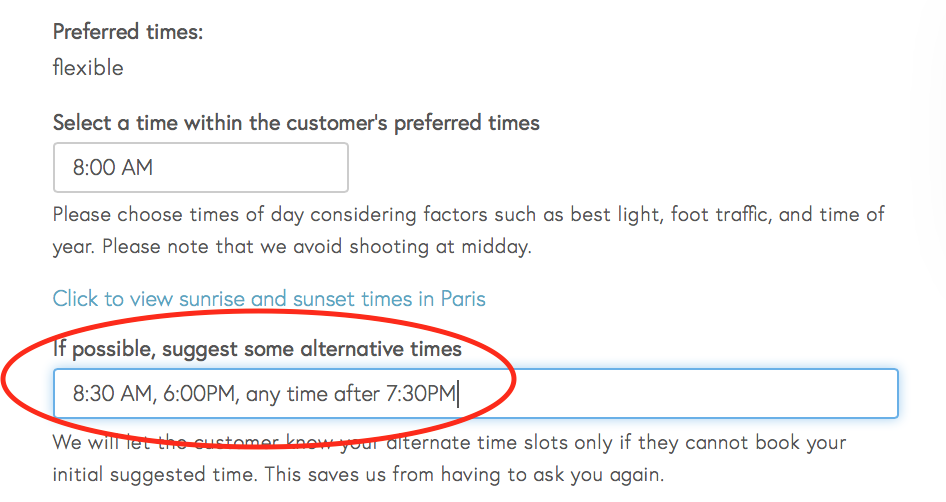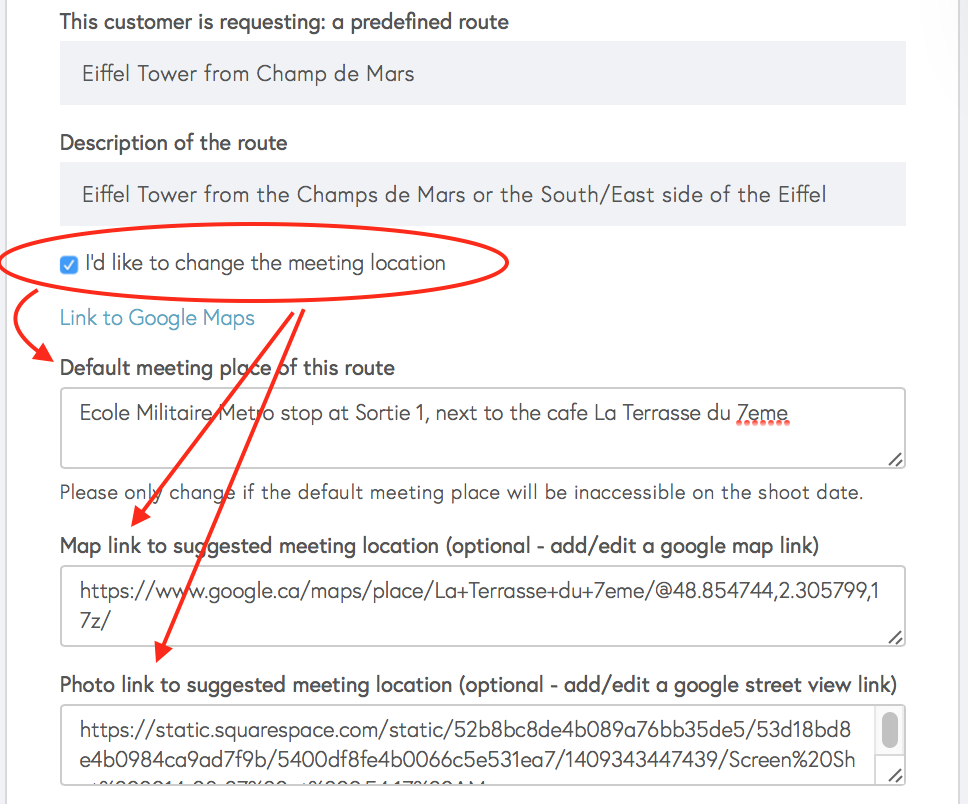 Q: I want to book my own shoot. How do I get out of my photographer dashboard?
Simply go to your name in the top right-hand corner of your dashboard and click on the little dropdown menu; choose "customer." (We have team discounts for your own vacation shoots! See booking codes here.)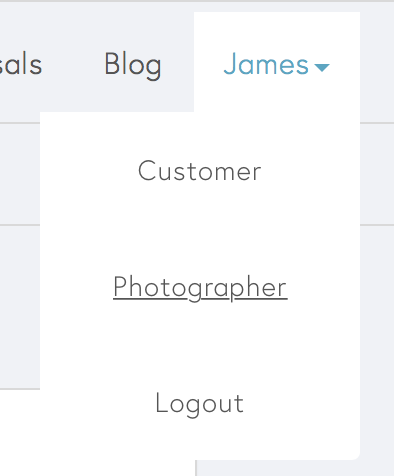 Q: I'm having technical issues or want to submit feedback.
On your dashboard, there are links at the top that will send your form to just the right person! (Or use the convenient buttons directly below.)