See more: Top 5 – Travel Guide – Los Angeles – Nashville – NYC – Portland – Vancouver
The novelty, convenience and appeal of food trucks is undeniable. Though they might have been written off as a fad a few years ago, food trucks are here to stay. Street food is a staple for many cultures, but for larger North American cities, street food culture is relatively new. With so many creative truck options now available, it only makes sense to plan a trip to one of the top North American food truck cities to sample them all yourself. Here are our picks for your next food truck adventure in Portland, Vancouver, L.A., Nashville and Brooklyn, New York City.
PORTLAND
Food trucks have thrived in Portland, thanks to friendly local regulations and a unique setup grouping trucks into "pods," making it easy for diners to choose from a variety of trucks in one spot. This setup means that most of Portland's food trucks (600 at last count!) are stationary, making it that much easier to track down your fare of choice. Bonus: Portland is incredibly vegan and vegetarian friendly! Use the city's free Travel Portland app to plan ahead or explore on the go.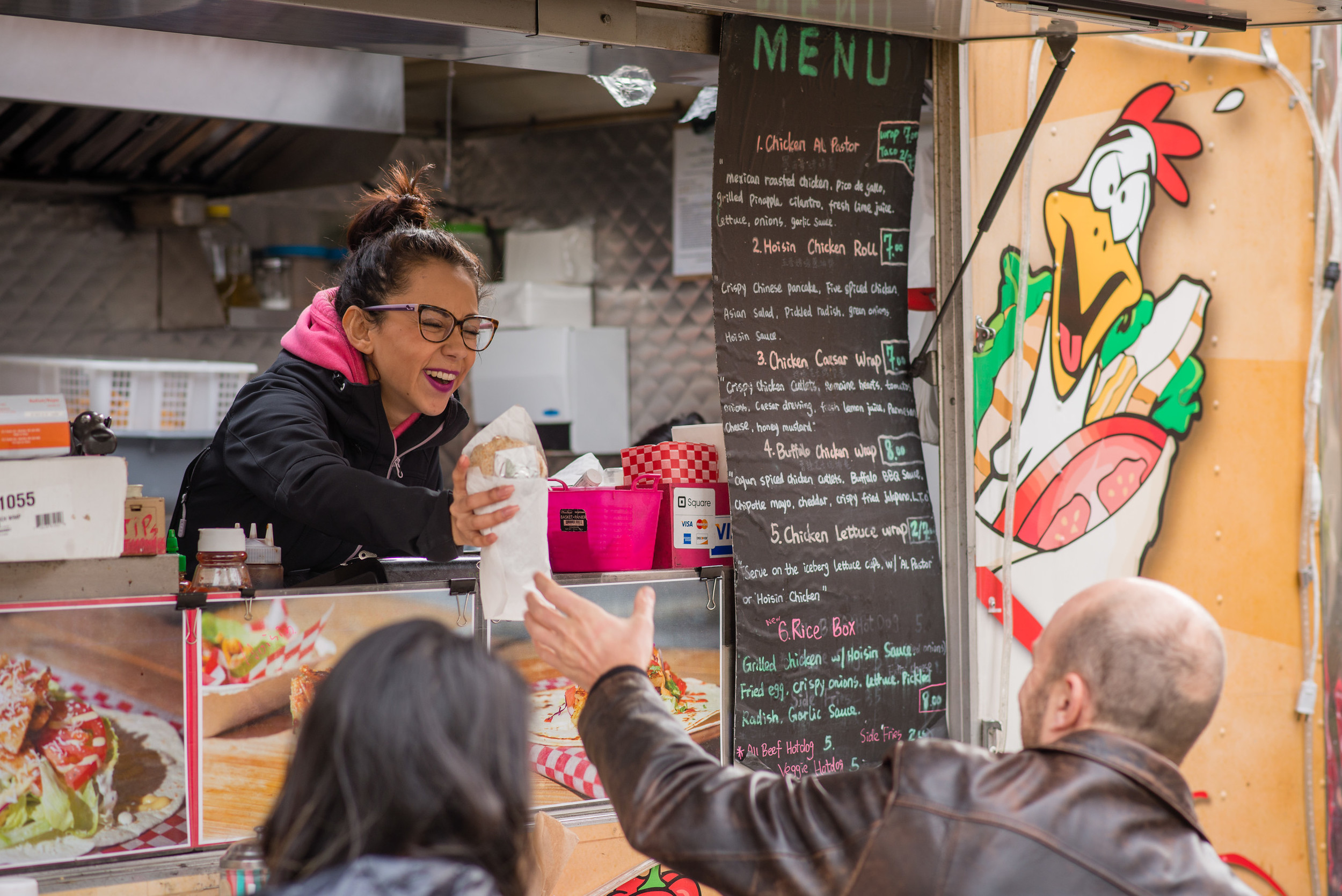 PBJ's Grilled offers sweet and savoury grilled sandwich options perfect for the late brunch or lunch crowds. House-made nut butters and whole fruit jams complete creative combinations like the Oregonian, featuring pan-seared duck, hazelnut butter, blue cheese and marionberry jam on challah bread. Their 12th and Hawthorne location is part of an iconic pod, so feel free to gather a spread of options from various carts for your own customized multi-course meal.
Nong's Khao Man Gai has a straightforward concept. Nong, the owner, offers one dish, Khao Man Gai, which is a very simple Thai chicken and rice dish. Nong is originally from Bangkok and wanted to bring this simple street food to her new home. The downtown truck sticks to this one dish, but venture to the PSU truck for a few more options, including a vegetarian version.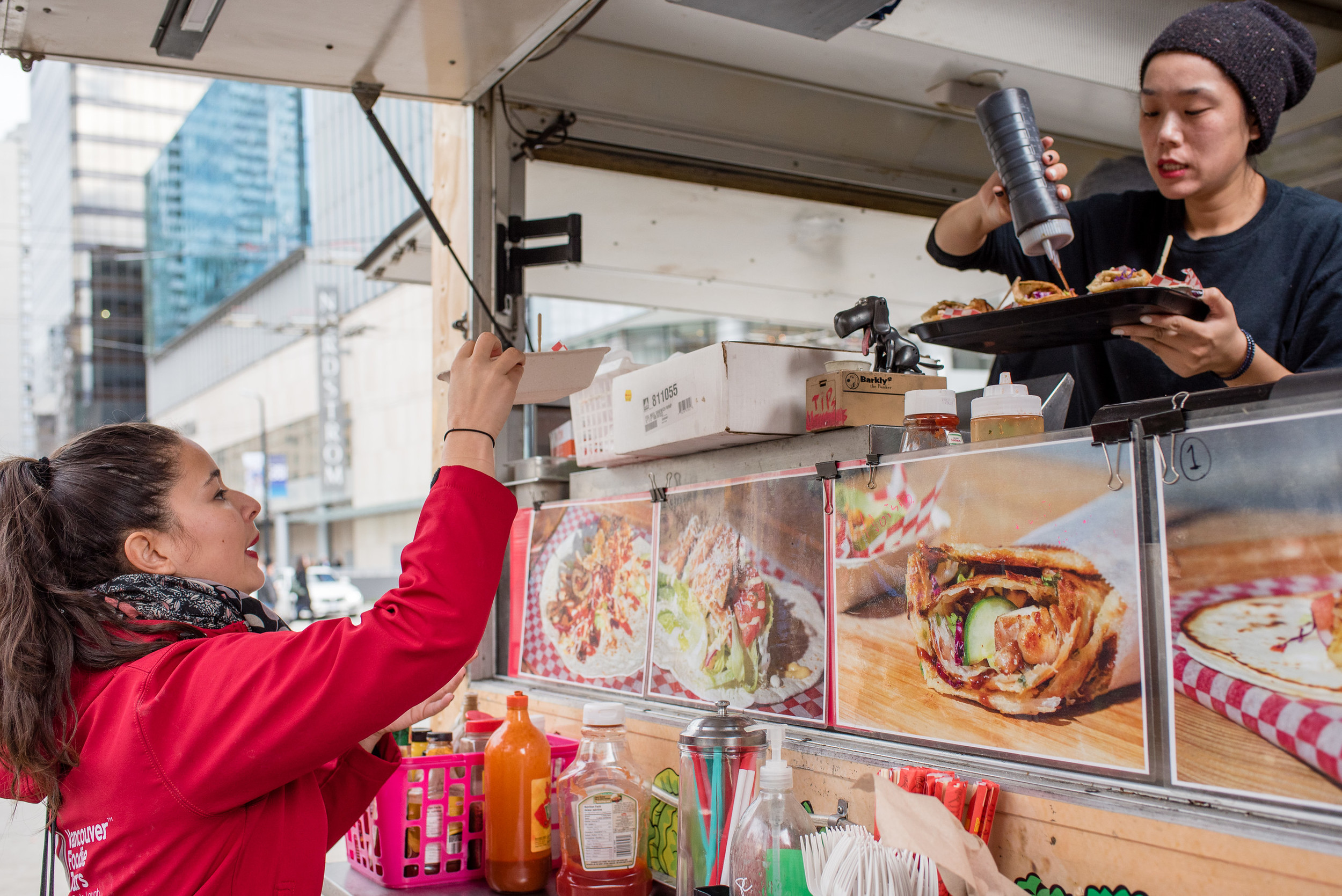 The Frying Scotsman grew up in Scotland and now runs his own "chippy" at 9th and Adler, offering made-to-order fish and chips. The fish and chips are hot and fresh, but the best part of the experience just might be the friendly banter offered free of charge as you wait for your food.
For something completely unique, head to Chez Dodo for a taste of Mauritian cuisine. Mauritius is a small island off the southeast coast of Africa; if digging your toes into its white sandy beaches might be a bit out of your budget, you can still get a taste of the nation's traditional cuisine, which takes inspiration from Chinese, European and Indian dishes.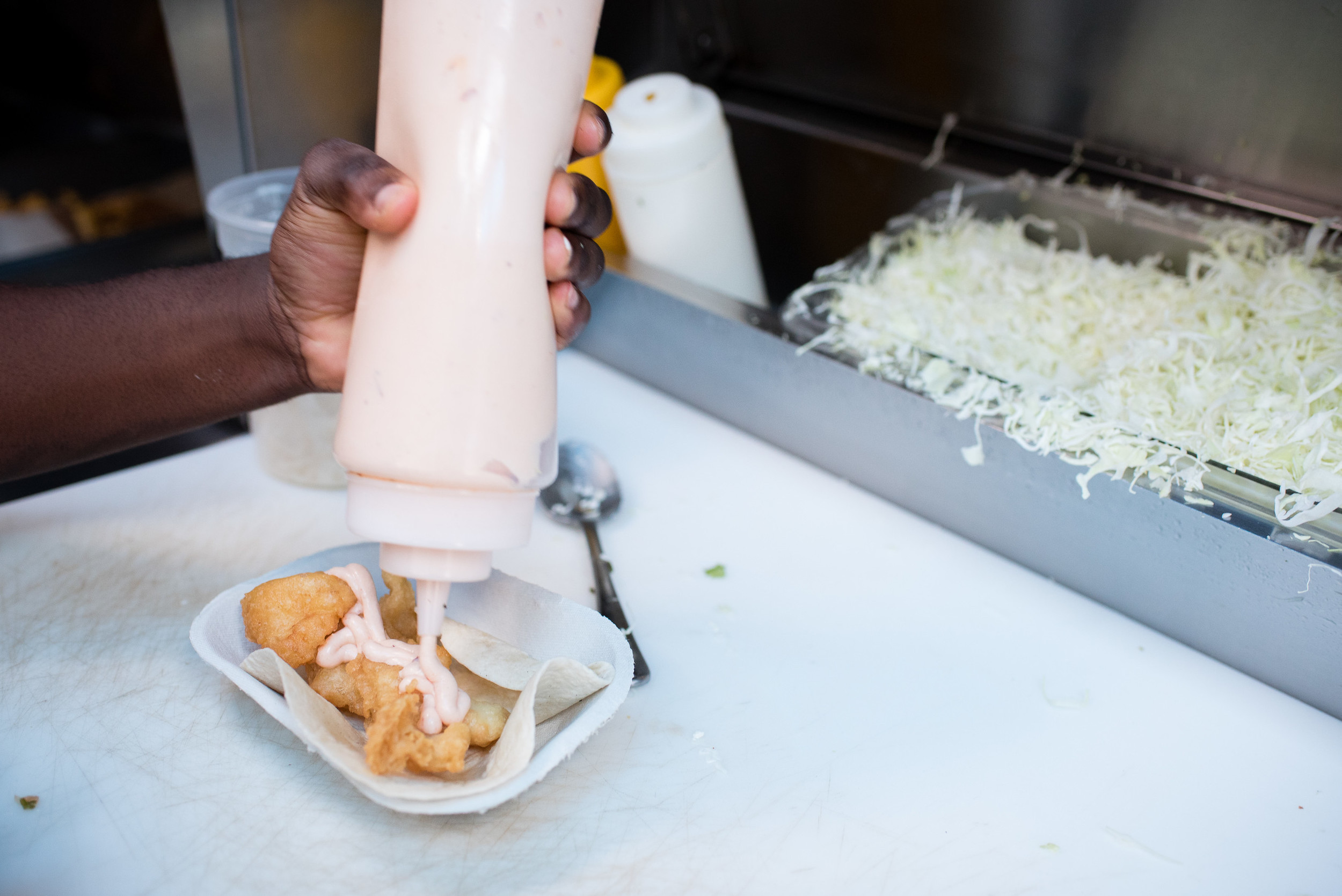 Looking for something sweet to finish off your Portland food truck expedition? Churros Locos has you covered with all things churros. Choose from churros, vegan churros, a churro sundae or a churro ice cream sandwich and try not to cancel your flight home to live in churro heaven forever.
---
VANCOUVER
Vancouver street food has come a long way from the hot dog and roasted chestnut stands of the past. Local government has been focused on allowing vendors to sell a diversity of foods, even offering a city-sanctioned app for locating food trucks! Vancouver street food is available from both mobile and stationary vendors, so you can decide if you want to actively pursue your food or not. The app has a handy map feature for up -to-the-minute food truck locations.
Start your day by staking out Yolk's popular breakfast offerings. Poached egg sandwiches are the name of the game. Build your own with toppings like double-smoked bacon and portobello mushroom.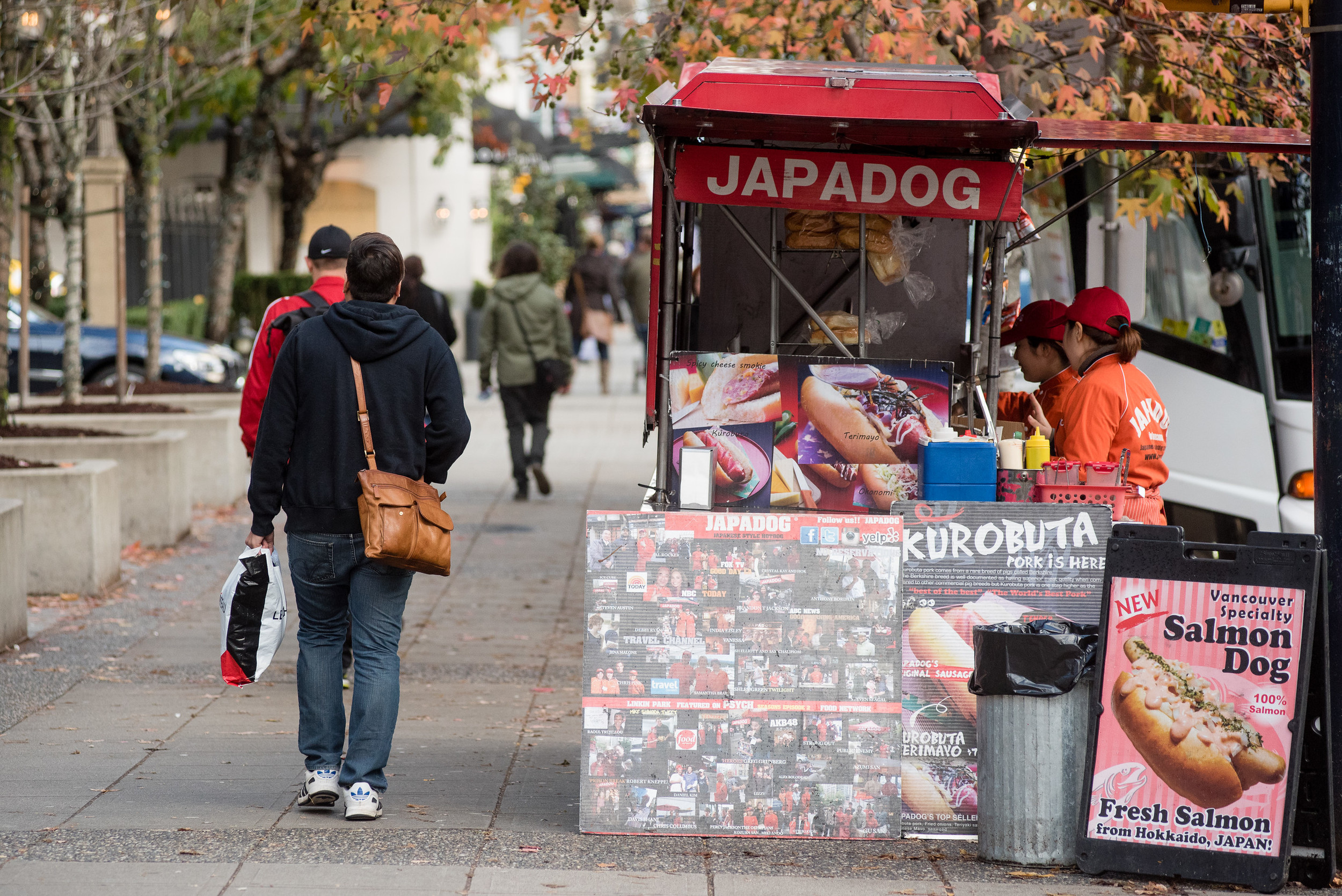 A Vancouver institution, Japadog is the ultimate fusion food. Combining the North American hot dog with Japanese flavours, this busy cart offers up exotic menu choices such as Terimayo, Okonomi, and Negimiso. The original truck has expanded with locations all over the city (and now in California!), so it easier than ever to get your fix.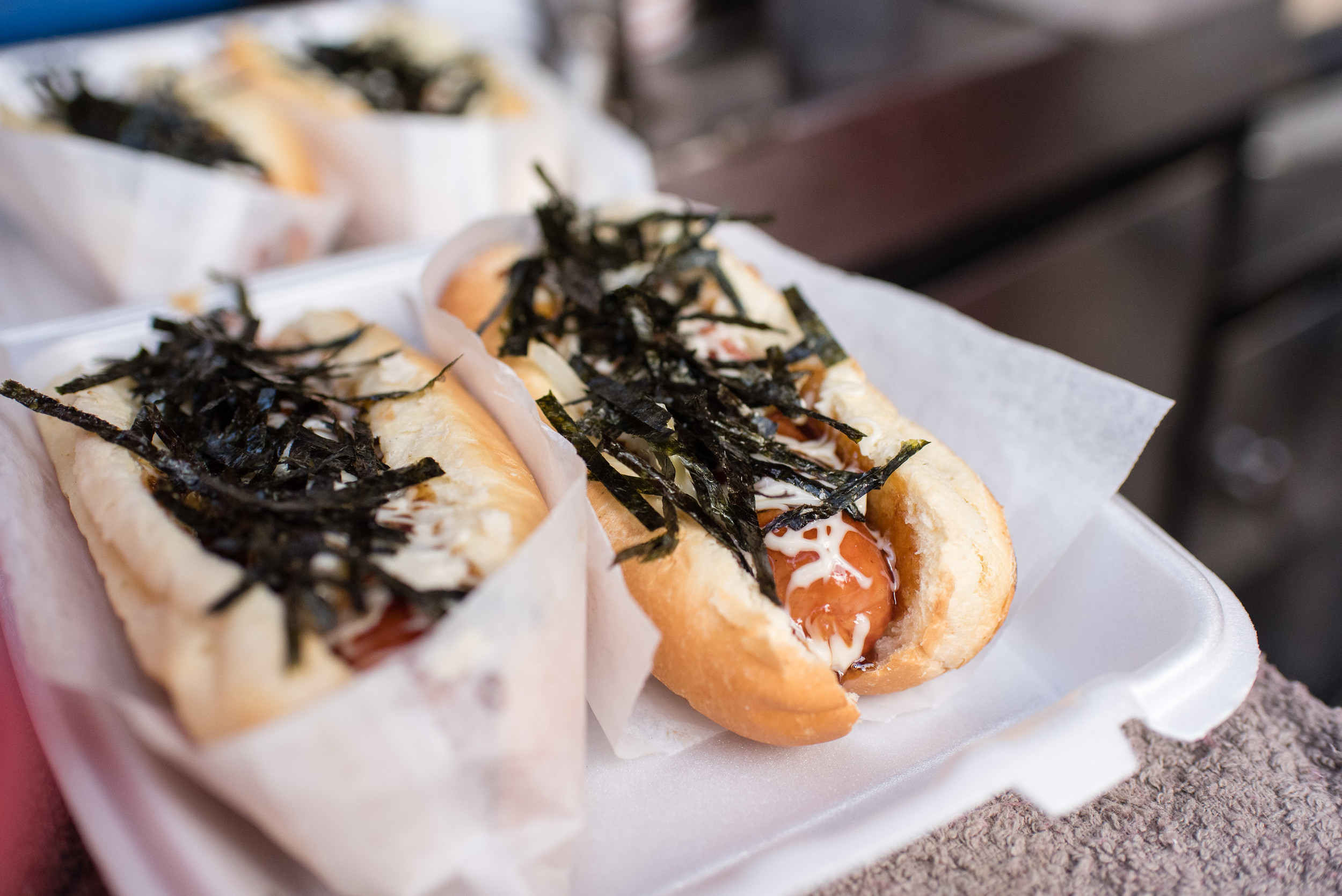 The Aussie Pie Guy's truck started life as a U.S. Postal Service truck and now serves as the slinging point for Australian pies in Vancouver. Traditional Aussie pies include savory ingredients like beef and onion in a pepper gravy. Satisfy your sweet tooth with the pie guy's Aussie take on apple pie.
Find Tacofino's truck (decked out with imagery by a local Vancouver artist) and Baja-style tacos are in your very near future. Crispy cod, chicken and pork al pastor come in taco or burrito form. A vegetarian burrito (as well as a vegan option!) is also available.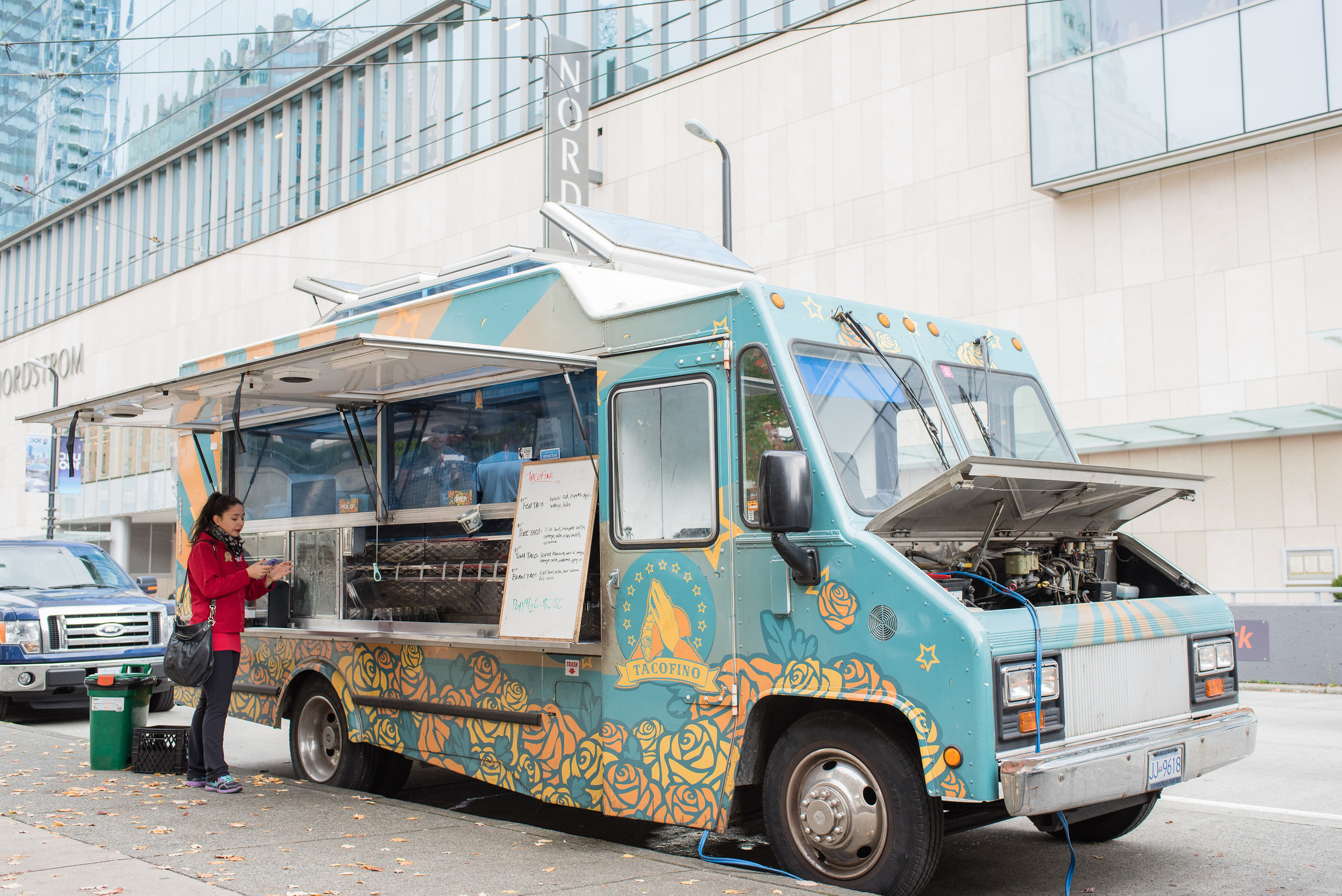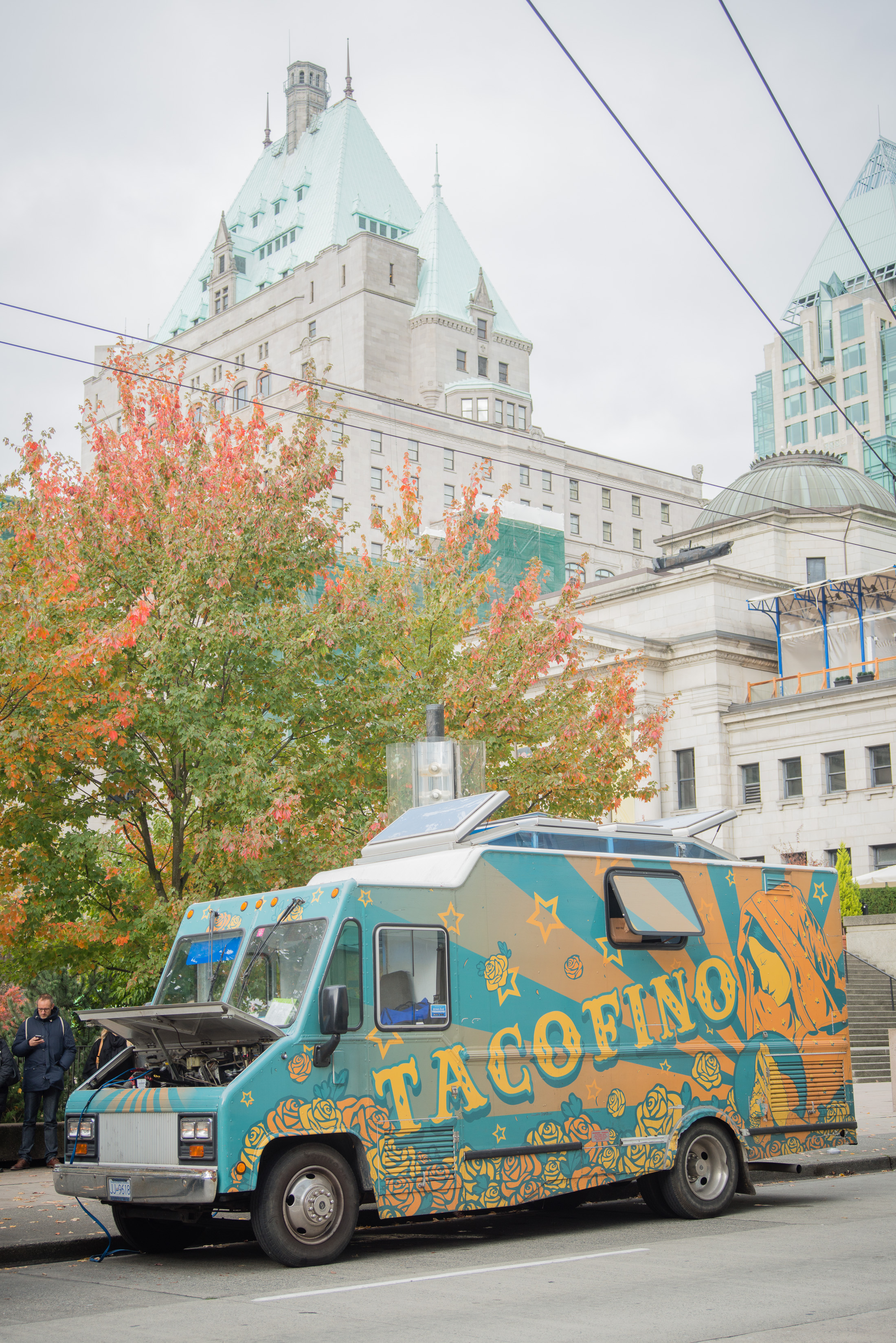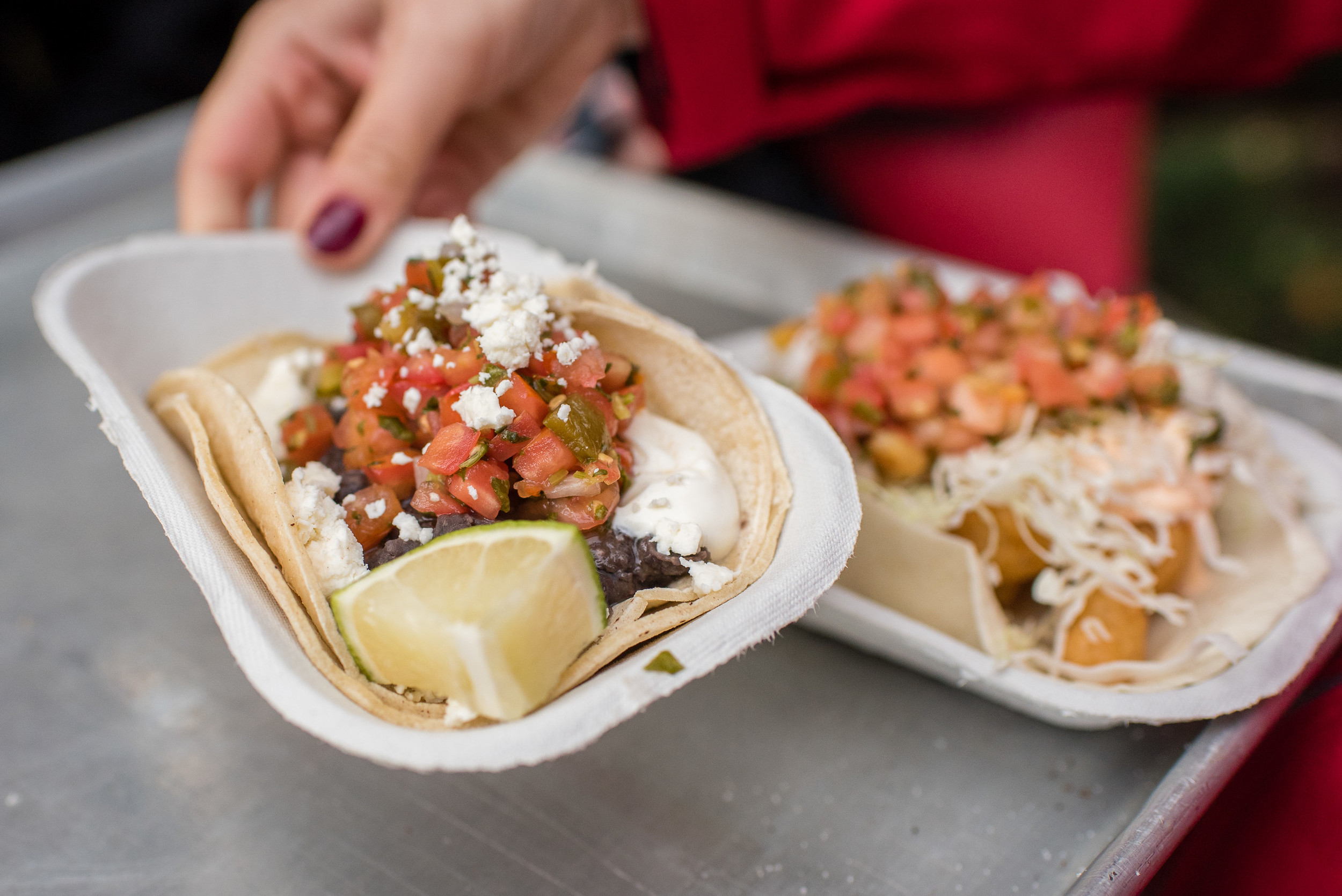 Eat like a local at The Kaboom Box. Locally sourced, sustainable fish options include their hot-smoked salmon sandwich, smoked right on the cart.
Mogu Japanese Street Eats offers classic Japanese dishes in sandwich form. Pork miso katsu, chicken teriyaki and kabocha squash are available downtown during lunch hours throughout the week and at the Richmond Night Market on weekend evenings from May to October.
Line-ups are legendary at Vij's, one of Vancouver's best restaurants, but you can find the same flavours on the street at Vij's Railway Express. Sensual curries, melt-in-your-mouth butter chicken, and sweet cups of chai transport you out of the west coast rain to the warm climes of India.
---
Los Angeles
The L.A. food truck scene is known for making fusion mainstream. And it makes sense — L.A. is made up of a wide-range of ethnic neighborhoods, such as Koreatown and Little Armenia. With so many cultures overlapping and melding in this vibrant city, the lines blur when it comes to cuisine, and that's a good thing.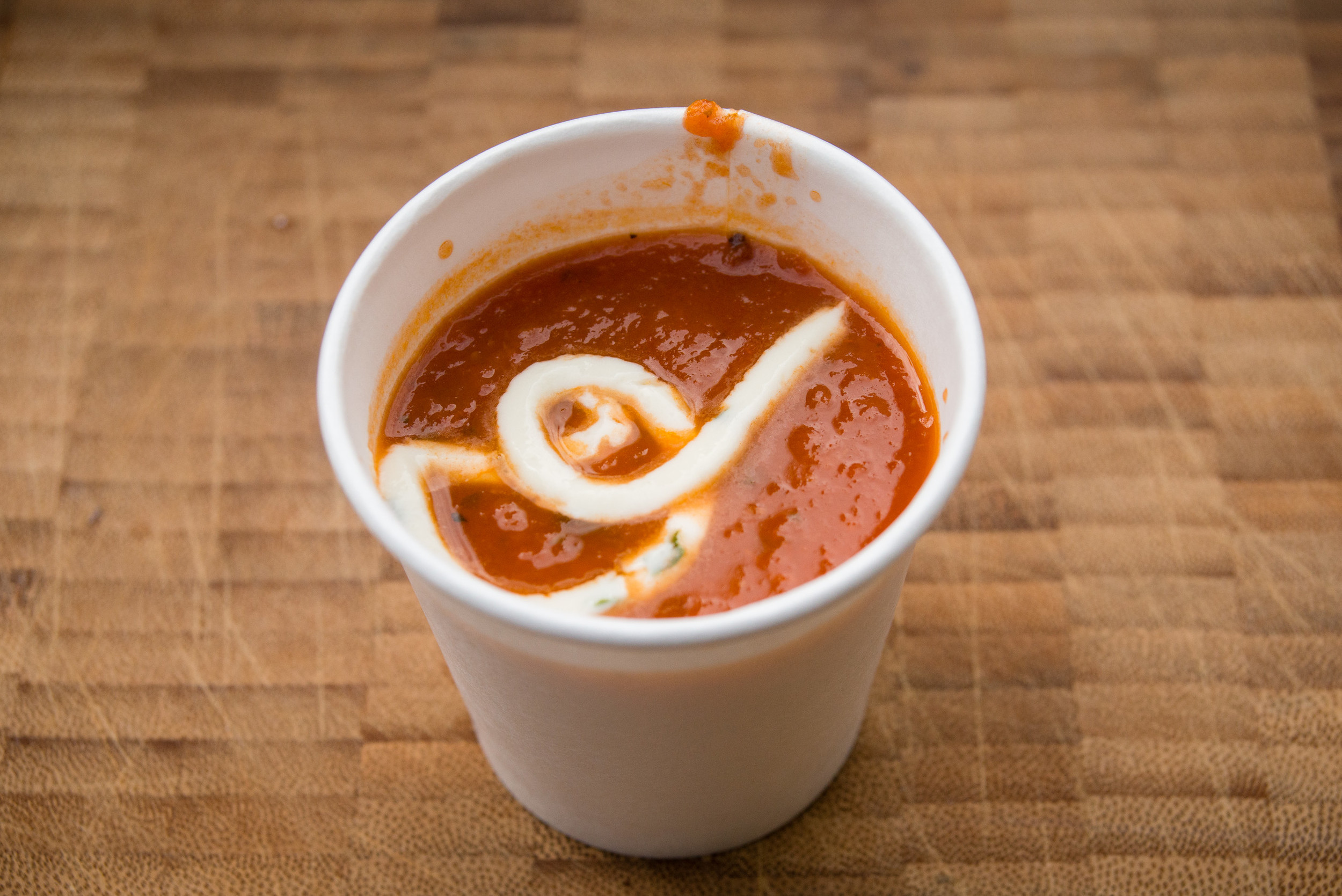 Kogi BBQ takes fusion to the streets in the form of Korean BBQ tacos. Taco and burrito filling choices include short ribs and tofu. The kimchi quesadilla is filled with cheese and kimchi and topped with salsa and sesame seeds. Finish it all off with a homemade dark chocolate bar with sriracha ganache.
Tacos and L.A. have a relationship sort of like peanut butter and jelly. Get your taco fix from Leo's Tacos Truck, which has four locations, or El Chato Taco Truck. Even better, go on your own personal taco tour and try both.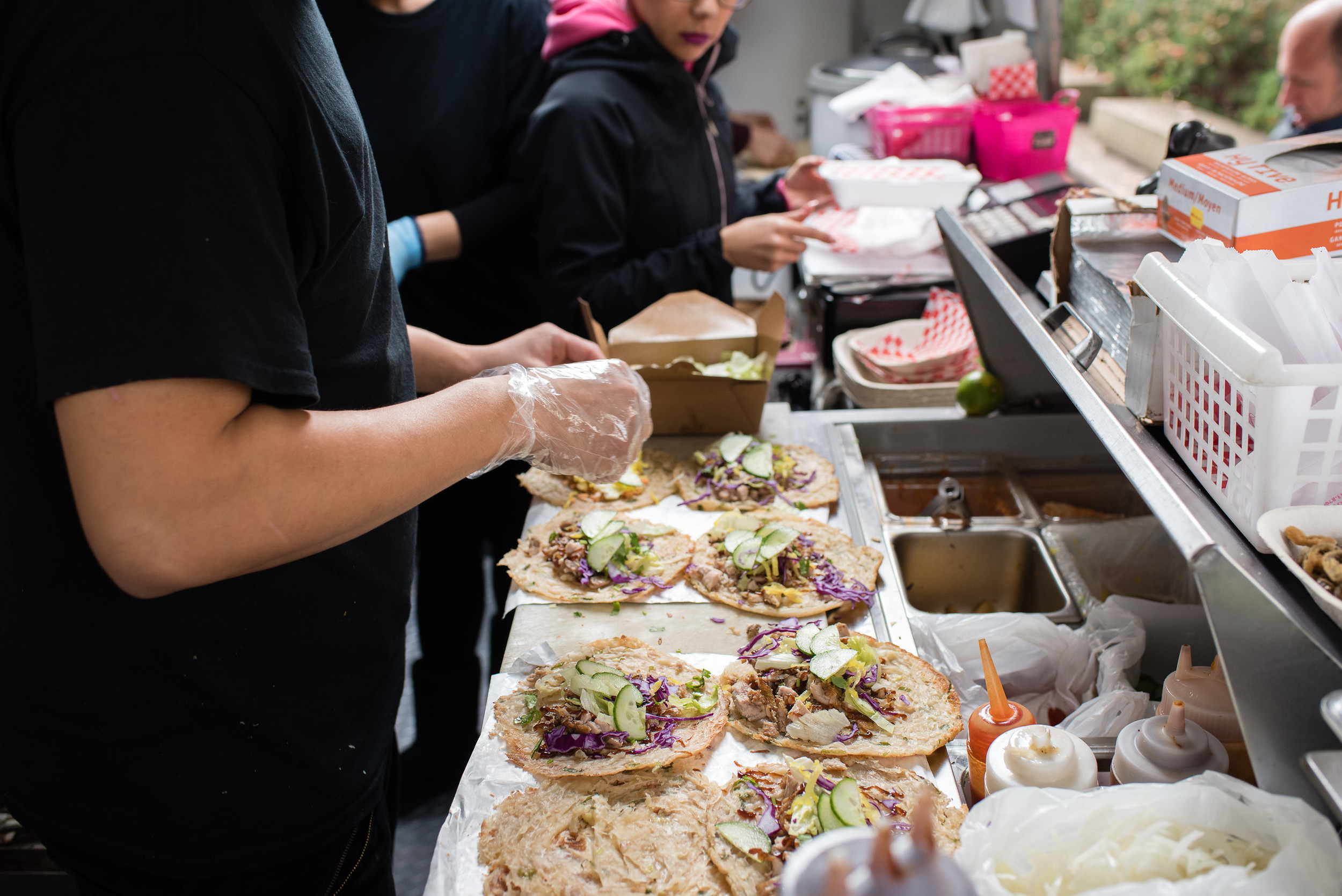 If you're experiencing post-taco tour regret, visit Amazebowls' purple truck for fresh fruit and granola bowls with customizable toppings, such as chia seeds and hemp hearts for a healthy start to the day.
Jogasaki takes the decision-making out of your evening plans with their sushi burrito. Additional decision fatigue-friendly options include spicy tuna nachos and salmon ceviche tacos.
Frach's Fried Ice Cream offers four different styles of fried ice cream: Original, wrapped in a cake shell with tempura batter; Mexican, wrapped in cinnamon-sugar flakes; Thai, wrapped in exotic spice bread; and Japanese, rolled in panko bread crumbs coated with toasted coconut flakes. So much for curing decision fatigue…
---
NASHVILLE
When we think of Nashville, we think of music and BBQ. Luckily, BBQ can easily be found on Nashville's burgeoning legion of local food trucks, but you'll have to go elsewhere for the music.
Music City Brisket serves Nashville classics like smoked beef brisket sandwiches and baby back ribs.
Smoke Et Al's mobile smokery offers all things smoked, from hot ribs and smoked chicken biscuits to smoked veggie tacos. Their mac and cheese side even includes smoked Cheetos.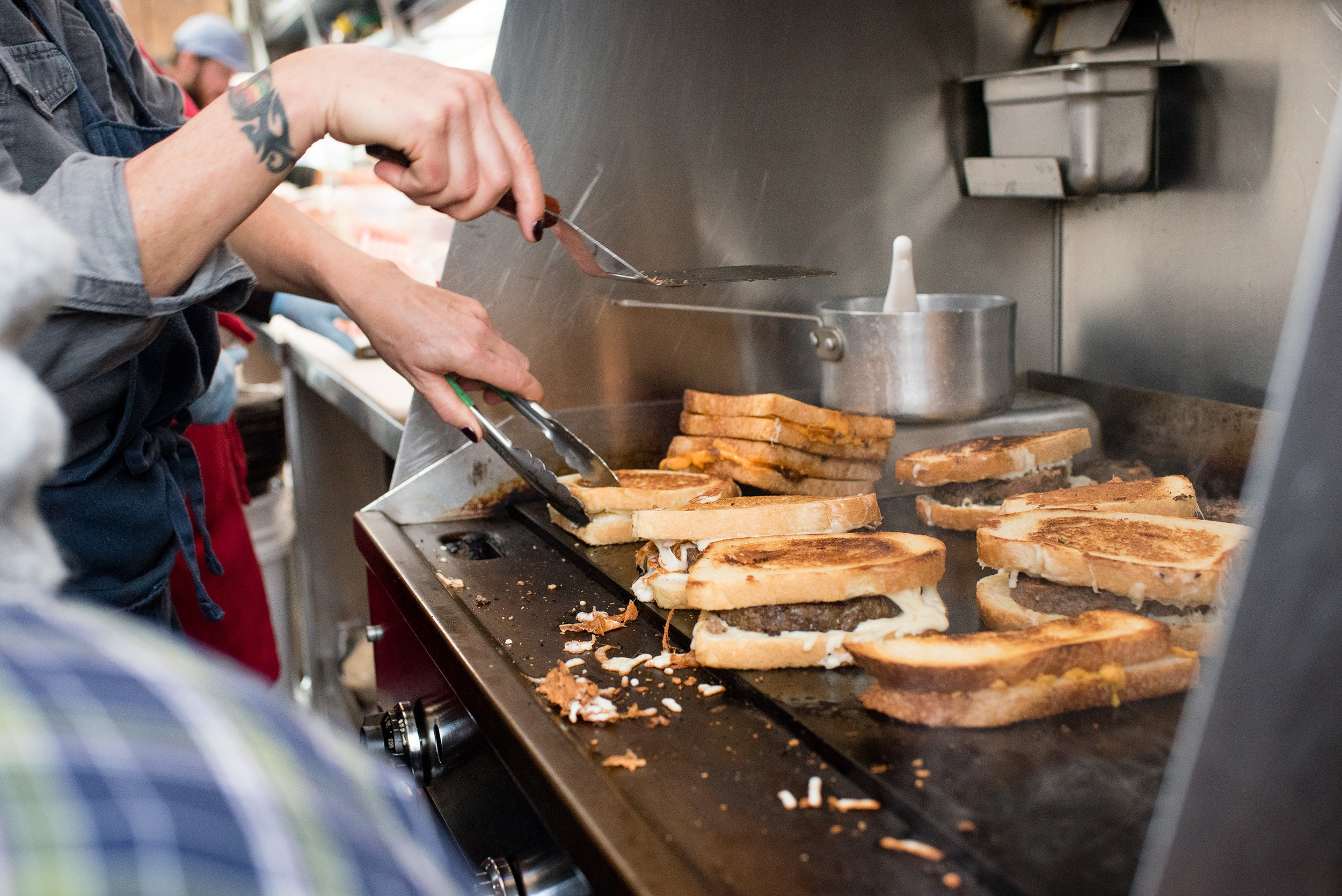 Take a break from BBQ with Hoss' Loaded Burgers. Stuffed burgers are available with beef or soy patties. You can preorder and pay online, too.
Goat is the main focus at Two Goats, in items like the Bowly Goat, a rice and beans bowl with harissa-marinated goat, a sunny side egg and a blackberry chili reduction. Two Goats' location changes daily, so be sure to follow them on Twitter for their latest location.
Mojo Cookie Dough and Creamery is making all our childhood dreams come true one build-your-own ice cream sandwich at a time. First, choose your cookie. Graham cracker snickerdoodle chocolate chip, anyone? Then, choose your ice cream flavor and toppings.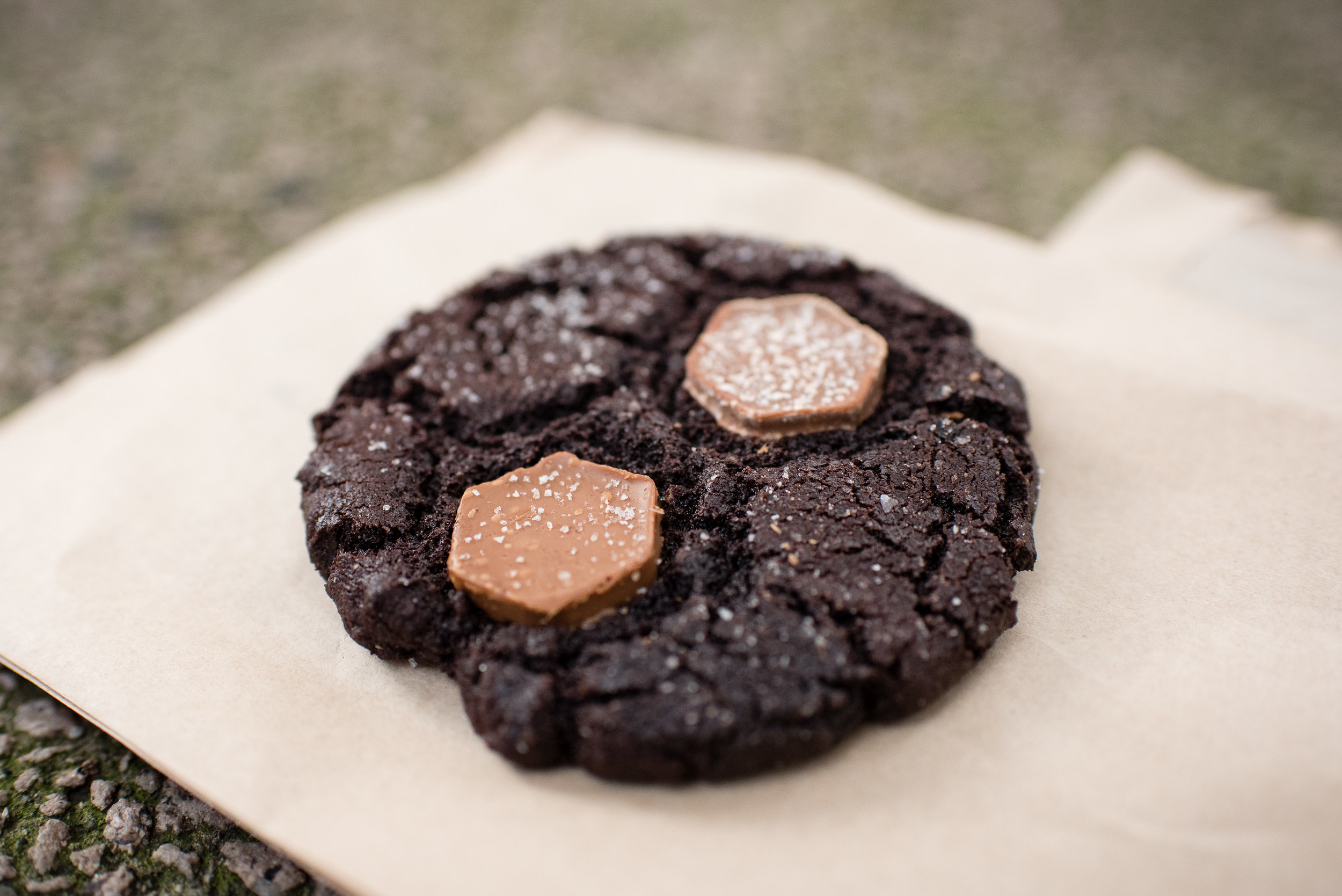 ---
BROOKLYN, NEW YORK CITY
Trek to Brooklyn, which has been home to the famous Nathan's Hot Dog Eating Contest since the 1970s, and you're guaranteed to leave full and happy. No, you can't participate in the contest (only sanctioned competitors are allowed), but that just leaves you free to embark on your own eating adventure, which will likely be more appetizing than a bunch of soggy hot dogs.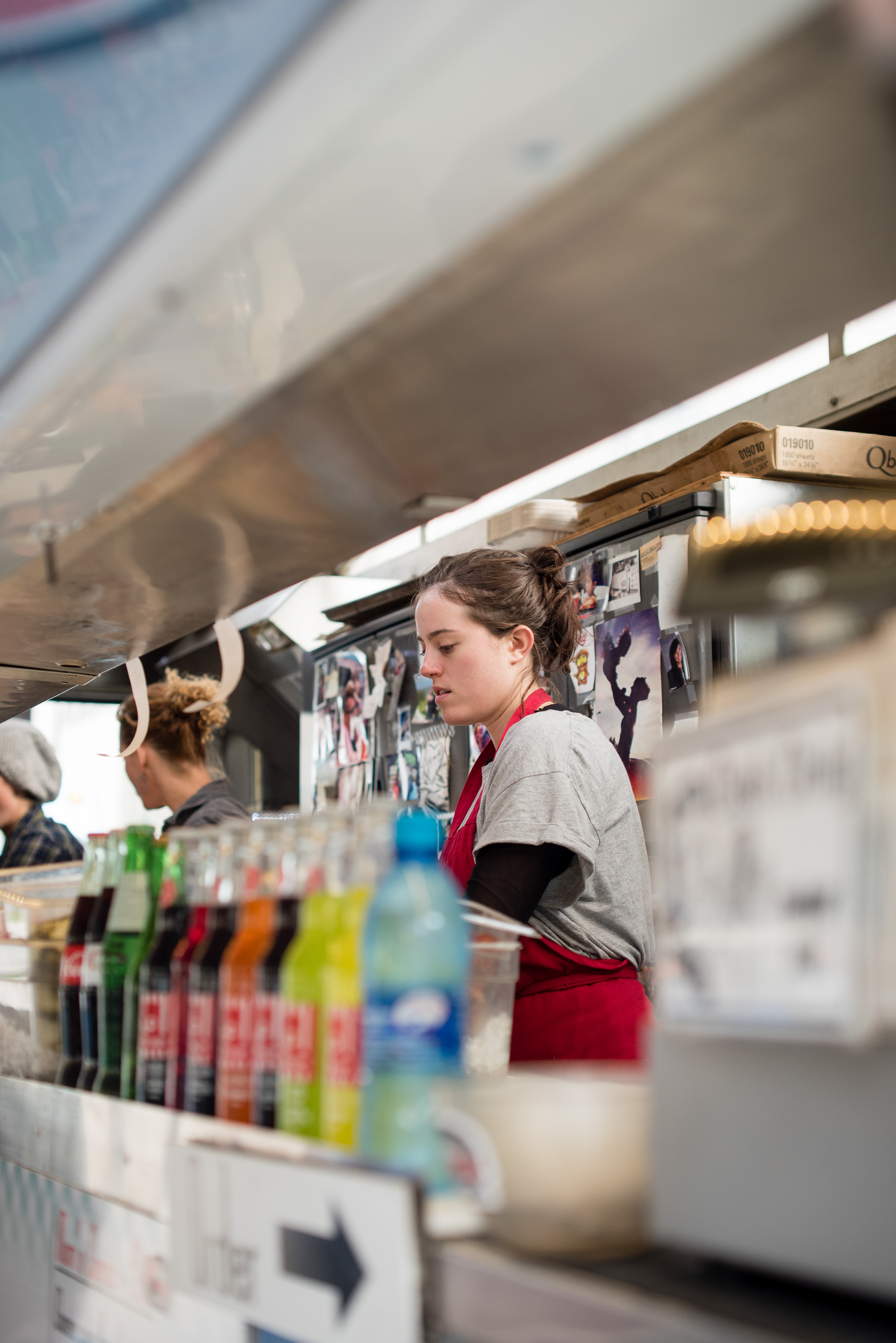 Smorgasburg, a spin-off of the famous Brooklyn Flea market, is open year-round and gathers local food vendors in one market so you can skip the searching and focus on sampling.
For the early birds, Rosie's offers breakfast and lunch starting at 6 am weekdays and 7 am Saturdays. The family-owned truck, which has been serving Brooklynites for over 25 years, offers classic breakfast items like pancakes and eggs. Rosie's specialty is the Chiwawa dog, a hot dog with taco-inspired fixings.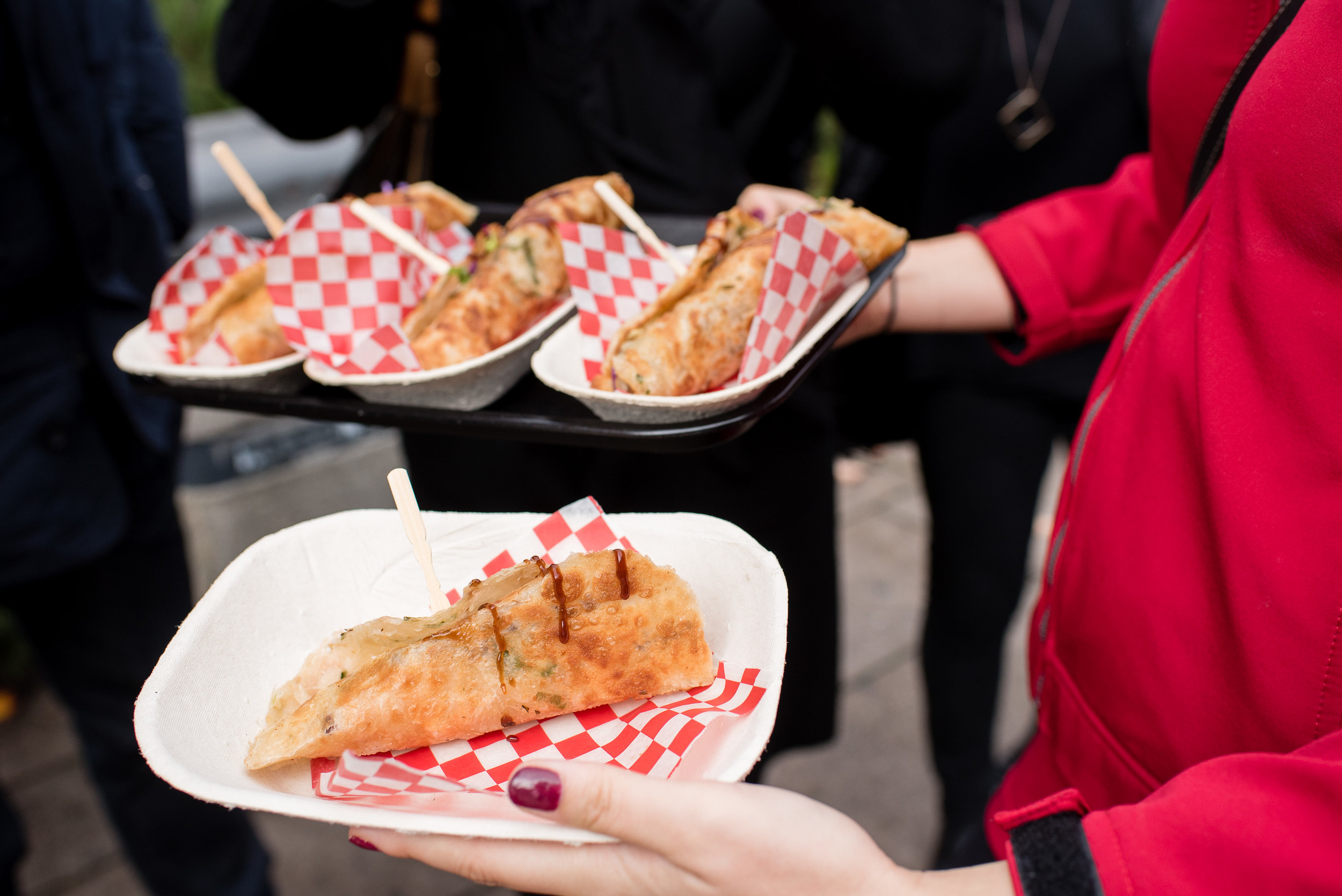 The Red Hook Food Vendor's Marketplace has been in operation since 1974. Latin American food vendors gather at this historic marketplace every weekend from May to October. Try the traditional Salvadoran pupusas from El Olomega.
Carpe Donut's all-natural apple cider donuts are a family-friendly treat best enjoyed stuffed with vanilla ice cream and washed down with cider or hot chocolate.
Dumbo Lot hosts a rotating lineup of food trucks at Jay and Water Streets. Choose from three different vendors per day. On Fridays, try Mamu's hand cut Thai noodles.
Dining at food trucks is a budget-friendly way to experience a variety of cuisines. Many food trucks are run by local transplants who have decided to bring the traditional cuisine of their home to their new neighbors. And for that, our bellies are grateful.
---
Have a craving? Amazing food trucks and street carts can be found around the world! Find your favourite in one of our 160+ destinations.