Launched in 2013 and inspired by the belief that memories are the best travel souvenir, Flytographer is a Canadian-based startup that connects travellers with a network of local photographers in destinations around the world to coordinate photo shoots that capture the wonder of exploring a new place. The first company to market global vacation photography services, Flytographer is changing the way people remember their trips by providing one-of-a-kind experiences and beautiful photographs to help remember them.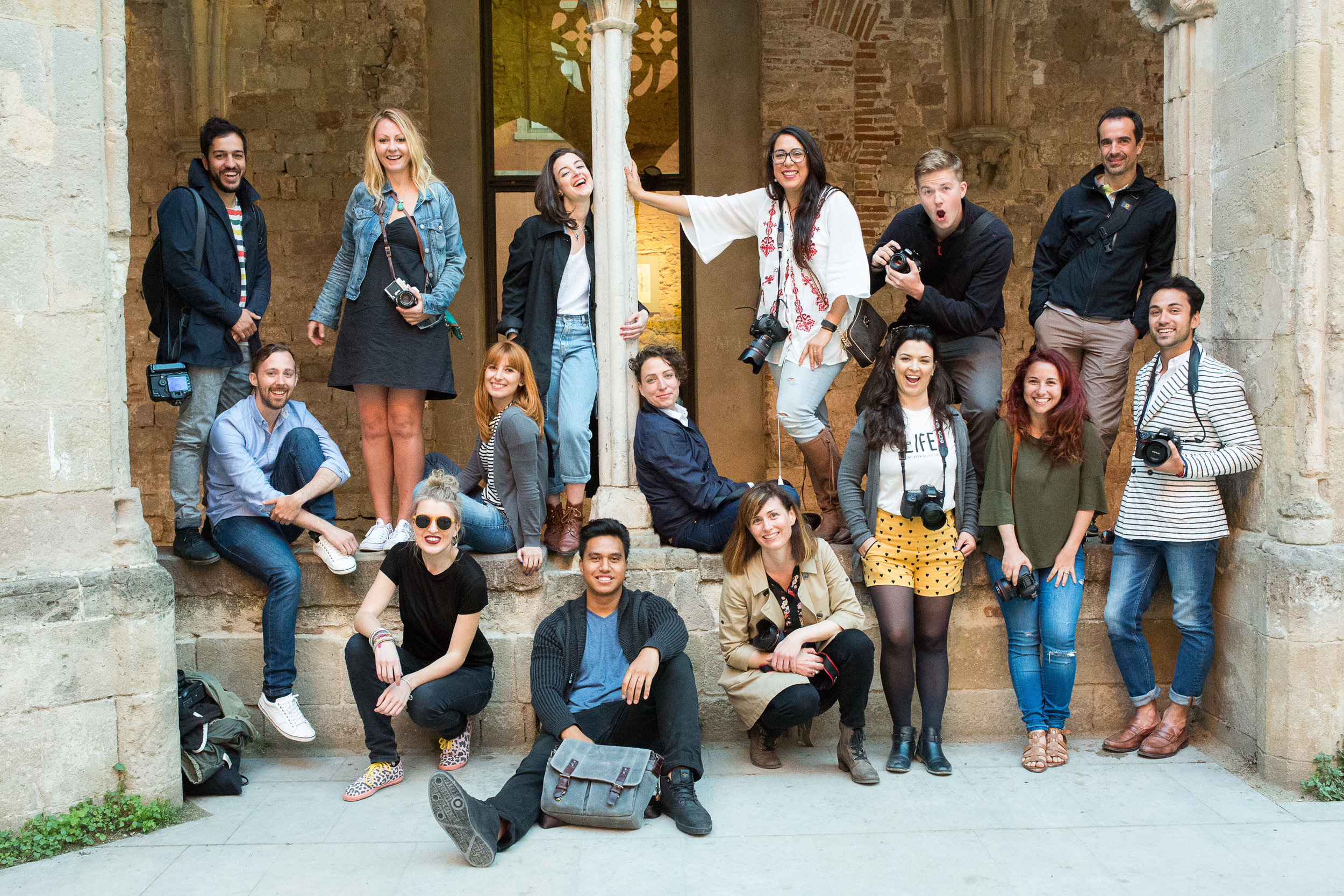 Group photo taken on a photowalk during our Global Meetup in Barcelona, May 2016
Our team
Flytographer has a tight-knit community of 500+ carefully-vetted photographers in 350 cities around the world. All our photographers are highly-skilled professionals who also run their own businesses, mostly in the wedding and family portrait fields. In addition, each of them loves to travel and welcome visitors to their own city, so our photographers are not only amazing brand ambassadors, but also incredible people.
Meaningful connections are at the heart of everything we do at Flytographer. We partner with global brands such as Fairmont Hotels, Virtuoso, Context Travel, Four Seasons, and Artifact Uprising. In addition, we routinely receive glowing press from major publications and influencers. We are interested in collaborating with like-minded brands who share our values of creative, fresh, and innovative product mixed with principle and personality.
Exposure
In addition to coordinating shoots with our concierge team, we communicate with our global community in multiple ways on a consistent basis.
Private Facebook group for all photographers and Flytographer staff. We post multiple times per day, and we have very active community engagement.
Monthly photographer newsletter sent to entire team.
Annual Global Meetups (see our posts on Paris 2015 & Barcelona 2016). We are scheduling our next meetup for Florence in April 2017. Approximately 30 – 40 of our top photographers come from different cities around the world for 3 days of workshops, collaboration and networking. We do significant outreach and exposure to the whole team prior to and following the meetup.
In addition, our photographers interact with us through our public-facing channels, especially Instagram and our blog, where we share their work coupled with the customers' stories; photographers often re-post through their own channels.
Visit our Join page to see more about our community.
Depending on your level of sponsorship and interest, we may offer exposure to our entire community of customers and followers, including through our email campaigns and social media.
Sponsorship opportunities
We appreciate your consideration of sponsorship of our photographer community! In the past, brands have offered product, gear and significant discount codes in exchange for exposure to our photographers through our private Facebook channel, newsletters and blog posts. We in turn have used the sponsors' donations as giveaways at our annual Global Meetup, maximizing "in-person" exposure (for example, all photographers will have chance to see/touch products – such as bags or other gear – in person).
In addition to brand mentions and linkbacks through our community channels, here are some other possible ways we can collaborate:
Exclusive Flytographer discount codes for your customers and/or employees.
Cross-promotion with Instagram takeovers.

We can supply credited photo content for your IG feed in exchange for exposure to our photographer community through our private Facebook group.

We are open to discussion of other co-branding ideas, such as contests, etc.
Please note we are not currently interested in paid advertising on other websites, nor do we place advertising on ours.
Now Tell us about you!
If our community of professional photographers at Flytographer sounds like a good fit for your brand, we'd love to find out more about you. Please fill in the form below and we'll be in touch.