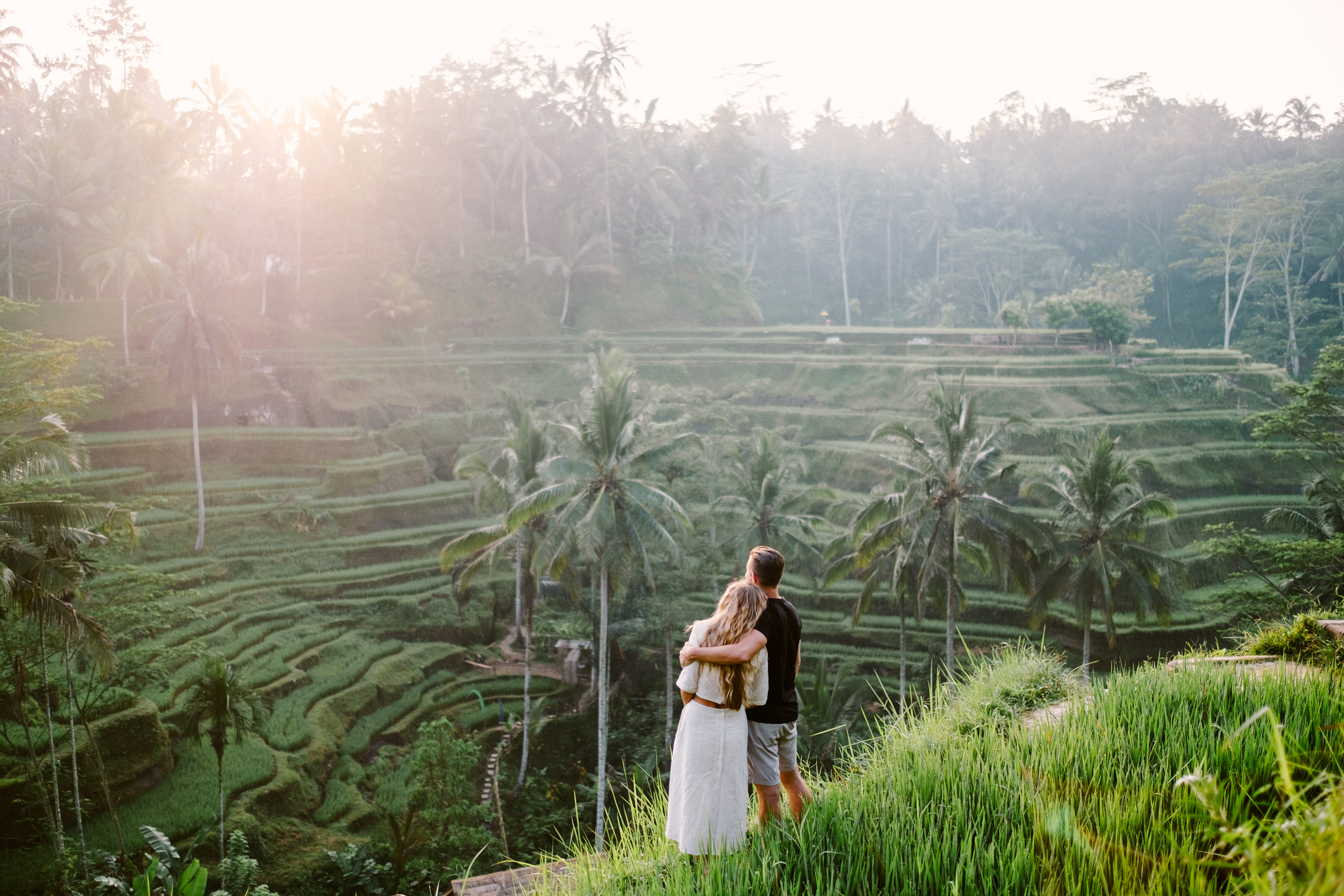 Photo by Gusmank in Bali
Curious what a customer experiences before meeting you on location? We've put together this little guide to show you the steps they take from finding our site to booking a shoot!
Customers visit our website, browse photographer profiles, and then send in an inquiry of availability for their dates of travel. 
They can either choose a specific photographer to inquire with, or click a link at the top of the city page that says they are looking for the first available photographer (which often happens when travel agents book on behalf of their clients).
When customers first inquire, they are only able to choose one photographer UNLESS their preferred shoot date is within 5 days of inquiring. In that case, they have the option of adding up to 2 more photographers as alternate choices. (Note: this has always been the case since we started Flytographer – it only seems new as you are now receiving more emails/notifications than before with the updated dashboard.)
If the "first available photographer" option is selected from the city page, the inquiry will be sent to everyone in the city. The first person to respond will receive the booking. Even if you think you may be too late, please respond anyway as you never know!
Note: Regardless of whether the customer has chosen you first or you have achieved the booking via your speediness, we of course always expect the same level of enthusiasm and professionalism for every single customer. Even if you were not the "first pick," use your amazing talent and charm to win them over and create word-of-mouth referrals for yourself with their travelling friends and followers on social media.
Once the customer has received confirmation of your availability, they will have up to 3 days to book and pay before the inquiry expires.
You will receive a notification stating that either (a) you have won the booking or (b) that the customer did not book or booked with someone else. If you have received the booking, please ensure that time and date is secured in your calendar for Flytographer. If you have not received it, you are of course free to erase the hold from your calendar.
Step 3: Arranging Shoot Details
Once the customer has paid, they will begin the process of organizing the shoot with the concierge. (Note that concierge may or may not have been in direct contact with the customer prior to booking, depending on whether or not the customer had questions.)
Your concierge may contact you if they require your local professional help at any stage of the booking process. If a customer ever reaches out to you directly either pre or post shoot, please always refer them back to the concierge to help them – that is what they are here for! (We also have a page of "Handy Scripts" that will be useful in responding to direct customer queries; please read it here.)
Prior to your proposal call, customers will receive information on choosing the type of proposal shoot they envision. After they have selected a scenario and confirmed other details, the call will be arranged. The Shoot Scoop will arrive after the proposal call has been completed.
Step 4: Details Confirmed
After both you and the customer add the shoot details and the customer confirms it all, your Shoot Scoop will arrive in your email and dashboard. It may show up at any point between immediately after the booking is confirmed or just before the actual shoot date (although concierge will be reminding both you and the customer if you have not filled out the details in a timely manner). If the booking is for a proposal shoot, the Shoot Scoop will arrive after the planning call. (See above.) 
The customer's Shoot Scoop will have all the details of the shoot and it will contain the same information as the one you receive; the only difference is that your headshot and phone number is on their Scoop.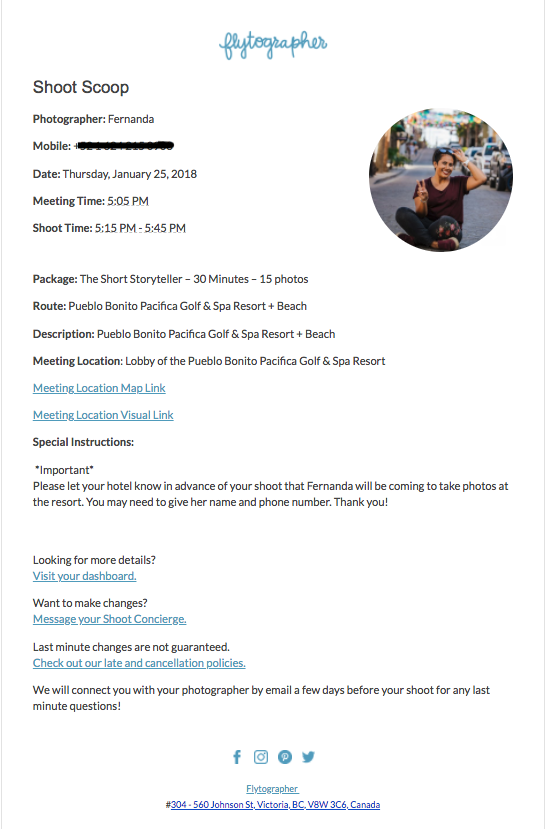 Customers receive a Shoot Reminder email three days before the shoot as well as a link to our Style Guide.
Also three days before the shoot, both you and the customer will receive a Connector email so that you can text each other and say how excited you are for the shoot!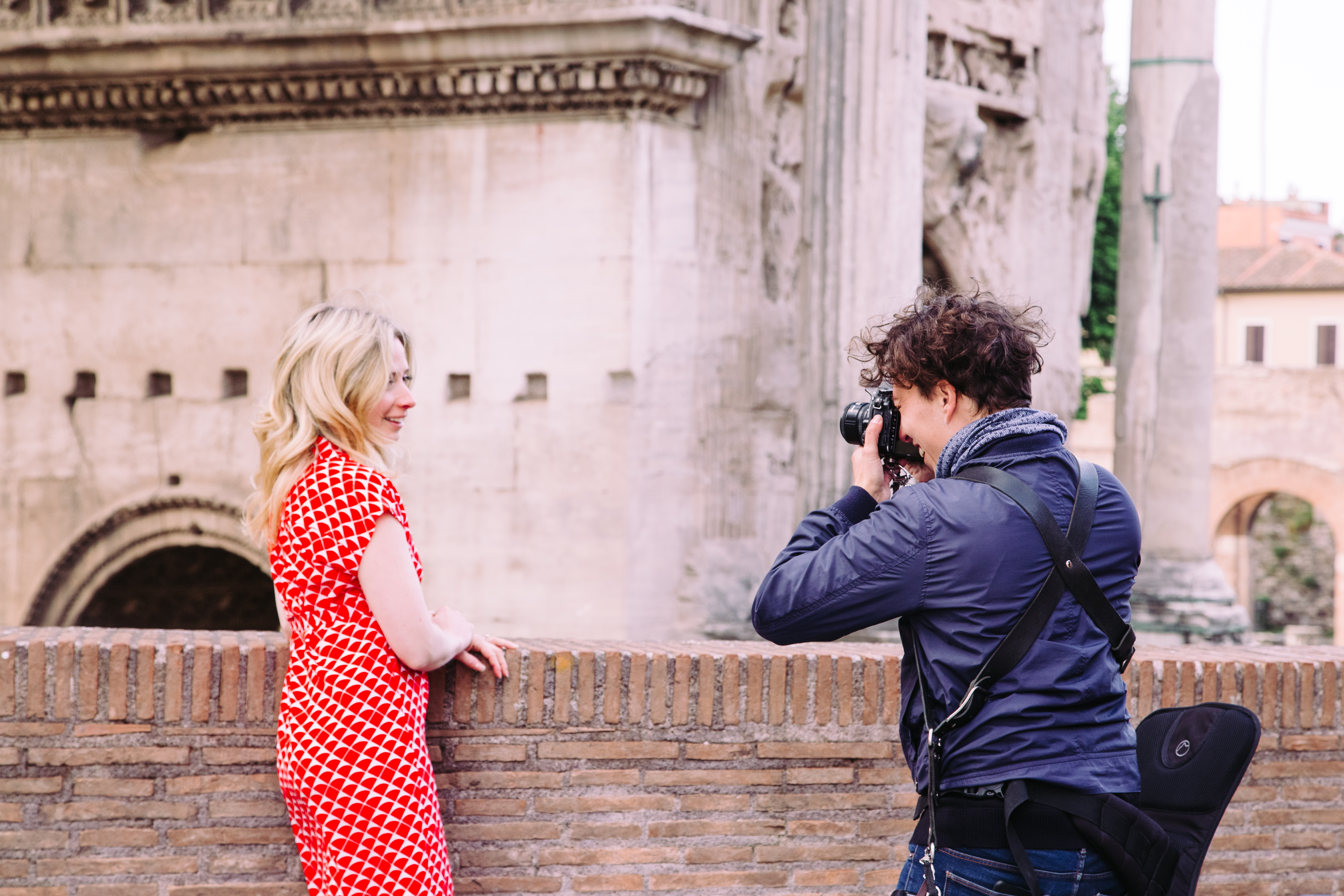 Product Manager Danica on a shoot with Flytographer Roberta in Rome
As soon as the shoot is complete and you've sent in the photos, we choose a good representative photo and create and send a "sneak peek" postcard to get the customer excited about their upcoming gallery.
Within 24 hours of the sneak peek, we send them the Photos Ready email, which contains a link to their high-res gallery, instructions on how to credit photos, your personal note to the customer, a link to share feedback, a link to their My Photos section on their dashboard, and our Print Guide.
Their gallery will show up in their "My Photos" section of their dashboard so they can access their images anytime. We also have an exciting feature called "Travel Stories" which allows customers to build their own online photo album and share with friends and family. See all the Travel Stories here.
When we send out the gallery, we provide a link for the customer to fill in their feedback.
If a customer has not filled in their feedback within 2 days of receiving their gallery via email, we send them a reminder email, and if still not then, another reminder a week later. We remind customers a total of three times to fill in feedback.
**Hint: To help increase your chances of receiving feedback, you can include a little post-shoot message to the customer to specifically ask them for feedback – often customers feel more compelled to do so if they are asked by the photographer. Example: "Thank you for such an incredible shoot! I hope that you love your photos as much as I do. I would sincerely appreciate your feedback and your thoughts on your shoot experience, as this greatly helps me to improve my work and build my portfolio. Please fill in the feedback form that has been sent to you in the email along with your gallery."
For sharing images, customers have the option of sharing all photos, selecting only certain photos to share, or keeping everything private.
The customer journey may continue with blog or social media posts to keep them engaged and excited. We have many repeat customers who are so excited to keep booking after their amazing experience with you, so your excellent customer service and professionalism on every single shoot are extremely appreciated by everyone on our wonderful team all around the world!
Questions about the customer journey? Email michelle@flytographer.com