Photographer Payment Set-Up
Flytographer offers efficient payments through a world-wide payment system called Tipalti.
We've created this step-by-step instructional page to offer assistance if you need help getting set up. As well, please click on the button at the bottom of the page to send us an email if you have more questions or comments. **FAQs are included below – please read!
Please be sure to read through to the bottom of the page before getting started with the steps.
Looking for the full Dashboard Account Guide? Click here.
How to Get Set Up : Step-by-Step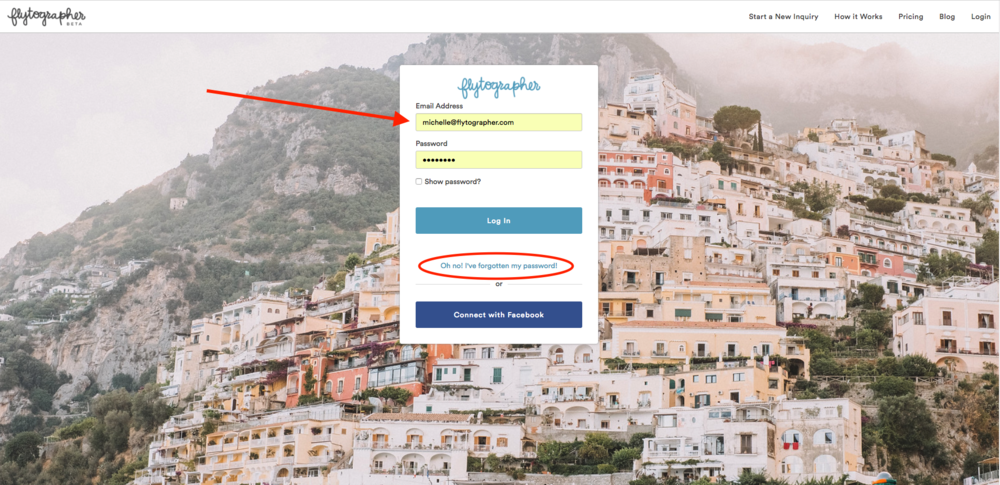 1. Log in to your Flytographer dashboard here and enter your associated email address and password
If you cannot remember your password, click on "I've forgotten my password" to reset it. Note that the new link will go to the email address associated with your account.
<- Fun fact! The image for the login page is by Mary & Maurizio in Positano, taken on a Flytographer shoot.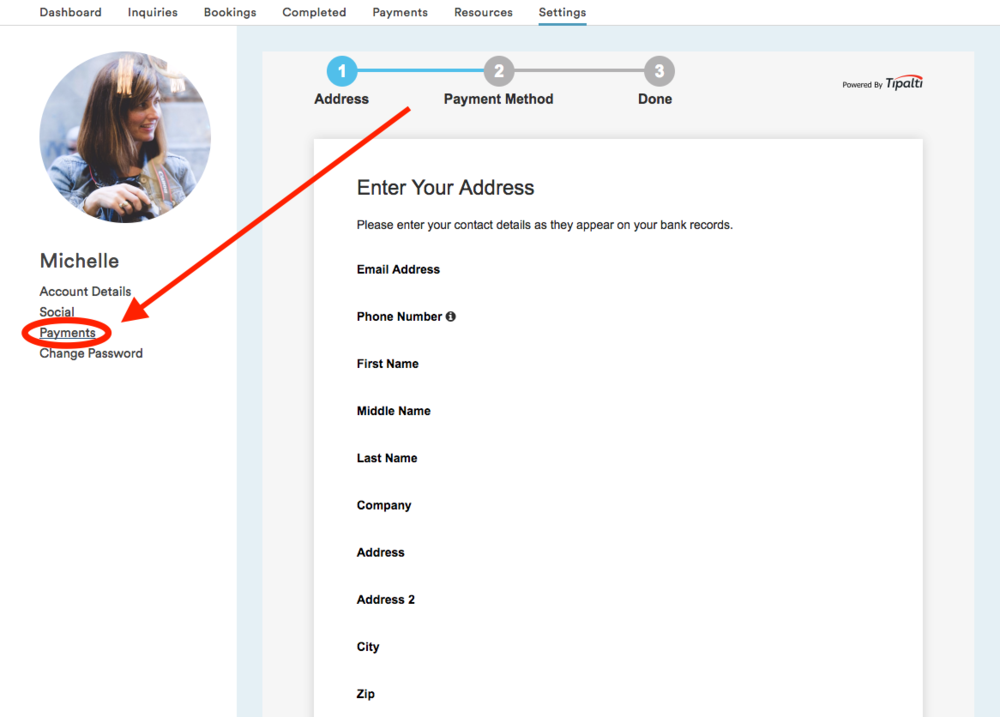 2. Click on "Settings" tab and select "Payments" underneath your headshot
Fill in your address for payment. (Note: If you wish to change your headshot, it will correspond to the one you have on your Flytographer profile. Please email it to michelle@flytographer.com; be sure it is in colour, cropped square, and approx 800 X 800 px.)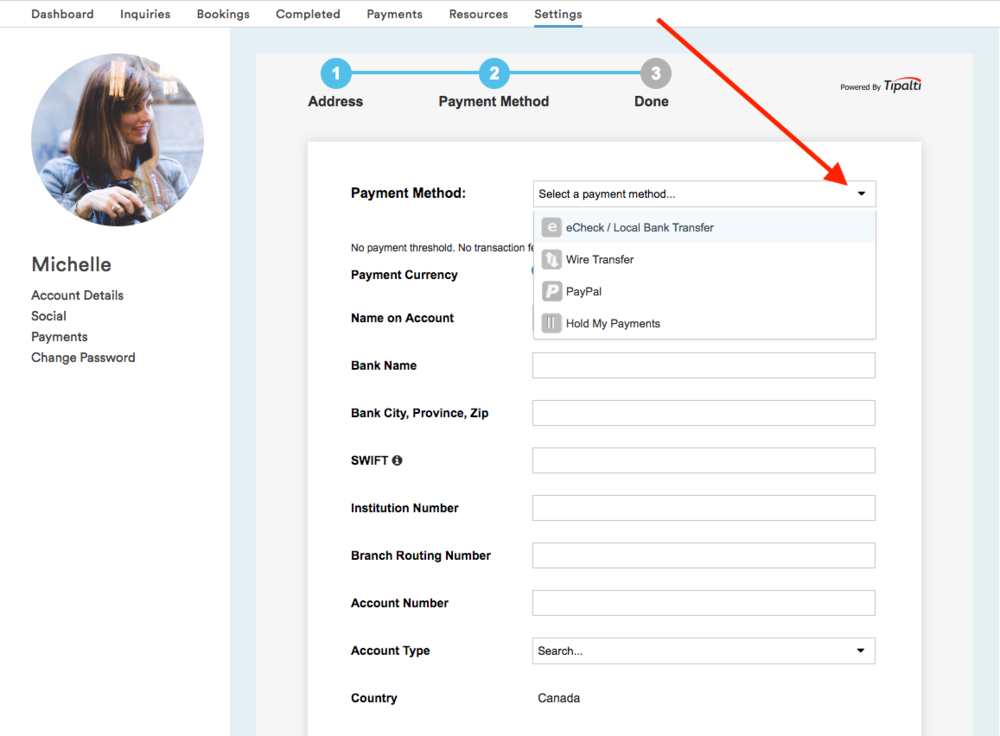 3. Choose your payment method
eCheck/ACH/Local Bank Transfer: Preferred method. If you do not see this option, it means your country is not supported for bank transfers. In this case, you must choose "PayPal" or "Wire Transfer" as your payment method.
PayPal: Flytographer pays the $1 per transaction fee on our side, but you are responsible for fees on your side. Fees vary by country. In the US and Canada, it is 2.9% plus $0.30 USD. Please follow instructions for information on international transfers on PayPal's site to see what you will be charged.
Wire: Flytographer will pay the wire transfer fees for unsupported countries once your accrued payment reaches $1000USD or every 3 months, whichever comes sooner. If you wish your payment before then, you are responsible for paying the $26 wire fee and must notify us to override the threshold in order to pay you.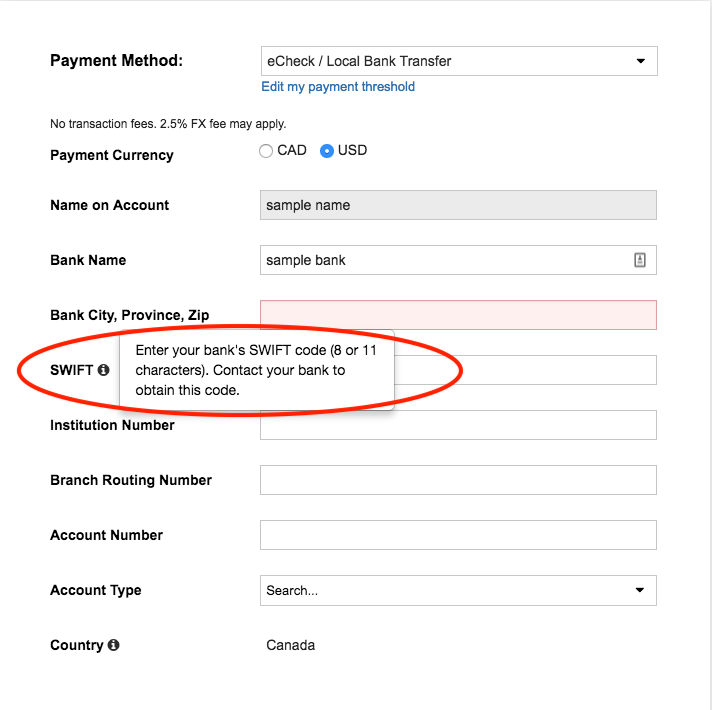 4. Fill out your banking preferences and information
If you choose Paypal, you will only need your Paypal email address. Bank and wire transfers require more detailed information.
You will need:
Your bank's complete name
Your bank's address
Your SWIFT code and/or IBAN
Institution number
Branch number
Your account information
Either find out this information from your bank, or search online for "SWIFT Bank Name Bank Address" to see if your bank comes up.
5. Make changes
If you need to change your payment method, go into "Settings" and then "Payments" from the menu under your headshot to make changes. (Please note that we cannot make changes for security reasons; you must make any edits to your banking info yourself.)
Want to refresh your password? In settings, choose "Change Password" from the menu under your headshot and go from there.
Q. Why are we using this payment system?
Tipalti offers an efficient and customized method to receive payments. You have flexibility in types of ways to be paid, can hold payments when necessary, and can receive funds in local currency. For Flytographer, as a growing company, our former method with PayPal was no longer compliant with acceptable use policies nor was it able to accommodate all our needs as the volume of transactions scaled. With Tipalti, we are now able to service countries (like Turkey) that we were unable to do with PayPal, and have a more reliable system that integrates with our new dashboard, so that you will soon be able to keep track of all bookings and payments in one place.
Q. How can I get paid through Tipalti?
You have three choices with Tipalti: local bank transfer or ACH (preferred); wire transfer; or PayPal. You also have the option to hold your payments.
Local Bank Transfer or ACH: This is the preferred method; Flytographer will cover the transfer fee for local bank transfers. Once you enter your country information, you will see a dropdown menu and can choose "Local Bank Transfer." Most countries will be able to support this, but if you live in one of the few countries that is not supported and therefore do not see this option, please follow the instructions for wire transfer or PayPal below. Note: Some banks may charge an additional transaction fee on your side that is out of our control. We will cover the transfer fee on our side, but you must check whether your bank charges you an additional fee.
Cost to photographers: FREE
Wire Transfer: Flytographer will cover the wire transfer fee for accrued payments of $1000USD or every 3 months, whichever comes first. If you wish a wire transfer that is less than $1000 and/or within less than 3 months, photographers must pay the $26USD transaction fee.
Cost to photographers: FREE for payments of $1000USD or every 3 months; $26USD per transaction if you require money earlier
Paypal: Flytographer pays the business transaction fee of $1, you pay the receipt transfer fee according to your country. (In US & Canada, it is 2.9% plus $0.30USD.)
Cost to photographers: varies as a percentage based on your country's fees. See info on PayPal's site.

Q. When do I get paid?
We currently pay out on Tuesdays, which means you need to have uploaded your galleries by the Sunday evening prior (cut-off time 11:59pm Pacific Standard Time) in order to get your bookings on Tuesday's payout list. Please note that bank transfers will take 1-3 days after payout to show up in your account. The payments may be further delayed if there has been a bank closure due to a statutory holiday in Canada or the US.
Q. I'd like to lessen the cost of a wire transfer or PayPal transaction. Any options?
Yes, you can set up the new system to hold your payments for a prearranged time. For example, you can determine if you would like to be paid on a certain date or after a certain amount of money is accrued. This means that you will pay the transfer fee once for multiple payments as opposed to every week.
Q. I don't see "Local Bank Transfer" in the dropdown menu as an option.
Local bank transfers are unfortunately not available everywhere, and if you don't see this option, it means our preferred payment method is not supported in your country. In this case, you must choose wire transfer or PayPal as your payment method.
Q. I just signed up. Can you check to see if I filled everything out correctly?
As much as we want to, this is one spot in which we just can't help you. Due to privacy and security reasons, you are the only one who has access to the details of your bank information. The only way to know if you've filled out your bank info correctly is to attempt payment. If it fails, we know something went wrong and you'll have to try again. We'll do our best to help you troubleshoot, but ultimately it will mean contacting your bank and confirming all the numbers with them.
Q. How do I know if I got paid?
Check payment status in your dashboard using the "Payments" tab.
Important Notes:
You will receive an email from Tipalti reporting we have made a payment – it indicates the total amount deposited. (Remember that bank transfers take 1-3 business days to deposit into your bank account.)
There will be a delay of 1-2 days between receiving the Tipalti notification and seeing the payment updated in your dashboard. As we pay on Tuesdays, please wait until about Thursday before checking your payment status for the week.
Any payment errors will be corrected within 7 business days.
In order to have your shoot on that week's payment list, the gallery must be uploaded to us by the Sunday night prior. All galleries uploaded after that time will be on the following week's payment list.
Q. Does Flytographer issue tax receipts or forms?
No, we do not supply any paperwork for taxes. As independent contractors, it's your responsibility to claim and report all extra income to your respective tax offices.
Q. I am missing a payment and/or was paid an incorrect amount.
Please email payments@flytographer.com to notify us of any missed or incorrect payments. We apologize for any mistakes and will have it corrected within 7 days of being alerted to it.
Q. I still have questions and/or comments about this.
Please click on one of the buttons below to let us know and the appropriate person will be in touch to help.