See more: couples – romantic getaways – love – LGBTQ – Central Park – Brooklyn Bridge – NYC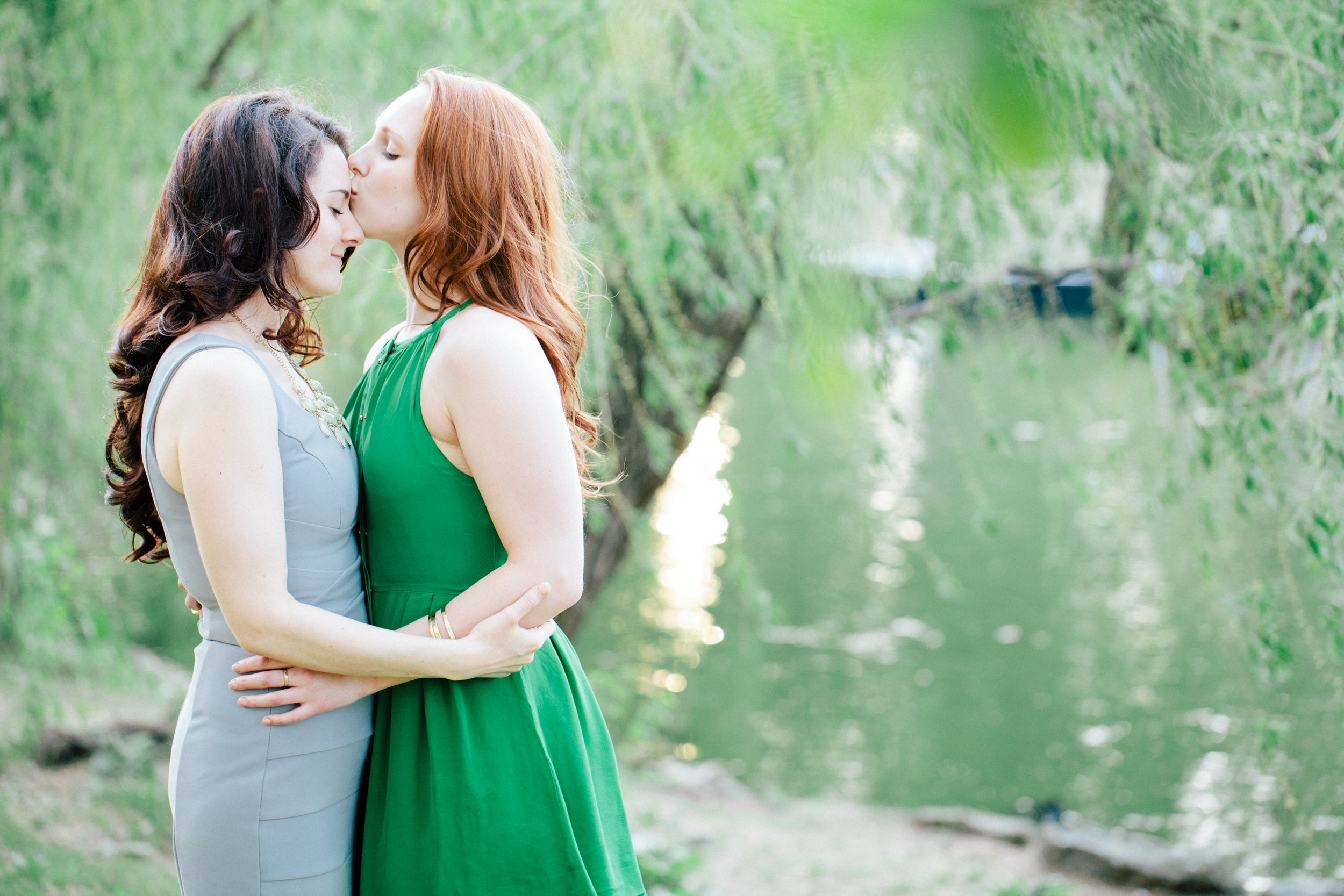 If ever there was a whirlwind weekend, it would be the one shared by lovebirds Katelyn and Kathryn! Escaping to NYC for a romantic getaway filled with fine food, Broadway, and two Flytographer shoots, Katelyn and Kathryn made memories that will last a lifetime! Photographers Samantha and Johnny were there to capture sweet moments between these two at some of the most iconic NYC landmarks – Central Park and the Brooklyn Bridge. From beautiful sunsets in the park to taking in the sunrise overlooking the New York City skyline, prepare to fall in love with these totally gorgeous photos. Hang tight while Katelyn takes us through the wild ride of their trip to NYC!
"The reason for our trip was, as Kathryn puts it, 'to see Darren Criss' butt.' (We went to see Hedwig and the Angry Inch.) I think the real reason was to just get away and do something new together as a couple. We got to see DUMBO and Central Park (thanks to Flytographer) and eat some truly awesome food. Actually, we have a couple funny stories – or at least funny looking back.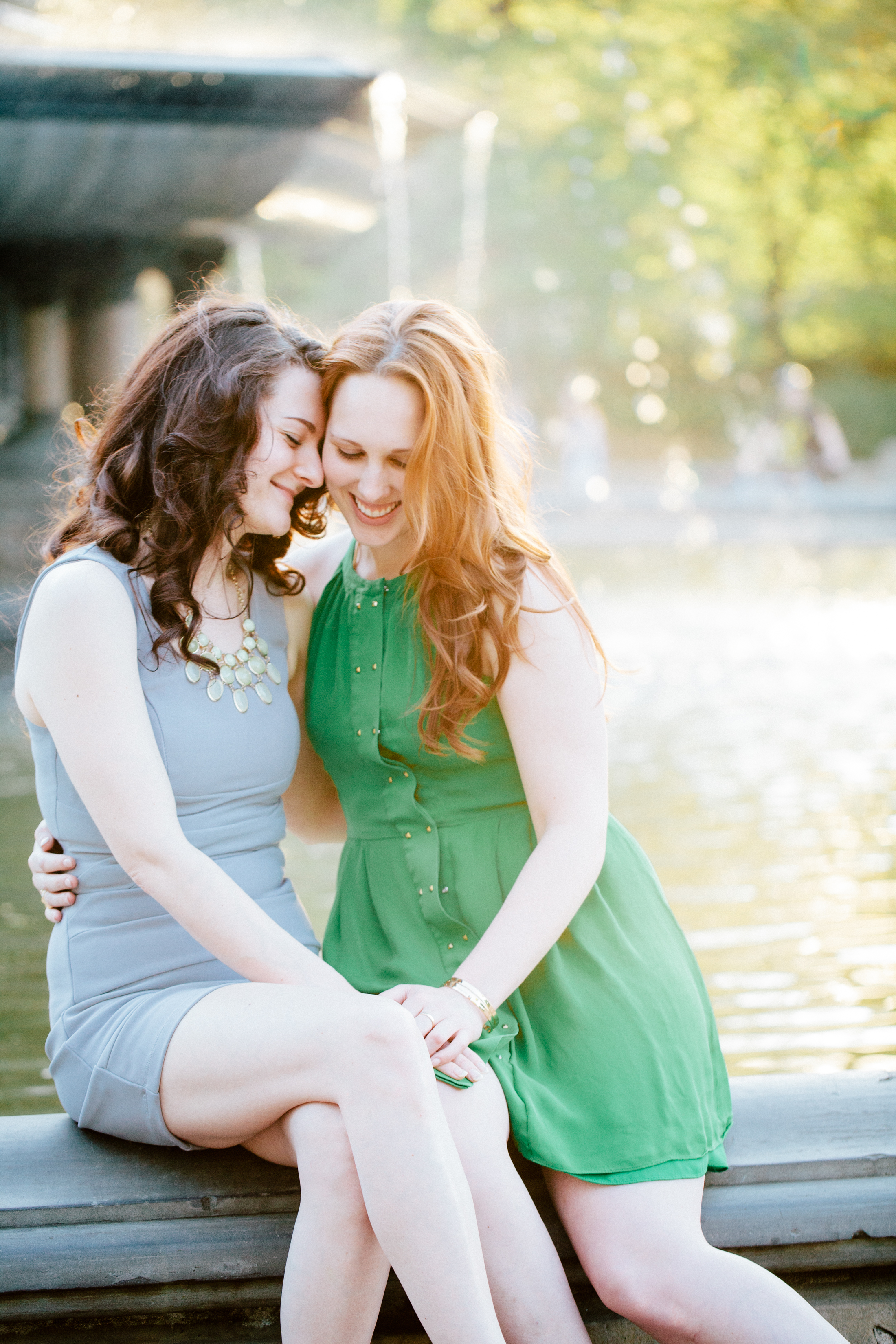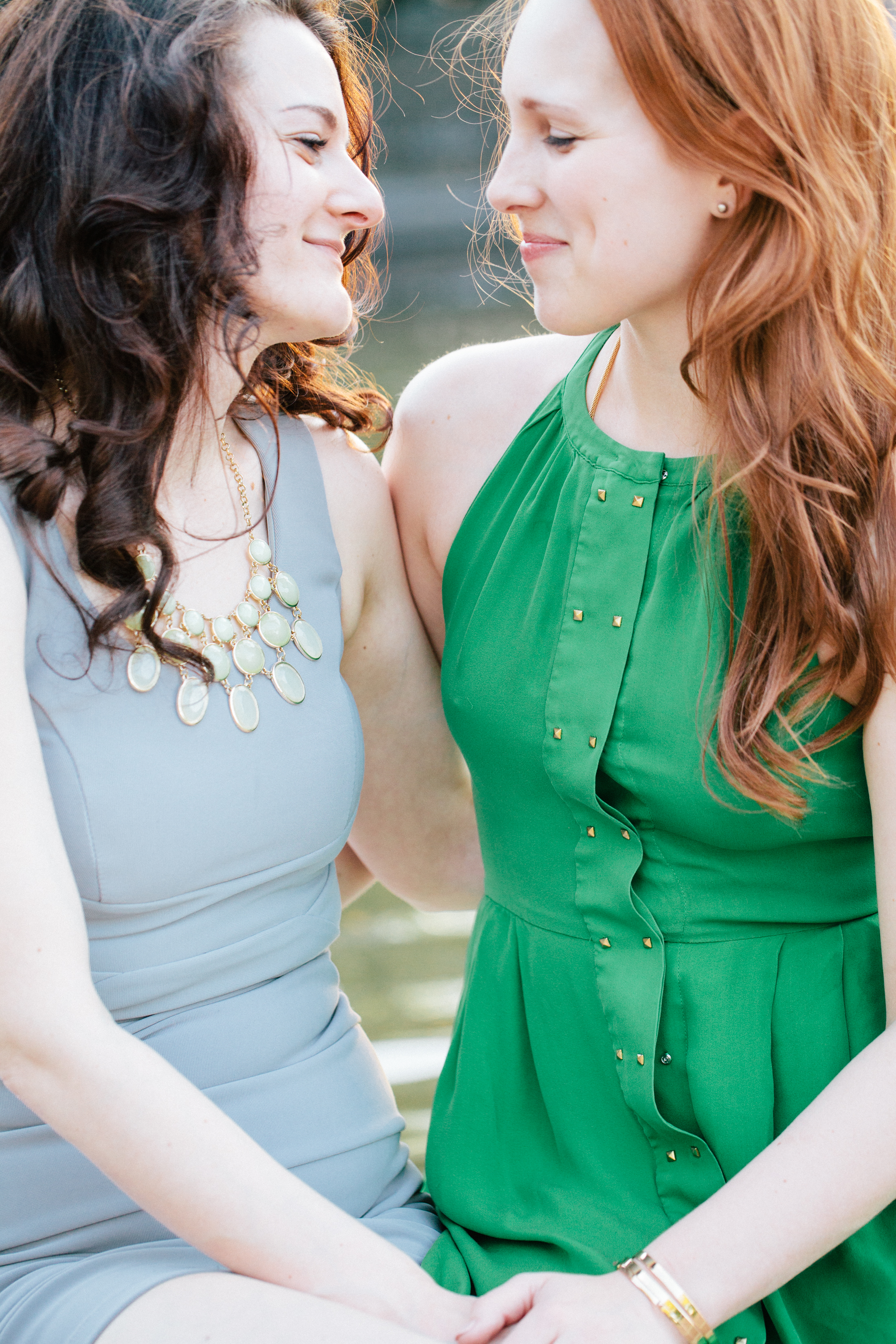 "We missed our original flight from Chicago to New York and ended up being stuck in traffic from LaGuardia to the apartment we were staying at for so long that we ended up re-directing our cab to take us straight to the shoot at Bethesda Fountain, luggage and all. We met up with Samantha and she helped us find a restaurant nearby (The Boathouse) where we quickly changed from travel clothes to our dresses, fixed hair and make-up and then dropped all our things with the front desk. They kindly watched all of our luggage for the 60 minute shoot and then we came back and ate dinner. We both thought it was going to be very stressful with everything that happened, but we actually had a really nice time walking around Central Park for the shoot.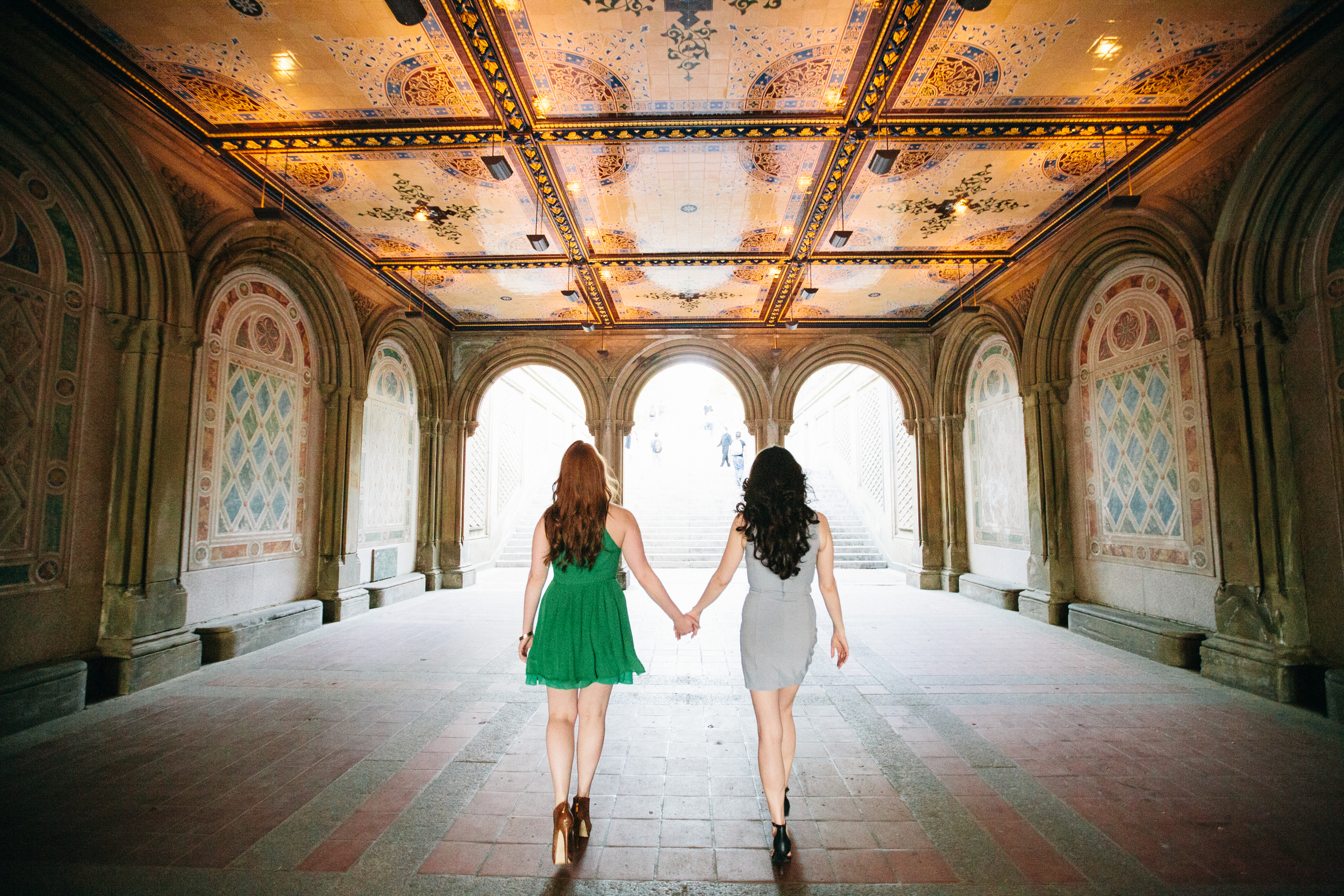 "Samantha was so kind and understanding. She gave us direction and also listened to our ideas and made them happen. Her kindness, knowledge of the area and ability as a photographer made us feel relaxed (after a very stressful day of travel) and like celebrities. The pictures: all we can say is STUNNING. We got everything we wanted. The romance, the location… the pictures turned out beautifully. We were concerned that after traveling all day, not having a chance to tidy our hair or put on make-up, that we were going to look less than elegant for our photos, but nothing could be further from the truth. We loved them all.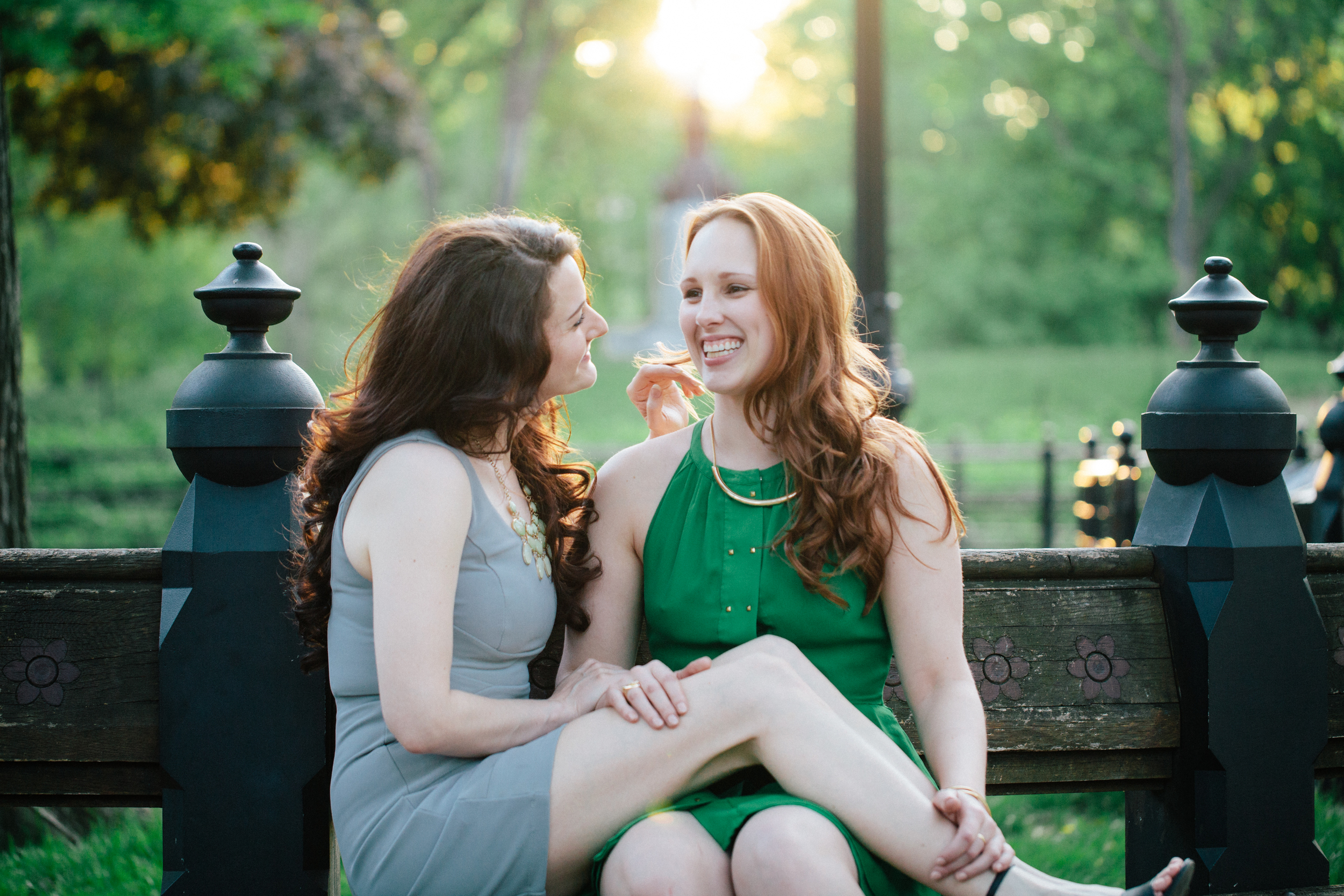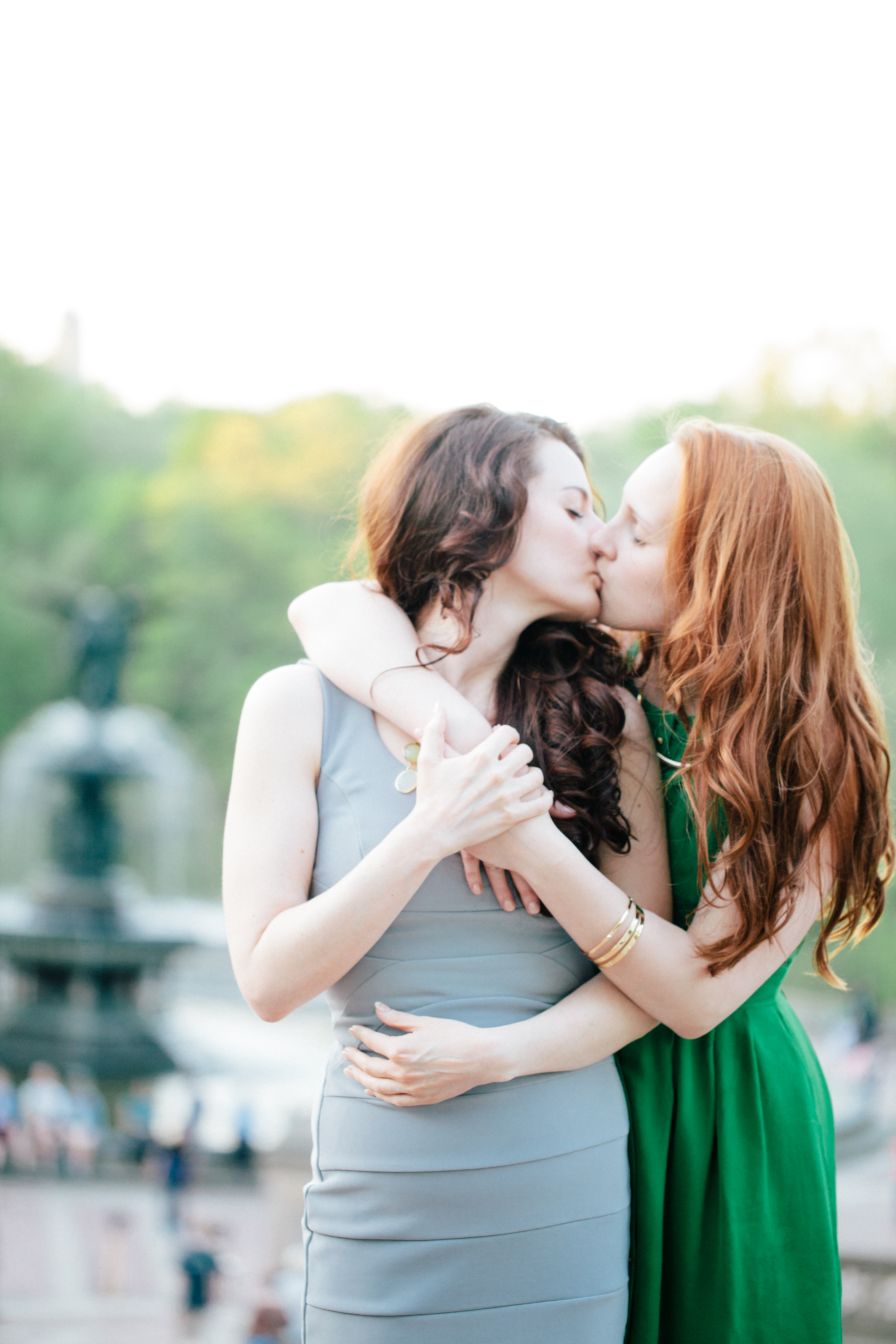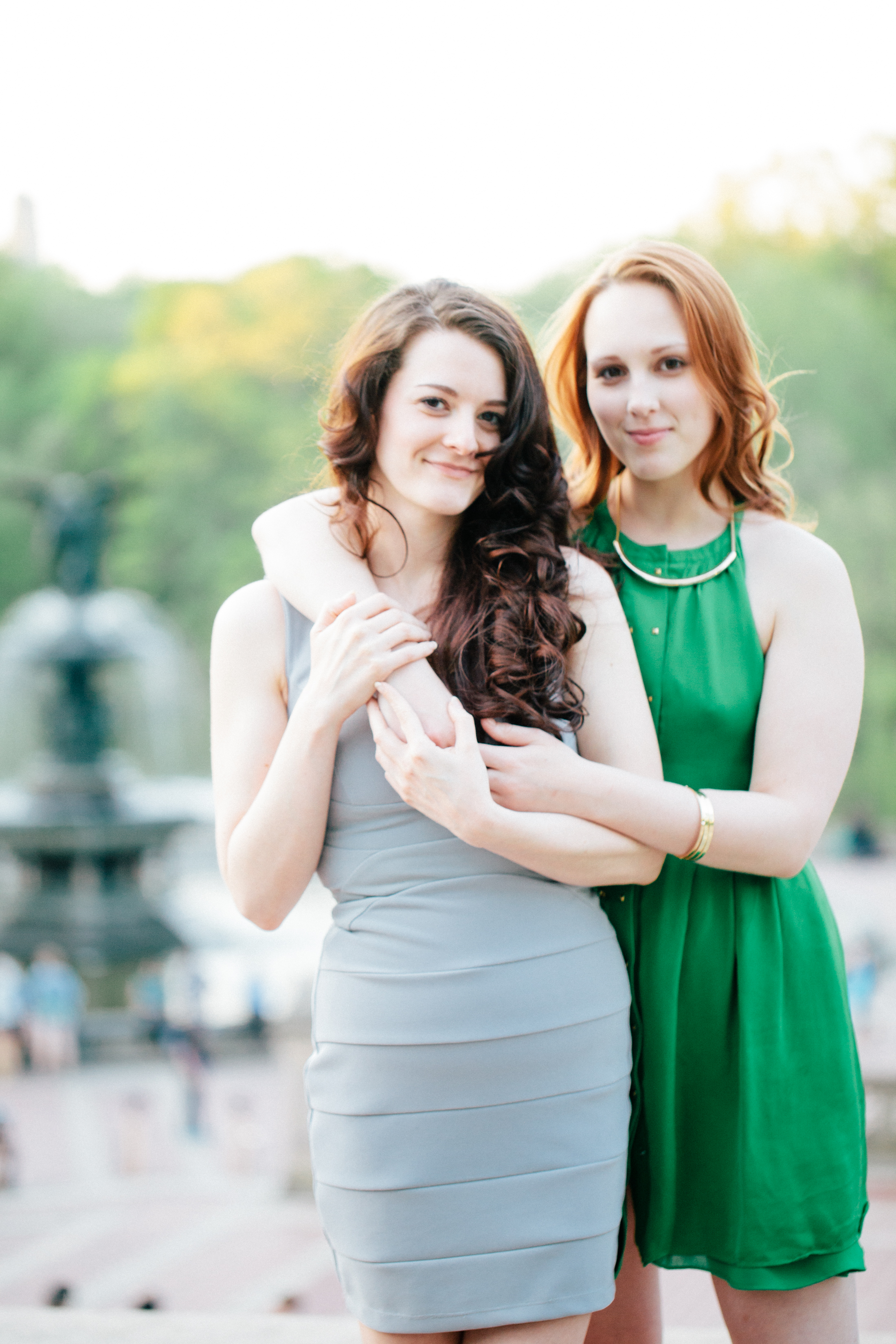 "Another highlight of the trip was eating at Eleven Madison Park. A friend of mine had said he could get us a reservation there for Saturday night after our Broadway show. Miscommunication ensued and we ended up with a reservation never got made – so there we were, with no dinner plans as of a Saturday morning. Problem. So we decided to be bold and try something. We just showed up! At, arguably, the nicest restaurant in the city, if not one of the nicest in the country… on a Saturday night. Without a reservation.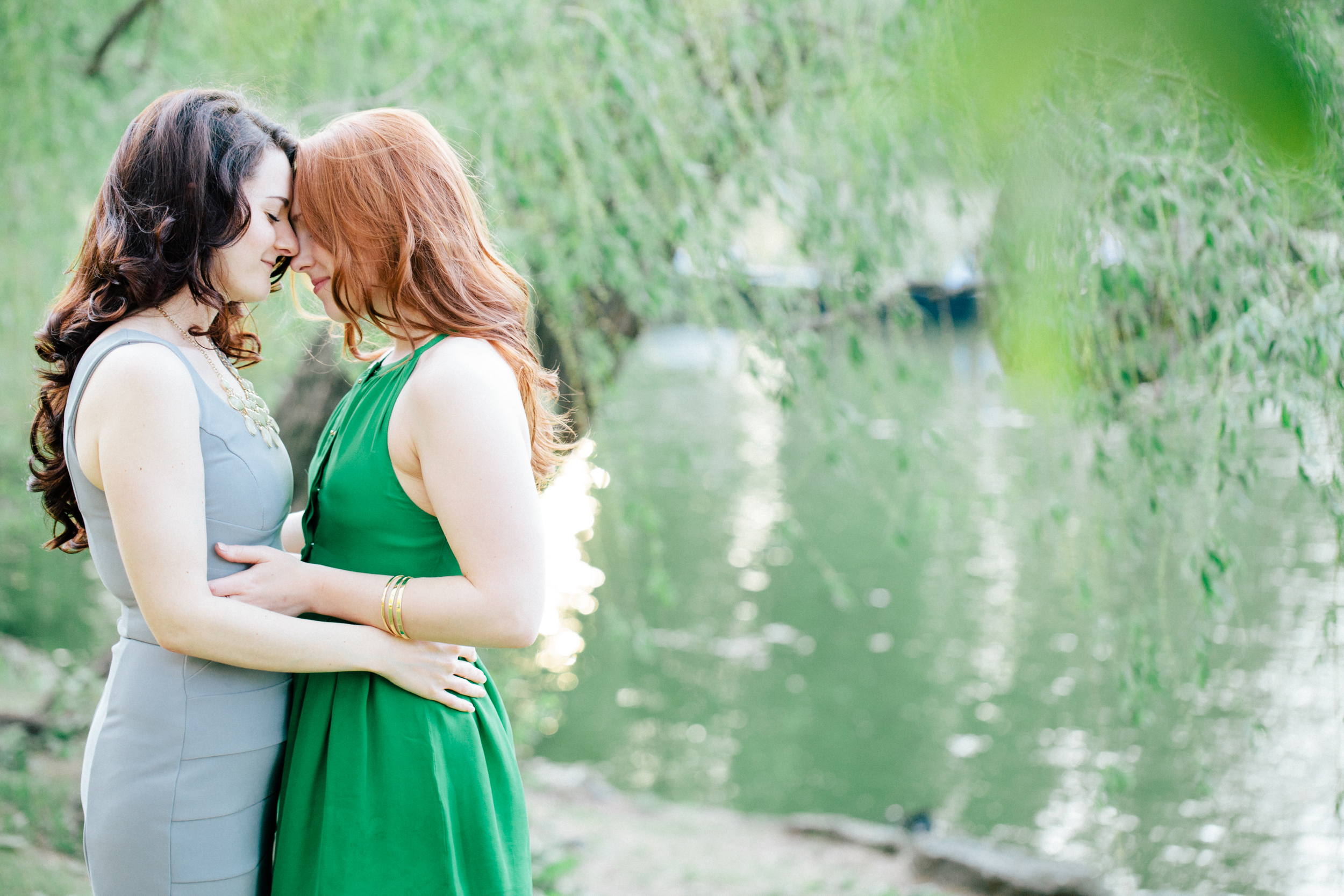 "I gave them my name and said we were there for dinner. We were told we could wait at the bar until our table was ready. After about 10 minutes, the host came by and asked for the phone number attached to the reservation – I gave her my number and off she went again. She had undoubtedly figured out our reservation was non-existent. After another 20 minutes at the bar (we had arrived before their dinner service begins) the host came and informed us our table was ready. We are still pretty tickled that we pulled that one off. I mean, we bluffed our way into a reservation at THE restaurant. Also, I'm still tickled by how the young man working at Eleven Madison Park told us he was going to 'run get us a cab' and then proceeded to RUN a block and a half down to fetch us a cab home – in a suit. It's a good memory.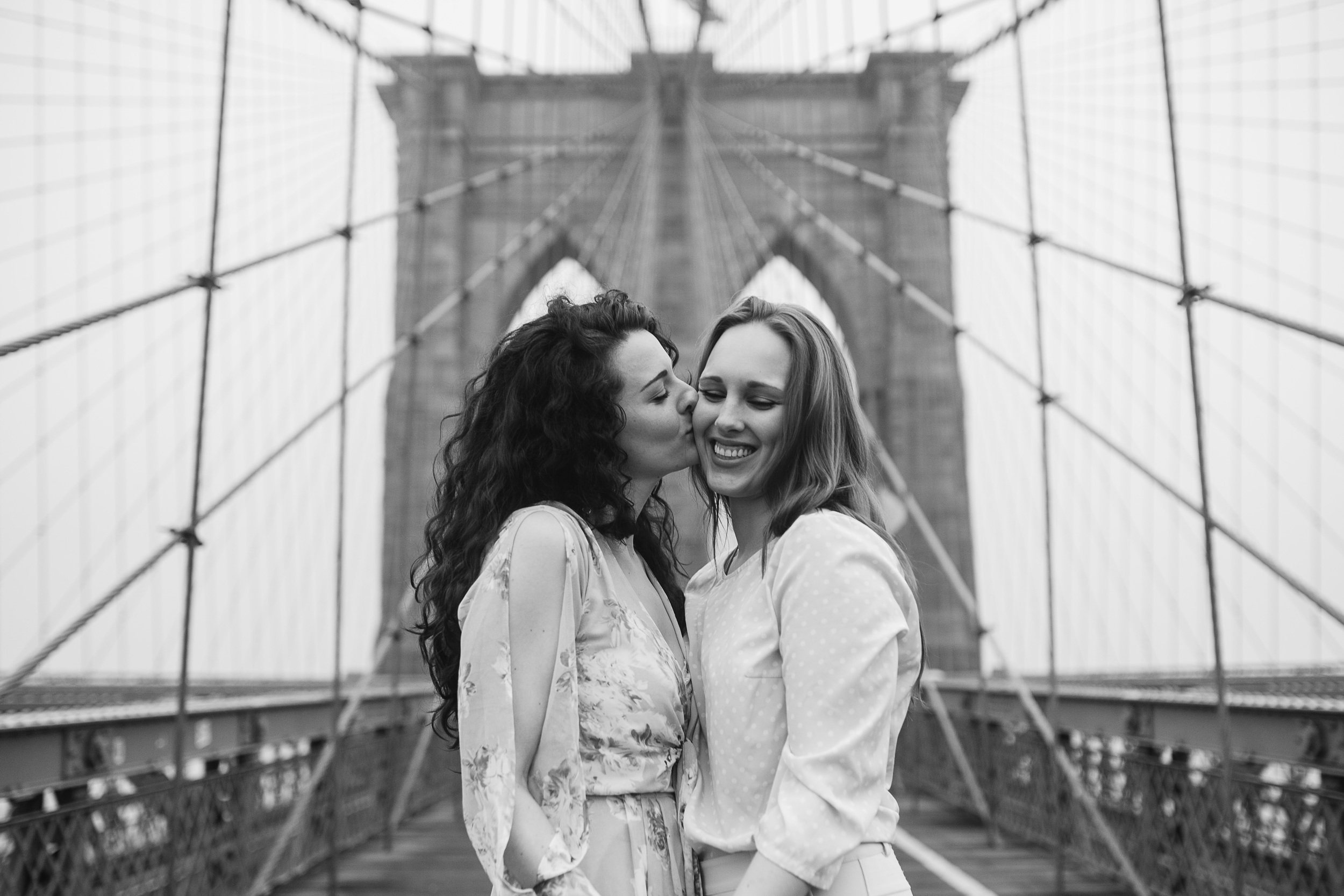 "Working with Flytographer was ridiculously easy. Shoot Concierge Tedi communicated with me efficiently to set up the shoot even though I contacted Flytographer last minute (less than a week in advance). She helped me with payment completion, finding a photographer, dates and times. It was very quick and easy!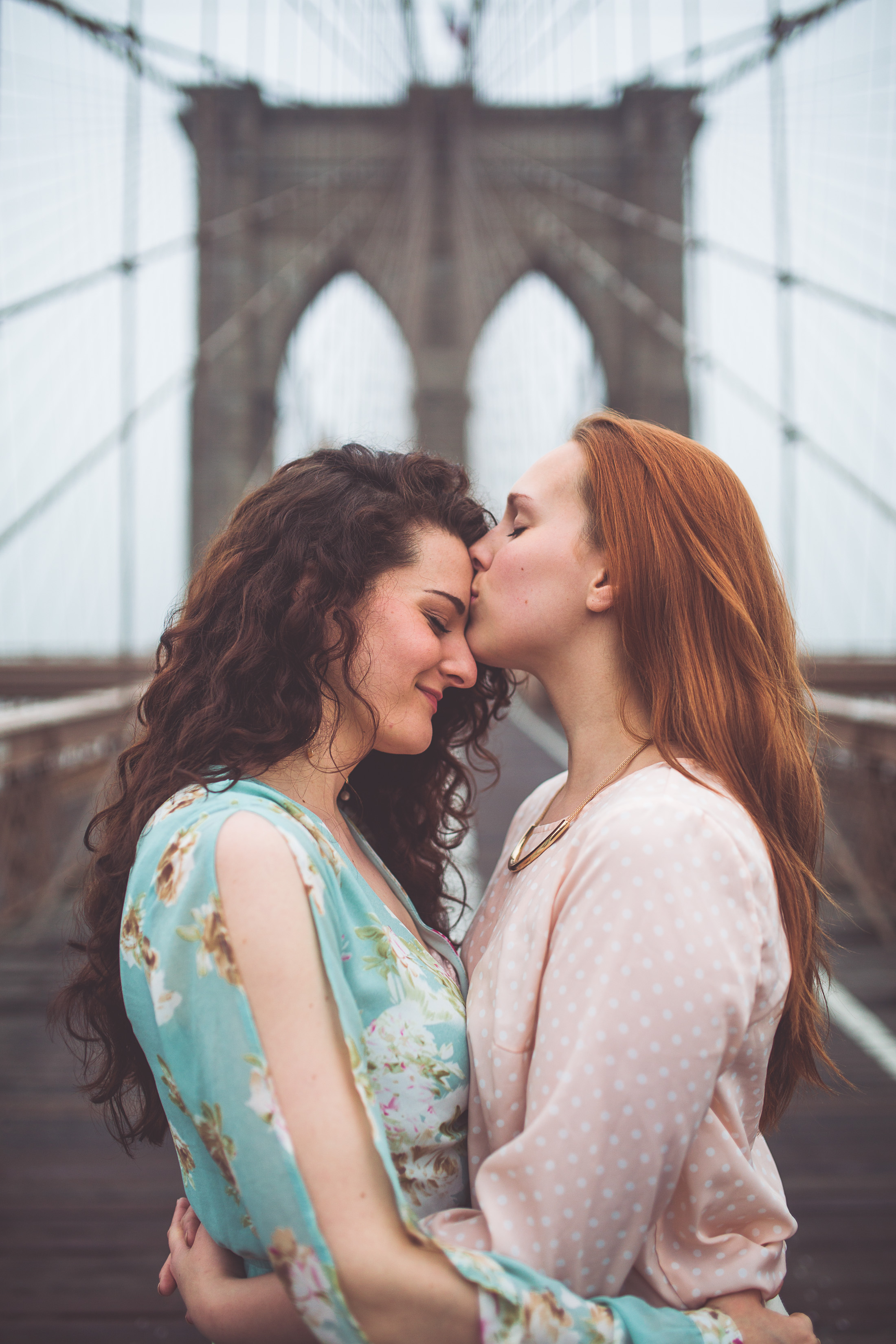 "And my favorite part? When I was concerned with getting a 'same-sex-couple-friendly' photographer, the response I got made me smile: our whole company is LGBTQ+ friendly. It was refreshing and lovely to hear – and on both the shoots my girlfriend, Kathryn, and I had with Flytographer supported that. The perfect vacation and photography experience!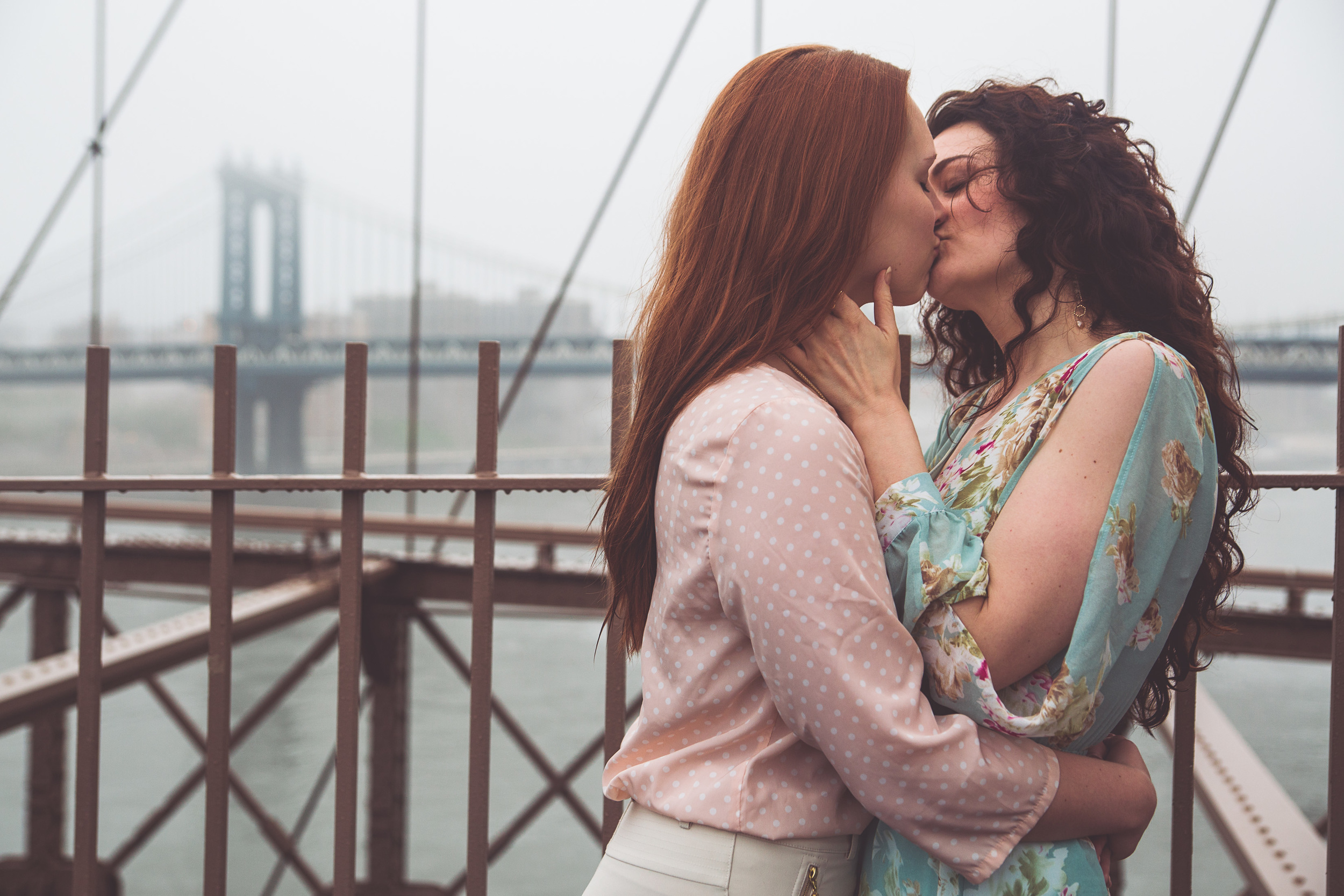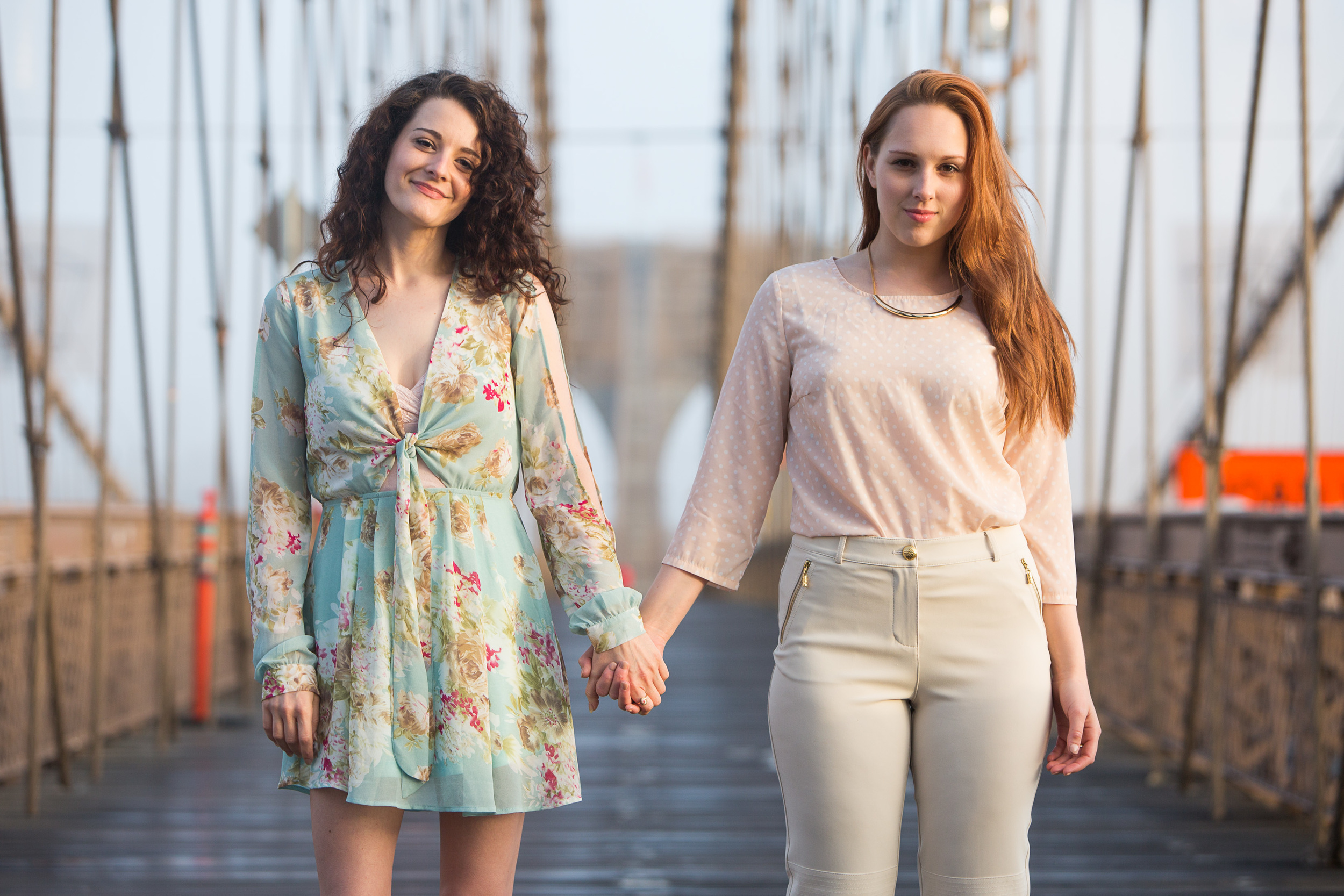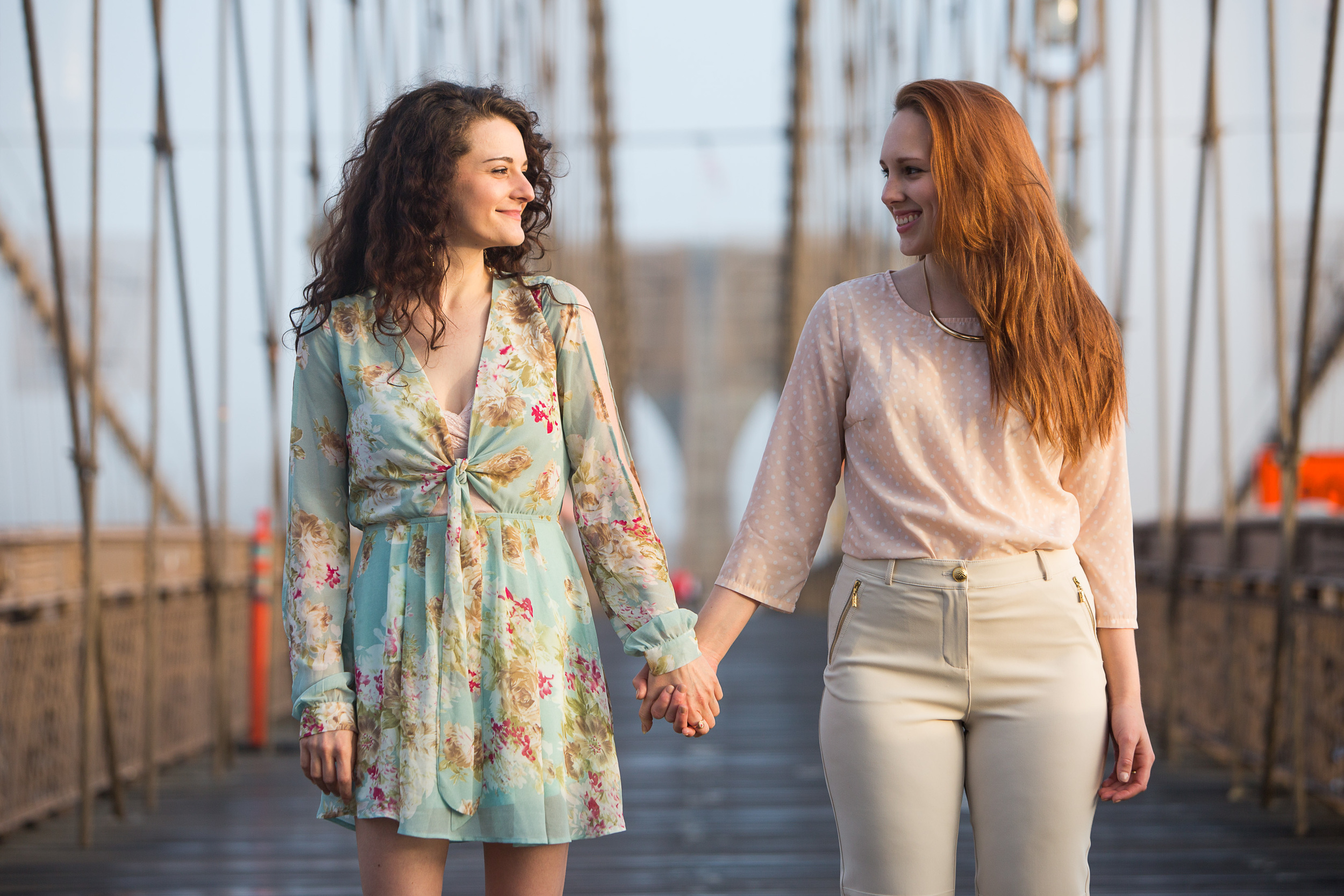 "Johnny was SUCH a fantastic photographer. He really communicated exactly what he was going for with each set and helped coach us through how to really get a good shot. He also brainstormed with us on ideas during the shoot as we were walking from place to place. He was kind, engaging and really a pleasure to work with – which is saying a lot, because it takes a really special person for either of us to think that about someone after waking up at 4am! We absolutely loved our photos from that day and how iconic a lot of the scenery was. We can't say enough good things about Johnny, he was just the best.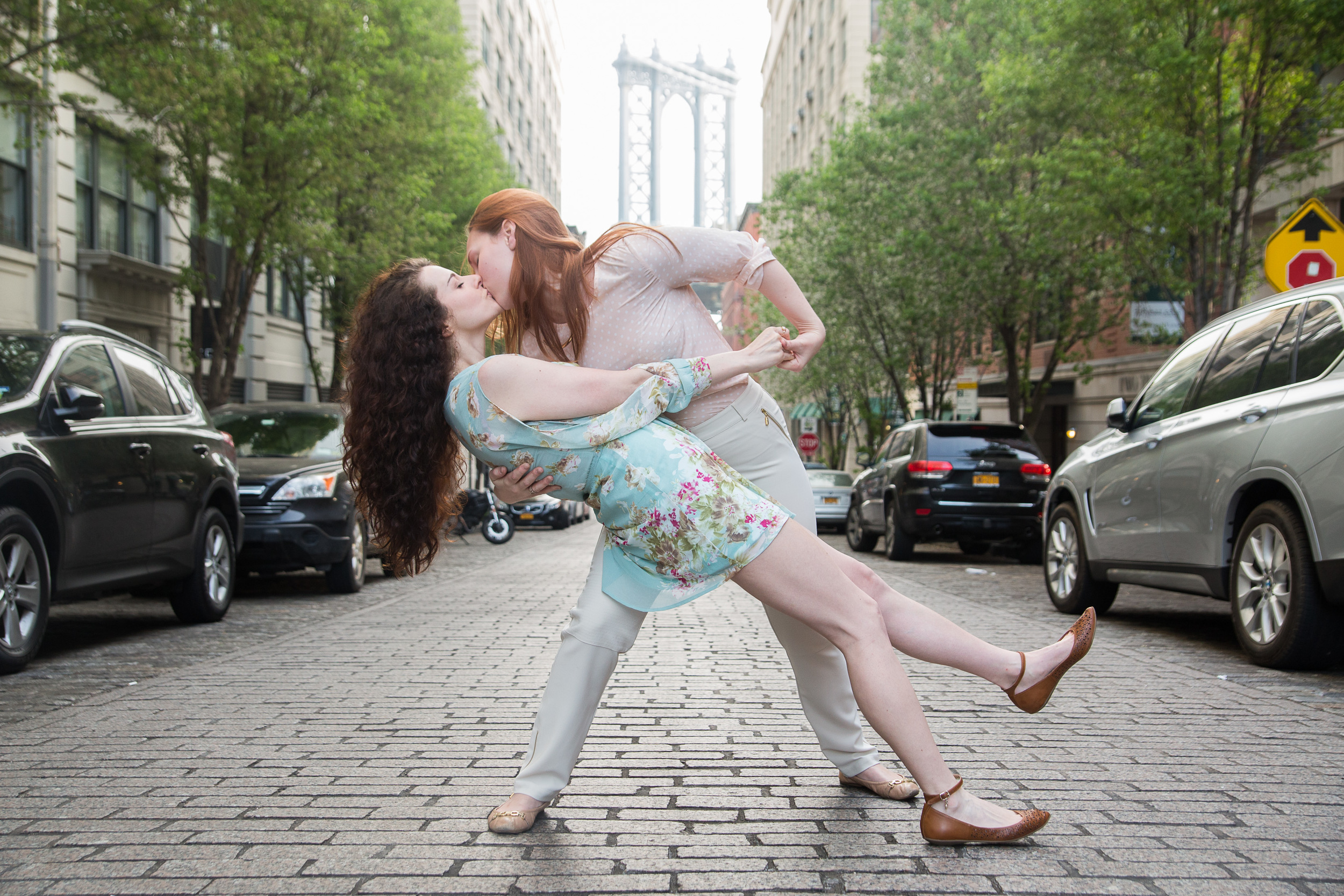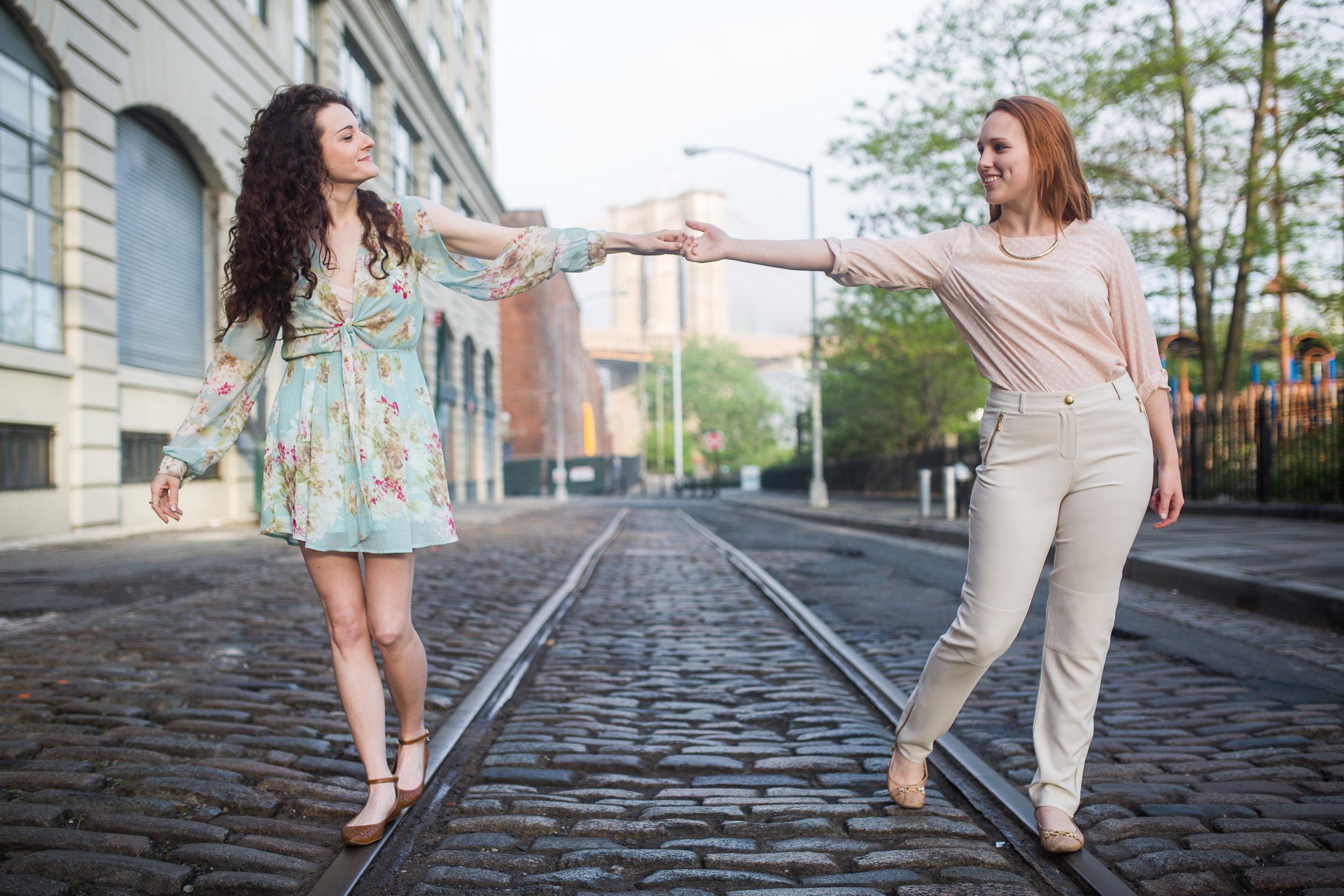 "My favorite part of the trip was having a great excuse to hug and kiss my beautiful girlfriend all over the city for our shoots! The whole trip was great, from the food to Hedwig (a-mazing), to getting to see the city at 6am from the Brooklyn Bridge (thanks to Johnny for suggesting it!)… It was everything we wanted." – Katelyn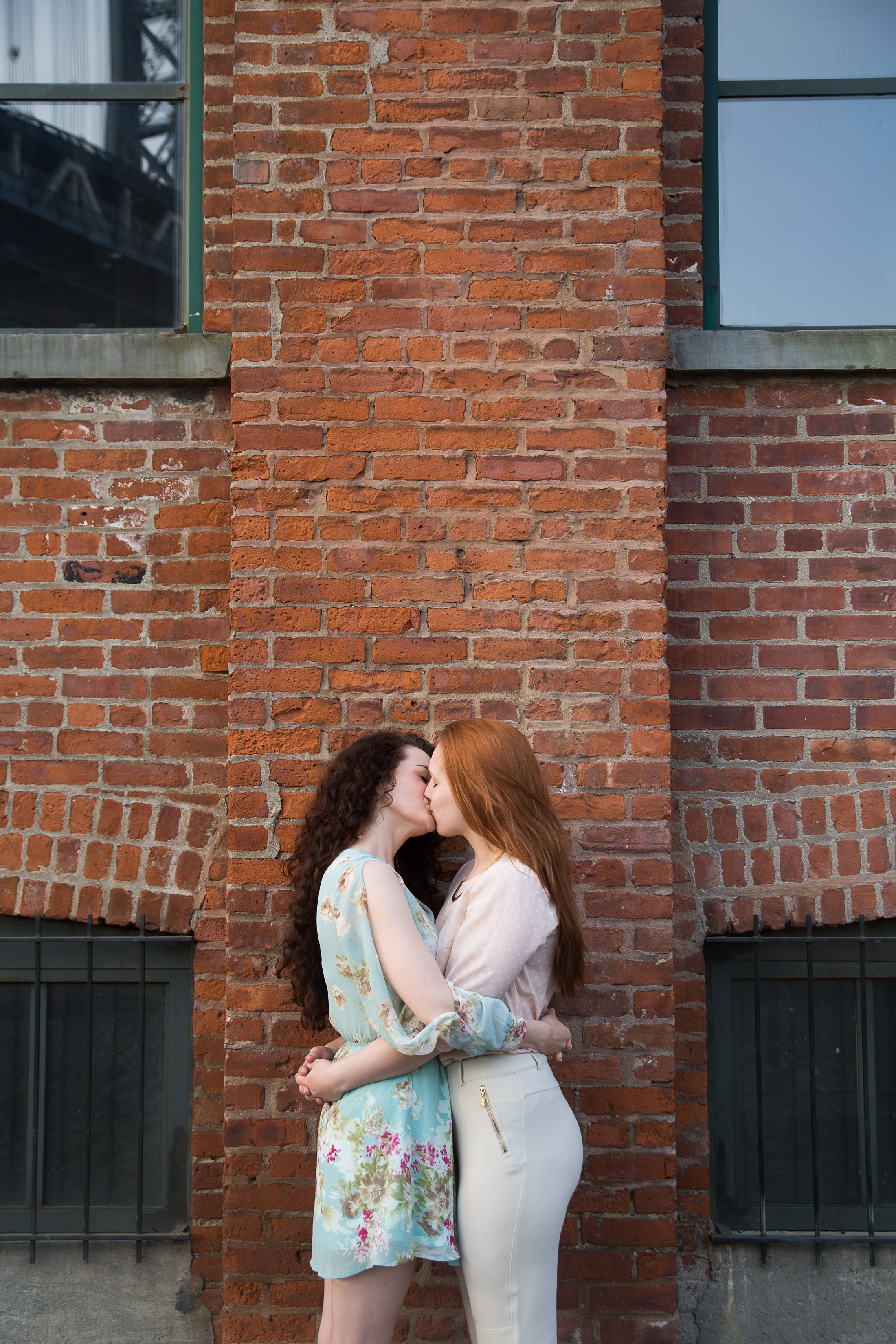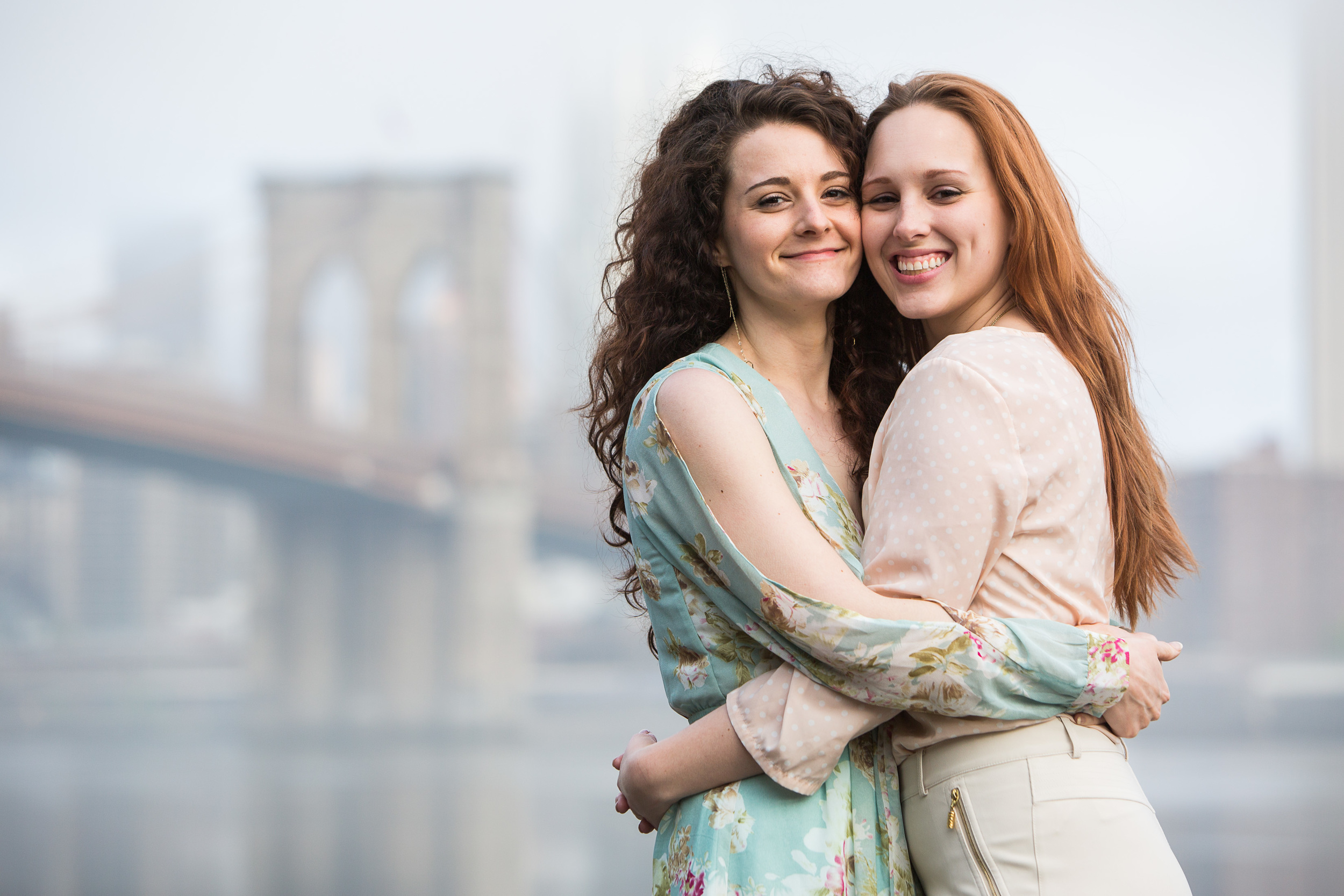 From photographer Samantha: "I met Katelyn and Kathryn for a sunset session in Central Park. These two ladies were so incredible together! I loved their ease with one another as well as behind the camera. We strolled around a few different areas surrounding Bethesda Fountain and I can't truly describe how much I love the images that we created!"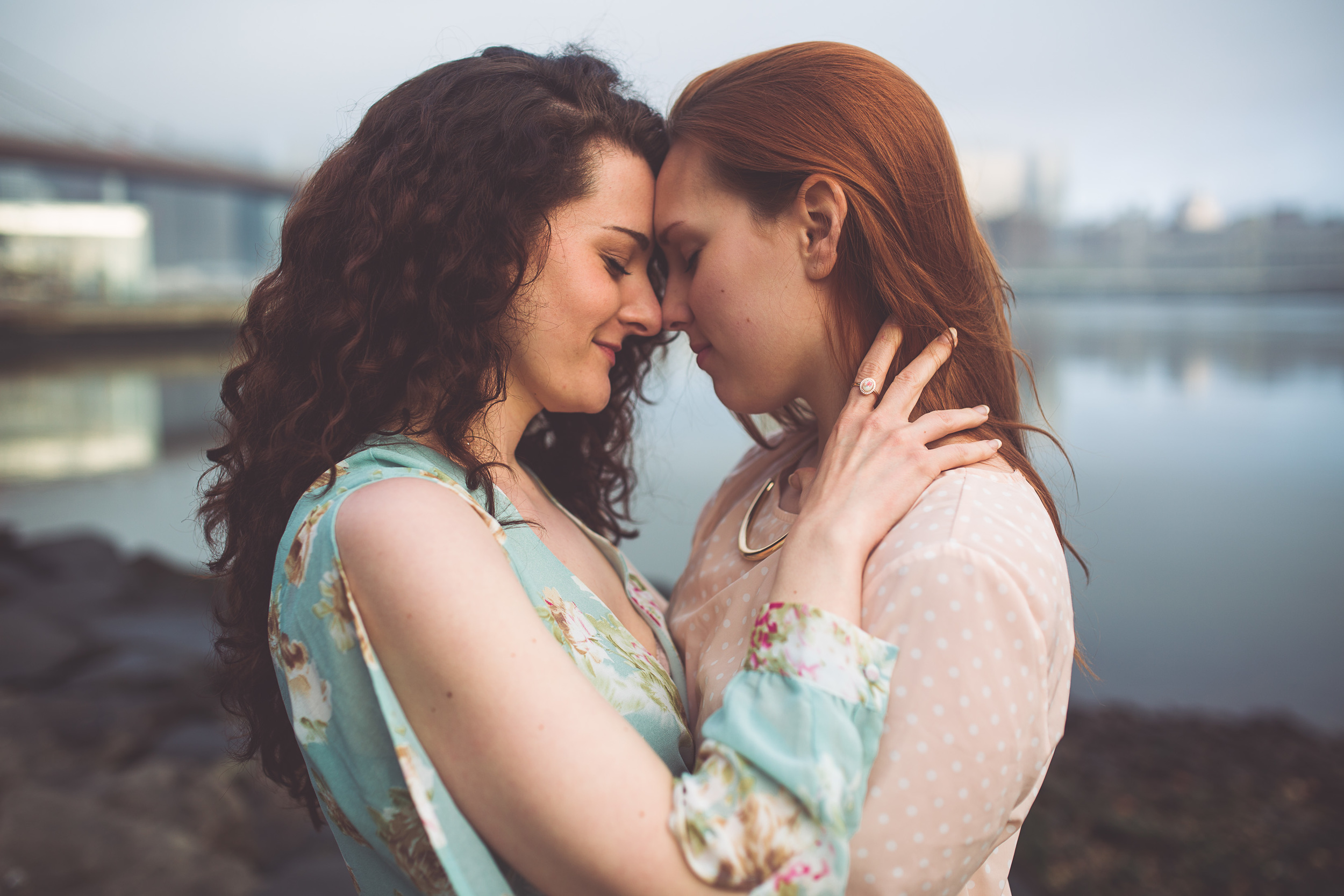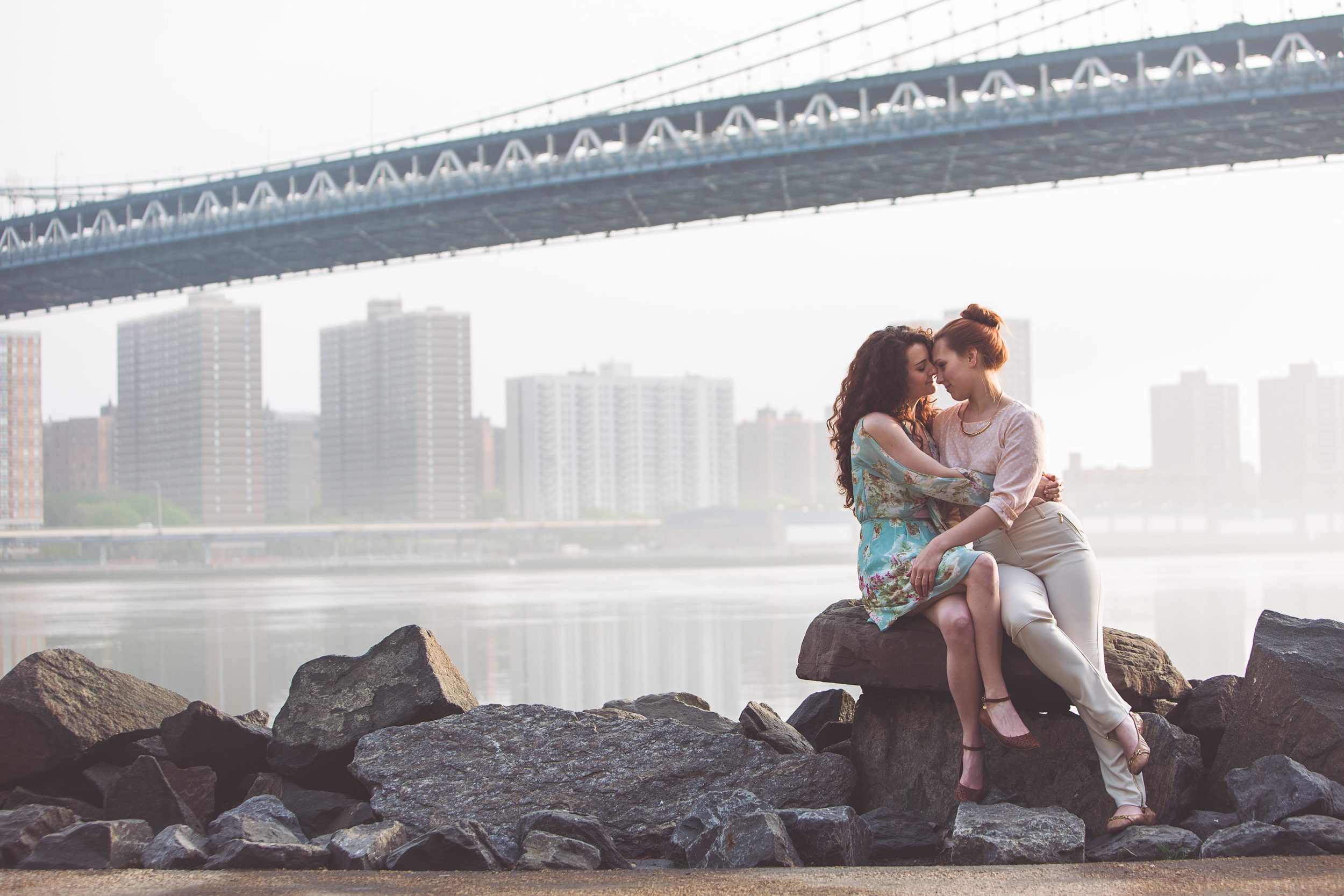 From photographer Johnny: "Katelyn & Kathryn were SO much fun to shoot with. Sunrise shoots are always such a treat, and they showed up bright eyed and photo ready at 5am while the rest of NYC's 8 million were still fast asleep. We started our shoot on the Brooklyn Bridge and had it all to ourselves. They were naturals in front of the camera and took to the process so quickly! We then moved down to the street to capture the Brooklyn waterfront and its stunning views of the lower Manhattan skyline. The hour flew by, and as we approached the end of the shoot, I recalled that one of their goals was to have a shot of them in a cafe from the outside. I treated them to a well-earned cup of coffee and captured one of my favorites from the set (b&w photo of them kissing in the coffee shop). We came back out to the street and I caught a few photos as they completed their NYC experience by hailing a cab and heading back to their hotel!"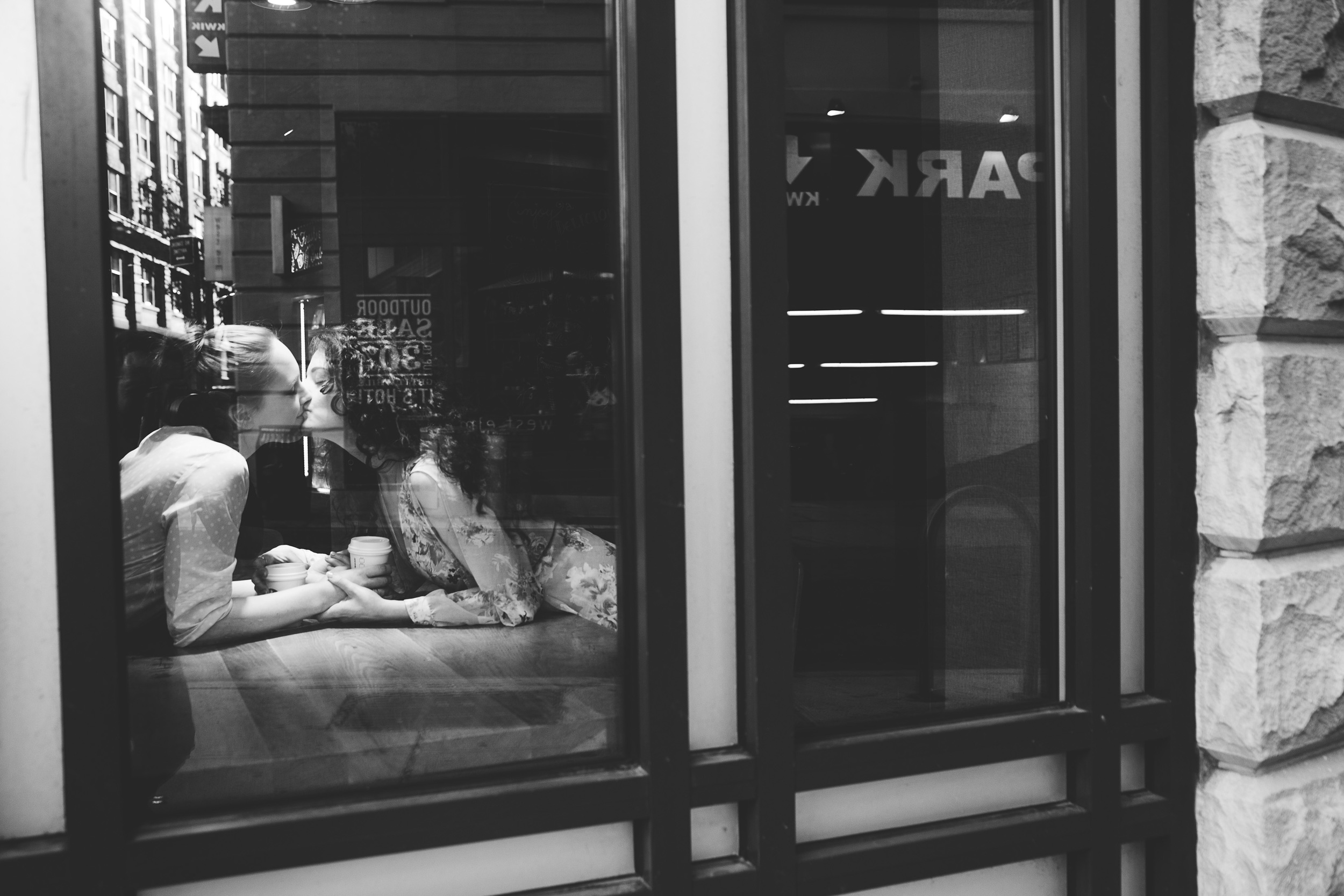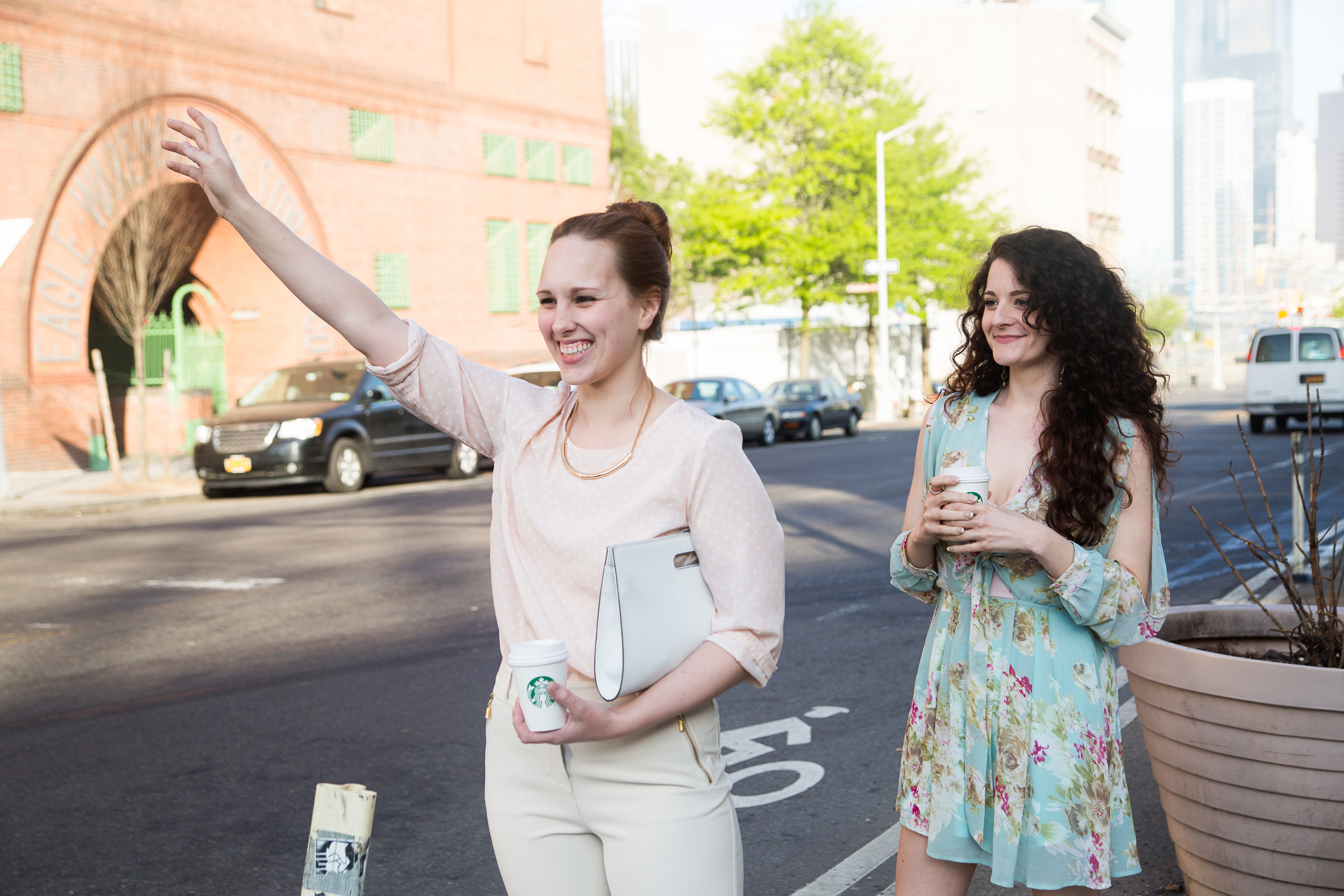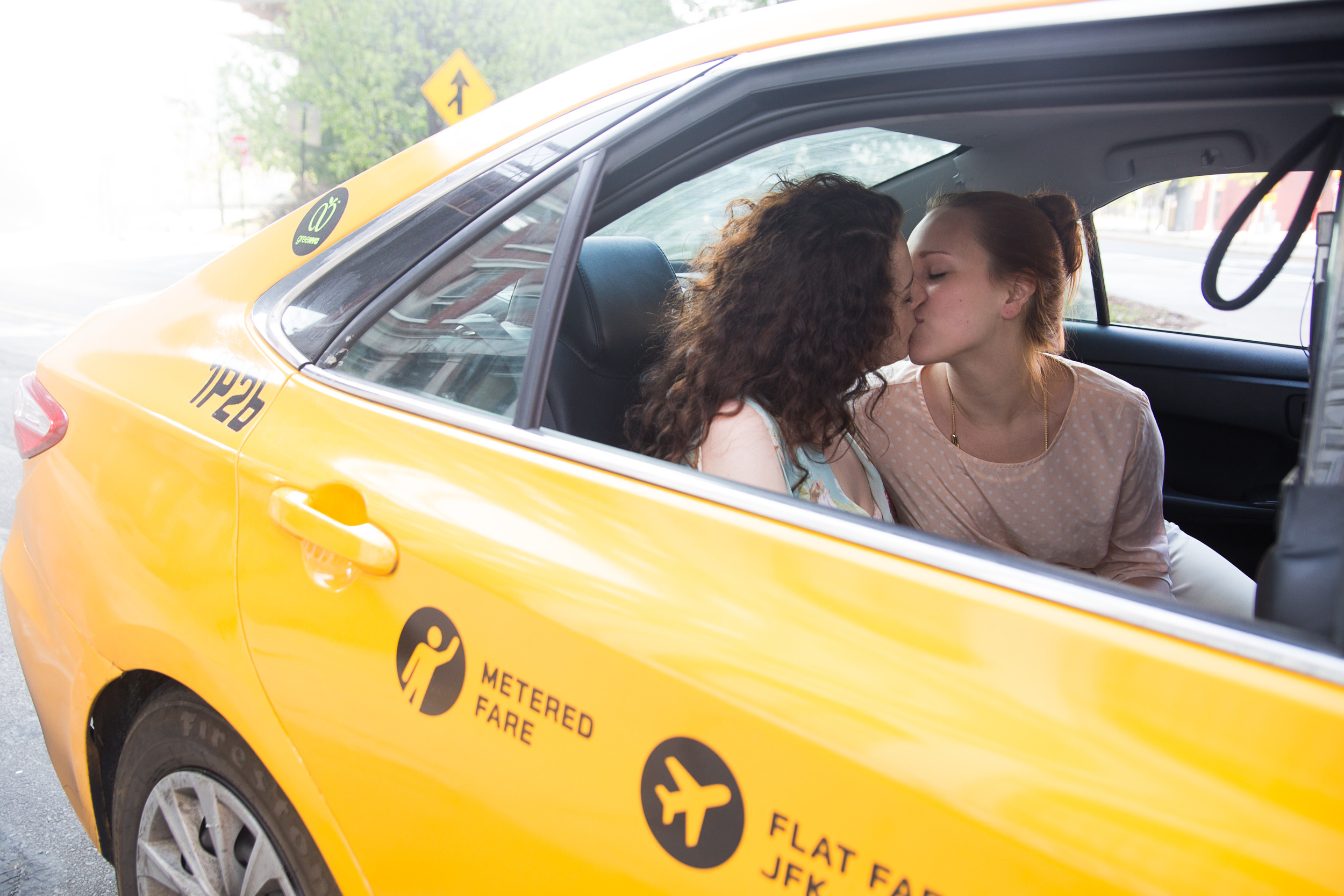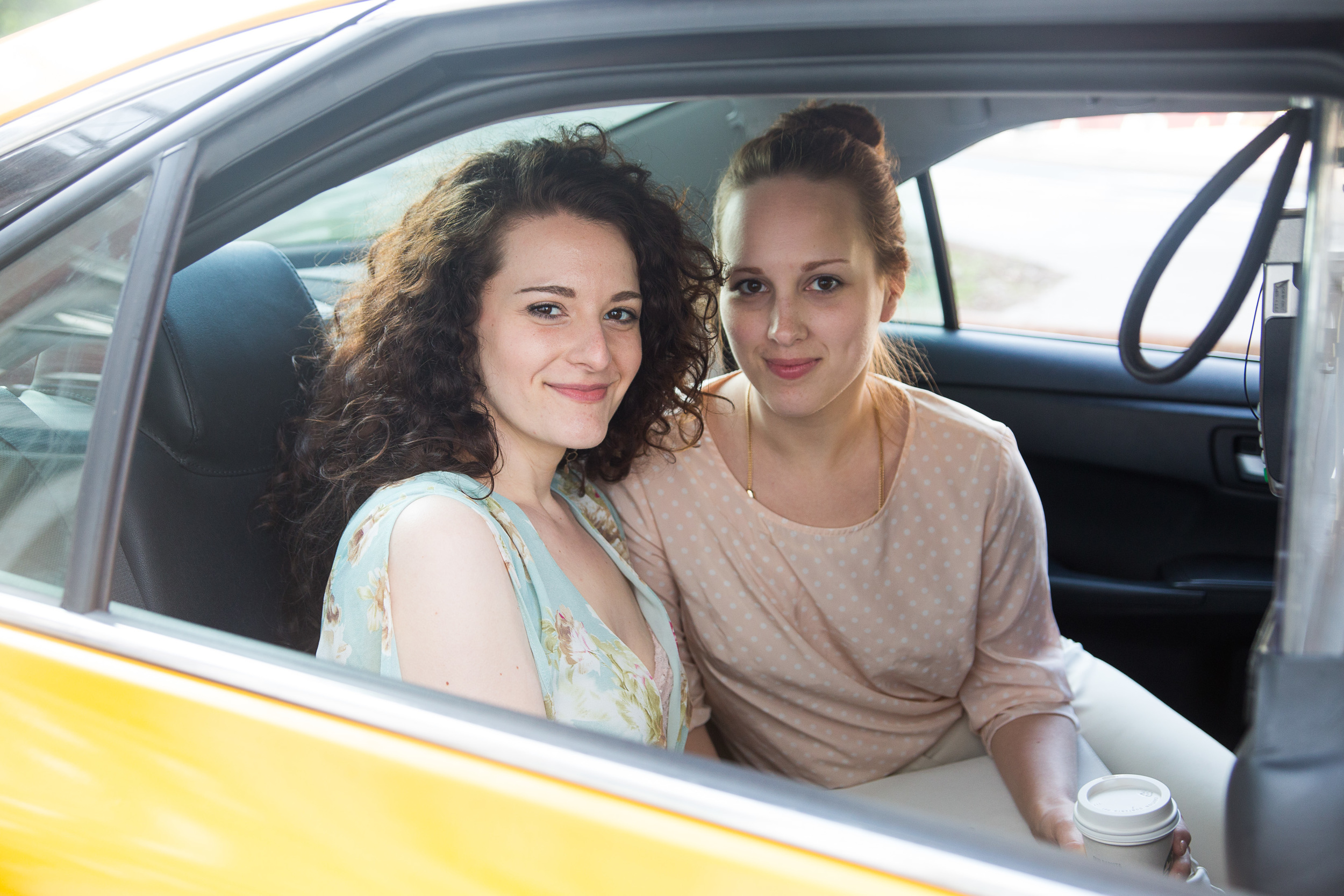 We can't wait to capture the memories of their next adventure! What crazy travel adventures have you had?