See more: Travel Guide – family – kids
With Spring Break around the corner, many parents are wondering what the do with their darling offspring for all of these glorious, school-free days. Packing up for a family vacation ranks very highly, of course, and the big decision remains of where to go. Kids are at their best when there is plenty to see and do (and eat!). Below, we've listed ten of our favourites destinations with easy access to family fun. (Click on each photo to see the story behind the vacation shoot.)
:::::::::::::::::::::::::::::::::: ✈
Once the vacation is confirmed, book your Flytographer shoot to capture these very precious and fleeting memories – those kids grow up way too fast!
---
What could be more family-friendly than Disneyland? The park is built for kids of all ages (we're looking at you, dads!) so you can't go too far wrong. The original Disney theme park grew in 2001, with the neighbouring Disney California Adventure offering more choice for exciting rides, games and entertainment. Some rides offer FastPasses which can help you save time waiting in lines – look for the signs to pick up tickets. The biggest stumbling block with Disneyland is coming up against hunger and fatigue, but – thankfully – you are allowed to bring in your own food and drinks. To keep the kids alert, have them look for all the hidden Mickeys throughout the park – this very clever website will help keep the game going.
See more photos of the Smith family in Disneyland
See more Choi family in Disneyland
See more Keller family in Disneyland
---
Kids + beach = good times had by all. It seems a no-brainer that while the young 'uns are happily building the world's biggest sand castle or splashing in the warm waves, parents are just as happily sipping piña coladas in a lounge chair reading that novel they bought 8 months ago. Heaven! When it comes time for engaged family activities, however, Hawaii has them in spades. Take the whole gang to Waikiki Beach to learn to surf, or explore the museums and submarines at Pearl Harbor. If you're on the Big Island, Hawai'i Volcanoes National Park and swimming with dolphins are two incredible experiences no one will never forget. Wear the kids out with a short hike through enchanting 'Iao Valley State Monument on Maui or rock their world with 'Ulalena, a cultural theatre and dance performance that fuses art with history.
See more from the Segil family in Hawaii
---
The City of Light and Love is also a winner for families. The Jardin du Luxembourg is an all-day delight: sail your bateau on the Grand Bassin, ride the carousel, engage in a game of checkers, hit the playground or watch a puppet show. Get your gargoyle fix and tire the kids out at the same time ascending nearly 400 steps at Cathédral Notre-Dame. If your youngsters are aspiring MasterChef Juniors, try a baking class in Montmartre. Older kids might get a kick out of a Sewer Tour or Haunted Paris Tour, or interesting exhibits at the Cité-Sciences Museum. And if all else fails, there's always Disneyland Paris or Parc Astérix.
See more Baehr family in Paris
See more Campbell family in Paris
---
As sure as the chimes of Big Ben, London offers families endless treasures within its ancient streets. Resembling a giant ferris wheel, the kids will be clamouring to get on the London Eye – just arrive early to avoid monstrous queues. Young wizard in training? Harry Potter film tours are available by bus or foot. Run them at Tumbling Bay Playground while you grab a cuppa at the park's café, or take the teens to Vertical Chill Ice Climbing Wall. Interesting street art abounds around Shoreditch, and visiting Madame Tussaud's Wax Museum is another kind of fascinating. Give the kids a taste of royal living at Buckingham Palace, and be sure to check out the changing of guards for an especially fun visual treat. A family trip to London wouldn't be complete without a visit to Hamley's, the oldest and largest toy shop in the world.
See more from the Sherman family in London
---
Charleston is a historic gem surrounded by sand and surf. With plenty of beaches to choose from, try any number of fun activities: go horseback riding, fly a kite or take surfing lessons; rent a bike to explore the city; pack some fishing rods for a turn at Folly Beach Pier. Give everyone an important history lesson at the Boone Hall Plantation, and then follow it up with fresh u-pick berries and tomatoes. Working up your appetite outdoors will be duly rewarded with the hopping food scene in this cool southern city.
See more photos from Charleston
---
An oasis in the desert, Scottsdale has tons of choice for families. Start with a Family Passport in McDowell Sonoran Preserve, which teaches kids about conservancy while sending them on a nature scavenger hunt. Butterfly Wonderland and the Desert Botanical Garden are true gems for the nature-loving child in all of us. Take a ride through Old Town on Ollie the Trolley. Escape the heat with indoor fun at Cracker Jax: go-karts, laser tag, mini golf and bumper boats. If you can get everyone up early enough, hop into a hot air balloon for stunning views of the desert at sunrise.
See more from the Isaac family in Scottsdale
---
BARCELONA
Barcelona is a warm, family-friendly European city that the kids will love. Start with fantastical Park Güell by visionary architect Antoni Gaudí, a 45-acre site begging to be explored. A day spent at the Barcelona Aquarium is a good day, complete with meeting penguins and seeing divers in the shark tank. Next up, hit Parc de la Ciutadella, where the kids can run through the green space, row on the lake, and visit the zoo. Barcelona offers several beaches, perfect for swimming, relaxing and people watching. At night, visit the Font Màgica for a choreographed light and water show set to music. For footy mad fans, there's nothing like getting tickets to watch Messi & FC Barcelona give their opponents a clinic in person. 😉
See more from the Kerr family in Barcelona
---
To the beach! The Santa Monica Pier offers all kinds of family fun. Roller coasters, ferris wheels, Wac-A-Mole, cotton candy – you have it all at Pacific Park. Below the carousel, learn all about marine conservancy at the Santa Monica Pier Aquarium, then send the kids on a scavenger hunt. High-fliers can get trapeze lessons at the Trapeze School of New York, who have a permanent location on the pier. Visit the original Muscle Beach for some playtime in the sand. Head downtown to pedestrian-only 3rd Street Promenade, where you will find shops, street performers, and movie theatres. For something extra-cool, pop the kids in the flight simulator at the Museum of Flying – they will love the feeling of being a pilot in the serene California skies.
See more from this fun family in Santa Monica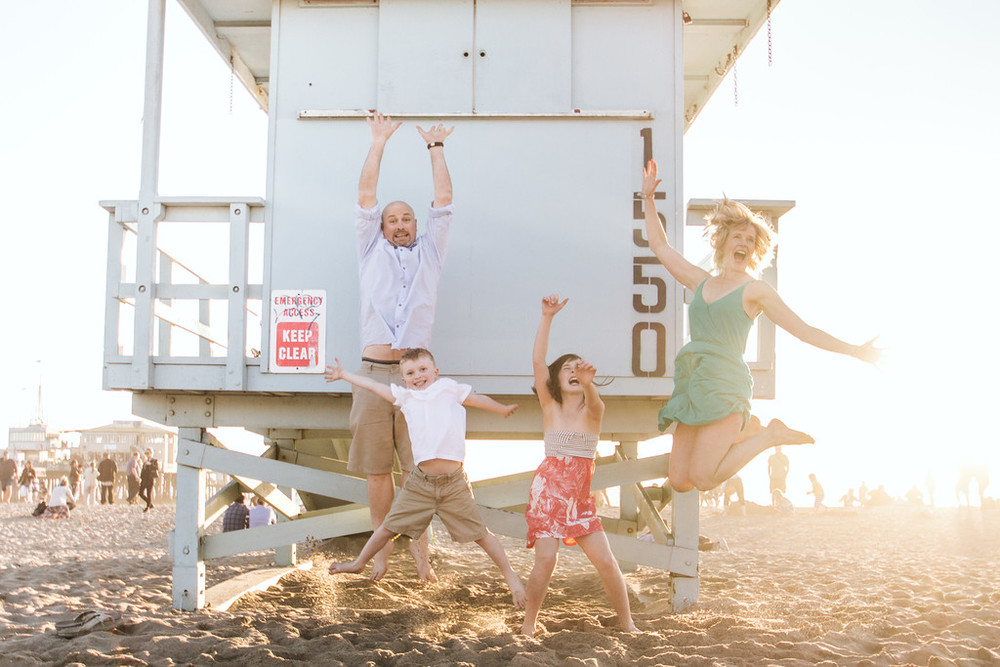 See more Roles family in Santa Monica
---
Most people think of New York as a playground for adults, but it contains a myriad of gems for families looking for big city adventure as well. Start with a super-fun elevator ride at Rockefeller Centre, where 70 floors up gets you jaw-dropping views at Top of the Rock. There's lots of green space to run at Central Park, and fans of the fictitious Alex the Lion will be keen to check out the Central Park Zoo. Keep little hands busy at the Children's Museum of the Arts in SoHo, over the bridge at the Brooklyn Children's Museum or take the ferry to Staten Island Children's Museum. Depending on the season, go ice skating or roller skating at Lakeside in Prospect Park. Head to Chinatown for dim sum – a fun and delicious way to feed the family. Watch the kids' eyes go as round as lollipops at Dylan's Candy Bar, one of the largest sweet shops in the world. When you're ready to exit the concrete jungle, pack for a day of beach fun and classic amusement rides at Coney Island.
See more from Suzanne and Skylar in New York City
---
New Orleans is so much more than jazz and jambalaya. Families love the Big Easy for its southern charm and relaxed attitude – fun is the order of the day. Start out exploring the famous French Quarter, on your own or by tour. If you've come during Mardi Gras, avoid general debauchery by keeping the kids on family-friendly St Charles Avenue to enjoy the parade. The Audubon Nature Conservatory is considered to be one of the best wildlife parks in the U.S., complete with a zoo, aquarium, butterfly garden and green space. If your kids would like a side-order of thrills with their nature, climb aboard a boat on a swamp tour, where the guides will coax the 'gators to start snapping. Hands in! Spark imaginations at the Louisiana Children's Museum or a spooky cemetery tour. The New Orleans City Park is an absolute must-do, with fun activities spread out over 1300 acres of green: pedal boats on the pond, mini golf, horseback riding, amusement park with an antique wooden carousel, sculpture garden, and Storyland theme park. Top it all off with a cone at Angelo Brocato, arguably the best ice cream in the city.
See more from the Hamad family in New Orleans
---
Ready to book your Spring Break adventure? Don't miss these special moments!
Looking for the perfect family gift?