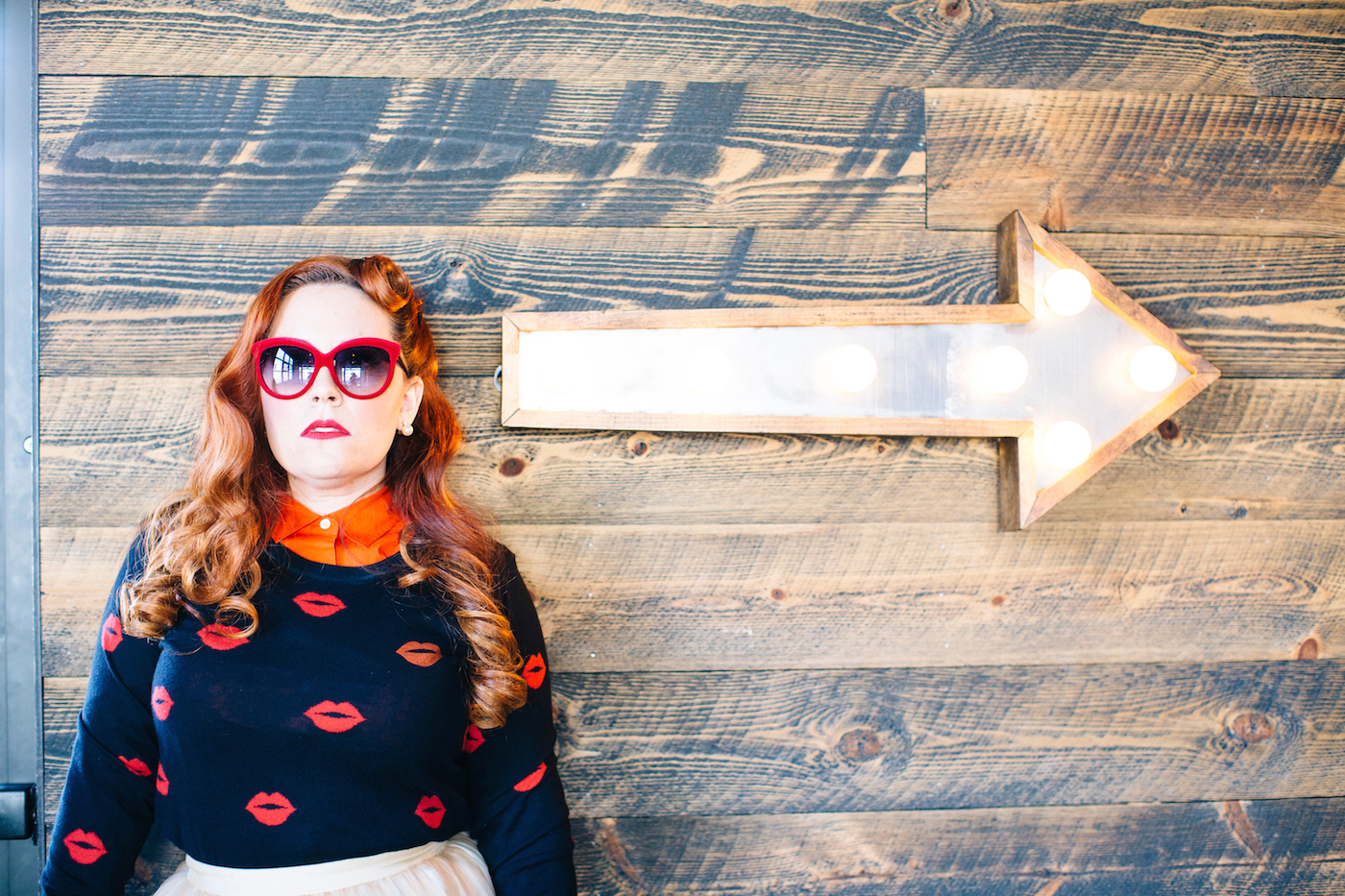 Capturing the special travel moments of our customers' lives is the soul of our existence, our daily breath and our constant inspiration. One beloved customer, Nicole of First-Class Belongings, not only allows us to document her vacations to gorgeous destinations, but takes us on a timeless journey through her fashion and location choices. In today's post, we've asked Nicole to share some of her thoughts and motivations behind her very fashionable travels.
Q. Who are you and what does travel mean to you? 
I am a NYC-based furniture designer and creator of my future travel & fashion blog, First-Class Belongings (launch date TBA). I have been traveling from a very early age. I travel because it makes me feel alive and inspired. I travel because it's humbling to know how much bigger the universe is than my own insignificant problems. I strongly believe that if we were all given a ticket to travel the world there would be less hate and intolerance. Traveling really helps one realize "it's a small world after all." When you talk to people around the world, you discover that we are all pretty much striving for the same thing. We all want to live happy and healthy lives.
Q. Please talk about your interest in photography and documenting your travels.
A defining moment was when my great uncle gave me his old B&W photo albums from when he was traveling through Europe during WW2. Seeing these images as a child set a strong fascination to see the world, and it also lead to my interest in photography. I got my first camera when I was 15 years old. After I graduated from college, I moved to NYC to intern with one of the most prestigious fine art photography dealers to explore a career in art dealing. I also spent some time interning in the darkroom for Kenro Izu, an acclaimed Japanese photographer. My love for photography has come full circle. I'm now picking up a camera again to document my travels, while meeting amazing photographers around the world who capture me seeing new places for the first time.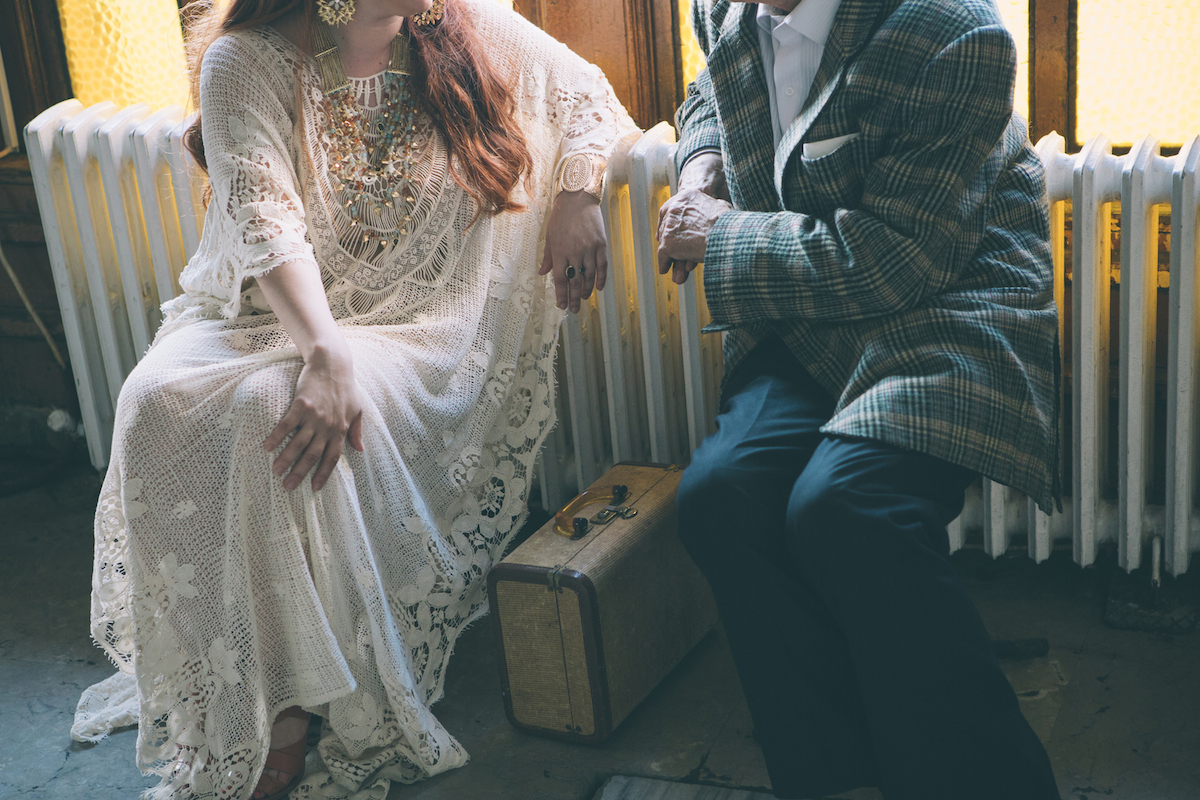 Q. Please tell us about how you discovered Flytographer and your experience working with us. 
I decided to start having my travels documented last year. My first shoot was set at a private airport. We took very glamorous shots on a private jet. I brought my 1960 Chrysler Imperial to the airplane hanger. I really wanted to capture images that had a cinematic quality, like an old black-and-white film.
I found Flytographer simply by researching travel photographers online. I had originally been sourcing my own photographers, but I felt a little intimidated and uncomfortable as a woman traveling alone meeting with total strangers in foreign lands. Flytographer gives me peace of mind knowing the photographers are with a reliable company. My experience has been really positive working with Flytographer. I give my vision for the shoot to [Shoot Concierge] Jen and she conveys it to the photographers. We set a time and date, and like clockwork they've always been at the shoot on time. It's also really nice having a local show me around and capture me seeing their city for the first time through their lens.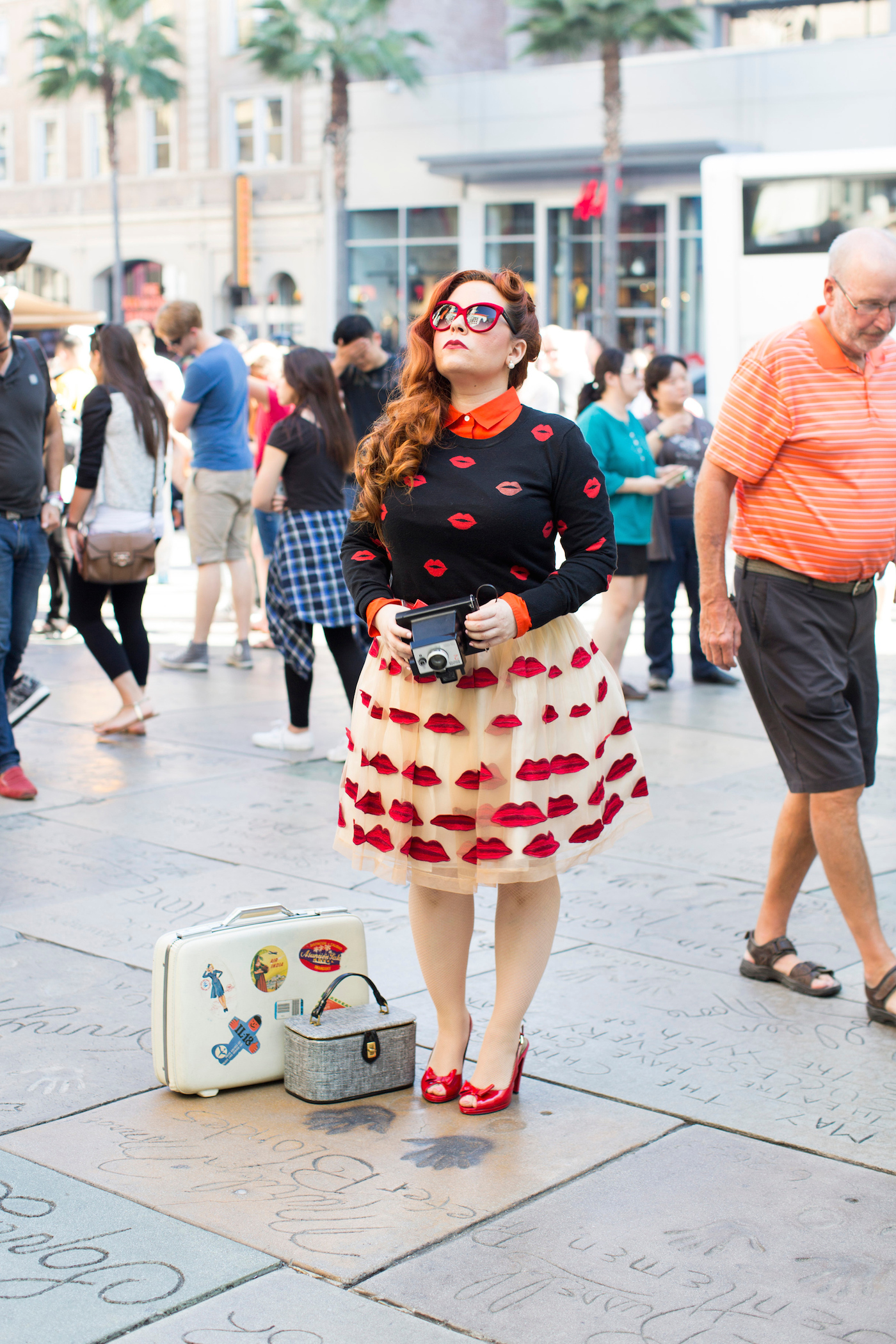 Q. We are crazy about the fabulous fashion in each of your shoots! How do you plan your outfits and style? 
The most satisfying part of my travels is planning the locations and what I will wear. I usually wear vintage clothing, but I have been recently designing my own custom clothing for the shoots inspired by vintage fashion. When I travel, I study important female figures from that culture; for example, for Mexico City, I was inspired by Frida Kahlo and tried to emulate her style for the photo shoot. The unglamorous side of things you don't see is when I'm schlepping overweight luggage from airport to airport, city to city! Sometimes I wish that I traveled in jeans and a t-shirt…but I can't compromise my vision to bring elegance & style to my shoots.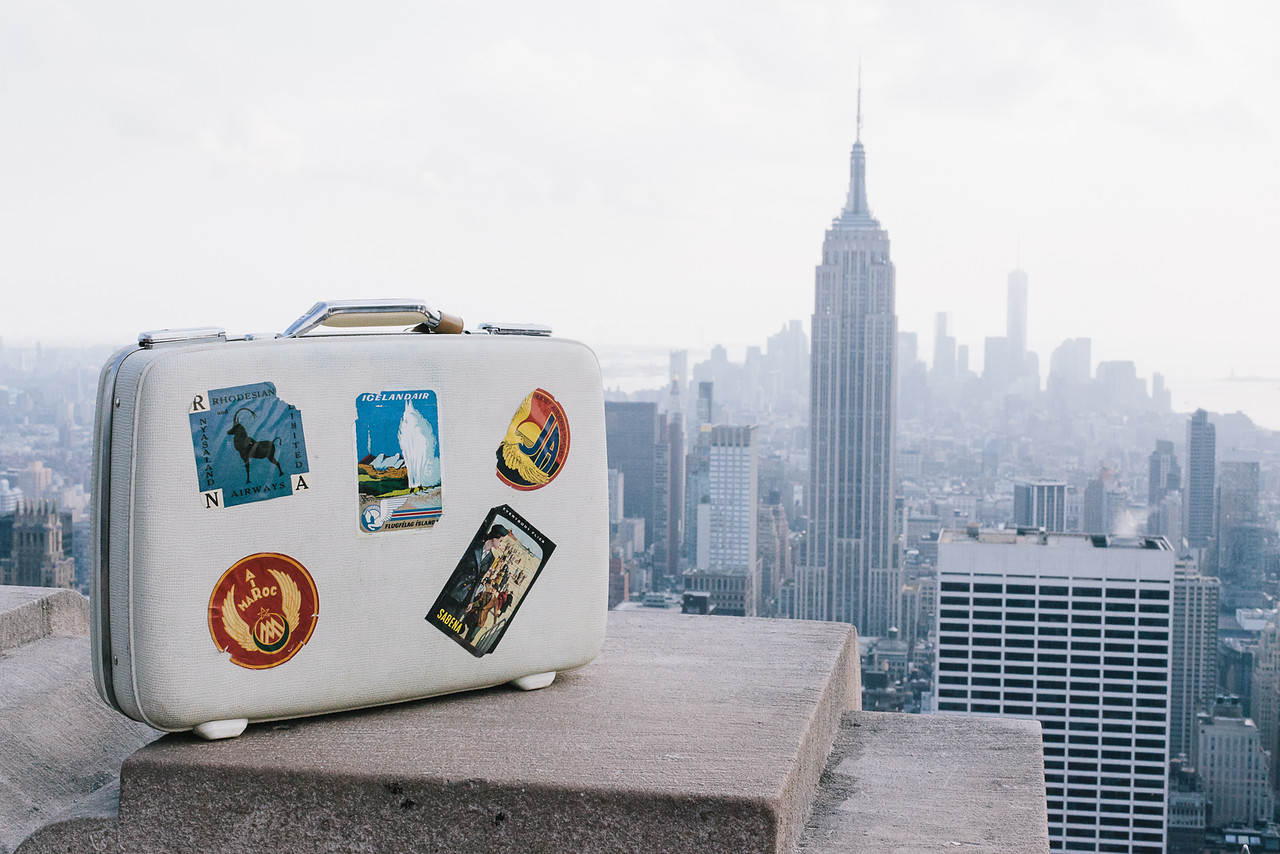 Q. Please talk about your sweet little suitcase and its significance in every shoot!  
The vintage luggage "valise" that I carry is a symbol of the way people used to travel in the past: an era when people took great pride in their appearance. Frankly, travel in today's world is not something that makes an individual feel dignified. I try and create a fantasy of the old times through the editorial shoots. I wear vintage clothing and set shoots at historic sites. This all ties into symbols of the past that I admire.
---
ISTANBUL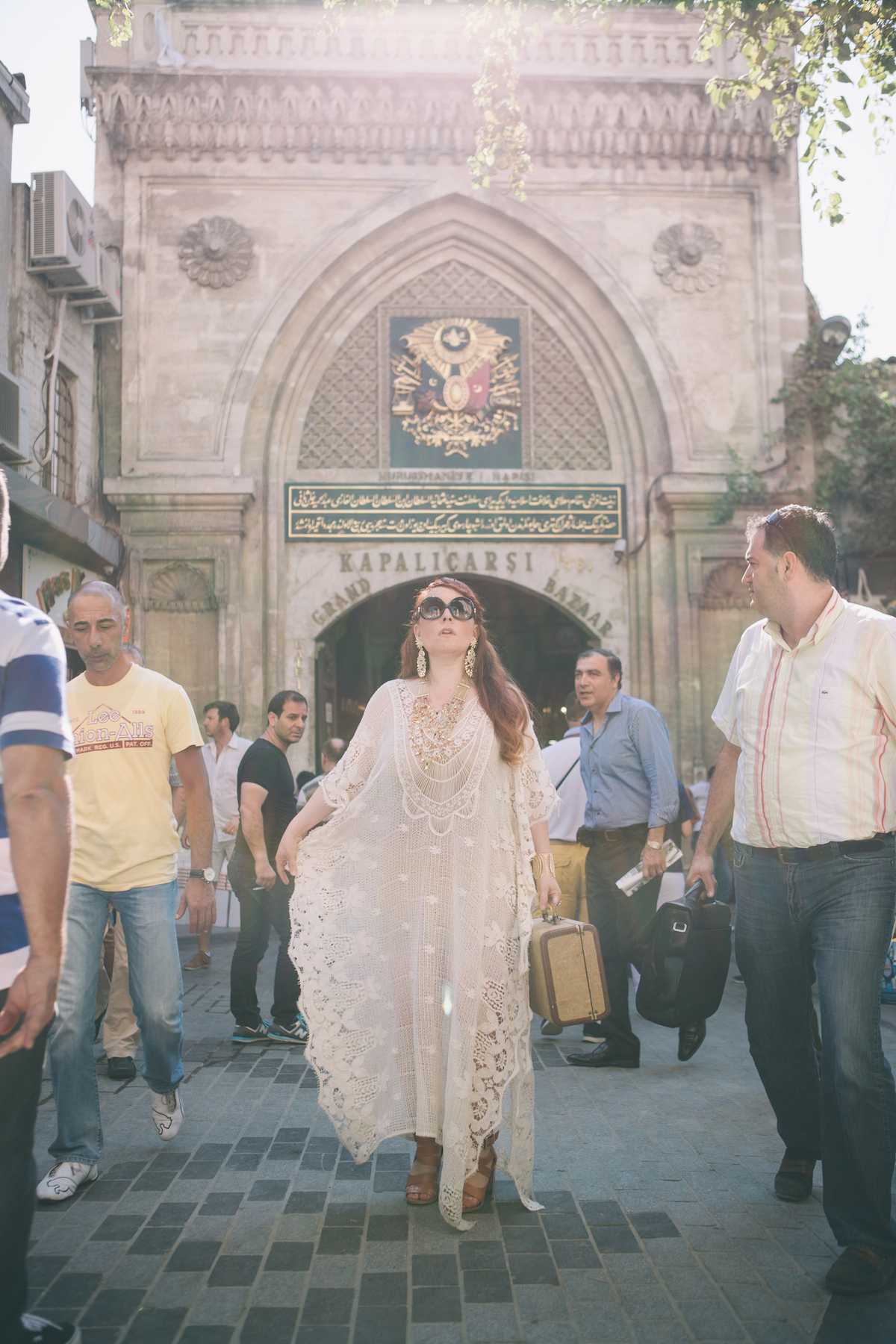 Q. What stories can you share about each of your past shoots with Flytographer?
Ufuk was such a great host in Istanbul – he really took the time to be my tour guide to a city I've never visited before, and I got to see places that I would never have found in a guidebook. I took a taxi to meet him at the shoot because I didn't want to mess up my hair and make-up – but toward the end of the shoot, I decided to risk it and hop on the back of his Vespa to get to our last few shots. It turned out to be so much fun seeing the city zip by and feeling the cool breeze on a very hot summer day. And if you've ever been to Istanbul, you know how chaotic traffic is! But sometimes it's the most fun when we break out of our comfort zone. I can't wait to go back and visit more places in Turkey – it would be great to shoot with Ufuk again!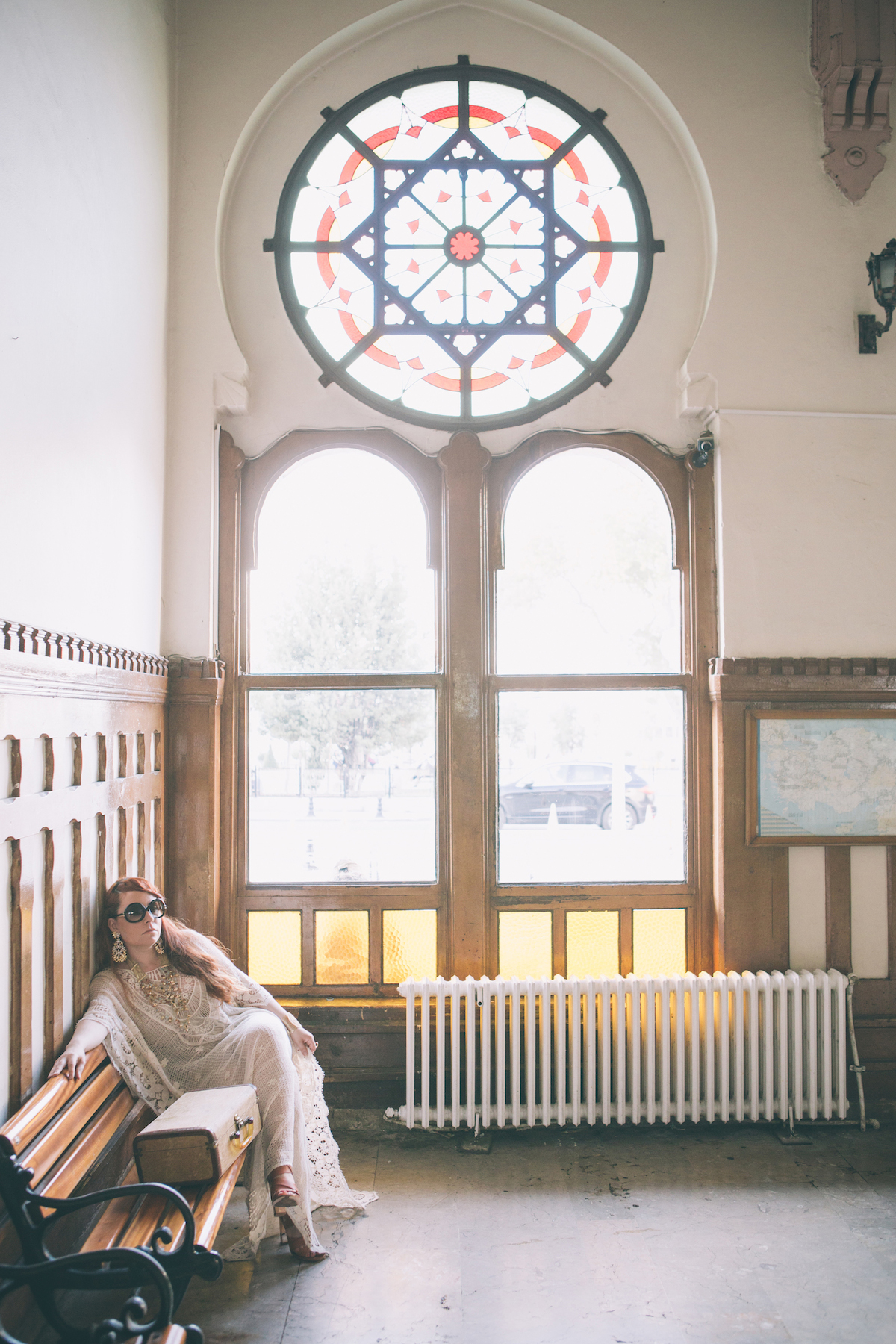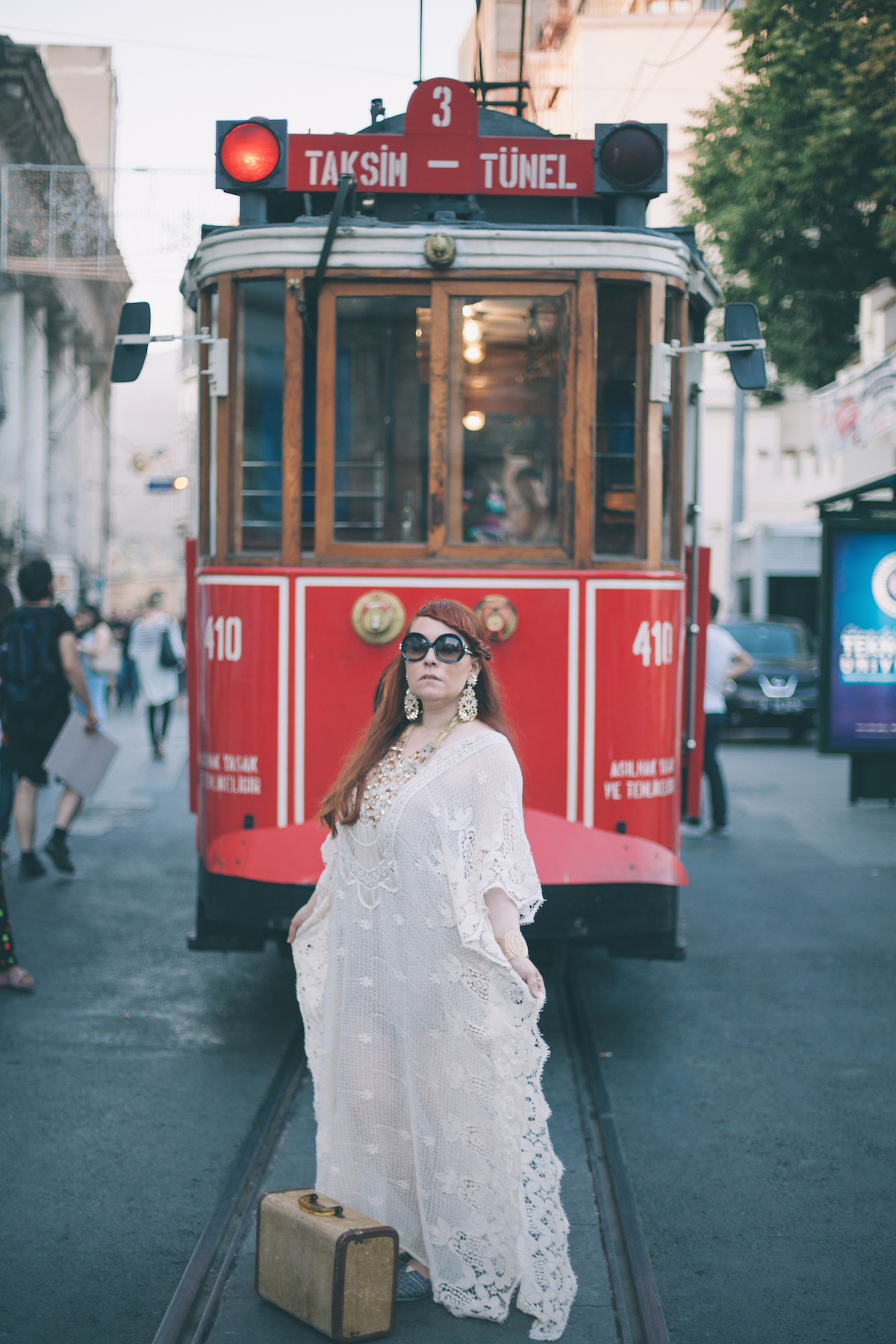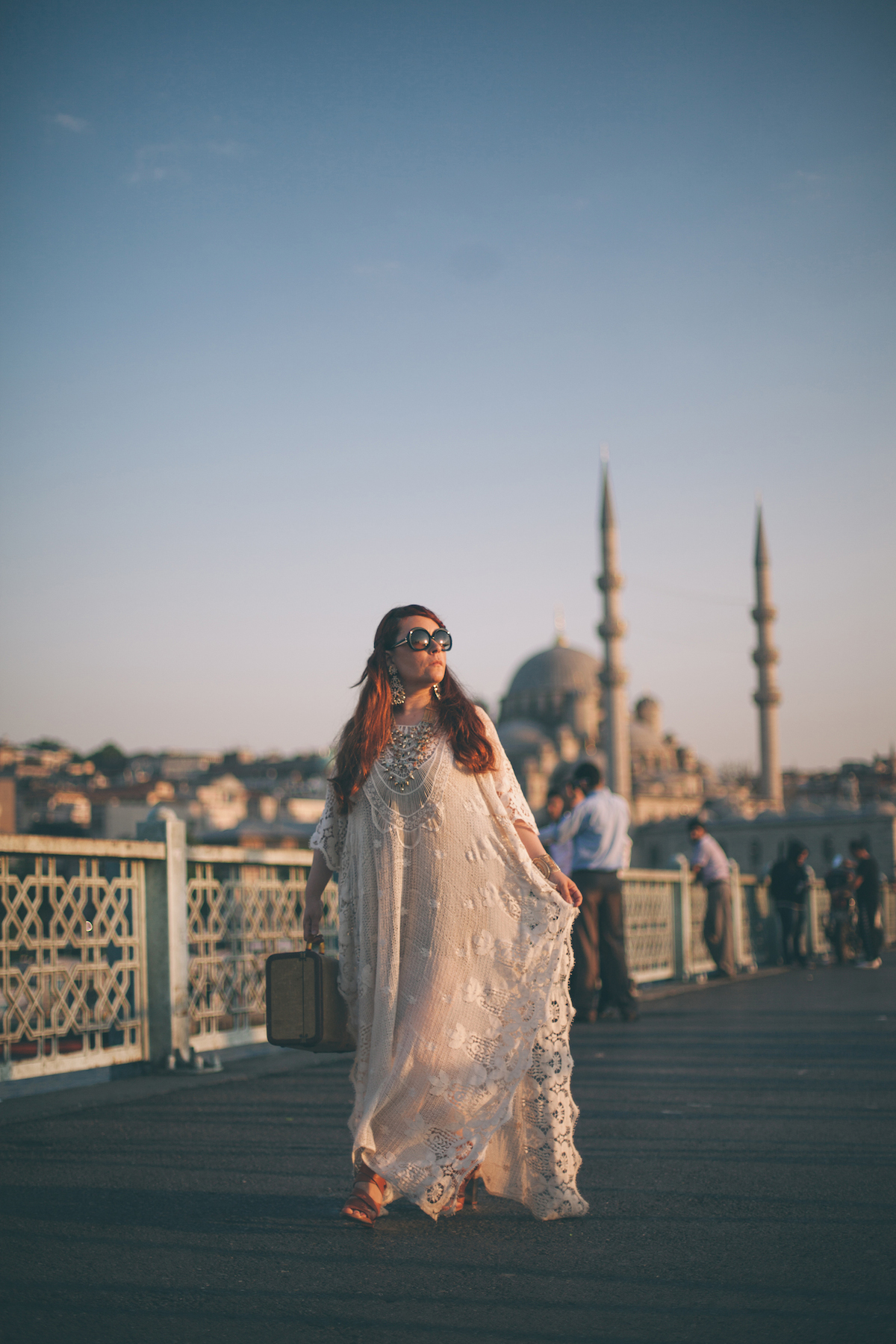 MEXICO CITY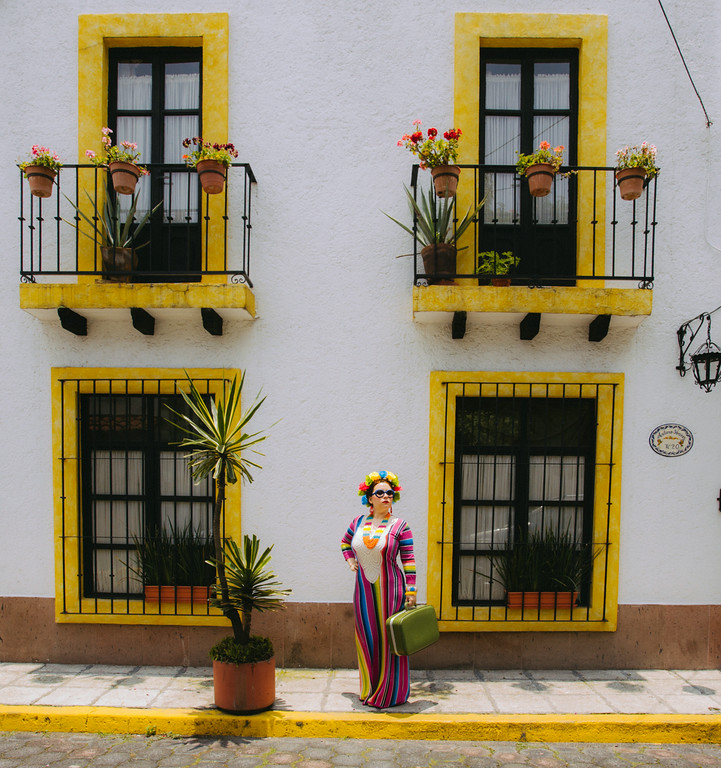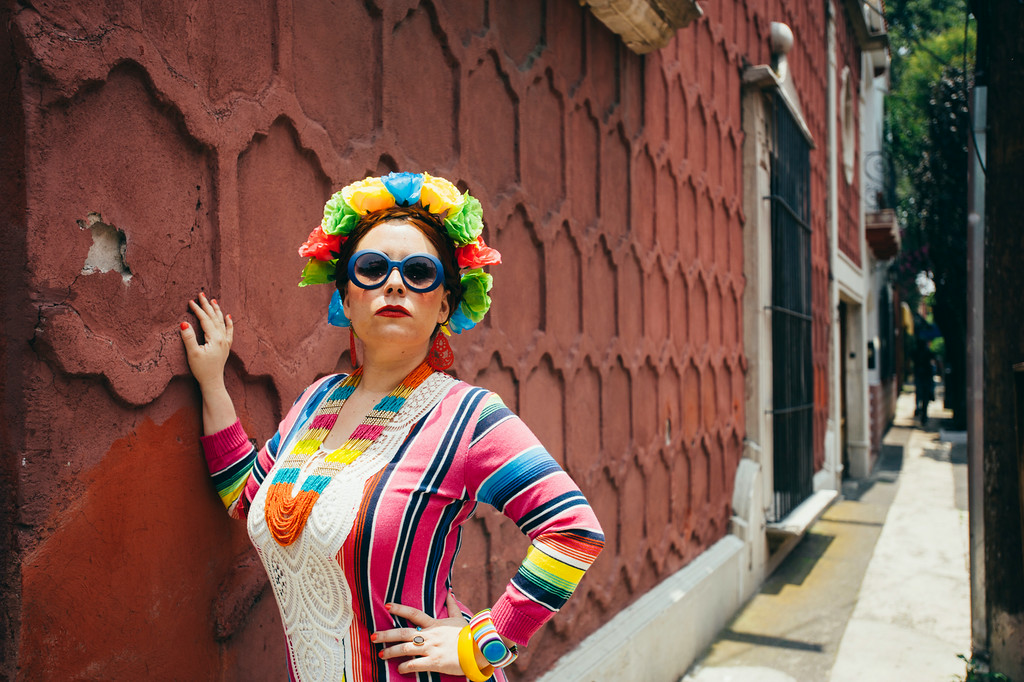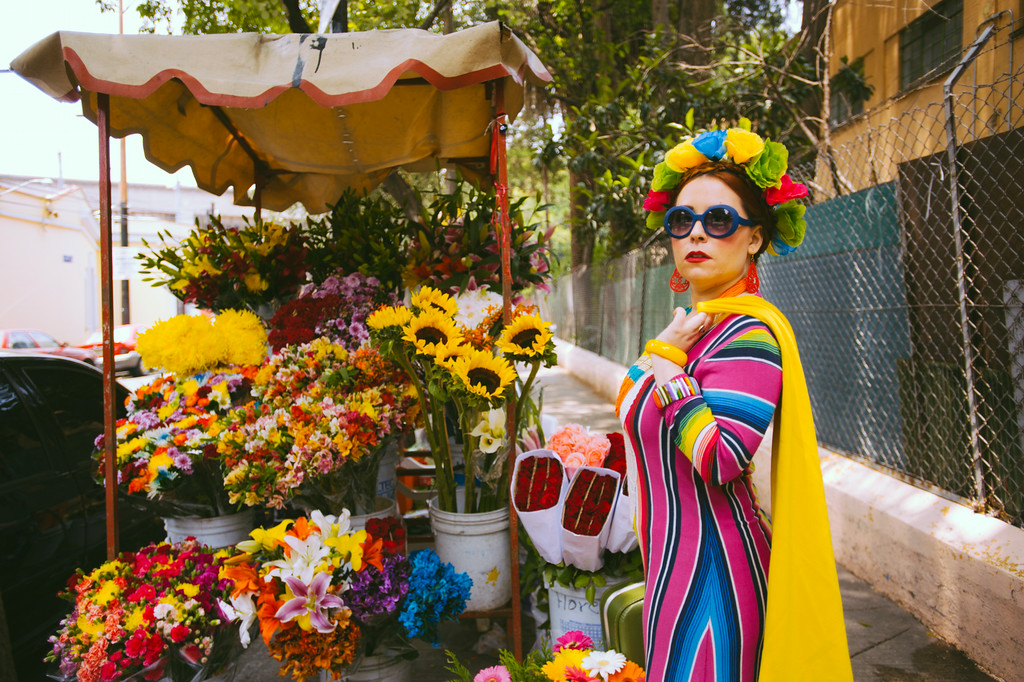 I wore myself into the ground from traveling all summer in Europe. I had only been home in the U.S. for a few days when I was off again, this time to Mexico. I was very sick, so I pushed myself hard to do this shoot. Valeria was so talented and easy to work with, and I really appreciated her being so kind with me in my unwell state. We walked through the little streets of Coyoacán in Mexico City searching for colourful backdrops and hidden gardens. Our last stop of the day was at Frida Kahlo's house. By the time we got there, I was only able to stand up for a few more shots!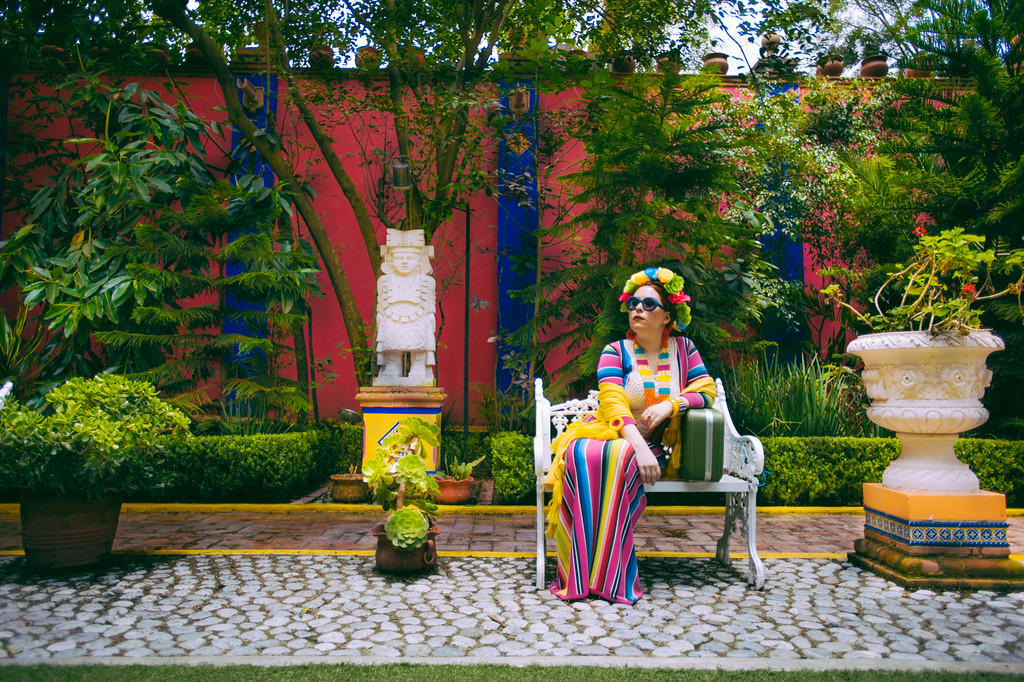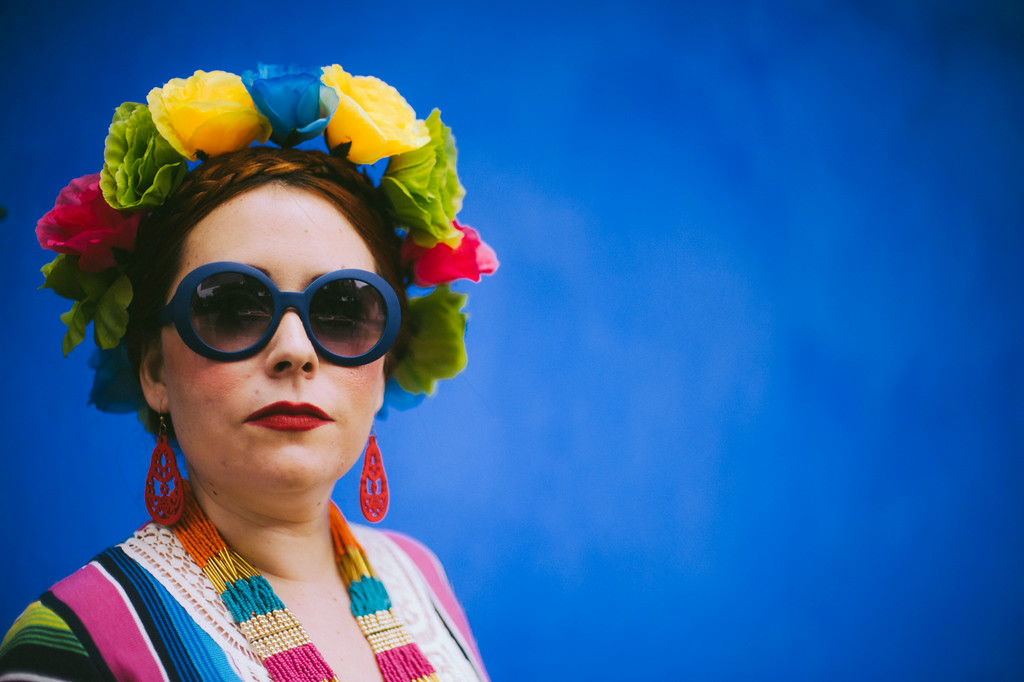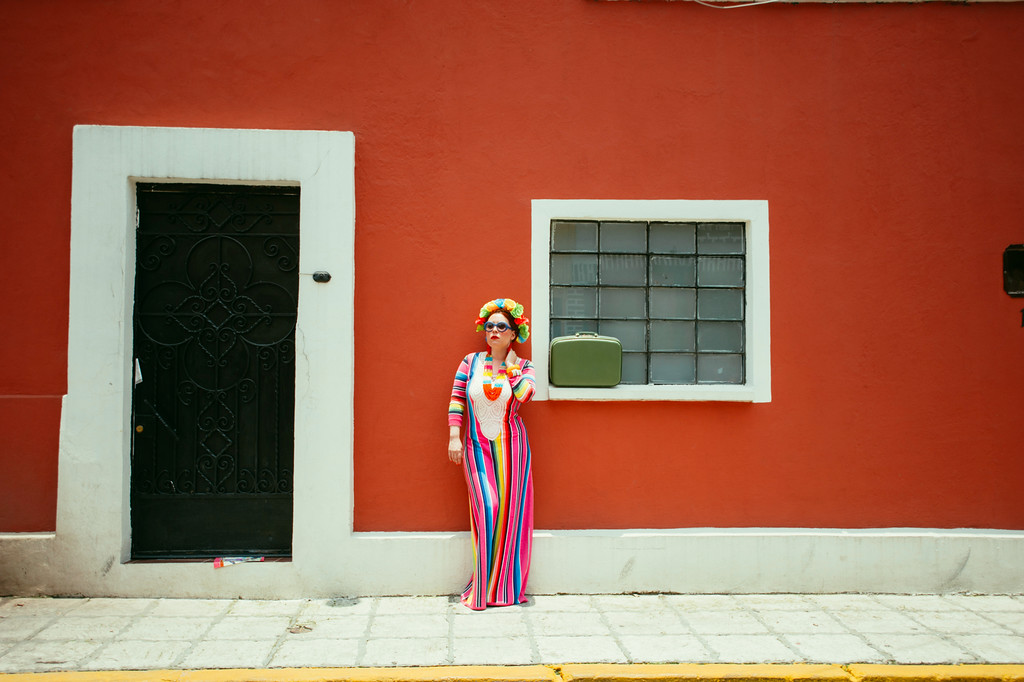 NEW YORK CITY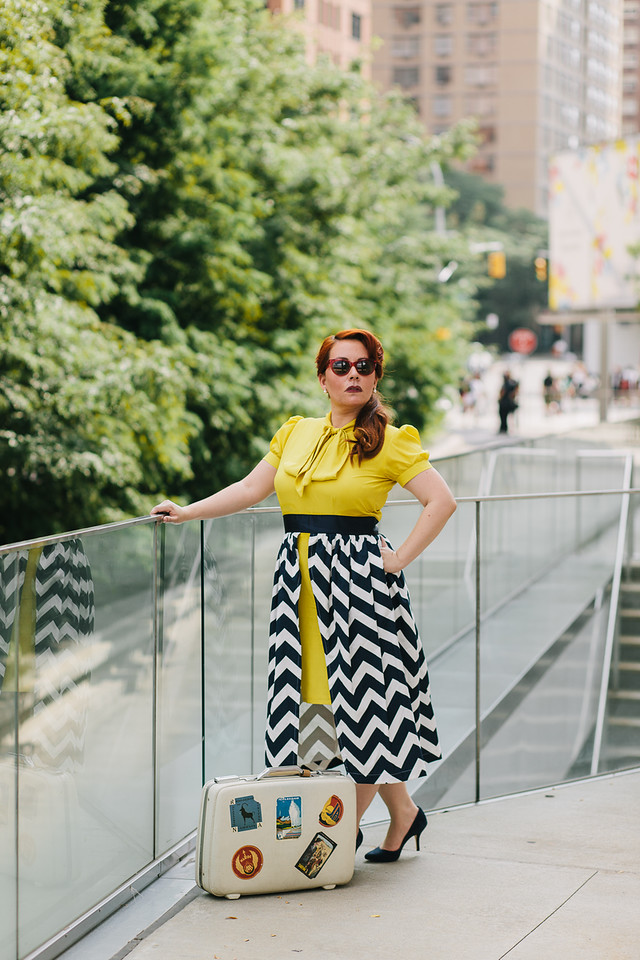 Gonçalo from Paris was in New York City for Fashion Week, and he was my photographer for the day as we walked though Lincoln Center taking in all of the glamour & glitz of NYFW. I wore couture outfits I had designed and made for the shoot. We quickly made our way next to Rockefeller Center to shoot incredible views overlooking the entire city. We were both in awe. It was Gonçalo's first trip to NYC, and in all my years living here, I never took advantage of doing touristy things. I think our excitement of seeing the city from that vantage point for the first time really transcended in the photos.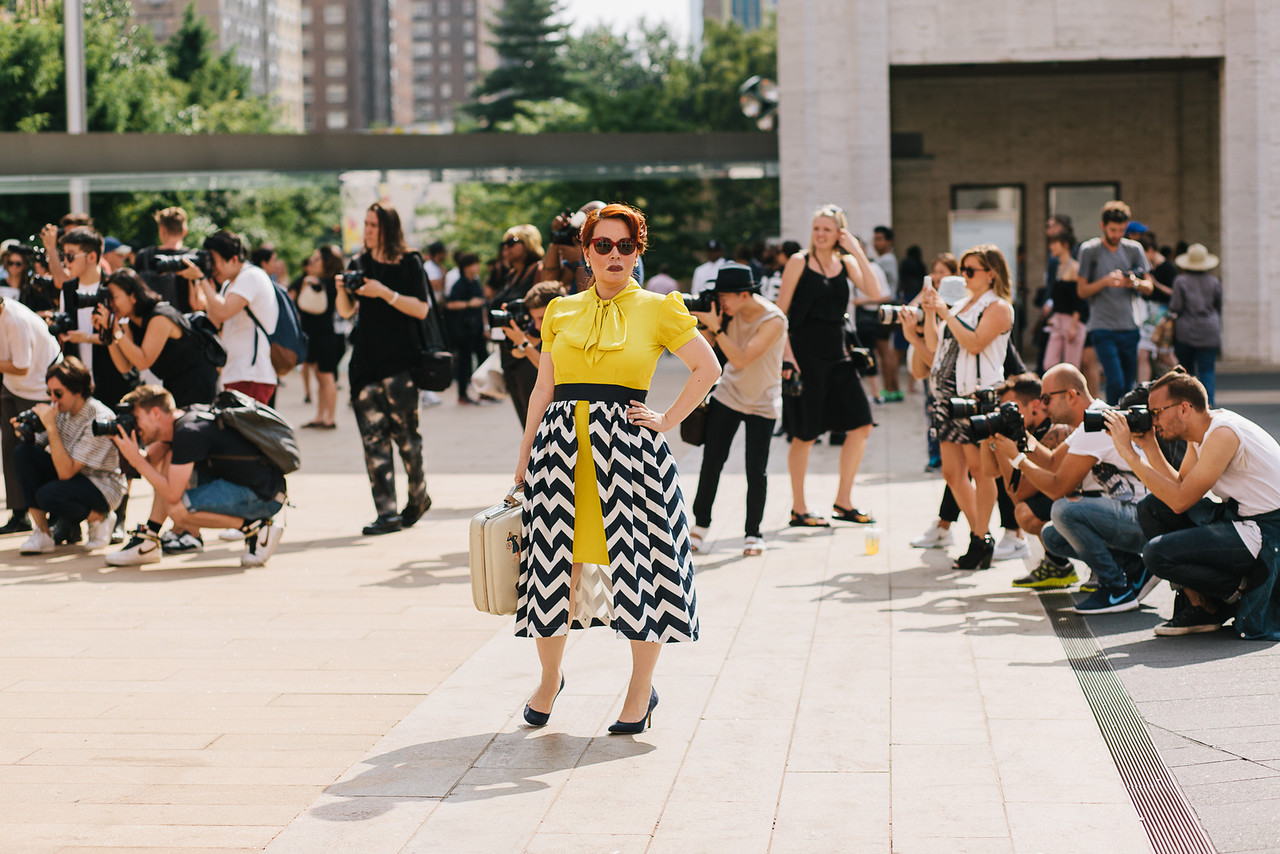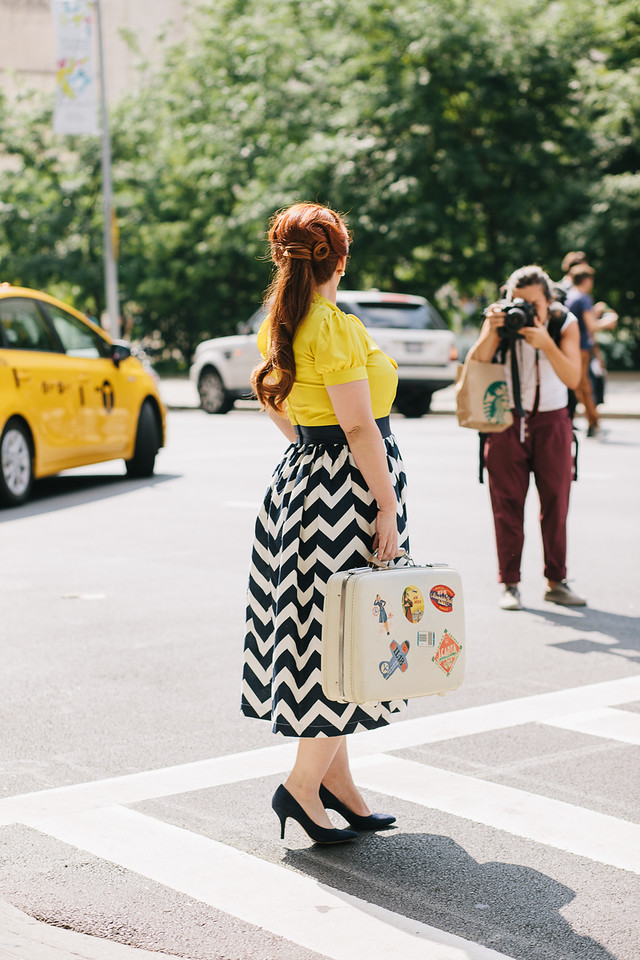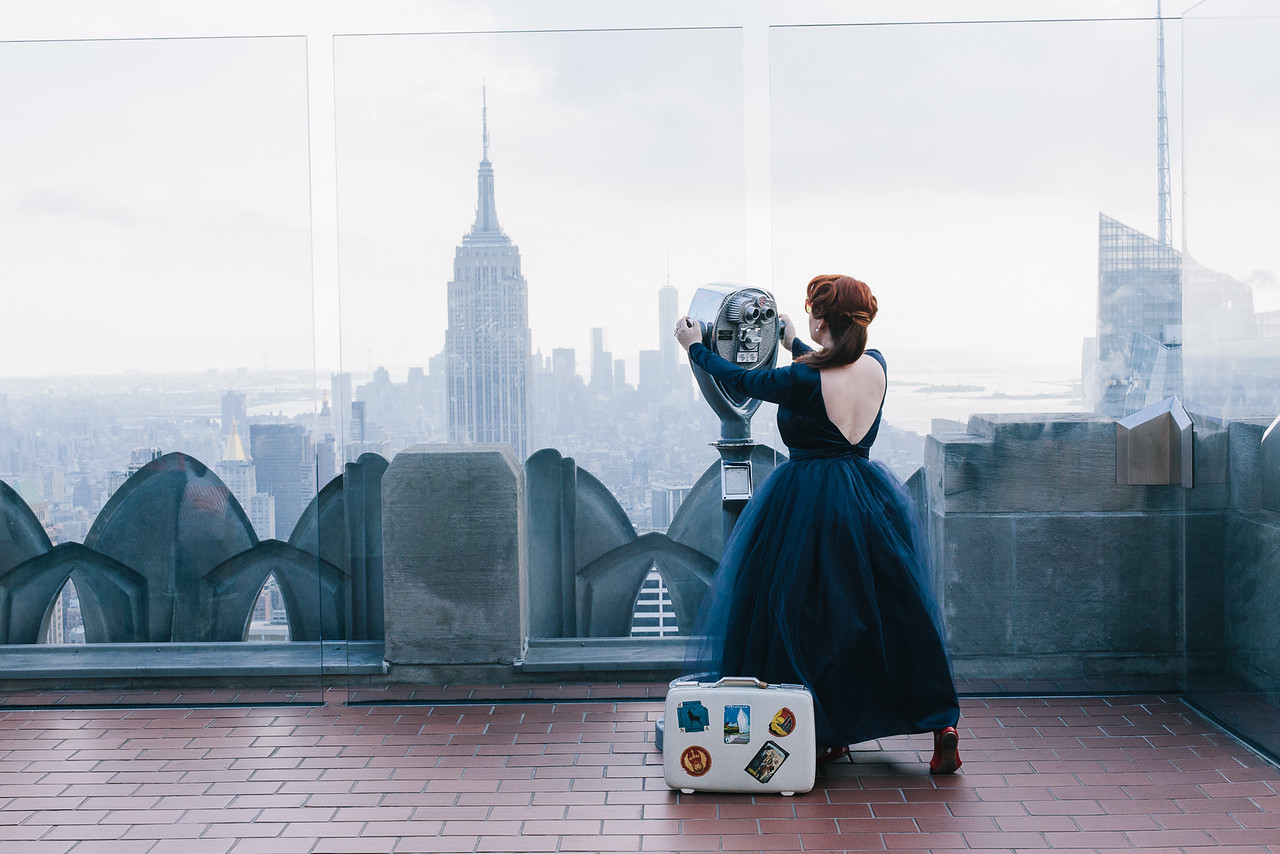 LOS ANGELES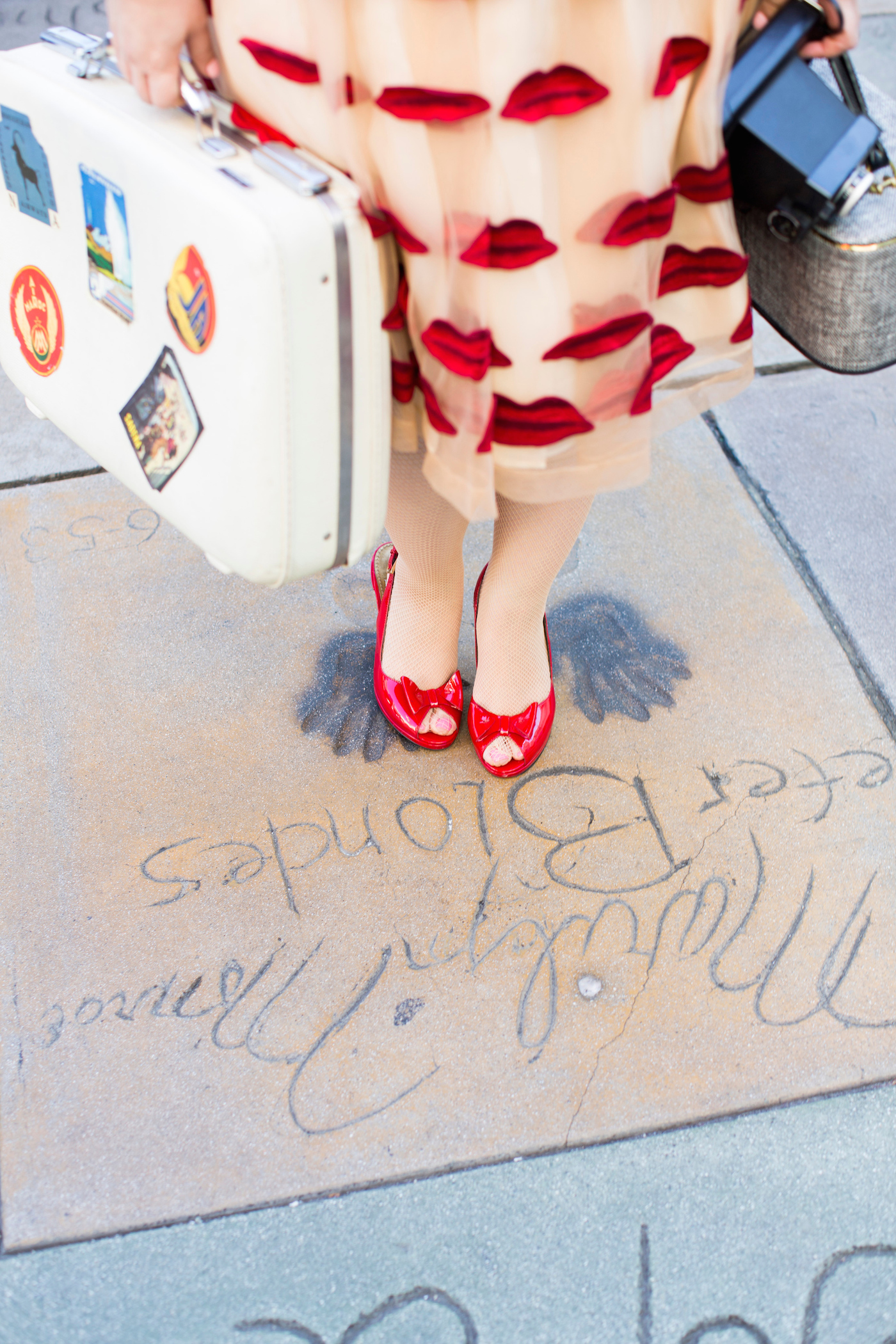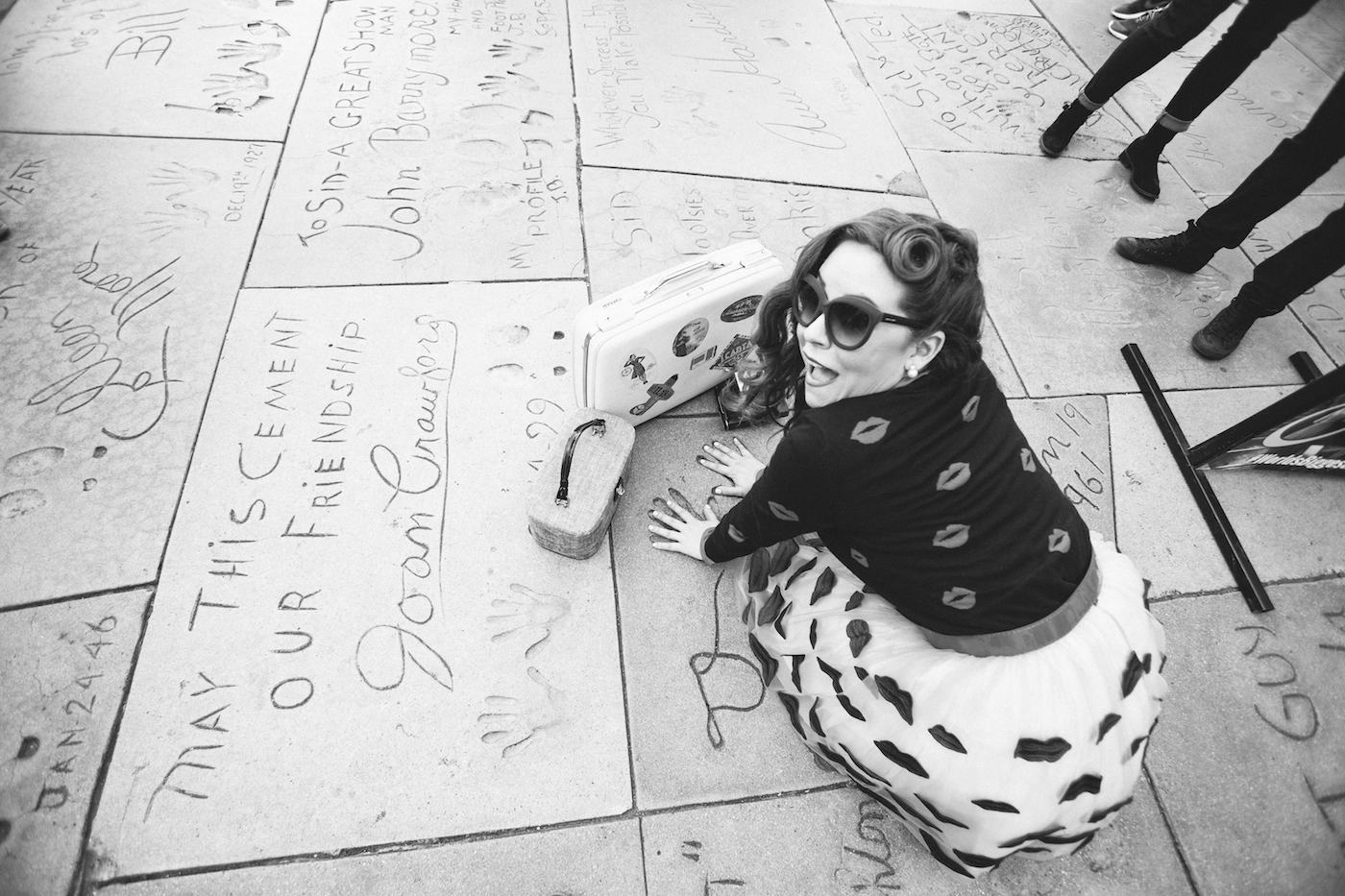 Andrea and I set out to capture images of a modern-day girl in love with old Hollywood. I adore the style and grace personified by movie stars like Marilyn Monroe, Bette Davis & Audrey Hepburn. We visited some iconic landmarks where these stars once set foot, and I wore my hair in pin curls and vintage-inspired clothing. Andrea is an absolute doll! Our day in Los Angeles felt like two girlfriends just exploring the city. She drove me around and I changed into each outfit in the backseat of the car. It was rather hilarious and a good way to get to know someone quickly! With the glamorous Hollywood photos she captured, you would never imagine me sweating in the backseat of a car while struggling to get my fishnet stockings on.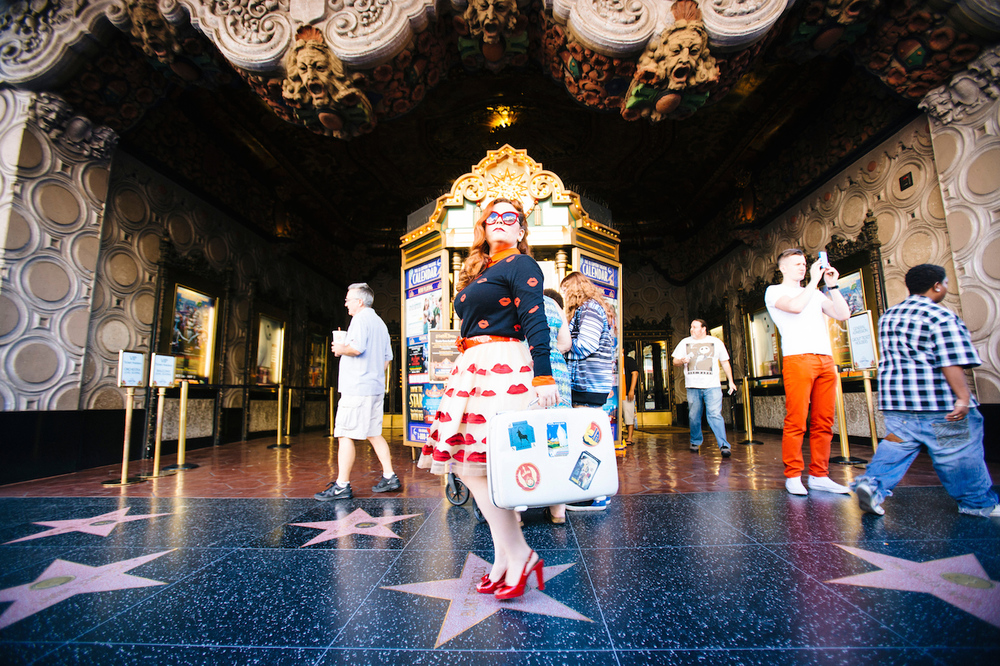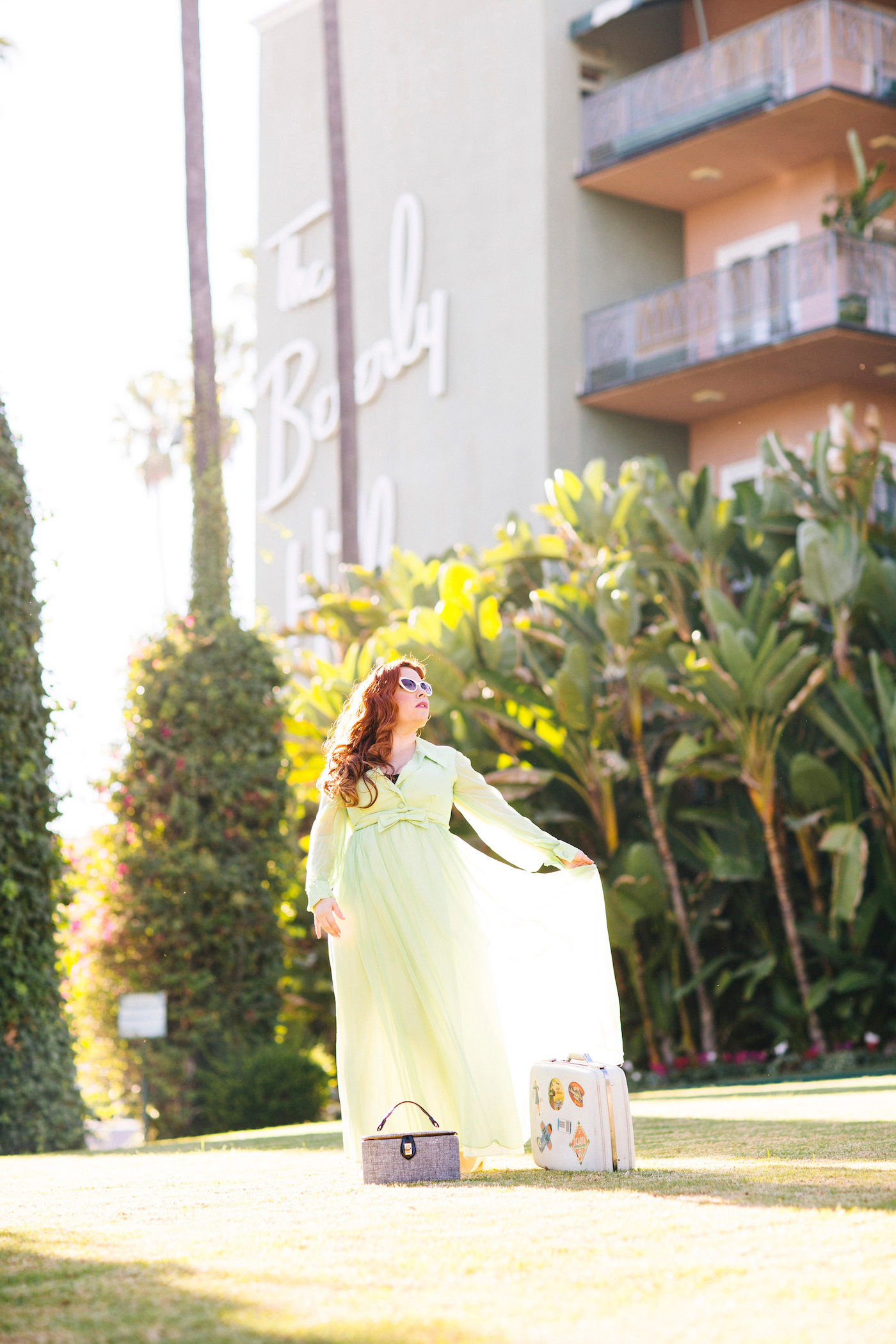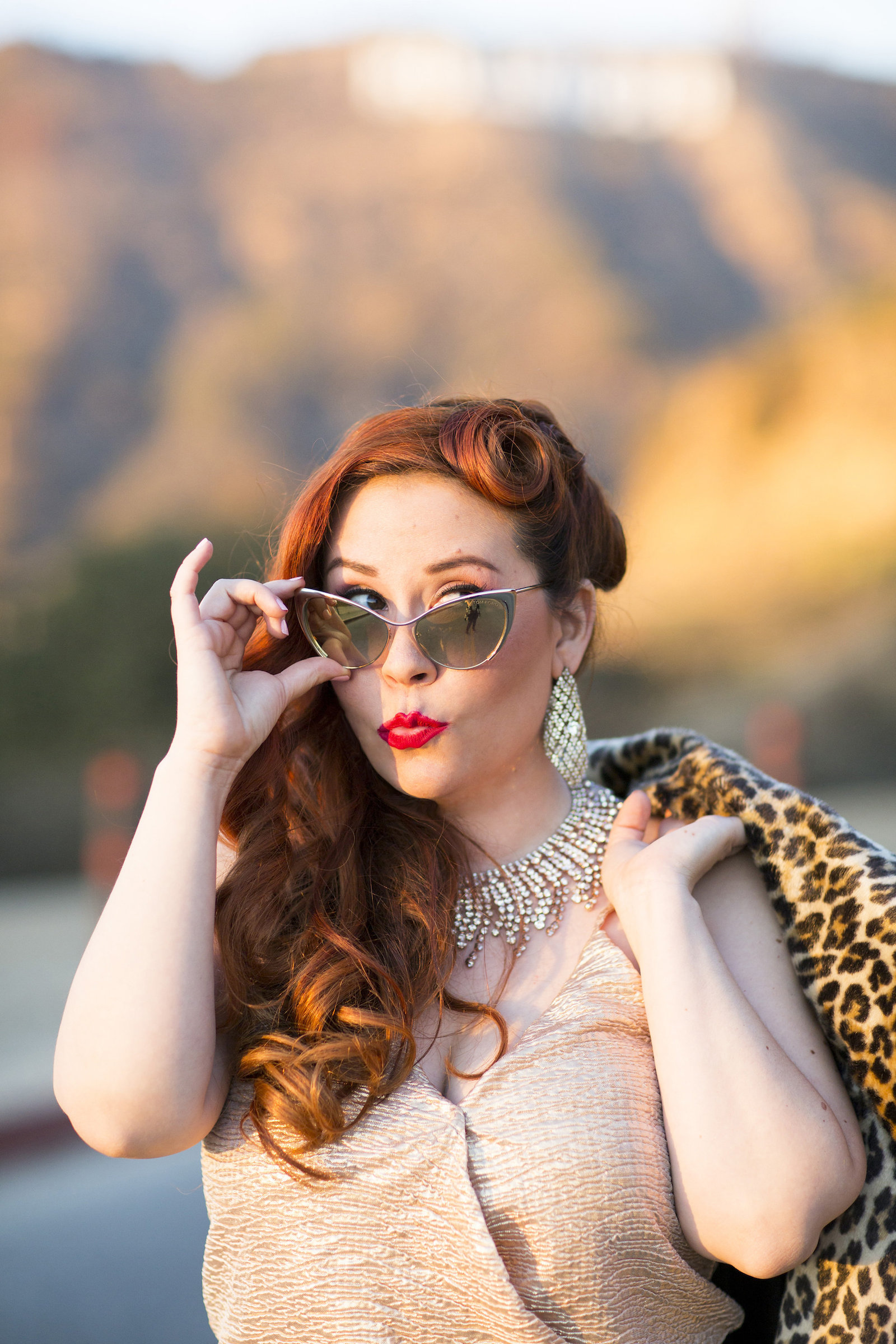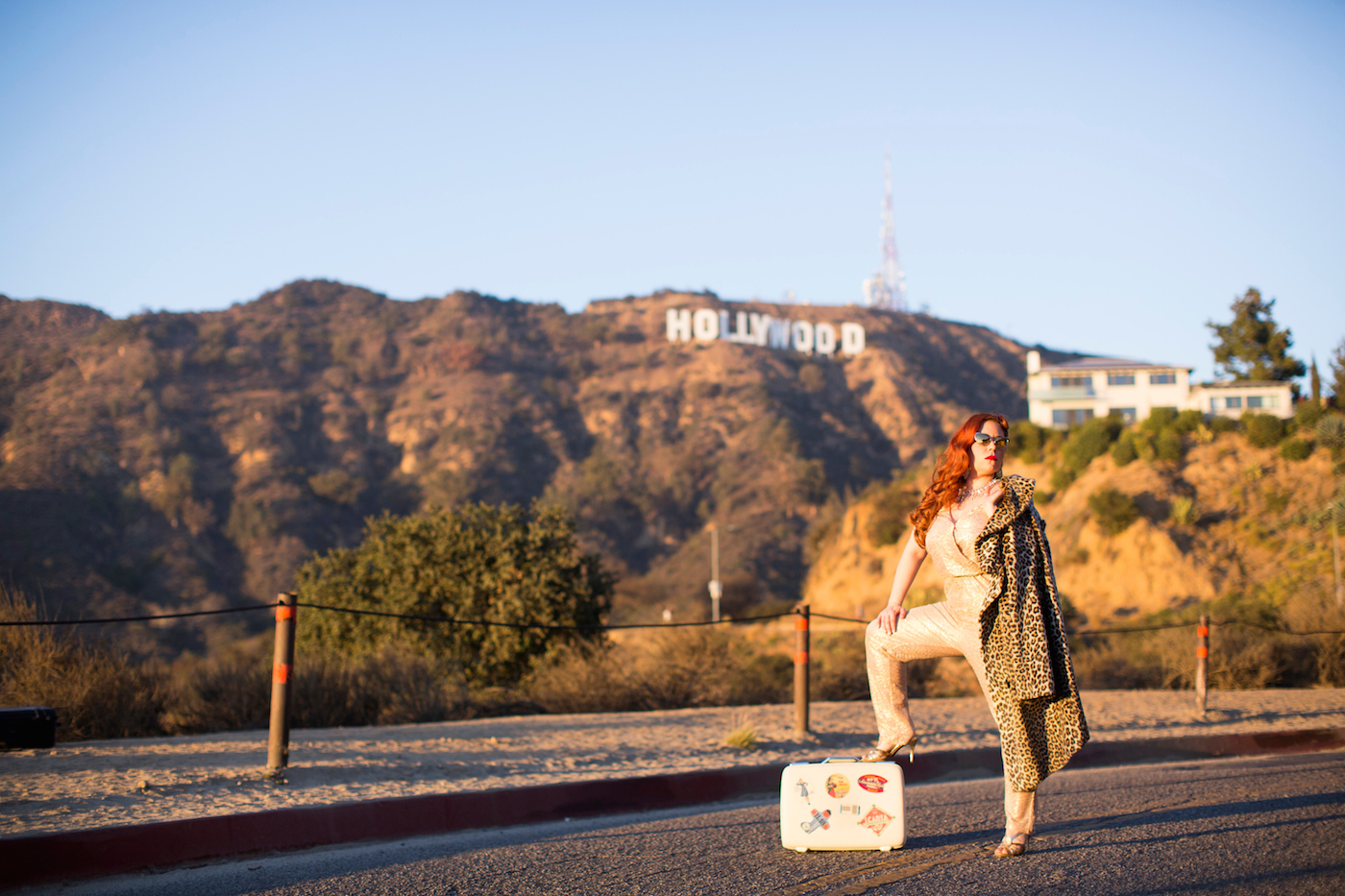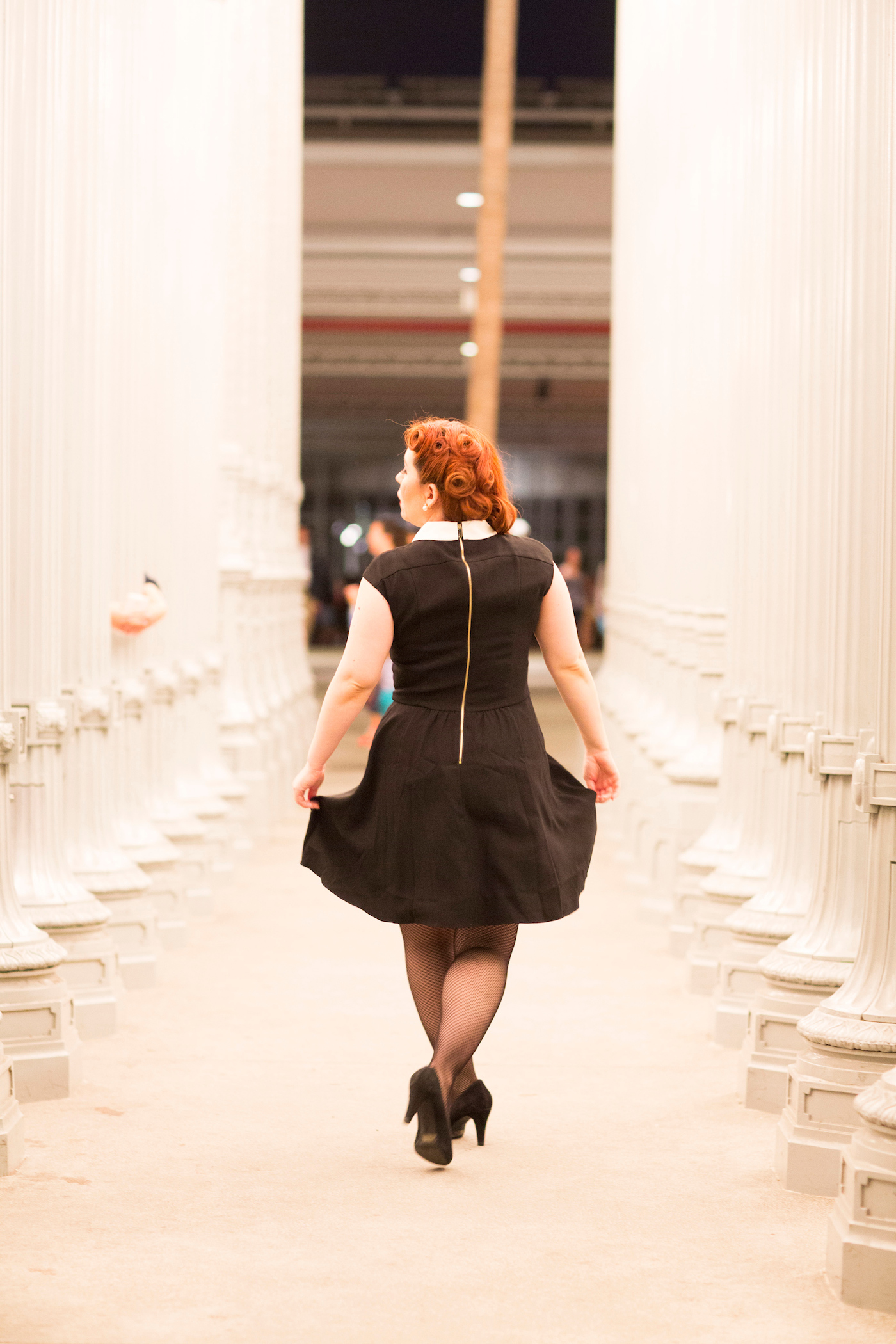 ---
Q. And next up – you have scheduled several Flytographer shoots in Asia this spring. Can you tell us what you are planning for each city?
I'm excited about this trip to Asia! It all started because I was invited to the grand opening of a children's hospital in Laos. My friend Kenro Izu of Friends Without a Border is a remarkable man. He started a hospital for children in Cambodia, and it was so successful that a second hospital is opening to help more children receive proper medical care. Can you imagine so many children's lives have been saved because a photographer started a hospital? Each year I travel to NY to help volunteer for their annual photography auction, which raises money to support the hospital.
Well, I figured since I was traveling all the way to South East Asia, I should take the time to explore! My first stop will be Hong Kong. I will hit the ground running – I'm only there for two days! My first day will start off with my Flytographer shoot with Michelle, doing a quick tour of the city. Then I'll be heading to Laos and shooting with a photographer I met through a friend. From there I'll be in Began, Myanmar where we will be doing a sunrise shoot with Tracy from a hot air balloon. In Chang Mai, Thailand, I hope to capture some glamorous high fashion shots at an elephant camp. I plan to also take some time to soak in the culture in Bhutan. Finally, I'll end up in Tokyo, one of my favourite cities in the world. It will be nice to catch up with friends at the end of my Asia tour. Perhaps we'll even do one last shoot – I'm thinking Harajuku girl fashion!
I've been so busy traveling, styling my shoots, planning each vacation and running my furniture company, I haven't had the time to devote to getting my own travel blog up and running yet! In the meantime, I am building a following on social media. After I return from Asia in March, I plan to take some time off from travel to devote working on the blog – ideally from an office in Paris.
Thank you for sharing your photos and story, Nicole! We love all your shoots and can't wait to see the beautiful images from your trip to Asia. xo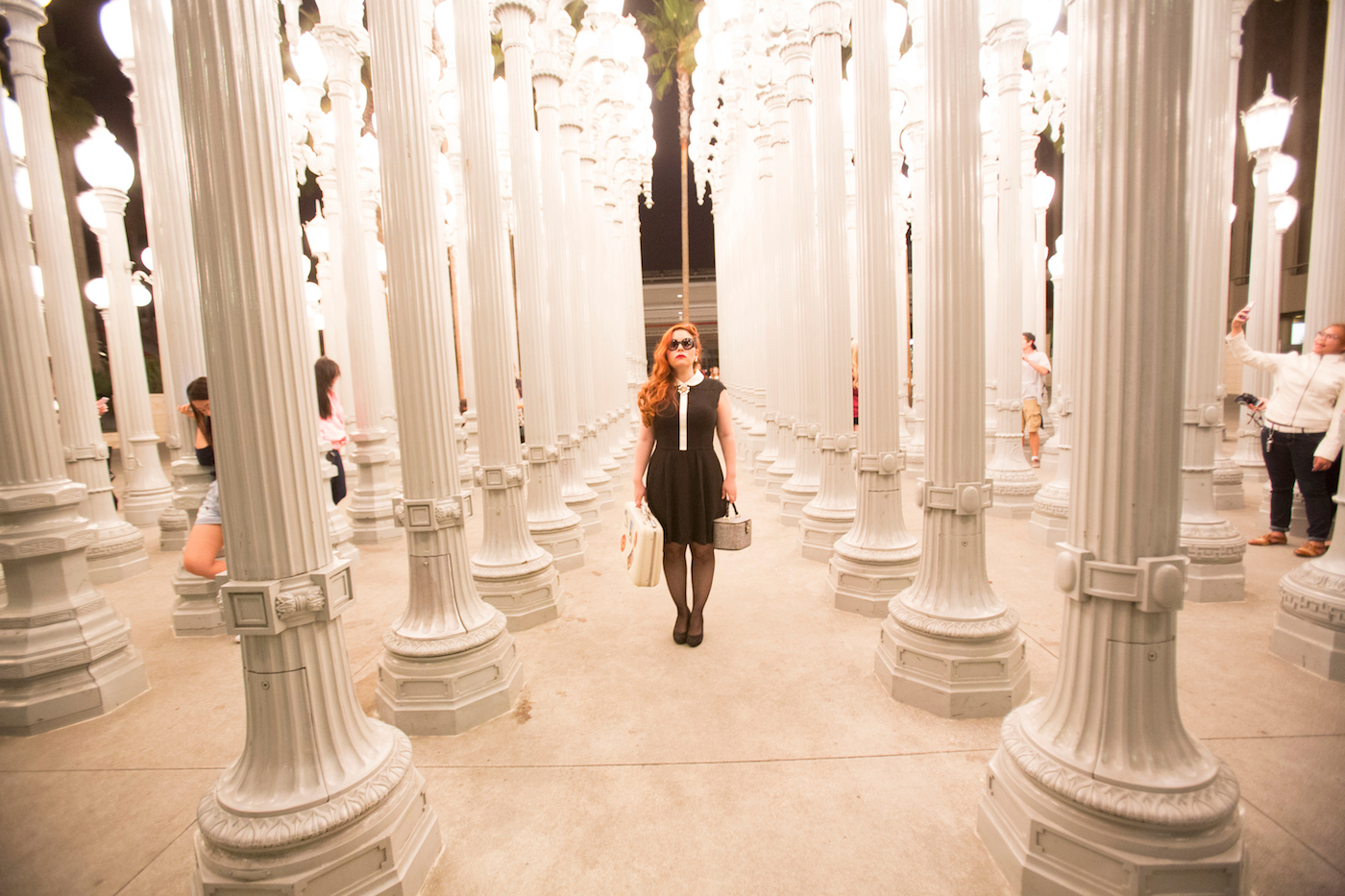 FLYTOGRAPHERS
Istanbul: Ufuk Sarisen
Mexico: Valeria Castillo
NYC: Gonçalo Silva
LA: Andrea Miner
If you would like to follow Nicole on social media, please find her on Facebook or Instagram. Be sure to bookmark this link for her future blog!